<< Back Home Gallery How-To Links Workshops About Contact Next >>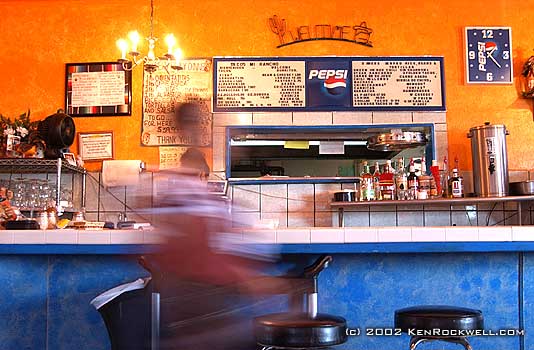 Yuma, Arizona © 2002 Ken Rockwell.com. All rights reserved.
Whoo Hoo! ROAD TRIP!! I left my home in La Jolla (just north of San Diego) at around 10AM on Wednesday, 02 October 2002. By 1PM I had made it to Yuma, Arizona on the border with California. I've never made a good photo in Yuma. Lo and behold, sitting at a cozy Mexican restaurant I snapped off a few as I waited for my lunch to arrive. Golly, the ninth shot of the trip and I already had a winner, capturing colors and the blur of the waitress whizzing. I was stoked!
<< Back Home Gallery How-To Links Workshops About Contact Next >>