Home Donate New Search Gallery Reviews How-To Books Links Workshops About Contact
Apple AirPort Express
Wireless Audio 802.11n (2008-)
© 2011 KenRockwell.com. All rights reserved.
Intro Specs Performance Usage Recommendations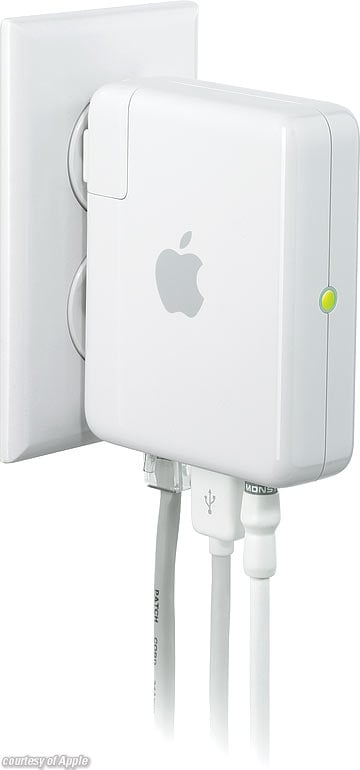 Apple Airport Express model A1264/MB321LL/A (7.435 oz./210.7g, about $99). This site's main source of support is when you use these links, especially this one to the Airport Express at Amazon, when you get anything, regardless of the country in which you live. Thanks! Ken.
December 2011 All Reviews Audio Reviews Apple Reviews
How to Play DVD Movies on your iPad, iPod Touch or iPhone.
A Recording Engineer's Guide to the Secrets of iTunes and iPod.
Introduction top
Intro Specs Performance Usage Recommendations
Apple's AirPort Express is a portable plug-the-whole-thing-in-the-wall WiFi base station with 802.11n.
It also works as a range extender for an existing WiFi network. Once configured, you can unplug it and pop it in anywhere, any time, so if you go out in the back yard or out to the pool, plug it into an outlet outside your house, and the signal goes about another hundred feet so you can cover an acre!
It also has a USB jack for an ordinary printer to let us print wirelessly from our computers and iPads.
Best still is that it has an audio output that makes it trivial to play audio from our iPads, iPhones and iPod Touches through our big Hi-Fi and AV systems — without wires. Plug it into your stereo back in the house, and now you can play your music through your home stereo, or its outdoor speakers, from anywhere within range.
Love watching movies with your iPad in your lap? If you don't want to use the awesome Ultrasone Edition 8 headphones, this AirPort Express plugged into your audio system will let the audio come from your speakers, without wires.
The audio output has both analog (3.5mm jack) and TOSLINK optical digital outputs. The TOSLINK output is in the same hole as the 3.5mm plug; use a mini-TOSLINK cable.
With this AirPort Express, simply play your device in the comfort of your own hand, and look for the little envelope above the volume slider: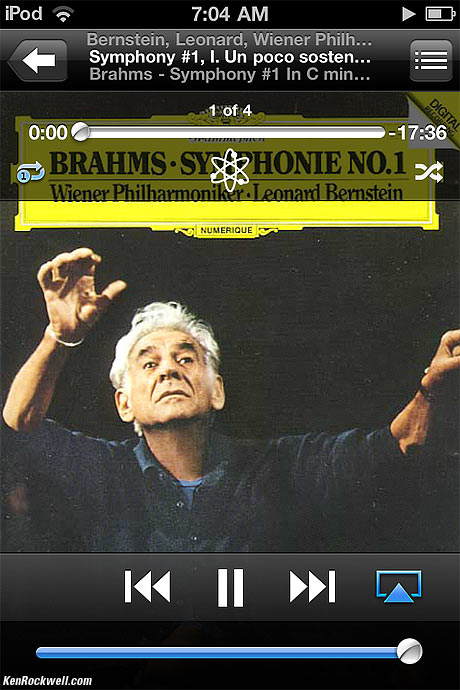 Tap the envelope, and you'll be offered options of where you'd like your music (or any audio from videos, streaming radio or anything else on your device) to go.
By default it's set to your original device, and if you're in range of your AirPort Express, you'll also have the option of selecting it.
Once selected, the audio plays out of the AirPort Express into whatever you've connected it. Plug it in behind your Hi-Fi or A/V or digital cinema system, and even the volume control works remotely!
You'll never need another remote control; simply play and control volume directly from the palm of your hand, and let it play from inside your pocket through your stereo as you go about your day at home or office. Rock on!
Intro Specs Performance Usage Recommendations
Model Number
A1264 (marked on unit).
Marketing Part Number
MB321LL/A (marked on box).
Size
3.6 x 1.1 x 3.0" (111 x 33 x 75 mm) HWD.
Weight
(7.435 oz./210.7g), actual measured with folding plug.
6.7 ounces, rated.
Announced
March 17, 2008
Price, USA
$99, April 2011.
Performance top
Intro Specs Performance Usage Recommendations
Audio Playback
Overall
The analog audio output jack of the AirPort Express, plugged directly as a line-output into audiophile gear, is great.
From 100 feet away, signal-to-noise ratio is 102.5 dB, channel balance is within 0.03 dB, frequency response is +0, -3 dB from 8 Hz to over 22 kHz from mere 44.1 kHz files, and THD + Noise is 0.01% (better than most tube gear) from a 128 kbps AAC file.
For these analog tests I used a specialized VP-7721A audio analyzer, and more recently, a Rohde & Schwarz R&S UPL.
Overall, the analog and digital outputs from the AirPort Express are swell, but not as crazy-good as the direct analog output from an iPod Touch.
Measurements, Analog Output
Output Voltage, maximum gain, unloaded, 0 dB FS at 1 kHz
2 V is the same as a standard CD player:
Left Channel, sample 1
2.1289 V RMS.
6.56 dBV.
8.78 dBu.
Right Channel, sample 1
2.1200 V RMS.
6.52 dBV.
8.74 dBu.
Sample 2
1.88 V RMS.
Output Source Impedance
3.5 Ω, measured at 1 kHz.
Left/Right Channel Balance
The dB numbers refer to the setting of the gain control, and the position of the volume control is in parenthesis:
0 dB: 0.04 dB (full)
-10 dB: 0.04 dB (3/4)
-20 dB: 0.03 dB (half)
-30 dB: 0.04 dB (1/3)
-40 dB: 0.03 dB (1/4)
-50 dB: 0.03 dB (1/10)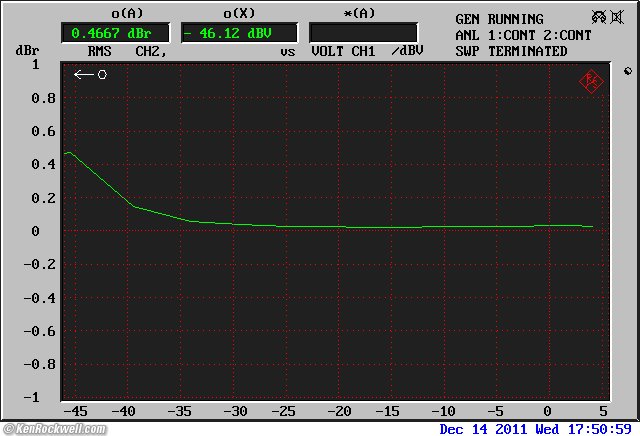 Channel balance versus output voltage, second (2011) sample, 0 dBFS source.
Channel Separation
95.3 dB, left-leakage-into-right, at 1 kHz.
88.3 dB, right-leakage-into-left, at 1 kHz.
Frequency Response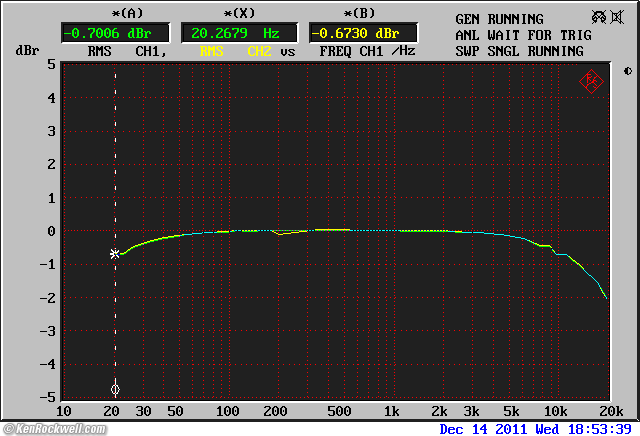 From analog output.
Measured the old fashioned way, signal: -20 dB FS sine wave, 44.1 k samples per second, 1,411 k bits per second AIFF file on iPod Touch.
iPod at maximum gain.
AirPort Express loaded with the 100 kΩ load of the analyzer:
5 Hz: -5.8 dB
8 Hz: -3.0 dB
10 Hz: -2.3 dB
12.5 Hz: -1.7 dB
16 Hz: -1.2 dB
20 Hz: -0.8 dB
50 Hz: 0.0 dB
100 Hz: 0.0 dB
200 Hz: 0.0 dB
500 Hz: 0.0 dB
1 kHz: 0.0 dB
2 kHz: 0.0 dB
5 kHz: -0.2 dB
7 kHz: -0.4 dB
10 kHz: -0.8 dB
12.5 kHz: -1.0 dB
15 kHz: -1.4 dB
17.5 kHz: -1.9 dB
20 kHz: -2.2 dB
22 kHz: -2.6 dB
Signal-to-Noise Ratio
98.4 dB, full-output to no signal, A-weighted.
96.0 dB, full-output to no signal, unweighted, 22 kHz bandwidth.
102.5 dB, 400 Hz - 30 kHz band, maximum gain, paused, 100 kΩ load, iPod 100 feet away.
98 dB, 5 Hz - 30 kHz band unweighted, maximum gain, paused, 100 kΩ load, iPod 100 feet away.
-95.5 dBV-A output noise when not selected.
-93dBV-A output when paused.
THD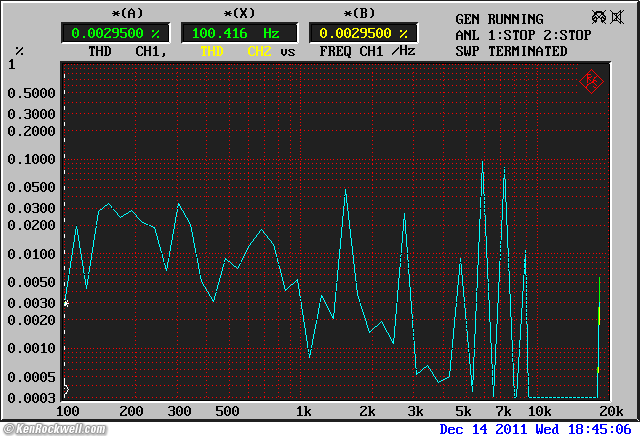 Swept THD, CBS CD-1 source via iTunes ALC.
This curve doesn't count: my analyzer can't keep up with the sweeping: it needs a steady signal to lock-on to the signal, so its reading much higher than the actual distortion.
THD + Noise
Just for fun, my iPod Touch was a hundred feet away, about two condos down in my condoplex!
Source: 128 kbps AAC file created in iTunes from a 44.1 kHz Rohde & Schwarz test CD, 1 kHz, 0 dB FS played on iPod Touch.
iPod Touch set to maximum gain.
AirPort Express loaded with the 100 kΩ load of the analyzer:
0.0108% THD + N, 30 kHz measurement bandwidth.
0.03%, 80 kHz measurement bandwidth.
0.117%, 700 kHz measurement bandwidth.
Output Loading
Don't plug headphones into this (why would you?). When terminated with 75 Ω, it wasn't happy.
TOSLINK Digital Output
Output level: a 0 dBFS 1 kHz tone (ALC file) appears as a -0.7 dBFS (84% FS) signal at the digital output.
240 dB signal to noise ratio, paused.
THD: 0.007%, any level setting from full to -24 dB (just under halfway on the volume scale), source: 0 dBFS at 1 kHz ALC file.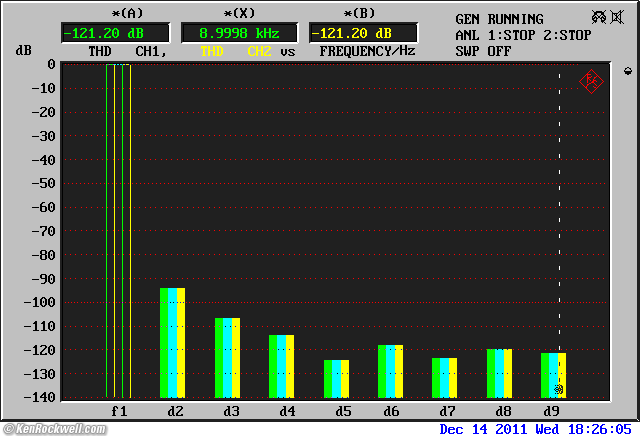 Distortion components at full-output, 0 dBFS input.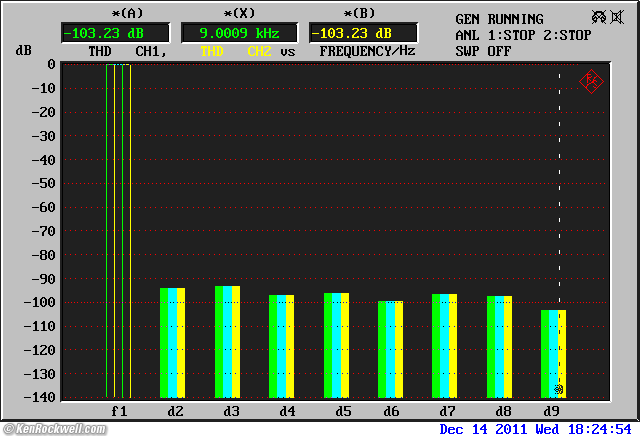 Distortion components with output set to -24 dB, 0 dBFS input.

Usage top

Intro Specs Performance Usage Recommendations

It must be set-up first with a computer or laptop. Plug it in the wall, and call up AirPort Utility, and have at it. You don't need any cords; it talks wirelessly to your computer even before it's set up.

This can get hairy, oddly for Apple products, it took me a while to figure out.

When I got stuck, I read enough of Apple's online support, and guessed my way to getting it to work.

I set it up as a wireless range extender, which is what took some doing.

Once set, the audio playback was already there. I didn't need to find "AirTunes," whatever that is.

Recommendations top

Intro Specs Performance Usage Recommendations

This is a great wireless base station, and so much more.

It is unique in working easily as a WiFi range extender to let me work in the garage or out in the yard, and the best part is the remote audio.

It may not work great for sound with picture; it often has a long delay, losing lip sync. I'd audition one before plunking down $99 if movie sound was the only thing you want to do with it, and lip sync is important to you.

Help me help you top

I support my growing family through this website, as crazy as it might seem.

The biggest help is when you use any of these links to Adorama, Amazon, B&H, eBay, Ritz, Calumet and J&R and when you get your goodies. It costs you nothing, and is this site's, and thus my family's, biggest source of support. eBay is always a gamble, but all the other places always have the best prices and service, which is why I've used them since before this website existed. I recommend them all personally.

If you find this page as helpful as a book you might have had to buy or a workshop you may have had to take, feel free to help me continue helping everyone.

If you've gotten your gear through one of my links or helped otherwise, you're family. It's great people like you who allow me to keep adding to this site full-time. Thanks!

If you haven't helped yet, please do, and consider helping me with a gift of $5.00.

As this page is copyrighted and formally registered, it is unlawful to make copies, especially in the form of printouts for personal use. If you wish to make a printout for personal use, you are granted one-time permission only if you PayPal me $5.00 per printout or part thereof. Thank you!

Thanks for reading!

Mr. & Mrs. Ken Rockwell, Ryan and Katie.

Home Donate New Search Gallery How-To Books Links Workshops About Contact