Home Donate New Search Gallery Reviews How-To Books Links Workshops About Contact
Apple New iPad 3
(March 2012-)
© 2012 KenRockwell.com. All rights reserved.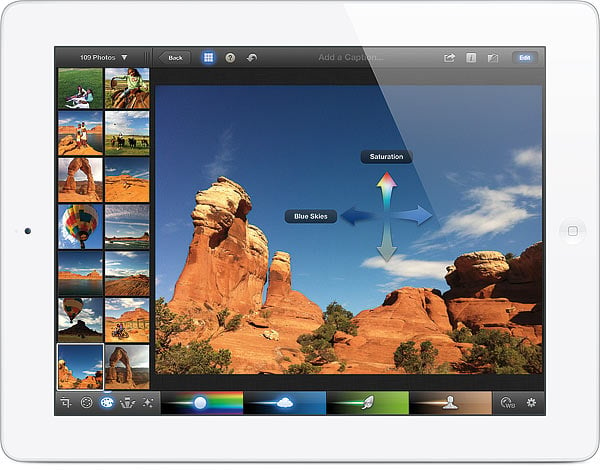 Apple New iPad 3 showing iPhoto ($500-$830, 2,048 x 1,536 pixel display, 5 MP camera, 10-hour battery). This free website's biggest source of support is when you use these links, especially this link to them at Adorama and at Amazon, when you get anything, regardless of the country in which you live. Thank you! Ken.
I'm getting the regular black 64 GB version (I'd buy 256 GB if they had it), and just the regular Wi-Fi version — I'm not going ot pay extra so I can pay more to a phone company for slow data that rarely works anyway.
07 March 2012 More Apple Reviews All Reviews
Introduction top
Intro Specs Performance Compared Usage Recommendations More
The New iPad, apparently called the New iPad, not the iPad 3, improves on the old iPad 2 by doubling the linear resolution of the display to 2,048 x 1,536 pixels, improving the built-in camera to 5 MP, and adds a hot new Apple A5X chip to run it all.
There are three versions: base model has Wi-Fi, and the other two models add Verizon or AT&T 4G LTE. Each comes in 16 GB, 32 GB or 64 GB versions, for a total of nine variations — before we consider color. Apple claims you can set it up as a 5-station personal hotspot as well.
Sadly the most useful improvement, an upgrade to 128 GB of memory, isn't available, but at least with all the extra processing needed for a display with four times the number of pixels, battery life remains an eternal 10 hours per charge.
The new display will be a subtle, but strong improvement in the quality of all images. Apple also claims a wider color gamut, which probably won't make much difference.
If you really want to chase your kids around with an iPad (I shoot all my kid video every day with my iPod Touch, not my iPad), Apple claims a passive DSP image stabilizer.
Something Macs have had since at least the 1990s now comes to iPad: voice recognition. Speak, iPad listens, and types for you.
New is the iPhoto App for iPad. iPhoto ought to be a fantastic photo app, possibly replacing all the earlier third-party apps. Apple says iPhoto includes breakthrough Multi-Touch features so you can use simple gestures to sort through hundreds of photos and find your best shots, enhance and retouch your images using fingertip brushes and share stunning photo journals with iCloud.
Best thing about the New iPad 3 is that the price of iPad 2 drops $100.
I own an iPad and an iPad 2. Will I be ordering a New iPad 3? Of course? Why? Because my laptop is history; I use my iPad 2 and iPod Touch for hours every day, and whatever little bit of faster processing speed it has more than pays for itself for a professional user like myself. Yes, time saved is money, and I expect it will save more time than my cost to upgrade, so if you're a well-compensated professional who bills by the hour, it pays for itself.
If all you want to do is play DVDs and do photography with it for fun, no, you don't have to buy a new iPad — although you know you want it.
See Is It Worth It.
Help me help you top
I support my growing family through this website, as crazy as it might seem.
The biggest help is when you use any of these links to Adorama, Amazon, eBay, Ritz, Calumet, J&R and ScanCafe when you get anything, regardless of the country in which you live. It costs you nothing, and is this site's, and thus my family's, biggest source of support. These places have the best prices and service, which is why I've used them since before this website existed. I recommend them all personally.
If you find this page as helpful as a book you might have had to buy or a workshop you may have had to take, feel free to help me continue helping everyone.
If you've gotten your gear through one of my links or helped otherwise, you're family. It's great people like you who allow me to keep adding to this site full-time. Thanks!
If you haven't helped yet, please do, and consider helping me with a gift of $5.00.
As this page is copyrighted and formally registered, it is unlawful to make copies, especially in the form of printouts for personal use. If you wish to make a printout for personal use, you are granted one-time permission only if you PayPal me $5.00 per printout or part thereof. Thank you!
Thanks for reading!
Mr. & Mrs. Ken Rockwell, Ryan and Katie.
Home Donate New Search Gallery Reviews How-To Books Links Workshops About Contact