iPad Pro
Apple 12.9" Retina Display (2015-)
Introduction Specs   Performance   Usage Recommendations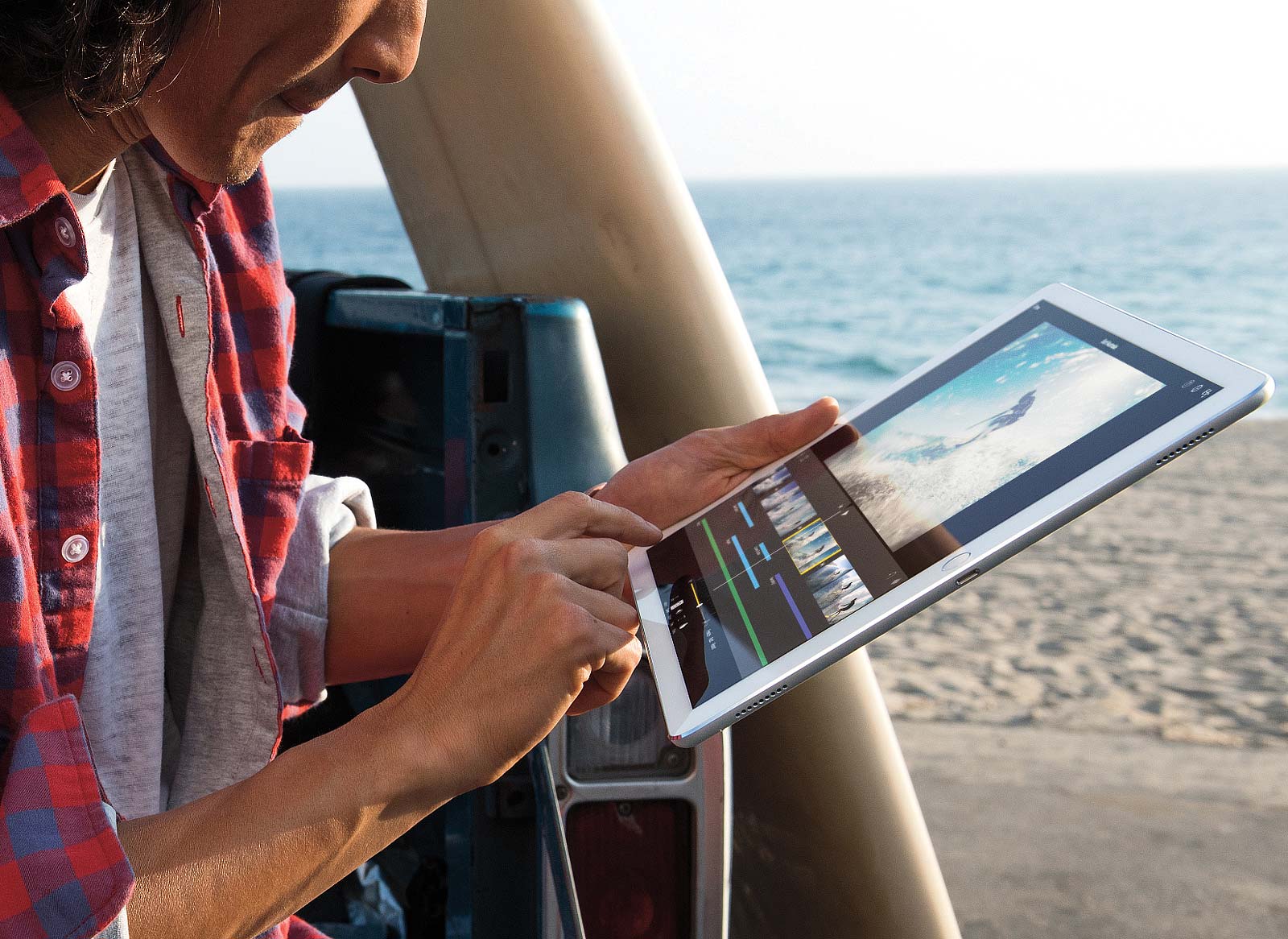 iPad Pro. bigger. (12.9" diagonal, 4:3 aspect ratio, 264 DPI 2,732 × 2,048 Retina display, 10 hour battery life, 24.735 oz./701.3g, $800 ~ $1,080.) I got mine from Santa for Christmas; I'd also get it at at Adorama, at Amazon or at B&H. I'd check for accessories at eBay.
This ad-free website's biggest source of support is when you use those or any of these links to my personally-approved sources when you get anything, regardless of the country in which you live. Buy only from the approved sources I use myself for the best prices, service, return policies and selection. Thanks for helping me help you! Ken.
January 2016 Apple Reviews All Reviews
Introduction
Top   Introduction Specs   Performance   Usage Recommendations
My Apple iPad Pro came from Santa for Christmas 2015. I asked for it to supercede my perfectly good iPad 2 to give me a bigger, better screen for watching movies and showing my photos.
Little did I realize, but the iPad Pro's huge and ultrahigh resolution Retina display just happens to give me the sharpest display of my photos that I've ever seen! While my iMac 5k has a bigger screen with the same ultrahigh resolution per inch, the software I run on my iMac to view my photos (Phase One Media Pro) doesn't take advantage of the iMac's incredible display.
My iPad Pro's Pictures App magically optimizes all the same pictures I have in galleries on my Mac that I sync to my iPad, and holy cow, my same old photos synced to the iPad Pro suddenly are the most brilliant, sharp and detailed images I've ever seen — and I've seen a lot!
What really scares me is how my iPad Pro is the first device that really shows me the difference between images made from higher or lower resolution cameras, since when I load full-resolution photos in my Mac and sync them to my iPad Pro via iTunes it really does use the iPad's full 2,732 × 2,048 pixel resolution; something my usual software doesn't do on my 5k iMac.
My images on my iPad Pro look even sharper and more brilliant than the original Ansel Adams prints I've seen in museums! While Ansel's prints are the sharpest prints I've ever seen, the iPad Pro is even sharper, and the iPad Pro has the advantage of being the same as viewing backlit transparencies: it glows in the dark; while prints never get brighter than the paper on which they are printed.
The incredible sharpness of the iPad Pro's display comes both from its ultrahigh resolution, many times that of other electronic displays, and just as importantly from Apple's superb iOS operating system that optimizes our images to look their very best on the iPad Pro, regardless of their original resolution.
If you're showing your portfolio and aren't showing matted prints from a big portfolio case, you need an iPad Pro to stay competitive. That's why it's called an iPad Pro. It's bigger and better than everyone else's regular iPads. You can't use your MacBook since that tells your clients that you're still working on the images and can't complete work, much less get it. The iPad Pro is by far the best way to carry and display your portfolio electronically and show that you know how to organize and perform — and it makes your images look awesome!
It has a big battery that charges quickly, but you have to use a real Apple cord. More at Usage.
New
Huge screen.
Split screen and "slide-out" from the side screens let us run two apps at once. For instance, I can take notes as I read a web page, or compose an eMail on the side, or check my Calender. Even with non-Apple apps it's easy to slide-over another app from the side faster than switching to it.
Stereo speakers properly placed on either side — and they automatically adjust as you rotate the iPad Pro!
Nice extra line of digits and symbols along top of keyboard.
Fingerprint Sensor for turn-on without having to enter passwords.
12 watt charger (up from 10 watts of earlier iPads) included.
Extra-long charge/sync cord included!
Missing
No force-sensitive screen as on iPhone 6s.
No Split Keyboard option — actually now needed with the huge screen.
No Orientation Lock switch. You instead have to do it with a few swipes and taps in the Control Panel.
No free EarPods.
Specifications
Top   Introduction Specs   Performance   Usage Recommendations
Display
12.9" (328mm) diagonal, 4:3 aspect ratio.
2,732 × 2,048 pixels.
264 dots per inch "Retina."
10.35 × 7.76 inches (263 × 197 mm).
LED backlight.
Fully laminated.
Anti-reflective fingerprint-resistant oleophobic coating.
Versions
Silver and Gold versions have a white bezel. Space Gray version has a black bezel.
Wi-Fi only: 32 GB or 128 GB.
Wi-Fi + Cellular: 128 GB.
Cameras
Main (Back) Camera
8 MP
4:3 aspect ratio
Five-element ƒ/2.4 lens
1080/30p video
120 FPS slow-motion

Time-lapse video
Video stabilization
Facetime (front) Camera
1.2 MP
4:3 aspect ratio
ƒ/2.2 lens
720p video
Sensors
Two cameras and two microphones
Fingerprint sensor
Three-axis gyros and accelerometers
Barometer
Magnetic compass
Ambient light sensor
Navigation
Magnetic compass
Wi-Fi
iBeacon microlocation
Cellular versions add GPS and GLONASS.
Radio
Wi‑Fi
802.11a/​b/​g/​n/​ac
2.4 GHz and 5 GHz
HT80 with MIMO
Bluetooth 4.2 technology

Cellular (if equipped)
UMTS/​HSPA/​HSPA+/​DC‑HSDPA (850, 900, 1700/2100, 1900, 2100 MHz); GSM/EDGE (850, 900, 1800, 1900 MHz)
CDMA EV-DO Rev. A and Rev. B (800, 1900 MHz)
LTE (Bands 1, 2, 3, 4, 5, 7, 8, 13, 17, 18, 19, 20, 25, 26, 28, 29, 38, 39, 40, 41), data only.
Apple SIM included (USA and UK only)
Audio Playback Formats
AAC (8 to 320 kbps)
Protected AAC from iTunes Store
HE-AAC, MP3 (8 to 320 kbps)
MP3 VBR, Audible (formats 2, 3, 4, Audible Enhanced Audio, AAX, and AAX+)
Apple Lossless (ALC)
AIFF
WAV
Video Playback Formats
H.264 video up to 1080p, 60 FPS, High Profile level 5.0 with AAC-LC audio up to 160 kbps, 48 ksps, stereo audio in .m4v, .mp4, and .mov file formats
MPEG-4 video up to 2.5 Mbps, 640 by 480 pixels, 30 FPS, Simple Profile with AAC-LC audio up to 160 kbps per channel, 48 ksps, stereo audio in .m4v, .mp4, and .mov file formats
Motion JPEG (M-JPEG) up to 35 Mbps, 1280 by 720 pixels, 30 FPS, audio in µlaw, PCM stereo audio in .avi file format
AirPlay Mirroring, photos, audio, and video out to Apple TV (2nd generation or later)
Up to 1080p through Lightning Digital AV Adapter and Lightning to VGA Adapters
Mail Attachment File Types Read
JPG
TIF
GIF
HTM
HTML
Apple Keynote (.key)
Apple Numbers (.numbers)
Apple Pages (.pages)
TXT
RTF
DOC
DOCX
XLS
XLSX
PPT
PPTX
ZIP
VCF
ICS
Battery
38.5 watt-hour lithium-polymer battery
10 hour battery life, Wi-Fi version.
9 hour battery life; Wi-Fi + Cellular version.
Charge Rate: up to 2.4 A input at 5 VDC (measured).
Connectors
Lighting connector for power and sync and digital audio output.
3.5mm headphones / audio line out.
Special Apple Keyboard connector.
Size
12" × 8.68" × 0.27" WHD.
305.7mm × 220.6mm × 6.9mm WHD.
Weight
24.735 oz. (701.3g), actual measured, 128 GB Wi-Fi version.
Rated 25.12 oz. (713g) Wi-Fi versions.
Rated 25.44 oz. (723g) Wi-Fi + Cellular versions.
Included
iPad Pro.
Extra-long Lightning charge & sync cord.
12 W (2.4 A) USB power adapter
Quality
Made in China.
(Mine was made in Canada by Santa's elves at the North Pole).
Environment
32° to 95° F (0° to 35° C) operating.
-4° to 113° F (-20° to 45° C) storage.
5% to 95% RH, non-condensing.
Tested up to 10,000 feet (3,000 m) pressure altitude.
Announced
October 2015.
Promised for
November 2015.
Price, USA
Christmas 2015: $800 ~ $1,080.
Performance
Top   Introduction Specs   Performance   Usage Recommendations
Overall Screen   Touch ID   Keyboards   eMail   Audio
Overall
As covered above, the iPad Pro is magnificent for showing still images and video.
Screen
The screen is magnificent.
It's ultrasharp and colors are magnificent.
The iPad Pro defines the state-of-the-art in portable displays.
Movies, photos, text and everything are stunning.
Touch ID
Touch ID is immediate and always works.
Just hold the Home button as you flip open your cover, and you're in.
Keyboards
Even with my big American hands it's clumsier for thumb-typing than on a regular iPad — which means most eMail, web browsing, note taking and just about everything interactive you do on an iPad.
Oddly Apple disabled the Split Keyboard option on the iPad Pro, which could have been useful for the first time on its huge screen.
The Split Keyboard was very helpful for children with small hands on regular iPads; it split the keyboard into two smaller halves on each side of the screen.
To get a cursor control, just use two fingers, and voilà, you now can move the cursor all around like a track pad.
Apple sells a dedicated keyboard for the iPad Pro, but a separate keyboard would kill the magic of the iPad.
eMail
Annoying is that eMail messages received and being composed don't fill the screen; the text usually only fills half the width of the screen with lots of white space left and right.
I have to use my fingers to enlarge these.
Audio Performance
Speakers
The built-in stereo speakers are a nice touch. The stereo effect is pleasant, and shifts as you rotate the iPad.
Response is good down to about 180 Hz and falls off slowly below that.
Even for monaural sources they are a huge improvement over previous iPads because there are four speakers, so your hands won't ever cover all of them.
3.5mm Output
I will get this to my audio lab for a workout, but with my beyerdynamic T51i headphones, everything sounds great.
All of Apple's iOS devices have always had state-of-the-art DACs and headphone amplifiers, and I expect this to be the same.
Usage
Top   Introduction Specs   Performance   Usage Recommendations
Keyboard
There are no obvious cursor controls, but put two fingers on the keyboard and voilà, you can move the cursor around like a track pad.
Brilliant!
Charging
I was on the road when Santa brought my iPad Pro, and I was perplexed at first as to why my existing travel chargers and cords seemed to take forever to charge my iPad Pro — but worked great with my iPhone 6s and everything else.
I discovered why when I returned to my laboratory and measured the actual charge currents.
With the included Apple cord and included 12 watt Apple charger, it charges at a full 2.4 amperes (12W) and all is well. It should charge from 0% to 100% within several hours.
Even though my third-party cords work great and charge at high rates with my iPhone 6s Plus, they limit the charging current fed to my iPad Pro!
If I use the cords I usually do, these cords limit the charge current to only about 900 mA (4.5 watts). It varies from cord to cord, but at 900 mA maximum, it will take around 12 hours or more to charge from 0% to 100% — regardless of the rating of the charger.
The only third-party Lighting cable I have that charges at full rate is my "Apple Certified" RND 6-foot lightning cable.
Once I used the right cord, any of Apple's large 10 watt or 12 watt chargers, or any of my 4-port USB chargers or 2-port USB chargers work great.
The critical part is to use the included cord, another genuine Apple cord, or the "Apple Certified" RND 6-foot lightning cable. My otherwise swell 6-foot cables lead to very slow charge rates, even though they work swell with everything else.
With the iPad Pro, Apple again raises the bar and the best results come from Apple or Apple Certified parts, even if they work fine with your other iOS devices.
The standard short Apple cords charge at about 2.0 ~ 2.3 amperes, so they are just as good for practical purposes. Likewise, an older 10 watt (2A) charger will be about as fast as the new included 12 watt (2.4A) charger. Just don't use the baby (5 watt) chargers Apple includes with iPhones, and don't expect great results with your older non-Apple cords.
Recommendations
Top   Introduction Specs   Performance   Usage Recommendations
General
The iPad Pro is a gotta-have for entertainment, for enjoying your photos and for showing your portfolio. That's why I asked Santa for mine.
For eMail, letter writing and general use, a standard iPad is a handier size. We're all different, and I still prefer iOS 6 on my iPad 2 for general use over iOS 9 on the newest iPads. If iOS 6 ran on my iPad Pro, it would make it much easier and more pleasant to use.
Cases
As of January 2016, you still can't get a good case at a reasonable price for the iPad Pro.
I use Yoobao cases on my other iPads, and for about $30 they are 100% soft, thick leather and everything works as it should. Sadly they don't make one for the iPad Pro yet.
If you get Apple's cases, you need both a front cover (a $70 Apple Smart Cover) and a rear cover ($90 Apple iPad Pro Silicone Case) to protect the whole thing. Apple sells each separately and each only protects half the iPad. While it looks nice for $160 if you're showing portfolios, it's only plastic.
Apple's leather cases for the iPhone are marvelous, but I can't find anything like them for iPad.
I use this $60 leather case. It leaves the entire front glass free so I can use all the iPad's split screen features, and covers none of the connectors or controls. It of course has magnets for auto on/off as you open and close it, and it's made of thick leather.
I bought this $60 leather case at first, but it's defective in design (as will other cases that cover things) because it covers the top and bottoms of the bezel so you can't use the split screens properly, covers part of the Home button, and it completely covers the volume controls and Lock button. It makes it hard to find the volume controls since they are completely covered, and worse, it covers the Lock button so it often turns the iPad on and off all by itself! It does feel great in hand, with nicer, smoother leather than the case I use. The case I use works much better since it doesn't get in the way, which is why I prefer it.
Those are the best cases. There are plenty of other ones that look wonderful, until you look more carefully and discover that other cases are loaded with flaws. Other cases require you to go through several steps to unbuckle or unlatch them (the cases I mentioned all just flip open), and worse, other cases often don't protect the four corners, which is critical for when you drop it.
I demand leather; I haven't investigated plastic. Since my iPad lives in my hands, only leather will do.
Honestly, I'm waiting for Yoobao to offer one then I'll probably ditch what I have because the Yoobaos feel much better in hand.
I'd have no problem paying a few hundred dollars for a really nice leather case, but all that I find have serious flaws that would make them a pain to use.
Where to Get Yours
I got mine from Santa for Christmas. Today I'd get it at at Adorama, at Amazon or at B&H. I'd also check for accessories at eBay.
This ad-free website's biggest source of support is when you use those or any of these links to approved sources when you get anything, regardless of the country in which you live. Buy only from the approved sources I use myself for the best prices, service, return policies and selection.
Thanks for helping me help you!
Ken, Mrs. Rockwell, Ryan and Katie.
© Ken Rockwell. All rights reserved. Tous droits réservés. Alle Rechte vorbehalten.
Help Me Help You
I support my growing family through this website, as crazy as it might seem.
The biggest help is when you use any of these links when you get anything. It costs you nothing, and is this site's, and thus my family's, biggest source of support. eBay is always a gamble, but all the other places always have the best prices and service, which is why I've used them since before this website existed. I recommend them all personally.
If you find this page as helpful as a book you might have had to buy or a workshop you may have had to take, feel free to help me continue helping everyone.
If you've gotten your gear through one of my links or helped otherwise, you're family. It's great people like you who allow me to keep adding to this site full-time. Thanks!
If you haven't helped yet, please do, and consider helping me with a gift of $5.00.
As this page is copyrighted and formally registered, it is unlawful to make copies, especially in the form of printouts for personal use. If you wish to make a printout for personal use, you are granted one-time permission only if you PayPal me $5.00 per printout or part thereof. Thank you!
Thanks for reading!
Mr. & Mrs. Ken Rockwell, Ryan and Katie.