Home Donate New Search Gallery Reviews How-To Books Links Workshops About Contact
iPhone 3GS
(2009-2012)
© 2012 KenRockwell.com. All rights reserved.
Intro Specs Press Performance Usage Recommendations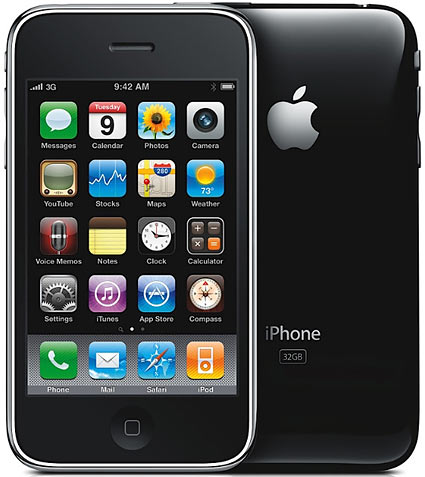 Apple iPhone 3GS (4.735 oz./134.3 g, runs iOS 6, 3 MP camera, 8GB, 16 GB or 32 GB, black or white rear case, about $150 used). enlarge. My biggest source of support is when you use any of these links, especially this link directly to them at eBay (see How to Win at eBay) and at Amazon, when you get anything, regardless of the country in which you live. Thanks! Ken.
October 2012 Apple Reviews All Reviews
Introduction top
Intro Specs Press Performance Usage Recommendations
The iPhone 3GS is the newest, most advanced iPhone that takes standard SIM cards. It has a 3 MP camera, a GPS and a new magnetic compass built in. It works great with iOS 6, in fact, my iPhone 3GS is much faster with iOS 6 than my iPod Touch is running iOS 5! This is an iPod Touch, the world's best portable computer, with a phone added.
I'm running my iPhone 3GS on iOS 6.0 for this review.
The iPhone 3GS came in 8GB, 16GB and 32 GB versions. All have a black screen border, and you have your choice of black or white plastic rear cases. Want more than 32 GB? Buy two; the whole phone costs about as much as one size-bump in memory in new devices. I paid only $149 for my 32 GB version; the lower-capacity versions probably sell for less.
For less than buying a new iPod, you also can get one of these used iPhone 3GS, and it does the same things and much more.
Of course the iPhone 3GS takes the standard 30-pin connector, so it works flawlessly with all the cords, speakers and chargers all the iPhone 5 users are throwing away.
Since it takes standard SIM cards, I simply took my old voice-only SIM card from my 1990s phone, popped it in my iPhone 3GS, and Bingo!, I'm on the air, and only at my old non-contract rate of $39 a month for unlimited calling. I get my data over the free WI-Fi connection.
I'm not sure how almost every person on the planet already has a new iPhone 5 (2012-) only a week after it was announced, and even how the poorest people on this planet all have at least an iPhone 4S (2011-2012), but for the rest of us who try to work for a living, a used iPhone 3GS is the first iPhone I've been able to afford.
Maybe the reason the poorest people on the planet all have the newest iPhones is precisely because they get embarrassed into having to have the newest phone to show off to their friends, and then get scammed out of $110 every month on their contracts to support their new iPhones. My wife thought I was an idiot paying $150 for a used iPhone 3GS when she thought she could buy a new iPhone 5 for "only $199 brand-new," until I explained to her that the $199 iPhone required a mandatory two-year enslavement at $110 a month or more. Worse, the new iPhone requires sales tax be paid at its full price, which is sales tax on about $800!
WIth my used $150 phone, I simply popped in my existing SIM card, with which I've had unlimited usage for $39 a month since I last changed plans in about 1999.
$110 a month after the mandatory 24 month period is $2,640 before all the taxes and bogus additional add-on fees, which is an awful lot for a "$199" phone!
Not caring if anyone thinks I'm a bumpkin with an old phone is why I can afford anything.
$150 and then $39 a month is a lot cheaper than $199 and $110 a month for the rest of eternity.
If you don't already have an existing account with a SIM card to pop into your new used iPhone, AT&T and T Mobile sell new SIM cards and plans for about half what you'd pay along with your discounted new "$199" phone.
A SIM card is a little postage-stamp sized card that pops in AT&T and T mobile and other phones to activate them. SIM means Subscriber Identity Module, in other words, everything about you and your account and phone number and stored numbers are all on that SIM card. Pop it out and pop into a new phone, and Bingo!, you're live on a new phone.
Buy a used iPhone on eBay, pop in your SIM, and you're good to go.
Therefore, for $150 for a used iPhone, I'm good to go with no contracts and no commitments and no obligations using my existing account.
Anyway, here is what I've learned by popping my existing AT&T voice-only SIM card I've been using since the 1990s into my iPhone 3GS.
The iPhone 3GS is the newest iPhone that still takes the original very common 1990s SIM cards. The iPhone 4 and newer take smaller cards, and these phones still cost too much for people like me. If you do splurge on a newer phone, most phone companies will cheerfully swap you for a smaller card on your account.
I'm trying to write about the iPhone. Anything to do with subscriptions and plans etc. is on your own. I'm just trying to write about my experiences as a cheapskate who can afford anything. By not flushing thousands of dollars a year down the telecom toilet, I can spend that money on much nicer and more lasting things. You should research if a certain used phone will work with your chosen carrier.
Specifications top
Intro Specs Press Performance Usage Recommendations
iOS Compatibility
OS 3.0 was introduced along with the 3GS.
The 3GS also runs iOS 4, iOS 5 and iOS 6.
Radios
UMTS/HSDPA (850, 1900, 2100 MHz)
GSM/EDGE (850, 900, 1800, 1900 MHz)
802.11b/g Wi-Fi
Bluetooth 2.1 + EDR wireless technology
Positioning
Assisted GPS
Digital magnetic compass
Wi-Fi
Cellular
LCD Display
3.5-inch (diagonal) widescreen Multi-Touch display.
480-by-320-pixel resolution at 163 ppi.
Fingerprint-resistant oleophobic coating.
Support for display of multiple languages and characters simultaneously.
Sensors
Accelerometer.
Proximity sensor to turn off LCD when phone is at your ear.
Ambient light sensor.
Audio Transducers
Built-in speaker and microphone.
Apple Earphones with Remote, Mic and Volume control included. Frequency response: 20Hz to 20,000Hz. Impedance: 32 ohms
Audio
Frequency response: 20Hz to 20,000Hz, rated.
Audio formats: AAC (8 to 320 Kbps), Protected AAC (from iTunes Store), HE-AAC, MP3 (8 to 320 Kbps), MP3 VBR, Audible (formats 2, 3, 4, Audible Enhanced Audio, AAX, and AAX+), Apple Lossless, AIFF, and WAV.
User-configurable maximum gain.
Video
Formats: H.264 video, up to 1.5 Mbps, 640 by 480 pixels, 30 frames per second, Low-Complexity version of the H.264 Baseline Profile with AAC-LC audio up to 160 Kbps, 48kHz, stereo audio in .m4v, .mp4, and .mov file formats; H.264 video, up to 2.5 Mbps, 640 by 480 pixels, 30 frames per second, Baseline Profile up to Level 3.0 with AAC-LC audio up to 160 Kbps per channel, 48kHz, stereo audio in .m4v, .mp4, and .mov file formats; MPEG-4 video, up to 2.5 Mbps, 640 by 480 pixels, 30 frames per second, Simple Profile with AAC-LC audio up to 160 Kbps, 48kHz, stereo audio in .m4v, .mp4, and .mov file formats.
Support for 576p and 480p with Apple Component AV Cable; 576i and 480i with Apple Composite AV Cable (cables sold separately).
Camera
Tap to focus.
Still: 2,048 x 1,536 pixels (3 MP, 4:3).
Video: 640 x 480 VGA up to 30 frames per second with mono audio.
Photo and video geotagging from GPS.
Buttons
Sleep/wake
Ring/silent
Volume up/down
Home
Connectors
30-pin dock connector
3.5-mm stereo headphone minijack
SIM card tray
Power
Built-in rechargeable lithium-ion battery, 3.7V, about 5 W/hr.
Charging via USB to computer system or power adapter
Phone talk time: Up to 5 hours on 3G, up to 12 hours on 2G.
Standby time: Up to 300 hours.
Internet use: Up to 5 hours on 3G, up to 9 hours on Wi-Fi.
Video playback: Up to 10 hours.
Audio playback: Up to 30 hours.
Size
4.5 x 2.4 x 0.48 inches, HWD.
115.5 x 62.1 x 12.3 mm HWD.
Weight
4.735 ounces (134.3 grams), measured.
4.8 ounces (135 grams), rated.
Environment
Operating: 32° to 95° F (0° to 35° C).
Nonoperating: -4° to 113° F (-20° to 45° C).
Relative humidity: 5% to 95% noncondensing.
Maximum operating pressure altitude: 10,000 feet (3000 meters).
Included
iPhone 3GS.
Apple Earphones with Remote and Mic.
Dock Connector to USB Cable.
USB Power Adapter.
Minimal documentation.
Announced
08 June 2009, at Apple's world-wide developers conference, San Francisco.
Discontinued
12 September 2012, with the introduction of the iPhone 5.
Price
2010: 32GB model: about $600 if bought alone without a contract.
September 2012: about $150 used.
Press Announcement top
Intro Specs Press Performance Usage Recommendations

SAN FRANCISCO—June 8, 2009—Apple® today introduced the new iPhone™ 3GS, the fastest, most powerful iPhone yet, packed with incredible new features including improved speed and performance—up to twice as fast as iPhone 3G—with longer battery life, a high-quality 3 megapixel autofocus camera, easy to use video recording and hands free voice control. iPhone 3GS includes the new iPhone OS 3.0, the world's most advanced mobile operating system with over 100 new features such as Cut, Copy and Paste, MMS*, Spotlight Search, landscape keyboard and more. iPhone 3GS customers get access to more than 50,000 applications from Apple's revolutionary App Store, the largest application store in the world where customers have already downloaded over one billion apps. iPhone 3GS offers twice the capacity for the same price with a 16GB model for just $199 and a new 32GB model for just $299.** And beginning today, iPhone 3G is available at the breakthrough price of just $99 for the 8GB model—a huge milestone for the high end smartphone market.
"iPhone 3GS is the fastest, most powerful iPhone yet and we think people will love the incredible new features including autofocus camera, video recording and the freedom of voice control," said Philip Schiller, Apple's senior vice president of WorldWide Product Marketing. "And with a breakthrough price of $99, we are thrilled to get iPhone 3G into the hands of even more users who want them."
iPhone 3GS offers incredible speed and performance, on average up to twice as fast as iPhone 3G, so you can render web pages quicker and launch applications faster. iPhone 3GS takes advantage of the OpenGL ES 2.0 standard for stunning high-quality 3D graphics, making mobile gaming and other graphic intense applications better than ever. iPhone 3GS is not only faster, but with longer battery life you can watch more videos, listen to more music, browse the Internet or keep using your favorite apps even longer. The new iPhone 3GS also supports 7.2 Mbps HSDPA for faster networking speeds.***
iPhone 3GS features a new 3 megapixel autofocus camera that takes amazing pictures and video, making it easier than ever to capture, edit and share those moments instantly with family and friends. The new autofocus camera adjusts focus, exposure, color and contrast for the best possible image and includes an automatic macro focus for extra close up shots. With the new "tap to focus" feature, you simply touch the display to select an object or area of interest and the camera automatically re-adjusts focus and exposure. You can record incredible high-quality video clips and edit them right on your iPhone 3GS by simply trimming the start and stop points. With iPhone 3GS you can send photos and video by email or MMS and post them to MobileMe™ or YouTube with just one tap.
The voice control feature in iPhone 3GS offers hands free operation for both iPhone and iPod® functions. Simply speak the appropriate commands into the built-in microphone or headset microphone to dial by name or number. With voice control you can play your favorite music by artist, album or playlist and activate the Genius feature by saying "play more songs like this." You can also tell iPhone to pause the music, play the next track, turn on shuffle or ask, "What's playing right now?"
iPhone 3GS features a new built-in digital compass for instant navigation.**** The Compass app shows you which way you are headed and rotates as you change direction. You can orient yourself to true north or magnetic north, and iPhone's built-in GPS automatically displays the coordinates of your current location. The new built-in digital compass is also integrated within Maps, so it automatically orients any map to the direction you are facing.
iPhone 3GS provides new accessibility features including VoiceOver, a screen reader that speaks what appears on the iPhone 3GS display, enabling visually impaired users to make calls, read email, browse web pages, play music and run applications. The new universal Zoom function magnifies the entire screen, and the White on Black feature reverses the colors on screen to provide higher contrast for people with low vision. iPhone 3GS also supports Mono Audio which combines left and right audio channels so that they can be heard in both earbuds for those with hearing loss in one ear.
iPhone 3GS includes the new iPhone OS 3.0 software with more than 100 new features including: Cut, Copy and Paste; MMS; Spotlight Search to search across iPhone or within Mail, Contacts, Calendar and iPod; landscape keyboard for Mail, Messages, Notes and Safari®; expanded parental controls for TV shows, movies and apps from the App Store; and the ability to capture and send audio recordings on the go with the new Voice Memo app. iPhone 3.0 software also includes a new Find My iPhone feature that works together with MobileMe so you can locate your lost iPhone on a map, send a message that will appear on the screen or play a sound to help you find it even if your phone is set to silent. If you cannot find your iPhone, you can erase all data and content on your iPhone with the new Remote Wipe feature. New iTunes® features available with iPhone 3.0 software include wirelessly downloading movies, TV and audio programs as well as iTunes U so students can download learning materials on the go.
iPhone 3GS gives users access to the revolutionary App Store, the largest application store in the world with more than 50,000 applications. The App Store allows developers to reach tens of millions of iPhone and iPod touch® users around the world. To date, customers have downloaded more than one billion apps from the App Store. And with more than 1,000 new APIs available with the iPhone SDK, developers can create even more innovative applications using In-App Purchases, a new Maps API and Push Notifications.
iPhone 3GS also features built-in Nike + iPod support making it an incredible workout companion. Users simply place the optional Nike + iPod sensor ($19) in their Nike + shoe to seamlessly connect with iPhone 3GS to track miles run or sync with the latest generation gym equipment.
Pricing & Availability
iPhone 3GS will be available in the US on June 19 for a suggested retail price of $199 (US) for the 16GB model and just $299 (US) for the new 32GB model in both Apple and AT&T's retail and online stores, Best Buy and Wal-Mart stores. iPhone 3GS requires a new two year contract with AT&T for qualifying customers. iPhone OS 3.0 software will be available on June 17 as a free software update via iTunes 8.2 or later for all iPhone customers. iPod touch customers will be able to purchase a software update for $9.95 (US). Beginning June 8, iPhone 3G will be available for just $99 (US) for the 8GB model. New MobileMe features for iPhone require iPhone OS 3.0. MobileMe is available for an annual subscription price of $99 (US).
iPhone 3GS will also be available in more than 80 countries in the coming weeks. For further information about US and international pricing and availability visit www.apple.com/iphone.
*MMS messaging is available only on iPhone 3G or iPhone 3GS; fees may apply. MMS may not be available in all areas. MMS support from AT&T will be available in late summer.
**Qualified customers only. Requires a new two year AT&T rate plan, sold separately.
***Where available from AT&T later this year.
****Compass reliability may be affected by usage conditions such as nearby magnetic fields.
Performance top
Intro Specs Press Performance Usage Recommendations
iOS 6
It works great with iOS 6, in fact, my iPhone 3GS is much faster on iOS 6 than my iPod Touch is running iOS 5!
LCD Display
Better than the newer Retina displays, the iPhone 3GS' LCD is visible in direct sunlight, even with the backlight off.
While having less resolution than the newest displays, the iPhone 3GS still has more than enough resolution. It's super-sharp, and I prefer its sunlight legibility I can see over wasted resolution I can't see.
Feel
The outsides of the iPhone 3GS are all plastic, except for the glass front. What looks like metal is merely chromed plastic, just like a $250,000 Maybach.
The iPhone 3GS isn't a stainless-steel miracle like the newer iPhones. The iPhone 3GS feels like the corded Apple Might Mouse; and all-plastic egg-shaped thing.
GPS
The GPS locates you easily anyplace on earth, even without a data plan or a Wi-Fi connection to the Internet.
You will need a connection to the Internet to get the maps seen under the blue dot representing your position. If you go out into the field without a data connection, you'll still have whatever pieces of maps it loaded before you left.
Magnetic Compass
New in the iPhone 3GS, the magnetic compass is faster and smoother than a real magnetic compass.
It just goes.
No data plan is needed.
Phone
Phone audio quality is poor. Audio is somewhat muted, and my GSM version often has RFI (buzzing) in the receiver.
Phone quality is so poor that I stopped using this as a phone about a week after I wrote this review. If I can't hear anyone and they can't hear me; why bother?
The phone ringer has only two positions: on and off. You can program what each position does, but I need three settings: Ring and Vibe, Vibe only, and OFF. I have to make due with setting it to Ring and Vibe and OFF. The good news is that there's a slide switch for this, but the bad news is that it only has two positions. Worse, this switch doesn't control what all the other annoying notifications do. If you want a beep for voicemail, you'll get it regardless of the ringer switch position.
All the new voicemail and call list features work perfectly, even with my 1990s era voice-only calling plan.
The ringer on-off switch easy to knock. It vibrates once each time it's turned off, so maybe you'll feel that if its knocked by accident.
It's completely integrated into the Contacts app, so all your friend's phone numbers transfer just fine back and forth by magic between your Mac and your new iPhone, again, even with an old voice-only SIM card.
It doesn't use the SIM card number memories, but you can import your SIM contacts under Preferences > Mail.
There is a sensor that turns off the LCD when the phone is to your ear to save batteries.
Camera
The main reason I bought an iPhone 3GS was to get a better camera than my iPod Touch.
The iPhone 3GS' camera is worlds better than the iPod Touch. It has more resolution and is much better in low light. Its colors and exposure accuracy are about as bad, and unlike the iPod Touch's fixed-focus, the autofocus of the iPhone allows close-ups, but also can get misled and make out-of focus pictures.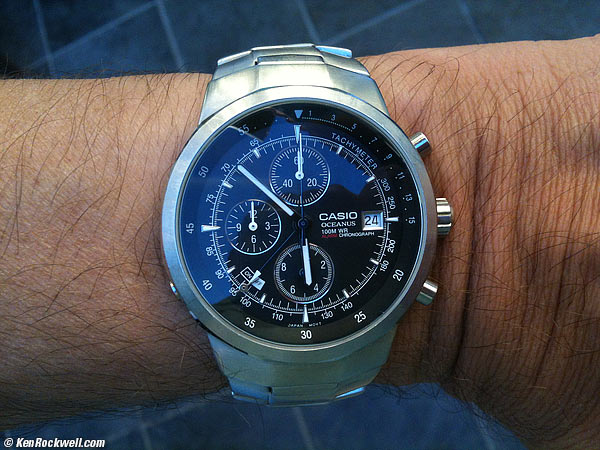 At closest focus distance. (f/2.8 at 1/120 at ISO 125.)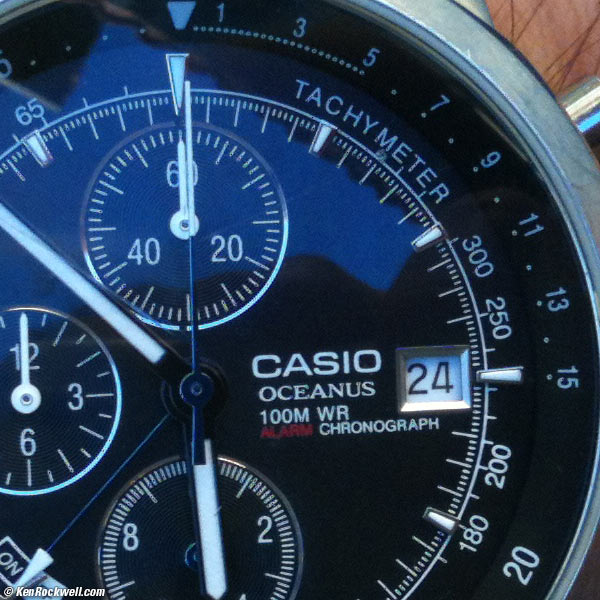 Crop from above image at 100%. If this is 6" (15cm) wide on your screen, the complete image would be 25 x 15" printed at the same magnification.
The iPhone 3GS shoots pretty quickly, I'm impressed. It's faster to hold the shutter and release (it shoots the instant you release your finger from the glass), or you also can press the Volume Up or Down buttons to shoot – but they don't respond as quickly.
It shoots in 4:3L: 2,048 x 1,536 pixels.
It's sharp enough in good light, and much softer due to noise reduction in low light.
The 3GS camera has crummy colors, and often under exposes bright areas. Color are dull, but still works much better overall, especially in dim light, than my iPod Touch.
There is no flash, and that's good, because no cell phone has a good flash. What other phones, and newer iPhones, have are nasty LEDs, not xenon flash, and these LEDs have awful color. I'd rather not use those other attempts at cell-phone flash, so I prefer the no-flash iPhone 3GS.
There is only one camera, there is no second camera on the front for Face Time.
The 3.9mm lens is fixed at f/2.8.
ISO ranges from ISO 64 in good light to ISO 1,000 in the dark.
Ryan at Benihana. (Apple iPhone 3GS, f/2.8 at 1/15 at ISO 320, MR-16 light.) bigger.
The shutter ranges from 1/10 in dim light to 1/5,000 or faster in bright light.
The meter is dumb; point it at white in sunlight, and you get gray.
JPG files average 1.4 MB, which is much more file size than these images deserve. My Canon 5D Mark III in MEDIUM SMALL JPG mode makes files with higher resolution and superior images in every way, and the file sizes average 900 kB.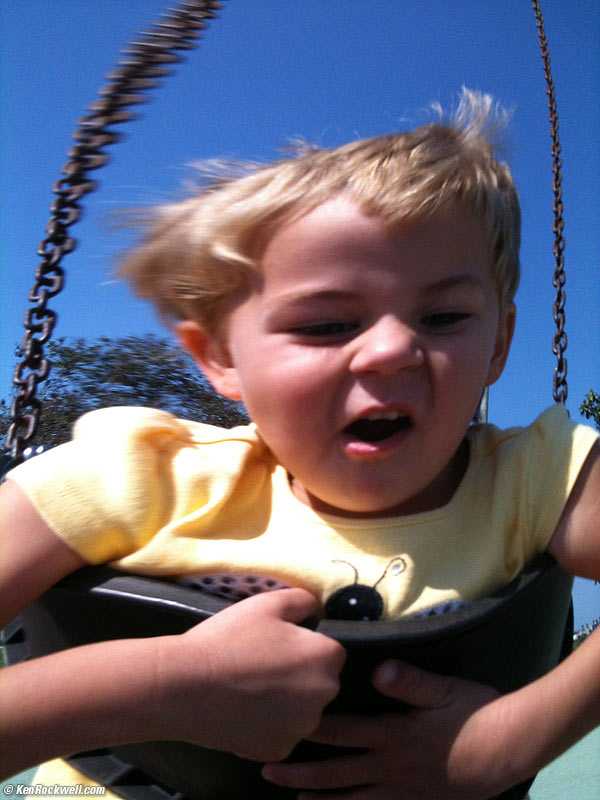 Katie on the super-fast scary swing, 25 September 2012. (Apple iPhone 3GS, f/2.8 at 1/1,696 at ISO 64, weird warp as an artifact of the camera.)
The electronic shutter goes super-fast, but it's weird, working like a very slow focal plane, and can warp images that are in motion.
Power
My two-year-old sample consumes about 20% of the battery's charge in a day, with one hour of actual usage per day. IN other words, a full charge gets about 5 hours of use across 5 days.
Used less each day, after 7 days and only 3 hours of use, I still had 17% charge left.
Notes
One big little problem I had is with my 500 notes.
I use Notes extensively to take notes for these reviews.
My iPhone 3GS started to copy duplicates of some notes over other notes, resulting in some notes lost and others duplicated.
This isn't acceptable, so I disabled syncing Notes with the rest of my system, and won't use Notes on my iPhone until this gets fixed.
Hopefully this is a fresh new iOS 6.0 bug; iOS 6 is only a week old as I write this.
Usage top
Intro Specs Press Performance Usage Recommendations
When I got my used iPhone 3GS, it was amazing how simple it was to reconfigure it immediately based on a backup of my iPod Touch!
I plugged in the iPhone, and selected the backup of my iPod Touch in iTunes. I could have restored it to the settings in any of my other iDevices as well.
In my case, I have all my account data in my iPod, so I chose to restore from my iPod so all my eMail and everything would pop right up in my new used iPhone.
It took only about ten minutes for it to restore, and some more time to reboot once restored.
Of course it took about a half hour to load it with 30 GB of music and other data.
Recommendations top
Intro Specs Press Performance Usage Recommendations
Want an iPhone, cheap? Here you go. It's much less expensive than a new iPhone with it's two-year enslavement to an expensive plan, and less expensive than a new iPod, and does the work of both.
As an update to my 6-year-old voice-only phone, this is a screaming deal.
If you've found all the time, effort and expense I put into researching and sharing all this, this free website's biggest source of support is when you use these links, especially this link directly to them at eBay (see How to Win at eBay) and at Amazon, when you get anything, regardless of the country in which you live. Thanks! Ken.
Help me help you top
I support my growing family through this website, as crazy as it might seem.
The biggest help is when you use any of these links when you get anything, regardless of the country in which you live. It costs you nothing, and is this site's, and thus my family's, biggest source of support. These places have the best prices and service, which is why I've used them since before this website existed. I recommend them all personally.
If you find this page as helpful as a book you might have had to buy or a workshop you may have had to take, feel free to help me continue helping everyone.
If you've gotten your gear through one of my links or helped otherwise, you're family. It's great people like you who allow me to keep adding to this site full-time. Thanks!
If you haven't helped yet, please do, and consider helping me with a gift of $5.00.
As this page is copyrighted and formally registered, it is unlawful to make copies, especially in the form of printouts for personal use. If you wish to make a printout for personal use, you are granted one-time permission only if you PayPal me $5.00 per printout or part thereof. Thank you!
Thanks for reading!
Mr. & Mrs. Ken Rockwell, Ryan and Katie.
Home Donate New Search Gallery Reviews How-To Books Links Workshops About Contact