Home Donate New Search Gallery Reviews How-To Books Links Workshops About Contact
Beyer T90
HANDMADE IN GERMANY
© 2013 KenRockwell.com. All rights reserved.
Intro Specs Performance Compared Recommendations More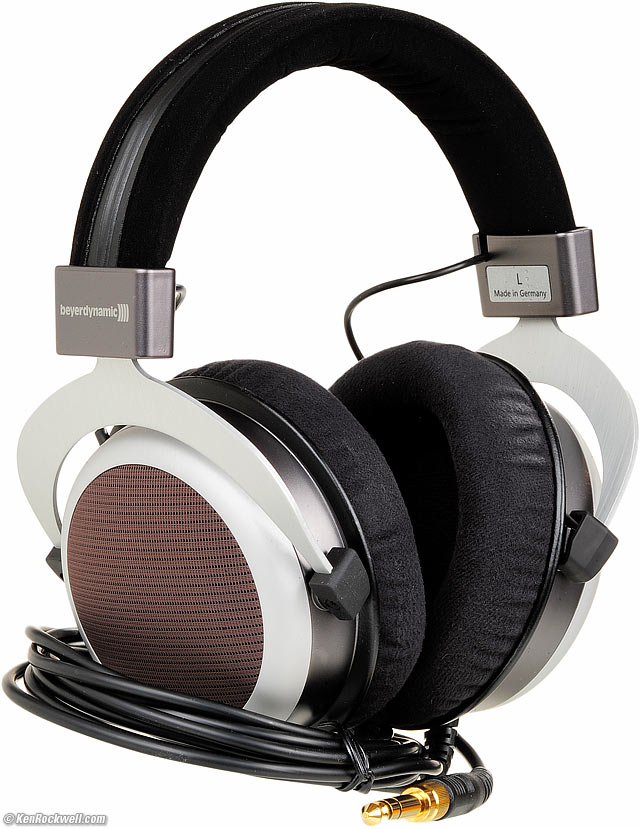 Beyer T90 (open back, 250 Ω, 11.74oz./332g without cord, about $650). larger. This free website's biggest source of support is when you use these links, especially this link to it at Amazon or at B&H Photo-Video when you get anything, regardless of the country in which you live. Thanks! Ken.
November 2013 Beyer Reviews Headphone Reviews Audio Reviews All Reviews
Introduction top
Intro Specs Performance Compared Recommendations More
The Beyer T90 are a very clean, uncolored and open-sounding pair of open-back headphones. If you want crystal clarity and definition, here you go. Any errors in response are a very slightly Hi-Fi sound with very slight emphasis to the top and bottom ends. The T90 are both entertaining as well as extremely open and accurate headphones.
These are tough, well-built headphones. If you want natural sound from a set of professional headphones, get a pair for yourself.
The Beyer Dynamic T90 have a very slightly more bass and slightly more high end than the T1 or DT880. Therefore these T90 are fun for enjoying music, and they are still super accurate and uncolored. The slightly more top and bottom in the T90 are only a dB here or there, only the subtlest extra relative to the others. Which is best depends more on your preferences than anything scientifically measurable.
Anyone who's worked in radio or recording knows Beyer Dynamic microphones and headphones. I've been using them since the 1980s, and they've been around since the 1920s. For instance, reading about Billy Joel's classic album 52nd street, the vocals were recorded with a Beyer 250 microphone. For all you know, maybe your favorite recording was made with a Beyer microphone, too!
Specifications top
Intro Specs Performance Compared Recommendations More
Type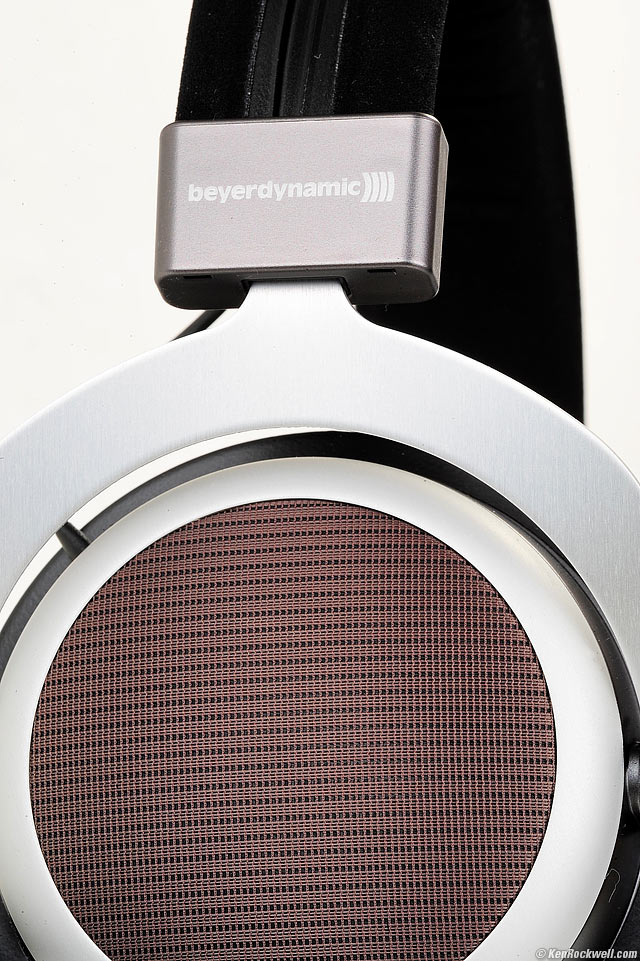 Exotic grillwork, Beyer T90.
Open-back (no isolation) dynamic stereo headphones.
Circumaural: sits around your ears, not on them or in them.
"Tesla" simply means strong neodymium magnets which produce more than a Tesla (10,000 Gauss) of magnetic field. This gives a few decibels more sensitivity than the DT880.
Plug and Cable
3 meter (10 feet), straight.
3.5mm plug.
Screw-in ¼" adapter included for use with real equipment.
Frequency Response
5 ~ 40,000 Hz, no conditions specified, making these numbers a meaningless waste of ink.
Impedance
Rated 250 Ω.
Sensitivity
102 dB SPL at 500 Hz at 1 mW.
1 mW is 500 mV at 250 Ω, thus 1V is 4 mW or +6 dBm into 250 Ω, so 1V gives 108 dB SPL.
Power Handling
200 mW, no conditions specified.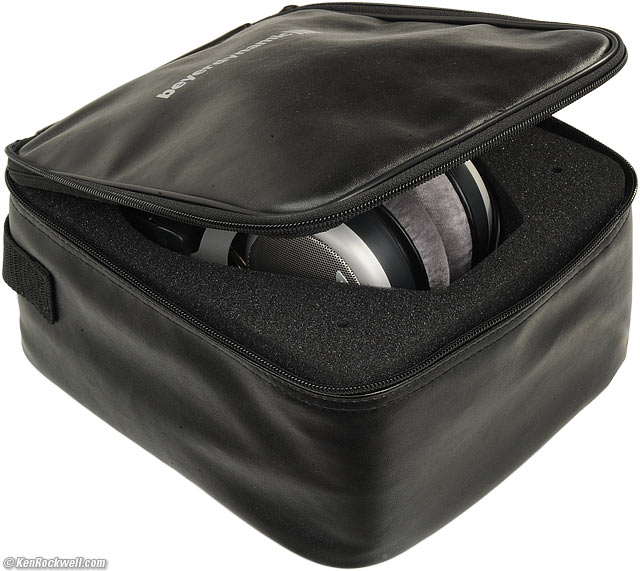 Free included case. enlarge.
Well-padded case included.
This case is much more useful than the showy metal atrocity included with the Beyer T1. I love this case; I throw in my headphones in and throw the case wherever I need it, and everything is safe.
Weight
11.74 oz. (332g) actual measured, without cord.
12.3 oz. (350g), specified, without cord.
Included
T90 headphones.
Gold screw-in ¼" adapter.
Zippered case with foam insert.
Price, USA
$650, November 2013.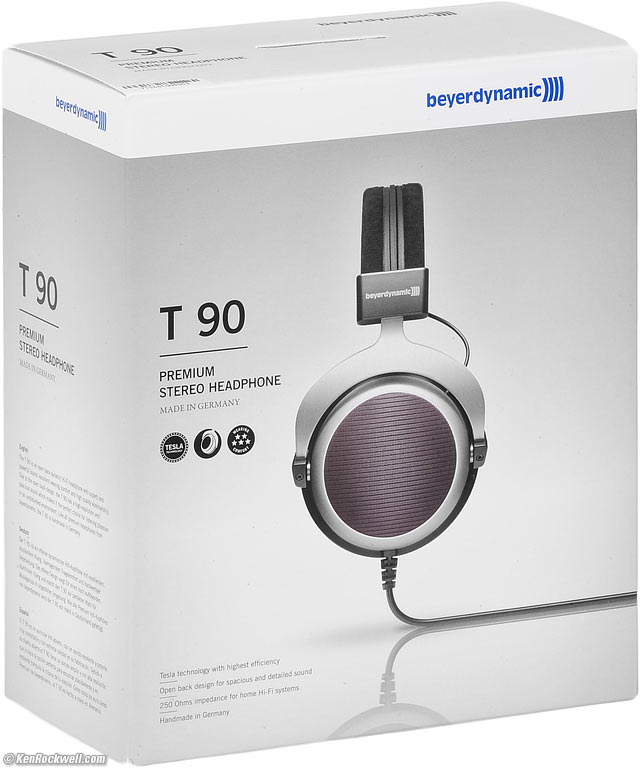 Box, Beyer T90. bigger.
Performance top
Intro Specs Performance Compared Recommendations More
Overall
The Beyer T90 are well-made, sensitive, comfortable, natural, open and airy sounding headphones.
Sensitivity and Amplification
The Beyer T90 are very sensitive, especially for 250 Ω headphones, so it's unlikely that you'll need a dedicated headphone amplifier for most uses. The headphone jack on your iPod, iPhone, iPad, CD or SACD player, preamp or whatever should be all you need, saving you the expense of another amplifier. This "Tesla," or extra-sensitive technology, is how the T90 can practically pay for themselves.
For most music, your iPhone probably has a better DAC and built-in headphone amplifier than most of the "audiophile" garbage out there. I'm dead serious: the Apple iDevices have lower output impedances and less distortion, smoother and more extended response than most of the amateur attempts at amps for which people pay too much money, thus there is less real-world low-frequency distortion playing these from your iPhone than most exotic headphone amps this side of the reference zero-output-source-impedance Benchmark DAC1 HDR. From an iPhone, the T90 can play play way too loud with no distortion, no problem. Its 250 Ω impedance is much easier for any portable device to drive than 32 Ω.
For real music with dynamics (classical, opera and other purely acoustic music that's not squashed to 110% modulation like most music today from most sources), you may or may not get enough level out of an iPod and want a real amplifier. Most people don't enjoy real music, so few will need an outboard amplifier unless you want to listen to wide dynamic range symphonic music at concert levels. Most forms of music enjoyed by most people are recorded at much louder levels, so no amp is needed.
With my two favorite reference amplifiers, the solid state Benchmark DAC1 HDR and the vacuum tube Woo Audio WA7 Fireflies, there is more than enough gain and output level for anything.
The good news is that except for maximum level, the T90 are not sensitive to what amplifier you use, so long as you're using a top flight amplifier like the Benchmark DAC1 HDR, Woo Audio WA7 Fireflies, or the direct output from an Apple portable. (Other brand MP3 players and smart phones are probably much worse than Apple; I have not tested them.) I didn't hear any difference when different amplifiers were used.
With my iPad, about 1/2 to 3/4 gain is where I listen to movies. For pop music, I'll also be at 1/2 to 3/4.
The advantage of being 250 Ω instead of 32 Ω is that most portable devices have much less distortion, especially in the bass, when driving higher impedances like these headphones.
I auditioned these with various amplifiers, and the sound didn't vary — just the maximum output, which of course will vary the perceived bass response.
Sound
Tonal Balance
The Beyer T90's are of the neutral German school of sound. The T90 sound smooth and light, clean and open and uncolored.
I was surprised that the T90's tonal balance is similar to the Stax SR-Lambda Professional as driven by the Stax SRM-T1 tube amp. This dynamic Beyer isn't quite as smooth or as real-sounding and has a little less deep bass than the electrostatic Stax, but these Beyers are very close, and all I had to do was plug them into an iPod, no amplifier required.
Bass
The T90 will sound light in the bass if compared to most consumer headphones that boost the bass. As a bass player I prefer boosted bass, but the T90 are more accurate and what you should be using for creating music. The T90 are good for mixing and mastering as your projects won't wind up being bass-shy.
Our ears hear more bass at louder levels; if you want more bass, play the T90 louder.
The T90s don't boost the bass, so what bass they have is extremely tight and well controlled; you're hearing exactly what you're recording or what's on your recording. With a recording a bit heavy in the bass like Jacques Loussier's "Bach to the Future," the T90s really come into their own.
Once you get over the lack of boom and peaky bass overemphasis of lesser headphones, the Beyer T90 astounds with solid, undistorted bass to well below 20 Hz. Its response is strong and audible down to 12 cycles per second! Of course below 20 Hz "audible" is more the room noise modulating itself from intermodulation with the headphone's subsonic output, but that's the way it works in live sound, too. The T90's bass is clean and clear with no boom, so the deepest bass isn't hidden behind it. Pedals sound natural.
Imaging
Stereo imaging is normal: nice and wide and clear with reasonable out-of-head sound. There is plenty of stage depth and detail.
Isolation
These are open, non-isolating headphones.
They only slightly muffle outside sound, and anyone within a few feet of you will also hear your music.
Residual Magnetic Field
I measured a maximum of about 5,000 µT (50 Gauss) at the exterior of one of the earpieces.
These are not shielded, so keep them away from sensitive magnetic material.
Ergonomics
Materials
The T90 feel like most of Beyer's headphones: solid and simple. The parts that look like metal are metal; these aren't toy headphones.
The padded harp cover is velour.
This T90 is much sturdier than Sennheiser HD800. The T90 is tough enough for daily professional abuse.
Earpads
The earpads are covered with fuzzy velour. The pads ride around your ears, not touching them. Your ears sit inside untouched.
Feel
They stick well on my head as I move around.
The T90 are comfy and not stuffy when worn all day.
The T90 use moderate to low spring pressure.
Cord and Plugs
I dislike the long 3m (10') uncoiled straight cord. I'd much rather a shorter cord or a coiled cord.
The plastic 3.5mm plug is threaded for the included ¼" adapter. Because of the small thread, it easily pushes into iDevices inside thick cases.
Compared top
Intro Specs Performance Compared Recommendations More
Compared to the Beyer DT 880
The T90 have a dB or two more relative output at the high and low ends than the DT880. The DT880 are more accurate for mixing and mastering, while the T90 are more fun for enjoying music. Most of the sound between them is very similar, with the T90 more showy and the DT880 more reserved. Neither has boosted bass; each has very tight and neutral bass and no other colorations.
If you listen to the T90 all day, the DT880 sounds dull by comparison. If you listen the DT880 all day, the T90 sounds brighter and more lively.
The 250 Ω T90 have much more voltage sensitivity (play louder) than the 600 Ω DT880, which makes sense as they are different impedances. The T90 will play almost anything loud enough directly from an iPod, while the 600 Ω DT880 often will want an amplifier.
There is a 32 Ω version of the DT880 which sounds the same as the 600 Ω DT880, just louder. I've compared the different impedance versions of the DT880 against each other and they are identical. I have not compared the 32 Ω DT880 to the T90 for sensitivity; the 32 Ω DT880 probably plays even louder from an iPod than the T90.
Even though they look almost identical in construction, the adjustable earpieces of my DT880 are always retracting into the harp, while the T90 earpieces. stay where I put them after I put them away. With the T90, I don't have to readjust the earpieces each time I put them on.
Compared to the Beyer T1
These 250 Ω T90 have more voltage sensitivity (play louder) than the 600 Ω Beyer T1.
These T90 have slightly stronger treble and slightly stronger and cleaner bass than the more neutral T1. Otherwise they are very similar, with the T1 seeming like mostly an exercise in fancy packaging by comparison.
I prefer the sound of the T90 over the T1. The T90 is more entertaining, while the T1 is more accurate. They are very close to each other.
Recommendations top
Intro Specs Performance Compared Recommendations More
The Beyer T90 are superb headphones, especially if you want detailed, open, uncolored sound with tight, natural bass.
If the T90 are too expensive, get them anyway! Unlike consumer electronics like a flat-screen TV or digital camera that you'll want to throw away in 5 years or less, invest your money in headphones or speakers and you'll still be enjoying them decades from now. I still use my original set of Beyer DT990s that I bought in 1986. They seemed expensive then, but the price has long been forgotten while their quality is remembered every day.
Headphones don't wear out or age. So long as you don't abuse them too much, they ought to outlive you. Never get cheap with headphones or speakers; they don't become obsolete as do electronics; these are completely passive transducers.
If you want to pay less, today's DT880 are very similar for much less money. Get the 32 Ω or 250 Ω version, and you'll love them. The DT880 are duller and more neutral sounding, while today's DT990 are brighter with very slightly stronger bass similar to these T90. I didn't compare today's DT990 to the T90. If you prefer a duller, more neutral high end, you may prefer the DT880.
Never cheat yourself out of the headphones you deserve. They will last you a very, very long time. If you want the T90 or T1, get them and you'll never look back. If you really must economize, the DT990 and DT880 are also superb choices. When I have them all here for direct comparisons the differences are small, and if I had only one, I'd not notice. They are all superb; Beyer knows how great headphones should sound and all these models are similarly excellent. Your preference should be guided by the slight differences in tonal balance, not price.
For most uses, you probably won't need an outboard amplifier for these 250 Ω T90, which could effectively make them free compared to less sensitive headphones like the 600 Ω T1.
If you find my efforts here helpful, this free website's biggest source of support is when you use these links, especially this link to it at Amazon or at B&H Photo-Video when you get anything, regardless of the country in which you live.
Thanks!
Ken.
More Information top
Intro Specs Performance Compared Recommendations More
Help me help you top
I support my growing family through this website, as crazy as it might seem.
If you've found my research helpful, this free website's biggest source of support is when you use these links, especially this link to it at B&H Photo-Video when you get anything, regardless of the country in which you live. Thanks! Ken.
If you find this page as helpful as a book you might have had to buy or a workshop you may have had to take, feel free to help me continue helping everyone.
If you've gotten your gear through one of my links or helped otherwise, you're family. It's great people like you who allow me to keep adding to this site full-time. Thanks!
If you haven't helped yet, please do, and consider helping me with a gift of $5.00.
As this page is copyrighted and formally registered, it is unlawful to make copies, especially in the form of printouts for personal use. If you wish to make a printout for personal use, you are granted one-time permission only if you PayPal me $5.00 per printout or part thereof. Thank you!
Thanks for reading!
Mr. & Mrs. Ken Rockwell, Ryan and Katie.
Home Donate New Search Gallery Reviews How-To Books Links Workshops About Contact