Home Donate New Search Gallery Reviews How-To Books Links Workshops About Contact
Genelec M040
Active Nearfield Monitor (2013-)
Made in Finland
© 2015 KenRockwell.com. All rights reserved.
Intro Specs Measurements Compared Usage Recommendations More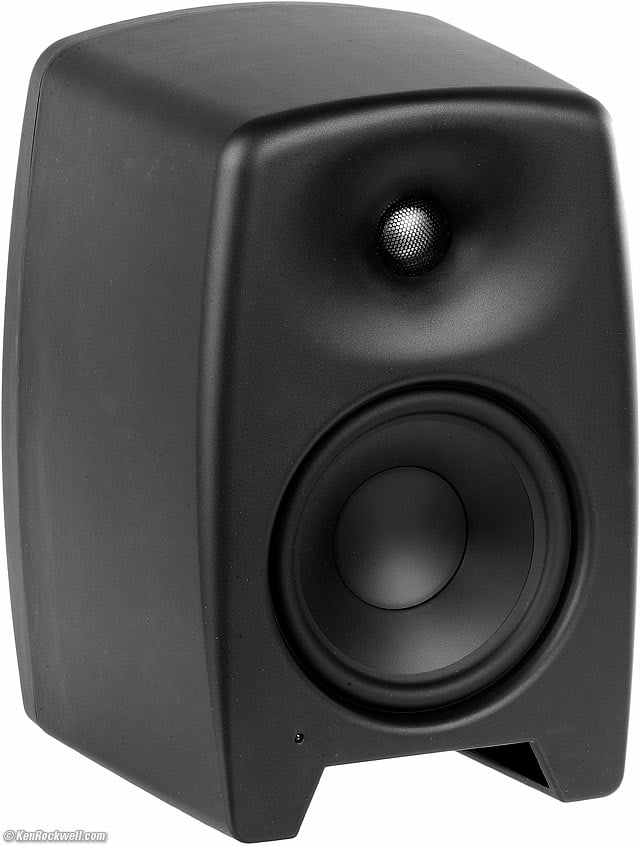 Genelec M040 (Plastic cabinet, 6.5" vented woofer, 1" dome tweeter, 48-21,000 Hz ± 3 dB, active 80W+60W biamplified, 107 dB SPL peak at 1m, 13.25 x 9.25 x 9"/337 x 235 x 229 mm HWD, 15.4 lbs./7.4 kg, about $900 each).
I got mine at B&H. I'd also get them at Amazon. Be sure to get two for stereo; they are sold singly.
This ad-free website's biggest source of support is when you use those or any of these links to approved sources when you get anything, regardless of the country in which you live. It helps me keep adding to this free website when you get anything through these links — but I receive nothing for my efforts if you take the chance of buying elsewhere. Thanks for your support! Ken.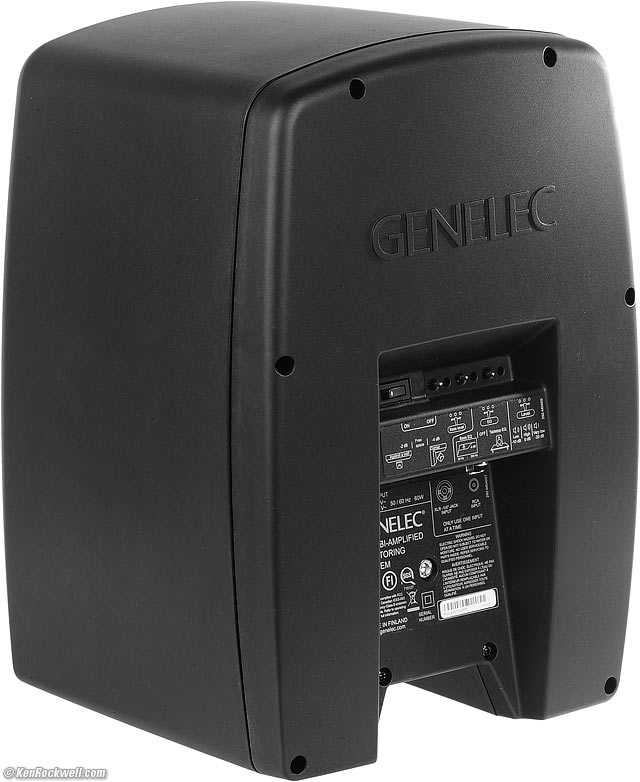 Rear, Genelec M040.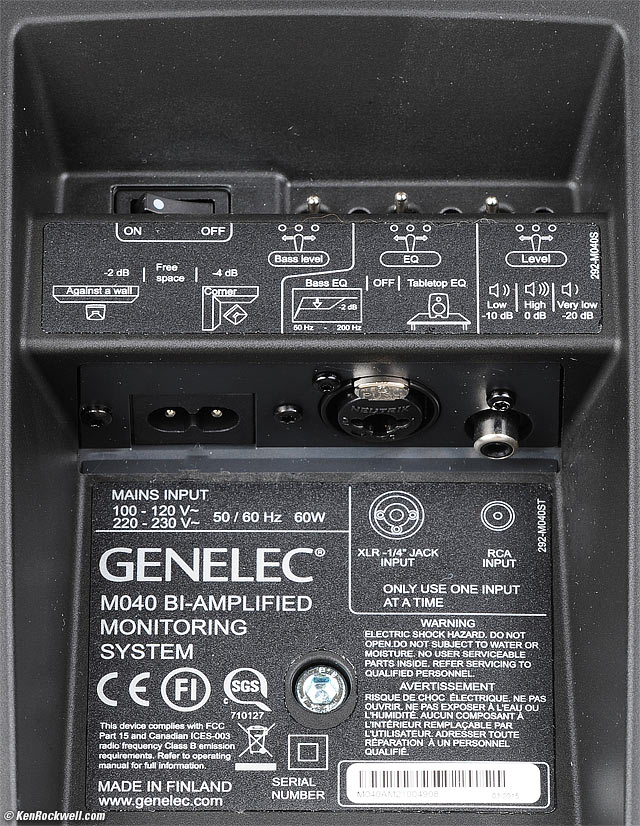 Controls, Genelec M040.
June 2015 audio reviews all reviews
Introduction top
Intro Specs Measurements Compared Usage Recommendations More
I love these Genelec M040 monitors. They are super-accurate in the lab and they sound fantastic for enjoying music. These are the best powered monitors I've heard for under $1,000 each.
Even right out of the box, they immediately have depth, detail and impact, and are always smooth — and they measure extraordinarily well in the lab. They sound great for enjoying music all day, and I've never measured a more accurate speaker. Bravo!
Genelec has been the leader in high-end professional active monitors for decades, and these inexpensive monitors show us exactly why. Genelec pretty much invented the small powered monitor concept, and even decades ago you'd see them in studios as well as on Steve Jobs' desk in his home office.
They use vented cabinets. The vents are hidden under the woofer between the little feet. This lets the vents double as handles if you're lifting them from below, and you don't have to stare at vents all day. Brilliant!
These Genelec sound better and smoother than the Focal CMD 65 and certainly better than the Neumann KH 120 I've reviewed in recent weeks. See Compared.
The tweeters are metal domes behind permanent perforated metal grills.
The woofers use plastic cones and have no protection. Be careful; it's easy to put a finger through a woofer as you unpack them if you're not paying attention.
These have 6.5" woofers; the Genelec M030 is similar, but smaller and uses 5" woofers. The M030 ought to be the same with the usual interpolations made for its smaller size.
The cabinets are pleasantly dead when you tap them. They're made of black plastic that resembles Technic's TNRC (Technics Non-Resonant Compound) of the 1970s. Genelec calls theirs "natural composite." It's plastic mixed with wood fiber — but it looks and feels like regular polyethylene or any other well-damped plastic. Since it's plastic mixed with wood, it is not recyclable and ought to last for hundreds of years.
The cases are slightly wider in the back than they are in the front. This is because they have to be pulled from molds after they harden.
These have a marvelously simply front appearance: nothing but speaker. There isn't even a logo on the front!
These are active monitors, with two internal amplifiers and a low-level crossover. Plug each into the wall for power and run your audio cable, and you're done: no power amplifiers needed.
I run these from my Benchmark DAC1 HDR. Since they are self-amplified, it's just as easy to run them directly connected to an iPod or AirPort Express or any source, pro or consumer.
They run with balanced XLR inputs as I used them, as well as with RCA inputs for consumer use.
I use mine on two pairs of AudioEngine stands, which angle them perfectly on my desk.
Their electronically-fortified bass response really does extend to about 49 Hz when used on a desk; about the low G on the E string of a standard-tuned bass. Their bass response is probably good enough to let casual users skip subwoofers, especially if you fortify it with an equalizer, but its still only half there. I use a pair of Rane SP-15 and set its lowest band on SHELF, about 45 Hz, and boosted +12 dB, and it sounds good enough that I didn't bother to use my subwoofers for casual use. These do have the usual distortion at high bass levels you'd expect from a small speaker; you won't get a clean 32 Hz C out of these as you can with the Focal CMS 65. In fact, you will hear weird artifacts out of these if you push them hard with bass below about a 16-foot E (41 Hz). Their response is solid to 50 Hz, below which it drops like a stone.
These aren't cost-conscious consumer monitors like KRK, M-Audio or Mackie. These are first and foremost professional monitors for serious work, trying to show you exactly what you've got.
The turn-on delay is about 4 seconds. There is a "tick" each time they unmute or turn on.
The back panel EQ, level controls and markings are well marked, and the switches are good metal toggle switches — not sliders.
The EQ system is so well thought out that it's trivial to set it for your environment in about three seconds; it tells you how to set what right at the switches!
Like other self-powered monitors, you will hear hiss from the internal amplifiers if you get closer than about a foot in a quiet studio. You won't hear any of this in an active office.
Mine arrived dirtier than I would have liked; they are packed with simple wet-formed pulp top and bottom supports instead of foam, which leads to dust inside the box. The plastic bags that cover each speaker are slightly perforated, so dust gets around. No big deal, just blow on them and the dust specks go away.
Specifications top
Intro Specs Measurements Compared Usage Recommendations More
Cabinet
Vented alignment.
Black plastic mixed with wood fiber.
No recycling number on them because they can't be recycled; you can't separate the wood fiber from the plastic.
Woofer
6.5" plastic-cone woofer.
The outside of the half-roll rubber surround measures 5.75" and the effective piston diameter (the middle of the suspension roll) is 5.2" or 133mm — typical for a 6.5" driver.
Tweeter
1" metal dome.
Audio
48 ~ 21,000 Hz ± 3 dB.
80W + 60W class D amplifiers. They aren't that fancy; a TDA7293 is used as the basis for the low-frequency section.
107 dB "low distortion" peak SPL at 1 meter.
Included
Speaker.
Unpolarized 2-prong power cord.
Printed manual.
Size
13 1/4 x 9-1/4 x 9 inches HWD.
337 x 235 x 229 millimeters HWD.
Weight
15.4 pounds (7.4 kg).
Quality
Made in Finland.
Introduced
15 April 2013, Frankfurt, Germany.
Warranty
2 years, even under heavy professional use.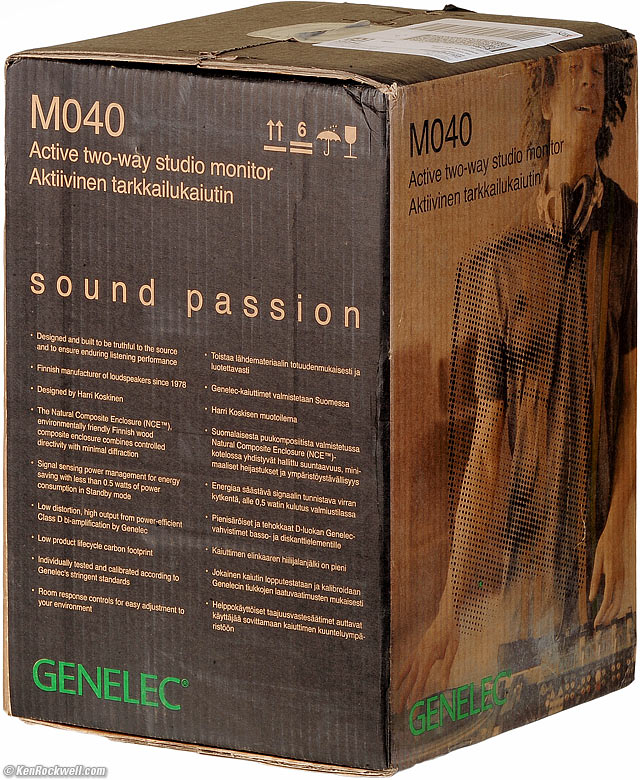 Box, Genelec M040.
Measurements top
Intro Specs Measurements Compared Usage Recommendations More
I've never measured a flatter speaker. The Neumann KH 120 measures about as flat, but doesn't sound anywhere near as good.
These are real 545-point stepped-sine anechoic measurements made with an advanced, factory calibrated Rohde & Schwarz UPL laboratory analyzer — not just some sound card.
These are not averaged, not smoothed, not summed nearfield-farfield, not noise-based and there is no other foolishness as seen in consumer publications.
These are real sine wave measurements. If I used any kind of smoothing these would look much better; these measurements show everything. With stepped precision sine waves, any and every irregularity is displayed pixel-for-pixel here on your screen: the traces are 545 pixels wide. Each pixel is its own precise measurement, nothing is averaged or smoothed over.
Sensitivity
I measure 80, 90 or 100 dB SPL at 1 meter in anechonic space at 1 kHz with a 300 mV balanced input with the level switch set to -20, -10 or 0 dB.
Frequency Response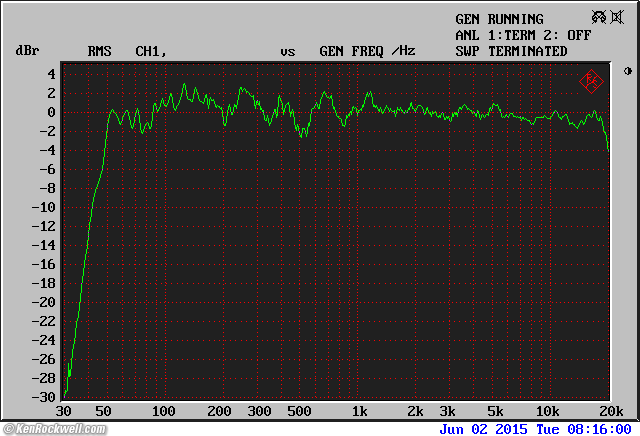 Genelec M040 Frequency Response. (swept sine, R&S UPL.)
Frequency response is superb: ±2 dB from 49 Hz to 20 kHz. Better is that there is no sloping; the ±2 dB is peaks and dips and not any shelving. Compare this to the response of a passive consumer monitor like the B&W Matrix 805, which has a much sloppier response curve and some shelving (measured in the same session in the same conditions):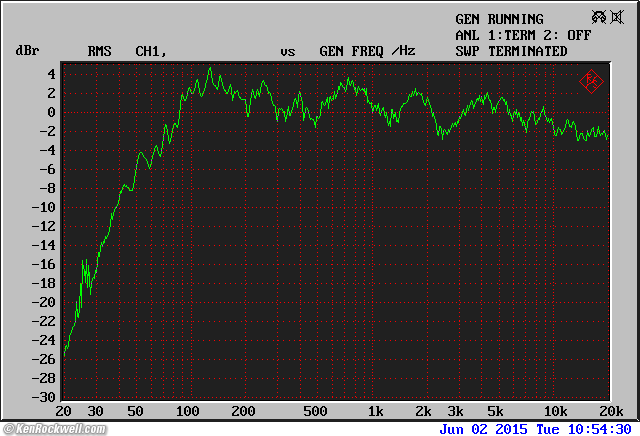 B&W Matrix 805 Frequency Response, full-space anechonic, no bass alignment filter. (swept sine, R&S UPL.)
This active Genelec is way ahead of state-of-the-art passive speakers: it's flatter, has much better bass response and no shelving. The only significant upside to passive speakers is that your amplifiers can be quieter.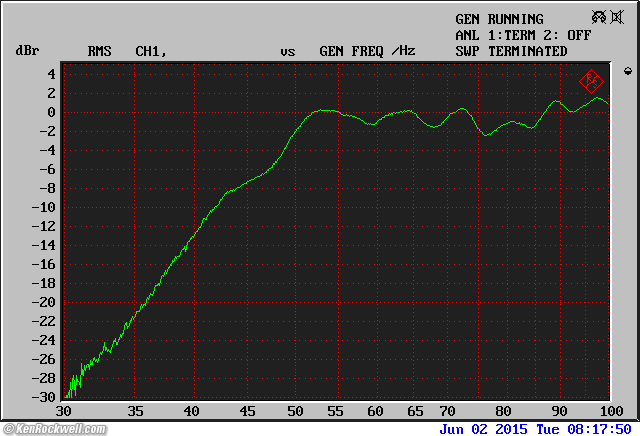 Genelec M040 Bass Response.
Bass response is predictable. It falls off at about 28 dB/octave below 45 Hz.
Distortion
In these graphs, the SPL refers to the general SPL; the response falls off at the lowest frequencies and is of course less than the nominal SPL for each curve.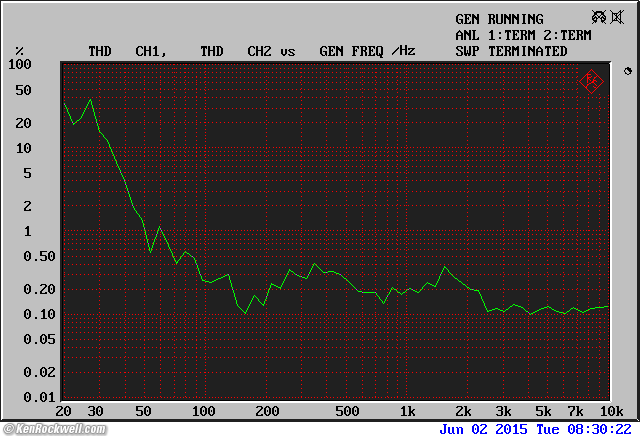 Genelec M040 THD at 80 dB SPL at 1 meter.
Genelec M040 THD at 90 dB SPL at 1 meter.
This is reasonable distortion at most frequencies, however the bass becomes distorted at high levels as we expect from a little speaker.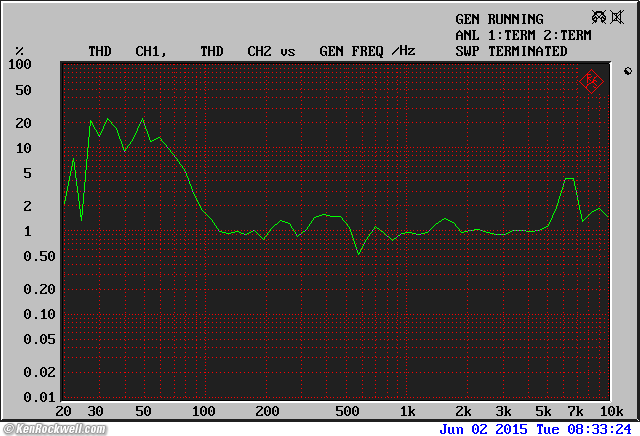 Genelec M040 THD at 100 dB SPL at 1 meter.
100dB was pushing this speaker hard, so hard in fact that its front-panel LED was red above about 6 kHz and below about 100Hz; it was clipping at frequency extremes.
Tone Bursts
Tone burst (transient) response is superb. It's nearly impossible to get acoustic waveform fidelity like this for tone bursts of 5 (at 100 Hz) or 10 cycles (other frequencies):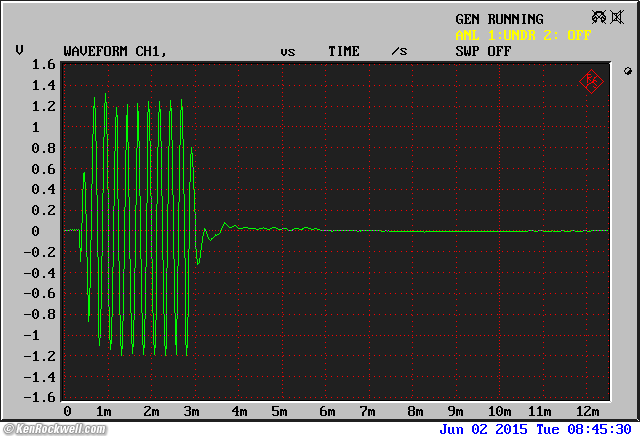 Genelec M040 Tone Burst: 10 cycles at 4,000 Hz.
Beautiful!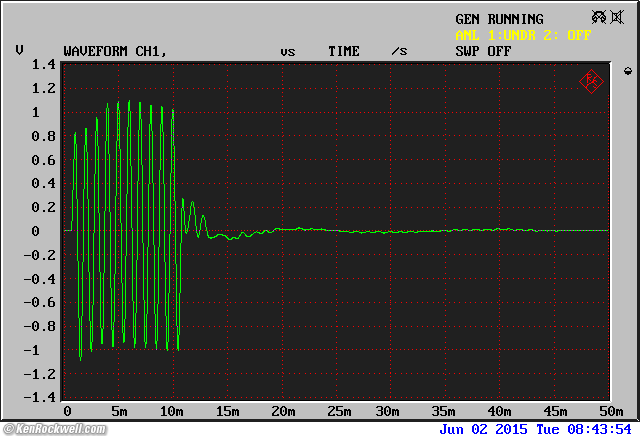 Genelec M040 Tone Burs: 10 cycles at 1,000 Hz.
Ignore the low-frequency wiggling; that's rumble in my test area.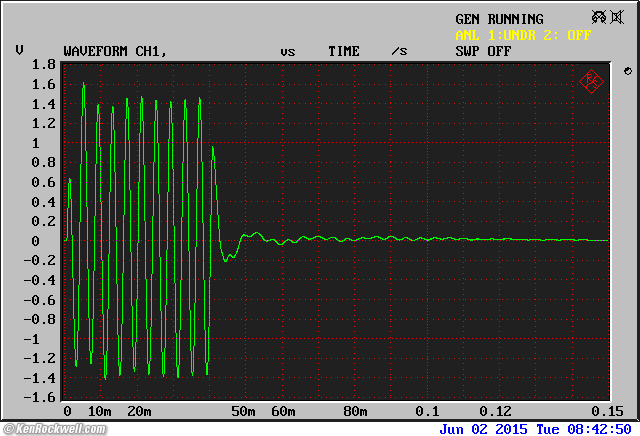 Genelec M040 Tone Burst: 10 cycles at 250 Hz.
I'd ignore the slight returns beyond 50 mS; that's got to be reflections from something 25 feet away or more in my test environment.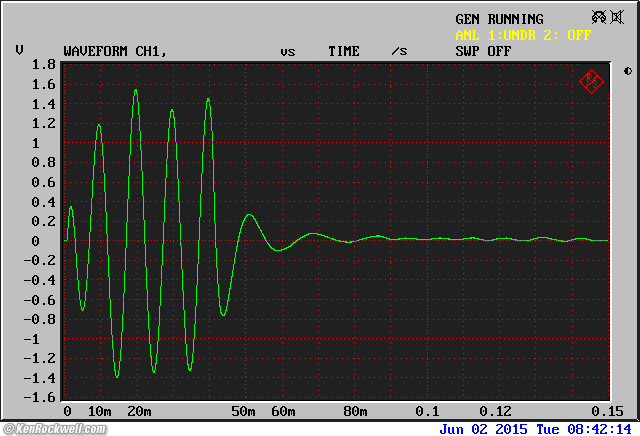 Genelec M040 Tone Burst: 4 cycles at 100 Hz.
I'd also not worry about the return around 120 mS, which again is probably more likely an echo from something 60 feet away than anything in the speaker.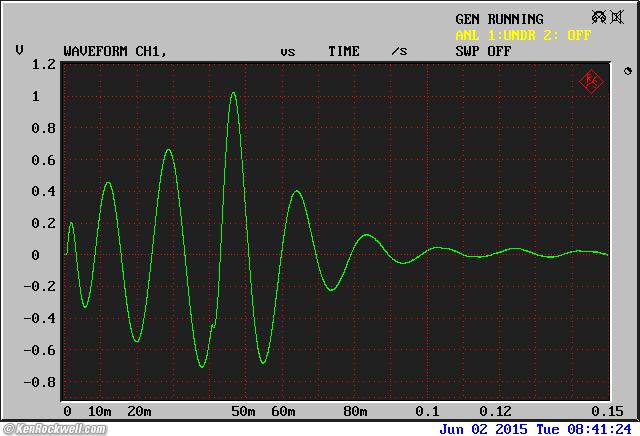 Genelec M040 Tone Burst: 2 cycles at 50 Hz.
Since 50 Hz it at the edge of its passband, I'd expect horrible burst response.
While they claim to be shielded, I measured a maximum of 4,000 µT, which was at the front grille of the tweeter. I measured 1,500 µT near the woofer.
This is a strong field, so be careful around your tapes and CRTs.
For normal use, no problem since few people are using CRTs or holding magnetic tape up to their speakers.
These get a little warm near the switches and connectors, and just a little warm at the top left, and that's it.
Measured power consumption, per speaker:
10.0 W idle.
About 11 W playing forte.
With highly compressed music I can't get them to draw more than 25-30 W at the verge of distortion (LEDs almost turning red), at which point it's unbearably loud.
Here's the swift part: I measure less than 100 mW power consumption while in standby (LEDs off). These have a very efficient auto-power switching system; there is little to no benefit of switching them off if you leave for a few weeks.
These have the lowest standby power of any mains-operated device I've ever measured; their keep-alive power reads zero on my meter. My meter's lowest reading is 100mW, so when I say it's less than 100mW, it could be just 10 mW or zero, since it reads zero.
M040, CMS 65 & KH 120 Compared top
Intro Specs Measurements Compared Usage Recommendations More
Regardless of amplifier topology, all three of these speakers have audible hiss if you get your ears within a few inches. The Focal CMS 65 also has a little bit of hum if you get that close, not a problem with the others.
These M040 draw a little less power than the others (10W vs. 11 or 12W).
M040 versus the Focal CMS 65
These Genelec have very similar specifications to the Focal CMS 65.
The biggest difference is that the Focal have aluminum cases while these use plastic. The Focals also have much lower distortion and more output in the deepest bass from about 30~50 Hz; if you want to jam more bass through these with an equalizer and skip the subwoofer, the Focal CMS 65 have the best bass response of these three.
Otherwise the Genelec sound best of these three. They are smoother around 6 kHz; I don't need to dip the response on my desktop as I do with the Focal.
Worst, the Focal have an annoying mild hum in their amplifiers and the Focal make nasty pops as they turn on and off.
The Focal look much fancier if you want to impress others, and they have woofer grilles lacking with the Genelec, but I'd rather listen to these Genelec M040.
M040 versus the Neumann KH 120
The Neumann KH 120 are much smaller and sound that way.
The Neumann are very accurate, but don't sound very good for enjoying music.
The smaller KH 120 has bass performance about the same as this Genelec, and the KH 120 has a tougher metal case with non-removable grilles.
Use the KH 120 in radio or education where you have students or jocks using them all day, and don't need them to sound sweet for music enjoyment.
Usage top
Intro Specs Measurements Compared Usage Recommendations More
Setup
The level controls have three settings, and that's it.
I drive these from my Benchmark DAC1 HDR's variable balanced outputs via a pair of XLR cables, and use the -20 dB settings on my desk. That setting won't let me use the full power of these monitors, but lets me set the volume control to a more reasonable setting. If you want to go deaf or fill a room, set them higher.
Clipping
It's easy to see if the distortion is in the monitors or in your preamp. If you hear clipping and the light on the front is green, it's your source. If the front-panel LED is red, the monitor is clipping.
When the monitors clip on low-frequency test tones, it's not a pretty sound. Don't do that, although it won't hurt them.
These monitors supposedly have protection, but if you hit them too hard, they still make an awful lot of distorted sound without shutting off.
EQ Setting
I set the desktop notch, and they sound perfect on my glass-top desk in my hardwood-panelled office.
Recommendations top
Intro Specs Measurements Compared Usage Recommendations More
These are the best powered monitors I've heard for under $1,000 each.
They sound big, spacious, smooth and detailed, and let me here way back into the ensemble. I can hear everything for making music, they sound great for enjoying music, and I've never measured a more accurate monitor in the lab.
Be sure to get two for stereo; these are sold singly and arrive as two big boxes. Of course buy as many as you need for multi-channel.
The bass response is OK as-is for general use, but you will need subwoofers to hear the full range for professional monitoring where you need to hear subsonic rumble and defects before your client does.
These are great monitors to get for your own studio, office or home, so long as no one else is going to put their fingers through their unprotected woofers. I would not use these in an educational facility; they'll get damaged and the kids will want to take them home.
If I was installing these in a studio used by others, I'd go for something tougher like the Neumann KH 120 because the KH 120 grills don't come off and the Neumann don't sound good enough for enjoying music that people are going to want to steal them.
Accurate, calibrated speakers are just as critical to your audio as your picture monitor is to your video or still images. These speakers should last far longer than a good picture monitor at about the same price. Once you've invested in a superb pair of professional monitor speakers like these, they should last for decades. Just like a picture monitor, if you don't have an accurate picture of your audio, you can't optimize it for the best sound.
If you prefer metal cases, the fancier model the same size with otherwise similar specifications is the Genelec 8040B.
If you find my work here helpful, my biggest source of support for this ad-free website is when you use any of these links to get them at B&H, as well as at Amazon. When you use those or any of these links to approved sources when you get anything, regardless of the country in which you live, it helps me keep adding to this free website — but I receive nothing for these efforts if you take the chance of buying elsewhere.
Thanks!
Ken.
More Information top
Intro Specs Measurements Compared Usage Recommendations More
Genelec's M040 and M030 press release
Genelec's M030 and M040 user's manual
Help me help you top
I support my growing family through this website, as crazy as it might seem.
The biggest help is when you use any of these links to approved sources when you get anything, regardless of the country in which you live. It costs you nothing, and is this site's, and thus my family's, biggest source of support. These places have the best prices and service, which is why I've used them since before this website existed. I recommend them all personally.
If you find this page as helpful as a book you might have had to buy or a workshop you may have had to take, feel free to help me continue helping everyone.
If you've gotten your gear through one of my links or helped otherwise, you're family. It's great people like you who allow me to keep adding to this site full-time. Thanks!
If you haven't helped yet, please do, and consider helping me with a gift of $5.00.
As this page is copyrighted and formally registered, it is unlawful to make copies, especially in the form of printouts for personal use. If you wish to make a printout for personal use, you are granted one-time permission only if you PayPal me $5.00 per printout or part thereof. Thank you!
Thanks for reading!
Mr. & Mrs. Ken Rockwell, Ryan and Katie.
Home Donate New Search Gallery Reviews How-To Books Links Workshops About Contact