Home Donate New Search Gallery Reviews How-To Books Links Workshops About Contact
Rotel RX-1050
100 WPC AM/FM Stereo Receiver (2002)
© 2015 KenRockwell.com. All rights reserved.
Intro Specifications Measurements Usage Recommendations More


Rotel RX-1050 (rated 100 watts per channel into 8Ω, 22.7 lbs./10.3kg, measured 20 watts idle/2.5 W standby power draw, about $250 used). enlarge. I got this mine at this link directly to them at eBay (see How to Win at eBay).
This ad-free website's biggest source of support is when you use any of these links to approved sources when you get anything, regardless of the country in which you live. Buy only from the approved sources I use myself for the best prices, service, return policies and selection. Thanks for your support! Ken.

Rear, Rotel RX-1050. enlarge.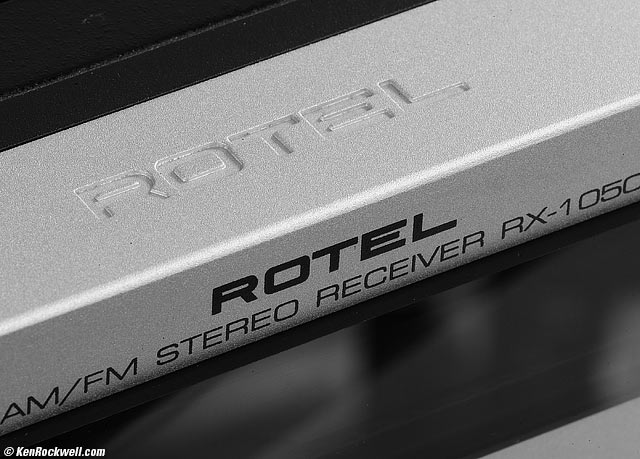 Engraved logo, Rotel RX-1050.
January 2015 Audio reviews all reviews
Introduction top
Intro Specifications Measurements Usage Recommendations More
The Rotel RX-1050 is a tough-looking receiver with very good ergonomics, and it sounds well, too.
The only big problems are that its performance is measurably inferior to mid-line 1980s HiFi gear, and that this Rotel is made in China and not reliable.
It looks tough on the outside, is heavy and was priced to match, but it's wimpy on the inside. It looks great until you try to use it: the metal volume knob is merely a metal veneer over a plastic knob, with a plastic shaft and a lot of friction when turning. The volume knob feels like a dinky receiver sold at COSTCO — but it looks great.
Specifically, it sounds swell, as most HiFi gear does, but if you really split hairs or take it in the lab, it has more noise, sloppier frequency response, more distortion, less output and is inferior in just about every measured parameter than decent old gear like a NAD 7400 from the 1980s. Sad but true, Rotel charges more for its gear with fancy solid aluminum panels to impress the innocent, but its guts are worse. It's very difficult to find good stereo gear made today. The specs read more poorly than midpriced 1980s gear, so at least they're honest.
Reliability is a problem. The one I bought for myself forgot radio presets if unplugged or turned all the way off, and half of the units offered for sale on eBay also seem to have problems, like no output or buzzing. The one I bought sounded swell on FM and playing other inputs, however it had poor sensitivity and required a very strong station to get stereo FM. The FM section cut-out whenever it felt like it, too. Sadly, this is a great looking receiver, but I wouldn't buy one again — too risky. Like most gold-colored connectors, they had corroded by the time I bought my RX-1050.
Getting past that, the big volume knob is great and works very well, changing the volume faster than holding an UP or DOWN button on the remote. It still takes quite a few turns to turn it all the way up or down. My sample had some zipper noise in the left channel as the volume went up and down. There is a MUTE button on the remote, but not on the receiver.
The Vacuum-Fluorescent display is very legible; it's easy to see to what station your are tuned or the source from across the room. Likewise, the remote control works even bounced off wall.
AM tunes in 10 kc steps and FM in 200 kc steps, exactly as assigned by the FCC. Sadly there is an extra 0 displayed on FM, so 88.5 FM displays with everything jammed together as 88.50FM.
It's easy to tune directly to a known station, but needs a tuning knob otherwise. The UP DOWN and Scan/Tune push buttons aren't enough, it needs at least two each SCAN UP/DOWN and TUNE UP/DOWN buttons to save us a lot of button pushing just to see what's on the air.
Watch out: the FM radio uses the European (Bang & Olufsen) connector, not the standard F connector used in the USA and Japan.
All the other little words on the display are illegible, but the red STEREO letters are in red and therefore obvious from a distance.
The AM section is the same as every other AM/FM receiver.
There is no signal strength display. Rotel uses the same VFL display for many models, and this model does not light the bar graph. Oops!
Nice is that every one of its many inputs has its own dedicated selector button on both the front panel and on the remote. It's also easy to select any of them for the record-out bus while listening to any other input. Annoying is that the two feeds are always displayed; if you see TUNER VID 3, that means you're listening to the tuner while feeding VIDEO 3 to the recorders. Of course the same thing can be sent both places, and you'll see that same twice on the screen.
it's nice that there are two dedicated BASS and TREBLE controls, but sadly the tone controls are sloppy. The knobs are only encoders to a simple circuit which only has 5 steps of boost or cut for either, and here's the annoying part: it's not really flat when set flat, and there is no DEFEAT control. (Why is it that the cheap receivers like this that need DEFEAT controls don't have them, and gear that's good enough not to need them are the ones that have DEFEAT controls? Oh well.)
I didn't try it, but it also has an extra preamp output, ZONE OUT, whose volume and source can be set separately from the REC and MAIN settings. I don't know of anyone who'd actually go to the trouble of hard-wiring all this to a second room when it's much easier and less expensive just to buy another receiver for that second room.
The RX-1050 also has video inputs and outputs, but they are only composite. Those are the crummy single-yellow connectors that went obsolete back in the 1980s. There are no modern component or HDMI video connections. So? This is for music, not video.
If we get over that, if mine didn't have a flaky tuner, I'd love it. It has tough lab-standard 3/4" banana jacks for the speaker outputs, has PRE OUT and MAIN IN breakouts, sounds great (even if not as great as 1980s mid-fi gear), has a very closely tracking volume control rarely found in 1980s gear, and its reasonably well thought-out ergonomics make it much faster and easier to just play music than with any other feature-overloaded A/V receiver today. I use the PRE OUT breakout with a Y cable as my stereo subwoofer feed.
It has a moving magnet phono input for you folks stuck in the 1970s.
For me, the ability to just play music is very important, and why I wish my sample worked. The RX-1050 is turns on fast, and makes it easy to get your music going.

Rotel RR-AT93 remote control. Takes 2-AAA cells.
Specifications top
Intro Specifications Measurements Usage Recommendations More
Output Power
100 WPC continuous 20~20,000 Hz at 0.05% THD into 8Ω.
0.05% SMPTE IMD at 100 WPC.
Frequency Response
Line level input: 10 Hz - 70 kHz ±3 dB.
Phono input: 20Hz-20kHz ±1dB.
Tone Controls
±8 dB at 100 Hz and 10 kHz.
SNR
Line level input: 92 dB A, IHF.
Phono input: 74 dB A, IHF.
Maximum Input Levels
Line level input: 5 V.
Phono input: > 120 mV.
FM
75Ω coaxial euro connector.
87.5 ~ 108.0 MHz in 200 kHz steps.
1.3 V output.
Only one default bandwidth.
2.0 dB capture ratio.
14.2 dBf usable.
20.2 dBf mono, 45.3 dBf stereo for 50dB quieting.
70 dB SNR mono, 65 dB SNR stereo at 65 dBf.
0.3% THD mono, 0.5% THD stereo at 65 dBf.
30 Hz ~ 14 kHz ±1.5 dB.
47 dB selectivity at ±400 kHz.
80 dB spurious response ratio.
65 dB image rejection.
80 dB IF response ratio.
52 dB AM suppression.
40 dB separation at 100 Hz, 45 dB at 1 kHz and 35 dB at 10 kHz.
AM
520 ~ 1710 kHz in standard 10 kHz steps.
Loop antenna input.
Rated 500 μV/m, which is weird since there is no ferrite bar antenna, just a loop to connect to the back.
Only one default bandwidth.
25 dB selectivity.
35 dB image response ratio.
40 dB SNR.
250 mV output.
Video
1 Volt p-p 75Ω composite.
3 Hz ~ 10 MHz ±3 dB.
45 dB SNR.
Quality
Made in China.
Packaging
Corrugated cardboard box.
Supported by two pieces of expanded polystyrene top and bottom.
Rated Power Consumption
300W.
See also Actual Power Consumption.
Size
17" x 4-3/4" x 14-1/8" WHD.
432 x 121 x 359 mm WHD.
Height with feet removed: 7" (176mm).
Weight
22.7 lbs. (10.3kg).
Price, USA
2015: about $300 used for a nice-looking one like this in the box with remote; about $200 for a working one without remote, and about $100 for a broken one.
2002: about $900 new, list price.
Measurements top
Intro Specifications Measurements Usage Recommendations More
These measurements are made with an exotic Rohde & Schwarz UPL laboratory analyzer. The traces from the Rohde & Schwarz UPL laboratory analyzer are color coded for the Left Channel and for the Right Channel. When they don't lie on top of each other, it's due to channel imbalance. When they do lie on top of each other, the trace turns blue.
Unless otherwise specified, all measurements are RMS at 1 kHz at 1 V.
Preamp measurements are with a 200 kΩ load at 1 V at unity gain (VOLUME 73) from the CD input.
Power amp measurements are at 1 watt continuous output per channel at 1 kHz with an 8 Ω load, both channels driven at 120 VAC supply voltage.
These are 2015 measurements of a product built about 2002.
The preamp was measured separately from the power amp. In other words, each was treated as a separate component. The preamp was measured from CD in to PREAMP OUT, and the power amp was measured from MAIN IN to speaker out.
Preamplifier
Input Levels Output Levels Gain
Channel Balance Channel Tracking
Power Amplifier
Seeing the bush-league performance of the preamp and stingy power output, I didn't expend any more lab time on this receiver.
Overall
Preamplifier
Preamp Maximum Input Level measurements top
6.57 V RMS, CD input.
With VOLUME at MAX, maximum input is 873 mV for 5.81V output at 0.1% THD
Preamp Maximum Output Levels measurements top
Doesn't vary with line voltage from at least 100 - 130 V.
5.81V at 0.1% THD at VOLUME 89 with 974 mV input.
5.805V at 0.1% THD at VOLUME 73 with 5.95V input.
Preamp Output Source Impedance measurements top
994 Ω.
This is too high if you plan to run it for hundreds of feet, but I doubt anyone will.
Preamp Gain measurements top
16.516 dB left, 16.544 dB right, at VOLUME MAX. This is the same as most preamps.
Each VOLUME step is 1 dB.
The preamp gain is about equal to the VOLUME setting minus 73 decibels.
For example, at VOLUME 23, preamp gain = (23 - 73) = -50 dB.
| | |
| --- | --- |
| VOLUME | Gain |
| MAX | +16.53 dB |
| 89 | +15.57 dB |
| 88 | +14.60 dB |
| 87 | +13.63 dB |
| 86 | +12.65 dB |
| 85 | +11.67 dB |
| 84 | +10.69 dB |
| 83 | +9.70 dB |
| 82 | +8.70 dB |
| 81 | +7.72 dB |
| 80 | +6.72 dB |
| 79 | +5.74 dB |
| 78 | +4.75 dB |
| 77 | +3.762 dB |
| 76 | +2.785 dB |
| 75 | +1.804 dB |
| 74 | +0.828 dB |
| 73 | -0.150 dB |
| 72 | -1.128 dB |
| 71 | -2.11 dB |
| 70 | -3.097 dB |
| 69 | -4.06 dB |
| 68 | -5.05 dB |
| 67 | -6.044 dB |
| 66 | -7.033 dB |
| 65 | -8.017 dB |
| 64 | -9.009 dB |
| 63 | -9.995 dB |
| 62 | -11.02 dB |
| 61 | -11.93 dB |
| 60 | -12.97 dB |
| 59 | -13.96 dB |
| 58 | -14.98 dB |
| 57 | -15.96 dB |
| 56 | -16.94 dB |
| 55 | -17.92 dB |
| 54 | -18.90 dB |
| 53 | -19.89 dB |
| 52 | -20.86 dB |
| 51 | -21.83 dB |
| 50 | -22.81 dB |
| 49 | -23.77 dB |
| 48 | -24.74 dB |
| 47 | -25.71 dB |
| 46 | -26.68 dB |
| 45 | -27.64 dB |
| 44 | -28.60 dB |
| 43 | -29.56 dB |
| 42 | -30.53 dB |
| 41 | -31.49 dB |
| 40 | -32.48 dB |
| 39 | -33.44 dB |
| 38 | -34.42 dB |
| 37 | -35.43 dB |
| 36 | -36.42 dB |
| 35 | -37.42 dB |
| 34 | -38.46 dB |
| 33 | -39.48 dB |
| 32 | -40.49 dB |
| 31 | -41.59 dB |
| 30 | -42.70 dB |
| 29 | -43.68 dB |
| 28 | -44.66 dB |
| 27 | -45.66 dB |
| 26 | -46.66 dB |
| 25 | -47.66 dB |
| 24 | -48.68 dB |
| 23 | -49.69 dB |
| 22 | -50.68 dB |
| 21 | -51.44 dB |
| 20 | -52.90 dB |
| 19 | -53.87 dB |
| 18 | -54.85 dB |
| 17 | -55.85 dB |
| 16 | -56.83 dB |
| 15 | -57.83 dB |
| 14 | -58.84 dB |
| 13 | -59.84 dB |
| 12 | -60.84 dB |
| 11 | -61.87 dB |
| 10 | -62.96 dB |
| 9 | -63.87 dB |
| 8 | -64.88 dB |
| 7 | -65.85 dB |
| 6 | -66.80 dB |
| 5 | -67.78 dB |
| 4 | -68.74 dB |
| 3 | -69.71 dB |
| 2 | -70.66 dB |
| 1 | -71.68 dB |
| MIN | -93 dB |
| MUTE | -133 dB |
At 10 Hz, readings are unchanged.
At 20 kHz, readings are unchanged from VOLUME 1 to MAX, but MIN is only -80 dB and MUTE is -108 dB.
Preamp Channel Balance measurements top
With an electronic gain control, channels balance to within fractions of a decibel.
Preamp Channel Tracking top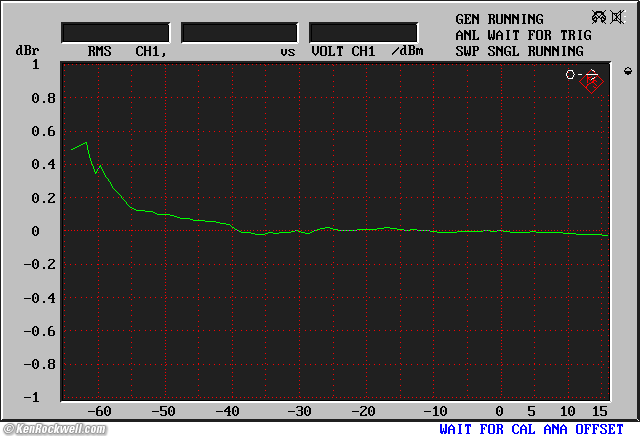 Right channel level versus left channel, vs. volume control setting. (positive means image moves to left.)
The stereo image doesn't vary much as the volume is changed; this is excellent performance.
Preamp Frequency Response measurements top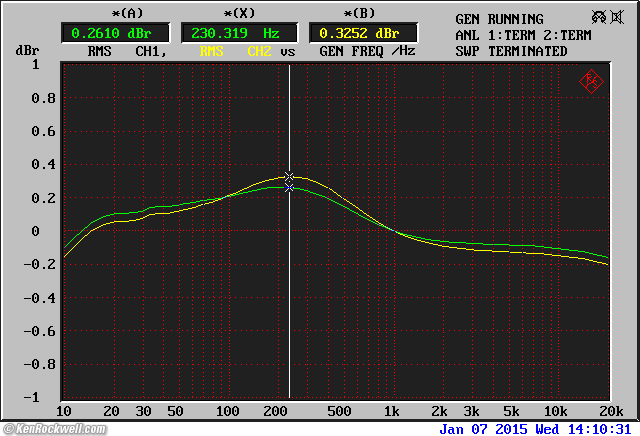 Preamp frequency response.
This is caused by the tone control circuit, which can't be bypassed.
This slight error will make this sound ever so slightly warmer.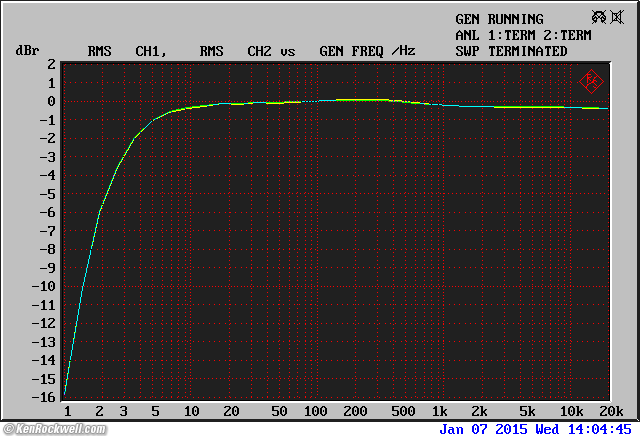 Preamp infrasonic frequency response.
-3 dB at 3 Hz, standard.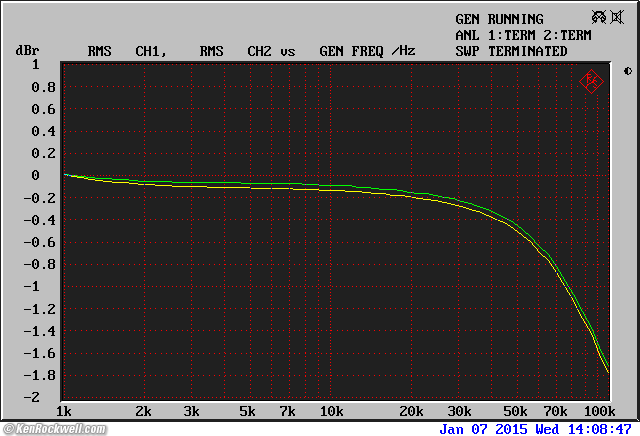 Preamp high-frequency response.
It's -1 dB at 77 kHz, swell.
Preamp Tone Controls measurements top
The tone control knobs are digital encoders that simply set to ±5 steps, marked as ±10 in steps of two. Classy (not).
The tone controls are bush league. They don't do much (only ±10 dB) and can't be set very precisely — just like a cheap car stereo.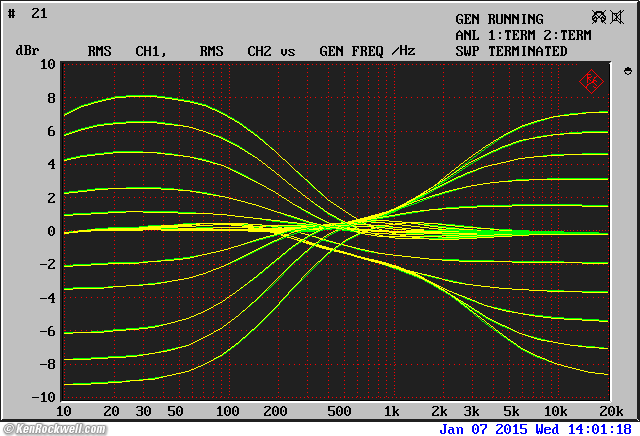 Preamp tone controls frequency response, composite of all settings.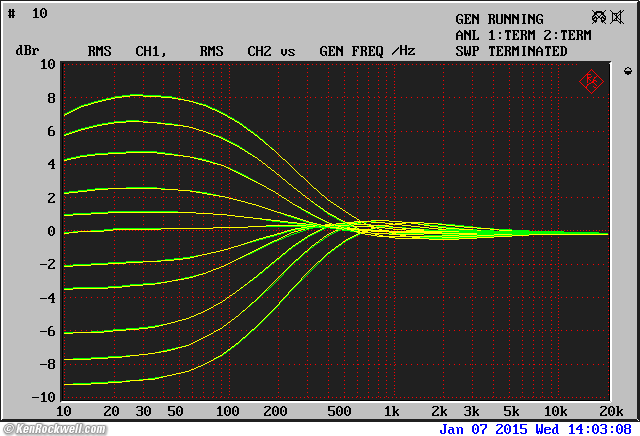 Preamp Bass control, composite of all settings.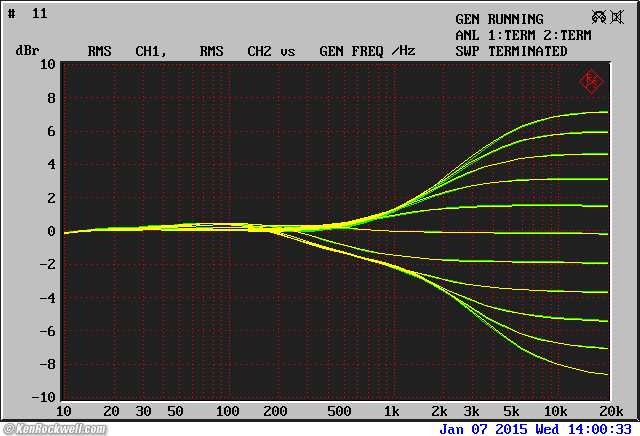 Preamp Treble control, composite of all settings.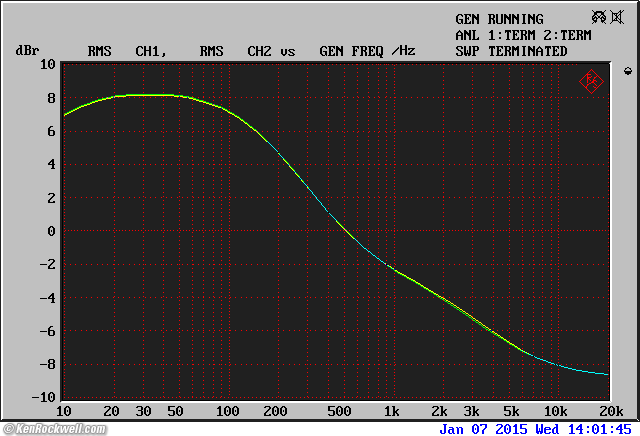 Preamp Bass set to MAX and Treble set to MIN.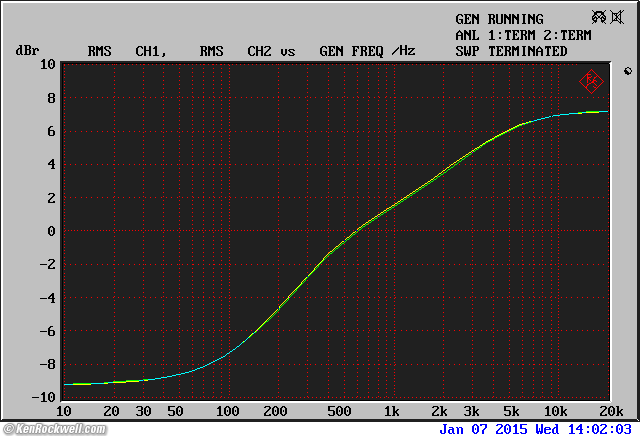 Preamp Bass set to MIN and Treble set to MAX.
Preamp THD measurements top
Preamp THD is pretty good.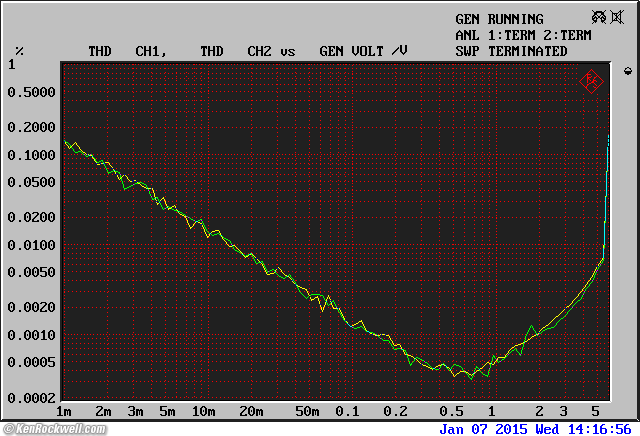 Preamp THD versus level at 1 kHz.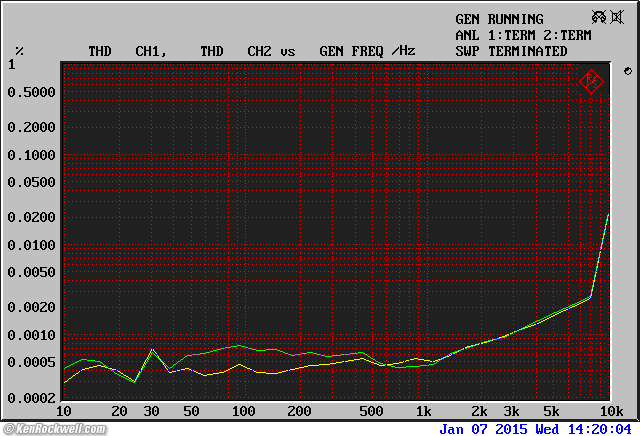 Preamp THD at 1 V.
Preamp Output Noise measurements top
| | | |
| --- | --- | --- |
| | A Weighted | Unweighted 22kc BW |
| MAX | -95.0 dBV A | -92.2 dBV |
| 0 dB (VOLUME 73) | -100.3 dBV A | -97.1 dBV |
| MIN | -102.8 dBV A | -99.9 dBV |
| MUTE | -119.3 dBV A | -114.2 dBV |
This is worse than average, but not enough to hear.
Crosstalk between Inputs measurements top
-107 dB@ 1 kc.
-104 dB @ 50 cycles.
-91 dB at 20 kc.
Tape Out measurements top
The CD in to TAPE OUT path is very clean.
Gain: -0.247 dB.
MOL: 4.32V output at 0.1% THD with 4.40V input.
Noise: -112.5 dBV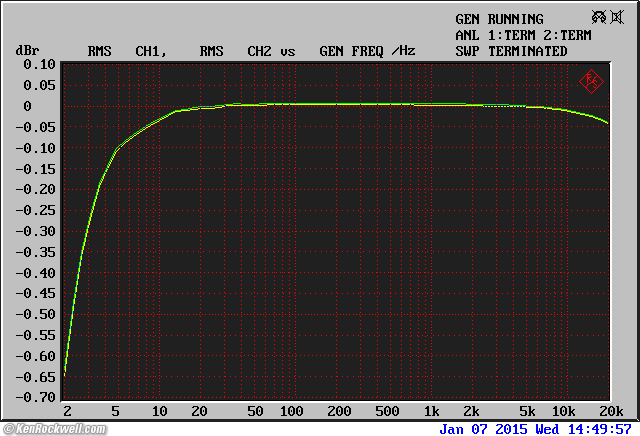 CD IN to TAPE OUT frequency response.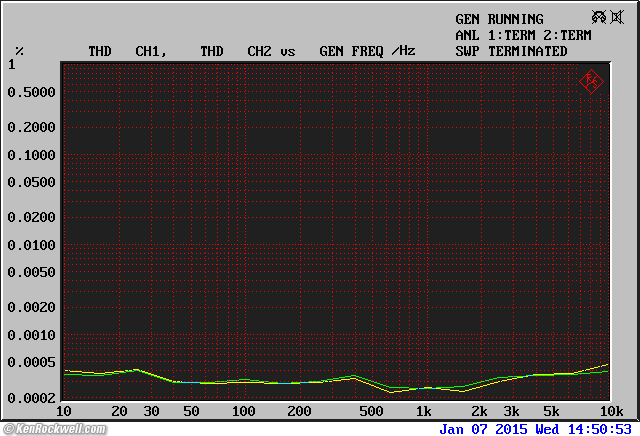 CD IN to TAPE OUT THD.
Phono Preamplifier measurements top
I measured the PHONO preamp at the TAPE output. I drove it from the 5Ω source impedance of the R&S UPL.
It's pretty poor; it's 1 dB shy in the bass, and 3 dB down at 20 cycles. This isn't terrible, but much worse than 1970s equipment is when tested today. This garbage would never have passed back when people actually played records as their main source of recorded music.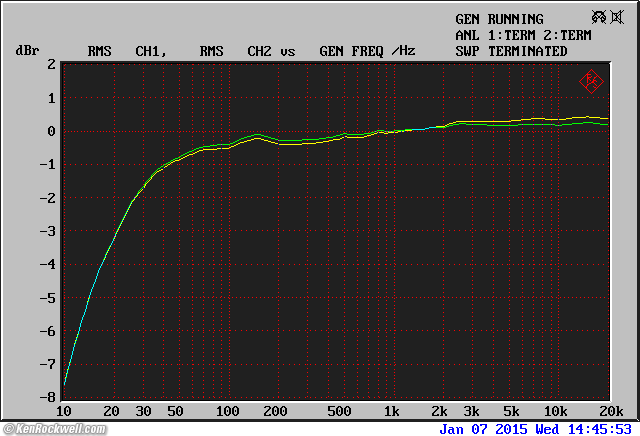 Phono preamp RIAA response.
Gain at 1 kHz is 35.71 dB left, and 35.66 dB right channel — almost perfect channel balance.
A-weighted noise, with inputs terminated by the the 5Ω source impedance of the R&S UPL, measures -91 dBV. Unweighted, it's -86 dBV.
Maximum input level at 1 kHz is 70 mV which leads to 4.3 V at the tape output at 0.1% THD. This is weak, most preamps can take much more input, and this is shy of its rated value.
Line Voltage Effects measurements top
No effect on the preamp from 100 ~ 130V, but the display brightness varies.
Power Amplifier
Power Amp Gain measurements top
28.57 dB left, 28.55 dB right.
This is perfect, and the same as most Hi-Fi power amplifiers.
Power Amp Channel Balance measurements top
The balance is about 0.0204 dB less than the left, perfect.
Power Amp Input Levels measurements top
106 mV for 1 W output into 8Ω.
1.053V for 100W output into 8Ω.
1.086 V for 106 W output at 0.1% THD into 8Ω.
Measured Power Consumption measurements top
The RX-1050 draws less power than rated, which is good.
It draws very little power and doesn't get very warm.
| | | |
| --- | --- | --- |
| | Power Consumption | Efficiency |
| Switched OFF (no lights) | 0 W | n/a |
| Sleeping (blue LED only) | 2.5 W | 0% |
| Idle, AM last selected (all displays on) | 19.3 W | 0% |
| Idle, FM last selected (all displays on) | 20 W | 0% |
| 100 WPC | 357 W | 56.0% |
| 106 WPC (clipping) | 368 W | 57.6% |
Power Output measurements top
Power output barely meets specifications at 120VAC: 101 watts at 0.1% THD into 8Ω.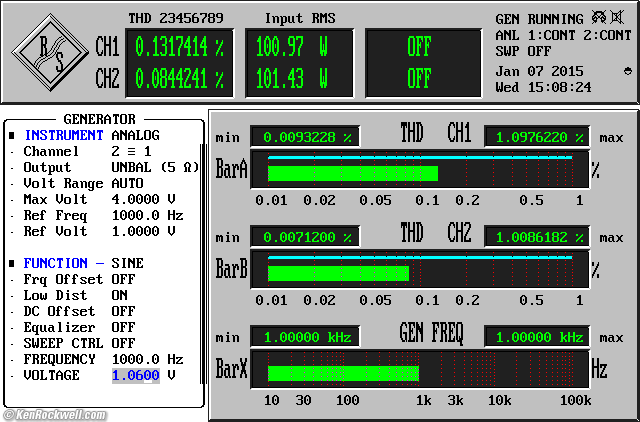 Power amplifier at clipping into 8Ω.
Usage top
Intro Specifications Measurements Usage Recommendations More
Connections
Be sure to connect PRE OUT to MAIN IN with a cable, or use the jumpers as shown.
If you don't, you'll get no sound out of the headphones or your speakers.
Radio Tuning
The remote makes it easy to tune stations directly by frequency.
It's super smart: press DIRECT 987 for 98.7 FM, and even better, it knows how channels are assigned, so for 104.3, all you do is press DIRECT 143 — it puts in the 0 after the 1 for you. AM is just as easy; for 880 kHz, press DIRECT 88 and you're there.
Memory Programming
Memory programming requires too many steps and requires both the remote and the front panel:
Tune your station.
Press the front-panel MEMORY button
Press the address in which you'd like that stored on the remote.
If FM was set to mono, it saves that way.
MONO
The MONO button forces the FM tuner into mono.
It does not set anything else into mono.
Power
The top left button is a hard power off.
You have to leave this ON (blue LED lights) all the time for it to respond to the remote control. Turn it off, and it's off for good. Only do this if you head out on vacation.
When it's sleeping, it's not smart enough to turn on if you press any of the input or volume buttons on the receiver or on the remote. You still have to press ON on the remote and then select a source.
If you can't find the remote and it's asleep, you have to press the top left power button on and off to turn it all the way on and regain local control.
Muting
Oddly, turning the volume control knob or pressing the volume buttons on the remote won't unmute it. You have to hit the MUTE button again on the remote to play it again.
If you muted it and can't find the remote, have to turn off the power switch at the top left and turn it on again to reset and regain local volume control.
Recommendations top
Intro Specifications Measurements Usage Recommendations More
The Rotel RX-1050 is a great-handling and clean-looking receiver, if you can find one that works.
For about $250 used today (see How to Win at eBay), most samples aren't too worn, but many of them have problems. I don't know that I'd have much confidence in any that I purchased.
Be sure to get a remote, without which you cannot program the radio memories.
More Information top
Intro Specifications Measurements Usage Recommendations More
Help me help you top
I support my growing family through this website, as crazy as it might seem.
The biggest help is when you use any of these links when you get anything, regardless of the country in which you live. It costs you nothing, and is this site's, and thus my family's, biggest source of support. These places have the best prices and service, which is why I've used them since before this website existed. I recommend them all personally.
If you find this page as helpful as a book you might have had to buy or a workshop you may have had to take, feel free to help me continue helping everyone.
If you've gotten your gear through one of my links or helped otherwise, you're family. It's great people like you who allow me to keep adding to this site full-time. Thanks!
If you haven't helped yet, please do, and consider helping me with a gift of $5.00.
As this page is copyrighted and formally registered, it is unlawful to make copies, especially in the form of printouts for personal use. If you wish to make a printout for personal use, you are granted one-time permission only if you PayPal me $5.00 per printout or part thereof. Thank you!
Thanks for reading!
Mr. & Mrs. Ken Rockwell, Ryan and Katie.
Home Donate New Search Gallery Reviews How-To Books Links Workshops About Contact