Home Donate New Search Gallery Reviews How-To Books Links Workshops About Contact
Senal SMH-1000 Headphones
© 2014 KenRockwell.com. All rights reserved.
Intro Specifications Sound Recommendations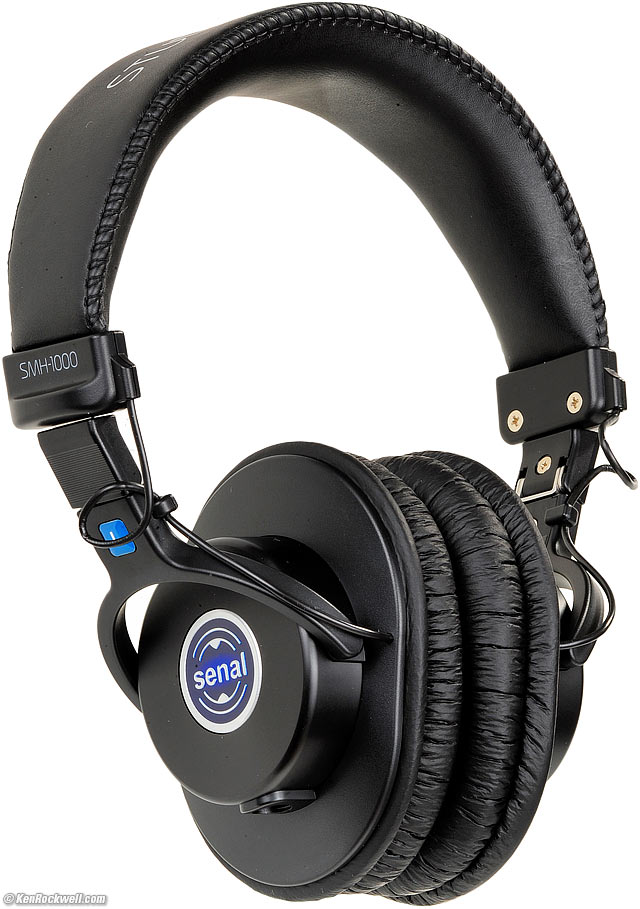 Senal SMH-1000 (58Ω, 3.5mm plug with 1/4" adapter, comes with 3' straight and 10' coiled cables, now about $90). enlarge. I'd get it it at B&H Photo-Video. This free website's biggest source of support is when you use that or any of these links when you get anything, regardless of the country in which you live — but I receive nothing for my efforts if you buy elsewhere, so please always use any of these links for the best prices and service whenever you get anything. Thanks for helping me help you! Ken.
April 2014 headphone reviews audio reviews all reviews
Introduction top
Intro Specifications Sound Recommendations
The Senal SMH-1000 looks familiar because they are a direct copy of the world's most popular professional headphones, the Sony MDR-7506 and MDR-V6, for about the same price. They even take the same cushion replacements. I'll mention "the Sonys" throughout this review, by which I mean the MDR-7506 and MDR-V6 after which these headphones are copied.
The really good news is that these Senal SMH-1000 sound even better than the Sonys, and that I've been using them daily and carrying them all over folded up in my backpack these past six months, and they've held up perfectly. These are the best-sounding $90 headphones you can get, unless you prefer the bass-boost of the two similar Sonys above.
These Senal headphones seem as tough as the Sonys, with stainless steel hinges and metal earpiece backs.
These headphones ship with two cables: the straight 3' cable I use, as well as a 10' coiled cable (4' unstretched length). I prefer the 3' straight cable to the fixed coiled cable of the Sonys.
They are very comfortable. These are as small as around-the-ear headphones get. The stainless-steel gimbals always adjust themselves to my head so I never have to.
The harp is more padded than the Sonys, and the earpieces stay adjusted their size. If you want to readjust them for his and hers, the sliders have numbered detents.
If they break, B&H stocks replacement parts and accessories for them.
Sonically, they are a little bit smoother than the MDR-V6 and a lot smoother than the Sony MDR-7506. These Senals have more accurate bass, while each of the Sonys has pleasantly boosted deep bass. The Sonys are more fun, while these Senals are more accurate.
These are fun; they actually say "STUDIO MONITOR" on the headband just like it's the 1970s.
Like the Sonys, these are more than sensitive enough for anything without needing any additional amplification. I usually use them for watching movies on my iPad with the level set only about halfway up.
Specifications top
Intro Specifications Sound Recommendations
Type
Closed-Back, Over-Ear Circumaural Design.
Replaceable Ear Cushions (same as popular Sony MDRs)
Folds for stowage; turns into a small ball just like the MDRs.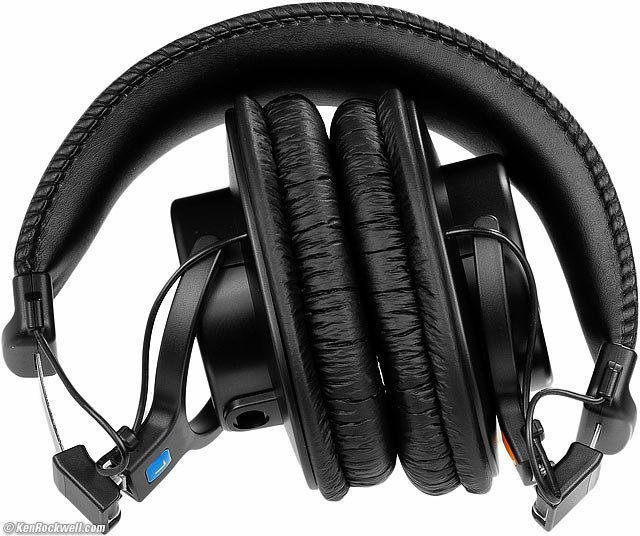 Folded Senal SMH-1000.
Driver
40mm.
Neodymium.
Impedance
Rated 58 Ω @ 1 kHz.
Sensitivity
102 ± 3 dB SPL at 1 kHz at 1 mW.
Maximum Input Power
1 Watt (1,000 mW).
At 58 Ω, this calculates to 7.6 volts.
Distortion
Less than 5% @ 1 kHz (no power level specified).
Frequency Range
10 - 20,000 Hz, no parameters specified.
Cable and Plugs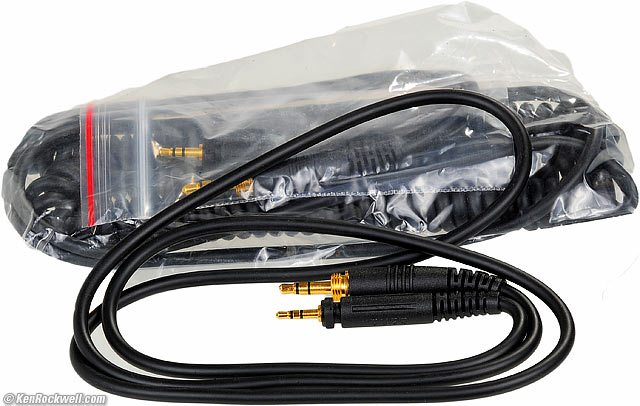 Senal SMH-1000 cords. bigger.
Two detachable, twist-locking cables included:
10' Coiled and 3' Straight.
3.5mm plugs.
1/4" Gold-Plated Adapter Included.
Replacement parts sold at B&H.
Warranty
3-Year Limited Warranty
Weight

Rated 8 oz (267 g).
Price, USA
$90, August 2013- April 2014.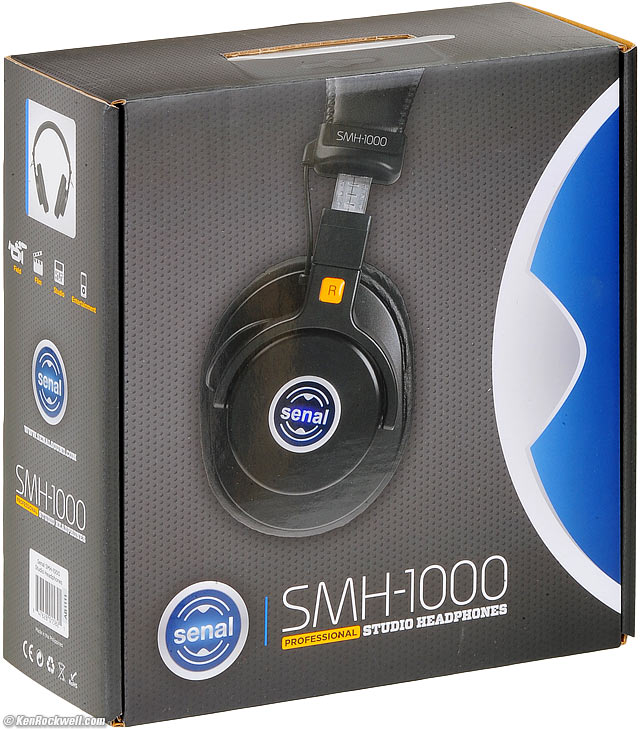 Senal SMH-1000 box. bigger.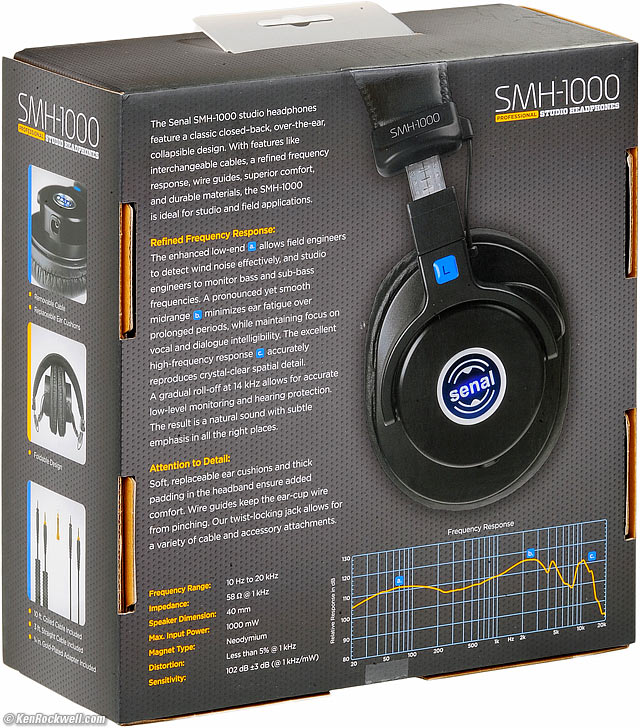 Senal SMH-1000 box. bigger.
Ignore the silly response curves; these sound much better than what the art department drew on the box.
Sound top
Intro Specifications Sound Recommendations
These Senal SMH-1000 have a clean, open, accurate and reasonably out-of-the-head sound, which is excellent for closed headphones. I've listened to them for months without any strain, just great sound. They are smoother (have less comb filtering) than the Sonys, at least on my head.
These are perfect for movies as well as for music. they have great open, deep and clear sound.
They don't need any break-in; they sound the same after six months.
The highs are light and bright, but not emphasized or peaked.
Compared to the Beyer T1
These have an overall tonal balance similar to the $1,400 Beyer T1, but of course these closed SMH-1000 don't have the smoothness or clarity of the open-back T1.
Compared to the Sony MDR-V6
The V6 has more deep bass; it's boosted in the V6.
The V6 is more reserved, while the SMH-1000 has more upper midrange.
Therefore, the V6 is less clear. (The Sony MDR-7506 might be the same as these Senals).
The V6 has a fixed, coiled cord instead of two replaceable ones.
The Senal sounds cleaner, clearer, closer and more sparkly.
Compared to the Focal Spirit One
These SMH-1000 make the Focal sound more congested.
These Senal have no iPod/iPhone/iPad remote control.
They each have about the same bass response.
Compared to the Beyer T90
The Beyer T90 has less voltage sensitivity (plays softer at the same setting).
The T90 has less bass, but it goes deeper.
They each have almost the same plugs.
They have similar sound, with the Senal sounding closer with sweeter highs. I prefer the Senal.
Recommendations top
Intro Specifications Sound Recommendations
These Senal headphones are direct copies of the extremely popular Sonys. Oddly they have the same price, too.
If you're buying these in bulk for distribution to your people, I'd get whichever are selling for less money. They seem as durable as the Sonys, and I don't know that anyone bothers with warranty repairs when these break as opposed to throwing them away.
If you just one to buy one pair for yourself, these sound better overall than the Sonys. These Senal have more accurate (unboosted) bass compared to the Sonys. Buy whichever depending on your own preferences for stronger bass versus better overall sound — or whichever is on sale that week.
Help me help you top
I support my growing family through this website, as crazy as it might seem.
The biggest help is when you use any of these links when you get anything, regardless of the country in which you live. It costs you nothing, and is this site's, and thus my family's, biggest source of support. These places have the best prices and service, which is why I've used them since before this website existed. I recommend them all personally.
If you find this page as helpful as a book you might have had to buy or a workshop you may have had to take, feel free to help me continue helping everyone.
If you've gotten your gear through one of my links or helped otherwise, you're family. It's great people like you who allow me to keep adding to this site full-time. Thanks!
If you haven't helped yet, please do, and consider helping me with a gift of $5.00.
As this page is copyrighted and formally registered, it is unlawful to make copies, especially in the form of printouts for personal use. If you wish to make a printout for personal use, you are granted one-time permission only if you PayPal me $5.00 per printout or part thereof. Thank you!
Thanks for reading!
Mr. & Mrs. Ken Rockwell, Ryan and Katie.
Home Donate New Search Gallery Reviews How-To Books Links Workshops About Contact