Home Donate New Search Gallery Reviews How-To Books Links Workshops About Contact
Sennheiser ew 112-p G3
ENG wireless microphone set
© 2014 KenRockwell.com. All rights reserved.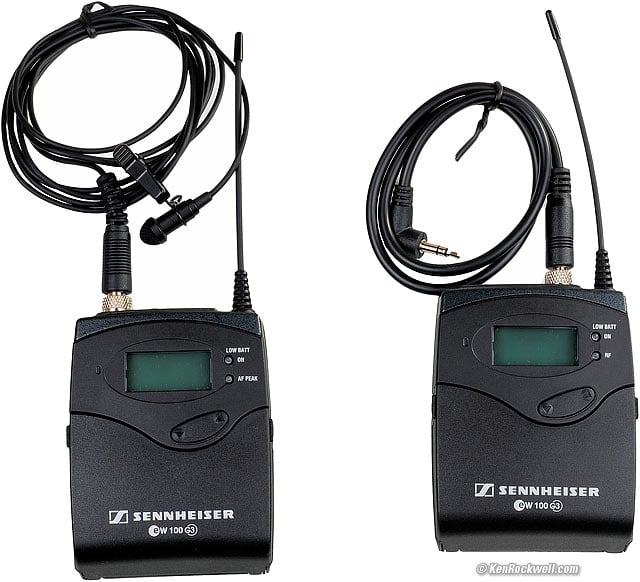 Sennheiser ew 112-p G3 (complete lavaliere mic/626-668 MHz transmitter/receiver set, about $550 complete.) enlarge. I got mine at Adorama This free website's biggest source of support is when you use that or any of these links to approved sources when you get anything, regardless of the country in which you live. Thanks for your support! Ken.
September 2014 Audio Reviews Sennheiser Nikon Canon All Reviews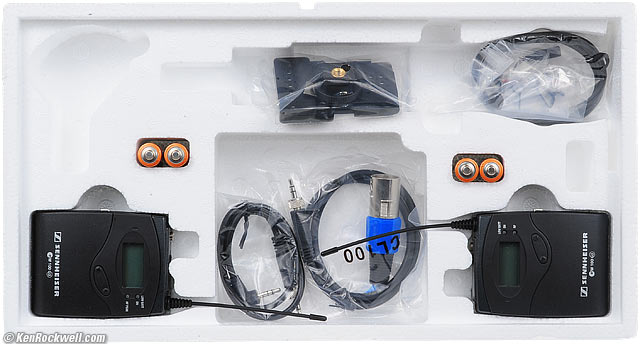 Batteries included; just grab and GO! bigger.

Sample DSLR Video Clips (down-sampled .MOV for internet)

Sample Video One: Range test vs. built-in camera mic (actual distance was 40 meters/130 feet).

Sample Video Two: Ambient noise reduction vs. built-in mic.

Sample Video Three: Echo reduction vs. built-in camera mic.

Introduction top

This single item is a complete grab-and-go DSLR/pro video wireless microphone set — complete with batteries! Just take it out of the box, plug it in and turn it on and you're on-air.

Professional wireless mic systems like this used to cost $6,000, but not anymore. This complete setup runs only$550.

Specifically, I ordered the lavalliere mic set. Other sets use different microphones or transmitters or receivers, for instance, if you want a hand-held mic for in-the-field interviews or a fixed receiver.

This set is ideal for doing staged interviews, news anchoring or youBoob videos. The tiny mic has a clip to attach to the subject's collar, and run the wire invisibly inside their shirt around to the belt-clip transmitter behind them.

The receiver has a mount to slip in the accessory shoe on top of your DSLR or camcorder. The set has two cables: one with a standard 3.5mm plug for DSLRs, and another with a standard male XLR mike plug for use with pro gear.

You could spend a semester reading the manual, or just pop in the included batteries, plug in the mic, turn on the transmitter and clip it on the talent, slide the receiver on top of your camera, plug it in and turn it on, and BINGO!, it configures itself and you've got clean professional broadcast-quality audio coming through.

There's no better way to get clean audio than with the right microphone. The lavalliere mic excels for use both in-studio as well as the field because the mic is close and on the talent, so ambient noise or echoes are much less likely to interfere with getting great sound. Especially if you're just getting into making videos, this mic will get you clean, clear broadcast quality sound (what brand do you think we use in Hollywood?) without all the ambient noise and echoes.

Sennheiser has been used a lot in Hollywood for decades and decades, and they've thought of everything. For instance, even the 3.5mm plugs have screw locks so you don't lose audio in the middle of a shot. The power buttons are behind the flip-open battery doors for the same reason.

It's designed in Germany, and assembled in USA. This is a very professional piece of gear for people for whom video and audio is important.

I'm impressed. I had an unexpected video shoot come up and I needed the right mic. I ordered from Adorama late Wednesday, clicked for next-day, and bingo, it was on my doorstep early Thursday morning. Bravo!

More Information top

Help me help you top

I support my growing family through this website, as crazy as it might seem.

The biggest help is when you use any of these links to approved sources when you get anything, regardless of the country in which you live. It costs you nothing, and is this site's, and thus my family's, biggest source of support. These places have the best prices and service, which is why I've used them since before this website existed. I recommend them all personally.

If you find this page as helpful as a book you might have had to buy or a workshop you may have had to take, feel free to help me continue helping everyone.

If you've gotten your gear through one of my links or helped otherwise, you're family. It's great people like you who allow me to keep adding to this site full-time. Thanks!

If you haven't helped yet, please do, and consider helping me with a gift of $5.00.

As this page is copyrighted and formally registered, it is unlawful to make copies, especially in the form of printouts for personal use. If you wish to make a printout for personal use, you are granted one-time permission only if you PayPal me $5.00 per printout or part thereof. Thank you!

Thanks for reading!

Mr. & Mrs. Ken Rockwell, Ryan and Katie.

Home Donate New Search Gallery Reviews How-To Books Links Workshops About Contact