Home Donate New Search Gallery Reviews How-To Books Links Workshops About Contact
Sennheiser RS 120
Wireless Headphone Set
© 2014 KenRockwell.com. All rights reserved.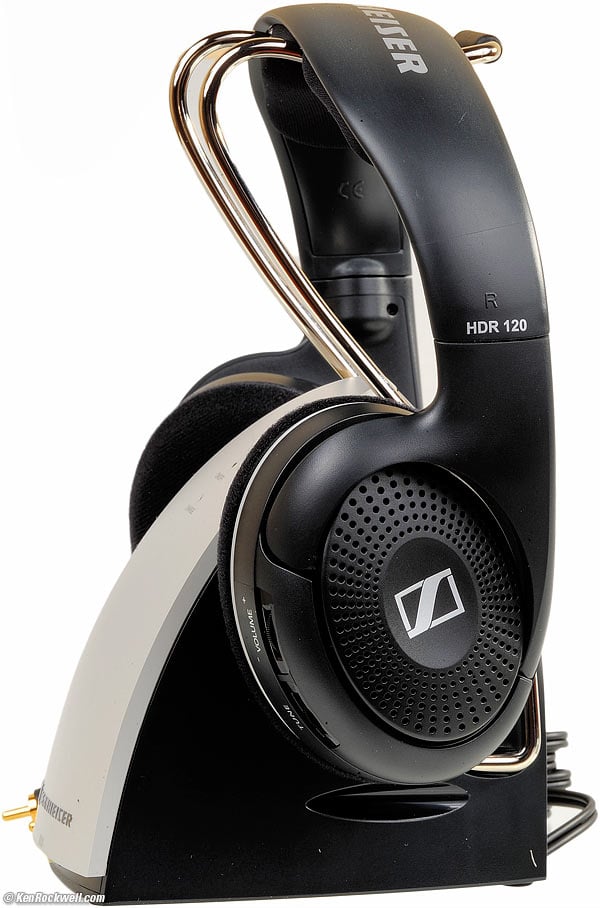 Sennheiser RS 120 (two AAA Ni-MH included, complete with batteries, charger, transmitter stand and headphones, about $80 complete.) enlarge. I got mine at Amazon This free website's biggest source of support is when you use that or any of these links to approved sources when you get anything, regardless of the country in which you live. Thanks for your support! Ken.
September 2014
All Reviews > Audio Reviews > Headphone Reviews > Sennheiser Reviews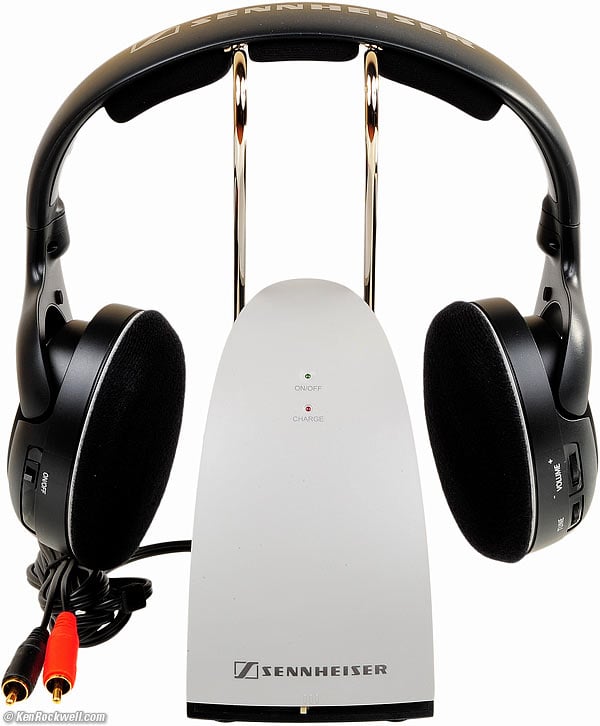 Batteries included; just plug-in and GO! bigger.
Introduction top
These Sennheiser headphones come complete. Just plug in the stand and charger, pop in the included AAA Ni-MH cells and go. Sennheiser suggests letting it charge for 24 hours first, but they work out of the box as well. Just pop the headphones on the stand when you're not using them and they'll always be charged and ready.
They sound much better than I expected, and I expected a lot since Sennheiser has been making professional wireless microphones and headphones for many decades. I was surprised to see these available so inexpensively, so I bought a set immediately.
I prefer their sound to most Sennheiser headphones because these have an internal amplifier, and seem to optimize bass and overall performance much better than passive headphones. Response is smooth and warm. Midrange isn't boosted, the sound is smooth and unfatiguing. Treble is not peaked, it's smooth. These are on the warm side, which I prefer. They are open-aire headphones, invented by Sennheiser back in the 1960s, so they sound open, but there is only minimal isolation from the outside.
They sound better than most $80 wired headphones, and these include the wireless system as well!
They have loads of range. I really can get about 100 feet away and still enjoy the music. I can go many, many, many rooms away or out by the pool and it works great.
It uses standard analog FM stereo modulation on the 900 MHz band. There are three channels, selected with a switch on the transmitter and a tuning knob on the headphones. I don't like having a tuning knob; I'm used to things just tuning themselves in.
The transmitter turns on and off automatically with sound input, while the headphones have an on/off switch.
The signal gets gradually noisier as you get out of range; they never just cut in and out as do digital systems. Likewise there will be a tiny bit of noise in the system if you turn the volume all the way up with no music playing. I don't hear any companding or other noise reduction, which is why the sound stays clean: there is no data compression as there is with Bluetooth, just clean classic analog sound.
Considering that most people are going to use these at no more than 25 feet away to watch TV or listen to music at their desks or as they walk around the house, the range is quite extraordinary.
The headphones are light, comfortable and stay on my head as I walk around. The soft cushions ride over my ears — and they sound great, far better then I'd ever expect for $80 headphones of any type.
The volume control works well; it has a broad range and the channels track well.
Included
There are three pieces: the headphones, the charging/transmitter stand, and the AC adapter.
The charger draws only 1.5 watts from the wall as I measured it.
There's a 6 foot (2 meter) audio cable with male RCA plugs attached to the stand to plug into your receiver, CD player or TV. It also comes with a little 3.5mm to RCA adapter to plug the RCA cable directly into an iPod/iPhone/iPad, TV or other portable device line or headphone jack, and yes, Sennheiser also includes another ¼" to 3.5mm adapter so this will also plug into any standard ¼" headphone jack. Done.
Usage
If used with a home theater, Hi-Fi or stereo system, plug it into any TAPE OUT of your receiver or preamp. This way the headphones will have their own volume control separate from the volume control on your receiver or its remote control.
If your preamp or receiver has a second zone preamp output or can select what is recorded separate from what's being heard through the main speakers, you can send different signals to these wireless headphones than to the main speakers. Clever, eh?.
If used with your TV, look for an audio output that remains constant regardless of the setting of the speaker volume.
Our 2014 Samsung does this; we connect to the 3.5mm AUDIO OUT and the headphones and speakers each have their own controls. The TV remote controls the speakers, and the headphones have their own control on the headphones.
Every TV is different — and many have more than one audio output and those usually can be reconfigured in the TV's SOUND menu.
Recommendations
I bought a set on impulse when I saw the price, and I love them. They are worlds better than TV ears or other uncomfortable things that plug into your ears.
These headphones sound great, work great and feel great. They are a steal at $80.
To let more people listen, you can buy the HDR 120 headphones separately, but they seem to sell for as much as this complete set.
More Information top
Sennheiser's RS 120 page (don't buy there; they are much less expensive at Amazon where I got mine.)
Help me help you top
I support my growing family through this website, as crazy as it might seem.
The biggest help is when you use any of these links to approved sources when you get anything, regardless of the country in which you live. It costs you nothing, and is this site's, and thus my family's, biggest source of support. These places have the best prices and service, which is why I've used them since before this website existed. I recommend them all personally.
If you find this page as helpful as a book you might have had to buy or a workshop you may have had to take, feel free to help me continue helping everyone.
If you've gotten your gear through one of my links or helped otherwise, you're family. It's great people like you who allow me to keep adding to this site full-time. Thanks!
If you haven't helped yet, please do, and consider helping me with a gift of $5.00.
As this page is copyrighted and formally registered, it is unlawful to make copies, especially in the form of printouts for personal use. If you wish to make a printout for personal use, you are granted one-time permission only if you PayPal me $5.00 per printout or part thereof. Thank you!
Thanks for reading!
Mr. & Mrs. Ken Rockwell, Ryan and Katie.
Home Donate New Search Gallery Reviews How-To Books Links Workshops About Contact