Home Donate New Search Gallery Reviews How-To Books Links Workshops About Contact
Velodyne Wi-Q 10" and 12"
Auto-EQ Wireless Subwoofer (2014-)
© 2014 KenRockwell.com. All rights reserved.
Intro Specs Usage Recommendations More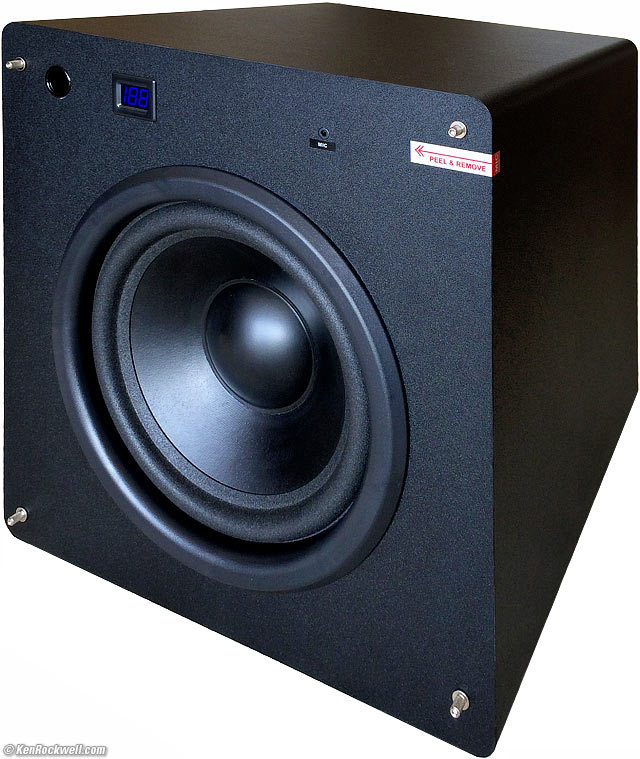 Velodyne Wi-Q 10" vented auto-EQ wireless subwoofer (41 pounds shipping weight, about a 15" cube, about $800, or $900 for 12" version). My biggest source of support is when you use any of these links, especially this link directly to them at Amazon, when you get anything, regardless of the country in which you live. It helps me keep adding to this free website when you get anything through these links — but I receive nothing for my efforts if you take the chance of buying elsewhere. Thanks for your support! Ken.
March 2014 Velodyne Reviews Audio Reviews All Reviews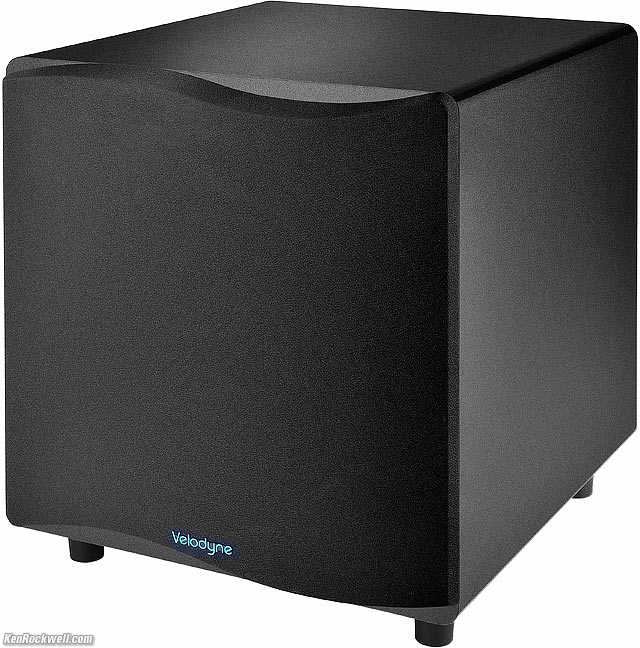 Velodyne Wi-Q 10" with grille.
Introduction top
Intro Specs Usage Recommendations More
The Velodyne Wi-Q is a self-powered subwoofer with either a 10" or 12" foam-surround woofer driver mounted in a vented cabinet. It works like any other self-powered woofer, with the addition of a remote transmitter so that you don't have to run an audio cable to it. Even if it's wireless, it's still not cordless: you still have to plug it into the wall for power.
Seeing that it's made by Velodyne, who's been specializing in nothing but real subwoofers since 1983, I expected it to work better than I had expected for a for a relatively lightweight Chinese-made consumer subwoofer, and it does.
Your neighbors will hate this woofer because it does a great job of reproducing the deep bass that goes right through walls. I'm impressed; it's not at all boomy as are most competitive attempts at subwoofers. Velodyne has been doing this a long time. Boomy sounds impress the innocent, but aren't deep bass and don't go through walls as well, while this Velodyne does an amazing job of knocking out deep and loud bass from what I consider a tiny woofer. (I've had subwoofers since the 1970s, long before Velodyne started, and consider the pair of 125 pound, 8 cubic foot 18" JBLs as "normal" size for a subwoofer.)
This lightweight 10" Wi-Q subwoofer can play as loudly and annoy the neighbors just as well as the 12" 1,000 watt B&W ASW800 subwoofer to which I compared it. The English-made ASW800 weighs twice as much and sold for $3,000 when new, and while the ASW800 cheerfully can dig deeper into the 32 foot rank (16-32 cycles) if you're a pipe organ, Michael Jackson or Stevie Wonder fan, for any and all other music and movies even the smaller 10" the Wi-Q is more than enough for the 16 foot ranks (32-64 cycles) of the Taurus bass pedals of Genesis' Seconds Out and just about any other reasonable sort of music.
Even with the toughest 32 foot ranks, unless you're really familiar with the piece or a musician and know the way it sounds on multi-thousand-dollar subwoofers, the 10" Wi-Q sounds pretty much the same as the ASW800.
The 10" Wi-Q has no problem filling a 6,000 cubic foot room (20 x 30 x 10 feet) with very loud and deep bass. It pounded an entire 5,000 square foot home.
It's response is solid to 25 Hz, and there's nothing below 20 Hz. I presume this was in the Movies EQ setting, which filters out signals below 25 Hz.
I could hit the Wi-Q with all the signal I had, and it never distorted or clipped. I suspect it's very smart and simply soft limits the signal without clipping.
I heard no difference between a direct-connection or the wireless connection. I have a suspicion that both are digitally processed and that the wireless transmitter is simply duplicating the front-end of the wired connection. It worked great even 40 feet (12 meters) away in another room.
When set to Direct (no low-pass filter), there is audible output at least to 2 kc.
The blue LEDs for gain (level) shines through the grille. They default to 30, and go up to 80 depending on how loud you set it.
The cabinet is relatively cubical with some radiused edges. Only the grill is wavy, while the cabinet is cubical.
The amplifier is quieter than most class-D amps; there was no audible idle noise even two inches away from the cone. There is zipper noise if you feed it something foolish like an inaudible 2 cycles-per-second sine wave and listen with your ear at the cone.
The cabinet is ringy if you rap it with a knuckle, but there is little to no vibration even if the subwoofer is rocking the house. This is good design: it keeps the weight down and still works well.
There is foam on the back of the grille frame to keep it from buzzing against the cabinet.
The amplifier plate gets only a little bit warm as it plays loudly.
Good
Remote Transmitter, Velodyne Wi-Q.
Wireless audio connection may get you experimenting with, and give you more options for, placement. Finding the best position is always critical for getting the best sound. If this lets you discover a better location than you might have with a more expensive wired subwoofer, it will sound better than the better woofer. Placement is everything. (The audio connection is wireless, but you still have to plug it in for power.)
Loads of clean output down to 25 cps.
Efficient class-D amplifier.
There's an Auto EQ function, complete with an included microphone, that lets one optimize room response easily — and optimizing room response is more important than what woofer you choose!
Bad
Offshored to China for manufacture.
Foam surround, which may deteriorate after 10 to 20 years.
Rated Specifications top
Intro Specs Usage Recommendations More
Model Numbers
Driver

10"

12"

Driver trim ring outer diameter

11"

13"

Outer diameter, foam roll suspension

9"

11"

Effective driver piston diameter (middle of foam roll)

8.2"

9.7"

Response (fluff)

16-240 cps

14.6-240 cps

Response (±3dB)

28-120 cps

25-120 cps

Voice coil

2" copper

2" copper

Cone

Reinforced fiber (aka paper)

reinforced fiber (aka paper)

Magnet structure

5.36 lbs

7.4 lbs

Speaker-level high-pass filter

just a series capacitor (80 cps at 6dB/octave with an 8Ω resistive load)

just a series capacitor (80 cps at 6dB/octave with an 8Ω resistive load)

Low-pass crossover

40 - 135 Hz adjustable
(12 dB/octave, 24 dB ultimate)

40 - 135 Hz adjustable
(12 dB/octave, 24 dB ultimate)

Crossover phase settings

0, 90, 180 or 270º

0, 90, 180 or 270º

Auto EQ

5 bands

5 bands

Mic and cable included?

yes

yes

Wireless frequency

2.4 Gigacycles

2.4 Gigacycles

Range

50'/15m

50'/15m

Includes

Cal mic, mic stand, remote control, transmitter, power supply, and batteries

Cal mic, mic stand, remote control, transmitter, power supply, and batteries

HWD, with grille and feet

17.31" x 15.25" x 17"

44 x 38.7 x 43.2 cm

18.44" x 16.375" x 18"

46.8 x 41.6 x 45.7 cm

Shipping (gross) weight

40 lb. (41.212 measured)

18.2 kg

Net (actual) weight

unspecified

unspecified

Quality

Made in China

Made in China

Price, 3/2014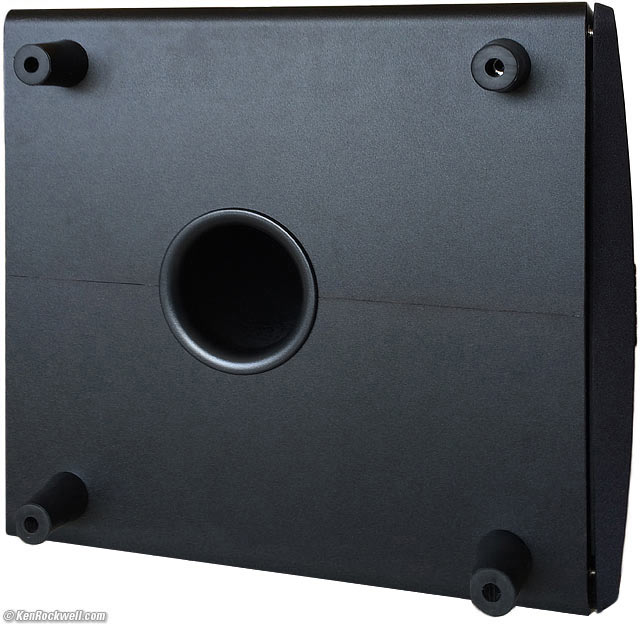 Bottom, showing vent, 10" Velodyne Wi-Q.
Usage top
Intro Specs Usage Recommendations More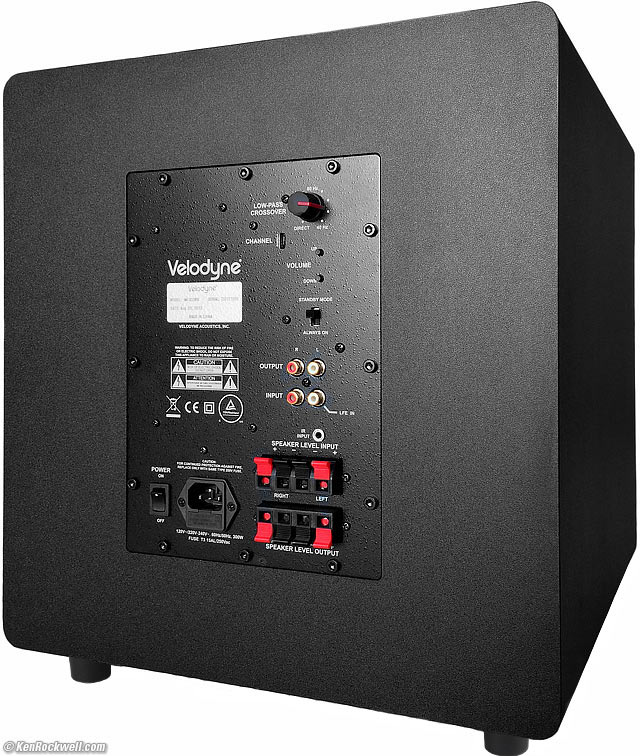 Rear, Velodyne Wi-Q 10"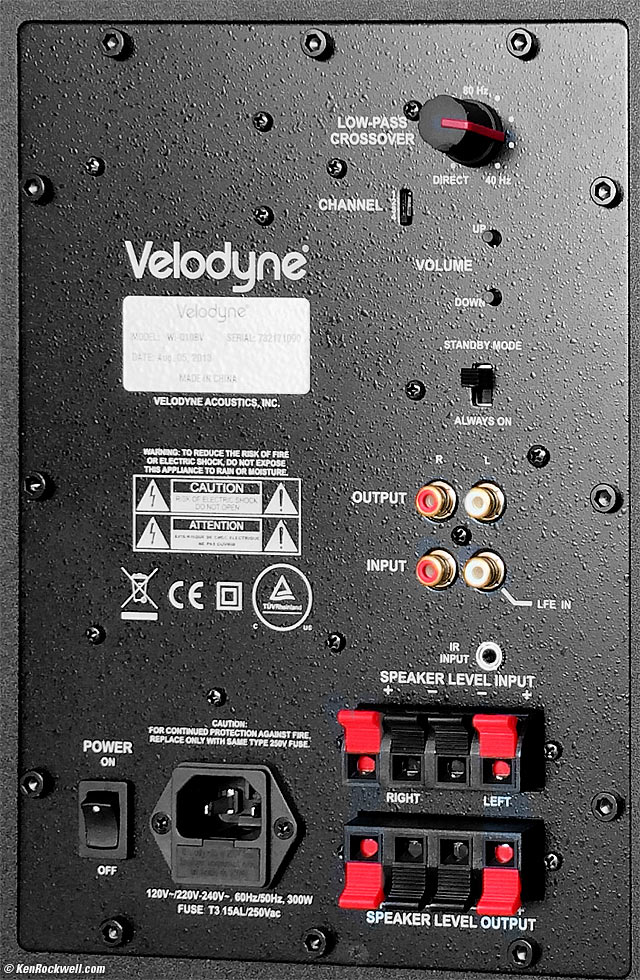 Rear control panel, 10" Velodyne Wi-Q.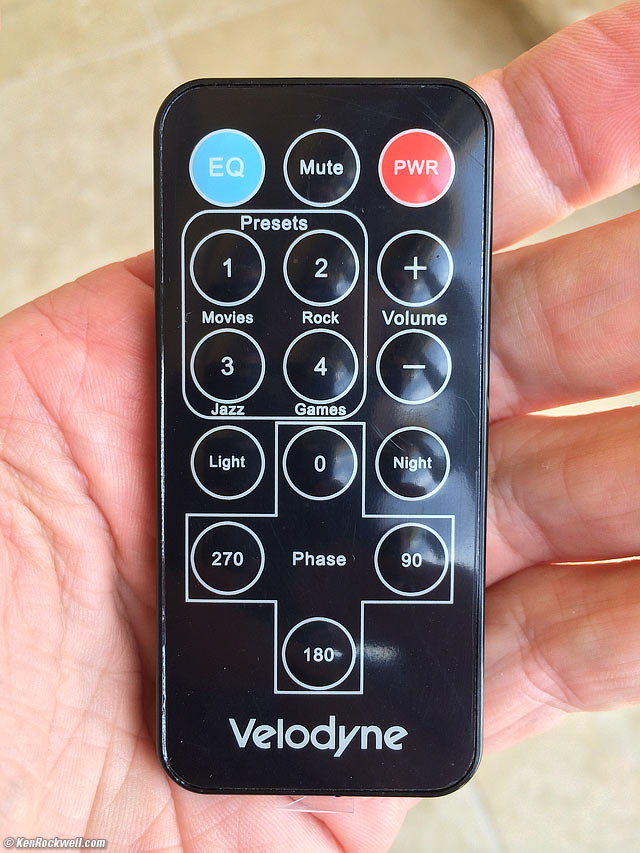 Remote control, Velodyne Wi-Q.
Setup is direct and easy, but the level is set only via the UP and DOWN buttons either on the remote or the rear panel. There is no level knob.
The Velodyne Users Manual is well written in plain English.
See also my page on Connecting Subwoofers.
It's trivial to set up wireless: pick the same channel with the slide switch on the transmitter and on the subwoofer, and it just goes. There is no switch and no need to select which input, direct copper or remote, you're using. I didn't try, but it just might respond to both at the same time.
Few people outside the professional world realize that a small subwoofer well-placed in a good room works much better than an extraordinary subwoofer placed casually in the most convenient corner or used in a mediocre room. Moving speakers and listening positions easily can vary bass response by 20 to 30 dB, which is far more difference than there is between the smallest and largest subwoofers.
Find the best position, and only after you've found the best position, then run the Auto EQ function.
Auto EQ is simple: plug-in and place the included microphone at your listening spot, and then hold the EQ button on the remote for several seconds until it starts making tones. Everything is automatic.
The manual says it has 5 way speaker posts, but they are just spring clips. Don't use these, use the subwoofer or preamplifier output from your preamp or receiver or a real external crossover.
I didn't try, but I suspect if using two for stereo (music should be played on stereo subwoofers) with the wireless transmitters, I presume you'll have to set different channels for each pair.
The big magnet is unshielded. Keep it away from CRT TVs.
The manual cautions to keep it right side up, and that it might damage itself if stored on a side.
The "Night" mode is a peak limiter that turns down the loud parts automatically so you can play the subwoofer at night without annoying others.
There are four EQ presets. Use any of them for anything; the names are merely suggestions. Hint: The Jazz preset #3 is actually the "Flat" preset; I'd use that. The others add more of a bump in the response and filter out the deepest bass that few people will appreciate, and which let it otherwise play louder.
There is a spare (replacement) fuse in the holder, if you blow one.
The front panel LED reads the low-pass frequency as it is adjusted. It reads " - - " if set to DIRECT, at which setting all frequencies pass. Use the DIRECT position if you're feeding it from an external crossover or SUB or LFE output.
Recommendations top
Intro Specs Usage Recommendations More
I'm impressed; this lightweight 10" subwoofer can belt out as much output as a B&W ASW800 for any domestic use I might have for it so long as I don't need massive output below 30 Hz.
It usually takes a long time, meaning at least a few weeks, to discover the best position for any subwoofer, as well as that long to adjust the crossovers and get everything tuned well. There are much greater differences between how well you set it up than there are differences between decent subwoofers. This is a decent subwoofer, not just a boom box as are many other consumer woofers.
I have not tried the larger 12" version, but this 10" version certainly belts out tons of deep, tight bass — if you take the time to place it well in your room and connect it properly.
More Information top
Intro Specs Usage Recommendations More
Help me help you top
I support my growing family through this website, as crazy as it might seem.
The biggest help is when you use any of these links when you get anything, regardless of the country in which you live. It costs you nothing, and is this site's, and thus my family's, biggest source of support. These places have the best prices and service, which is why I've used them since before this website existed. I recommend them all personally.
If you find this page as helpful as a book you might have had to buy or a workshop you may have had to take, feel free to help me continue helping everyone.
If you've gotten your gear through one of my links or helped otherwise, you're family. It's great people like you who allow me to keep adding to this site full-time. Thanks!
If you haven't helped yet, please do, and consider helping me with a gift of $5.00.
As this page is copyrighted and formally registered, it is unlawful to make copies, especially in the form of printouts for personal use. If you wish to make a printout for personal use, you are granted one-time permission only if you PayPal me $5.00 per printout or part thereof. Thank you!
Thanks for reading!
Mr. & Mrs. Ken Rockwell, Ryan and Katie.
Home Donate New Search Gallery Reviews How-To Books Links Workshops About Contact