Home Search Gallery How-To Books Links Workshops About Contact
Canon FD 50mm f/1.8 Test Review
© 2004 KenRockwell.com
about these reviews
get it used here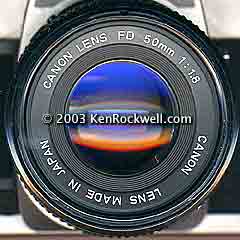 INTRODUCTION
This is a very common manual focus lens.
SPECIFICATIONS
52mm filter, stops to f/22, focus to about a foot and a half.
All metal construction.
PERFORMANCE
I haven't even tried this yet, even though I have one for my AV-1. Like most 50mm lenses this is probably one of the sharpest lenses you can get for your Canon.
RECOMMENDATIONS
This is probably a great lens that you can get for $10 if you look hard enough.
Home || Gallery || Tech || Links || About || Workshops || Contact