Home Donate New Search Gallery How-To Books Links Workshops About Contact
Canon 5D Mark II
Specifications
© 2010 KenRockwell.com. All rights reserved.
5D Mk II Review Specs Performance Compared Usage Recommendations
Diagrams What's New What's Old Sales Fluff Lenses Video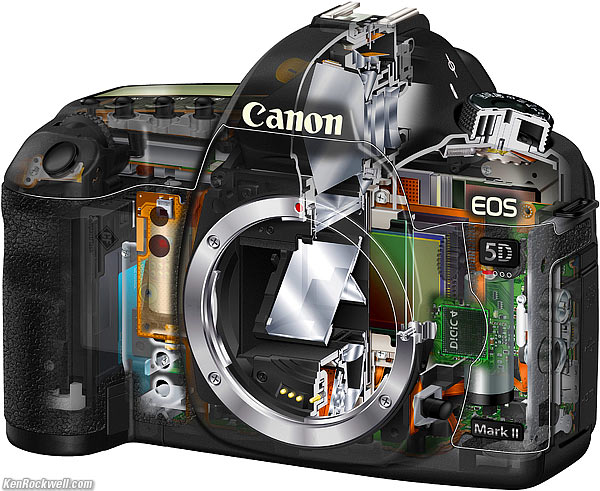 Cutaway 5D Mark II (32 oz./907g with battery and card, but no lens). enlarge.
May 2010 Canon 5D Mark II Review More Canon Reviews
Finder top
98% coverage.
0.71x magnification with 50mm lens.
21mm eyepoint.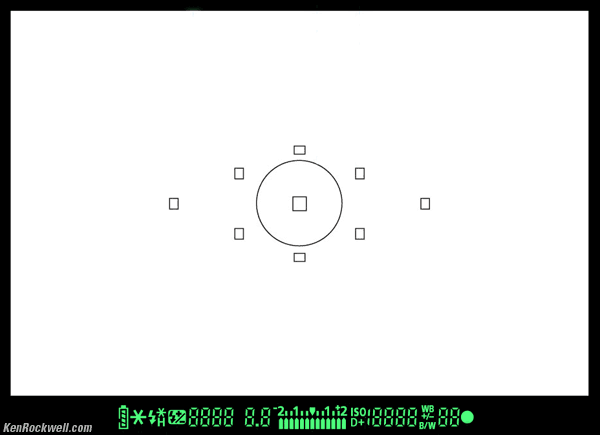 Canon 5D Mark II viewfinder view.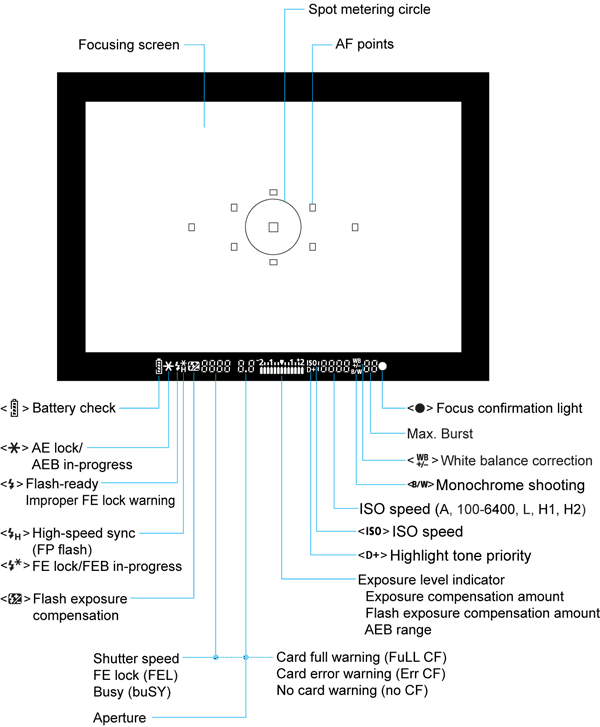 AF Points top
9, just like 50D and 5D.
There are 6 hidden AF points as well, just like the other cameras. There's fine-tuning for AF offset, new to the Mark II version of the 5D. Here are Canon's guides to what sensor is doing what. Remember, we only see and can control nine of them; the other six in red below are invisible to us.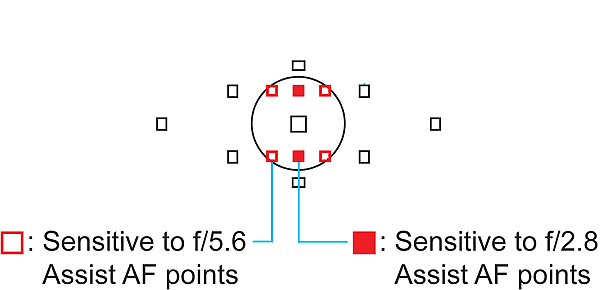 And here are which points are sensitive in what directions and with lenses of what minimum speed: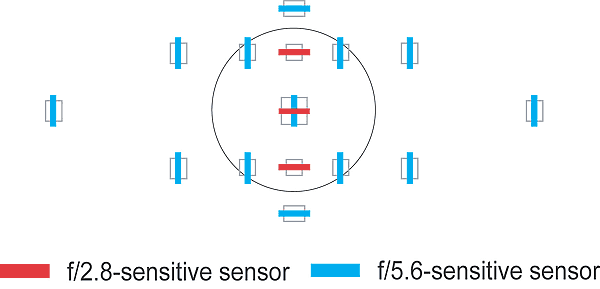 Meter top
35-zone evaluative, center-weighted, 9% loose spot and 3.5% spot.
Like all Canons, the 5D Mark II's meter is blind to both color and to distance. Nikons see both.
Shutter top
1/8,000 to 30 sec., Bulb.
150,000 cycle "durability." Canon does not define their use of the word durability.
Maximum Shutter Speed with Flash (sync speed)
1/200.
Supports the trick FP high-speed mode, which is mostly just a trick mode.
Sensor top
24.0 x 36.0 mm, 21.0 MP CMOS.
It's the same size and resolution as the 1Ds Mk III.
Sensor Cleaner.
New fluorine coating claims better dust resistance.
Image Sizes top
5,616 x 3,744 pixels, native.
Canon lies: 5,616 x 3,744 = 21.0 MP, not 21.1 as advertised.
Also 4,080 x 3,744 and 2,784 x 1,856 pixels in JPG, and 3,861 x 2,574 and 2,784 x 1,856 in raw.
ISO top
AUTO, and ISO 50 to ISO 25,600.
ISO 100 - 3,200 is the range selected in AUTO ISO.
If you use Highlight Optimization, ISO starts at a minimum of ISO 200 in manual and auto ISO setting.
ISO 100 through ISO 6,400 come up in 1/3-stops, or full stops as I prefer if set in a menu.
The extreme ISOs come up only as L1 (ISO 50), H1 (ISO 12,800) and H2 (ISO 25,600).
Although the same resolution as the 1Ds Mk III, Canon claims a new output amplifier and a "more advanced color filter that improves light transmission while retaining excellent color reproduction" allows faster ISOs. Not really; the 5D Mark II is much noisier than the 5D in the shadows at the same ISOs.

ISO Comparison among 5D, 5D Mark II and1Ds Mk III.
Color Spaces top
sRGB, the world's standard, and Adobe RGB.
Image Tweaks top
White Balance is trimmable in 9 steps each towards amber or blue and towards green or magenta.
Contrast and saturation adjustable up or down by four steps in each direction.
Hue, called "color tone," likewise adjusts in four steps up or down.
Sharpening adjustable from none to +7.
These four parameters can be saved and recalled.
Shadow lightening is called "Automatic Lighting Optimizer," and selected in a menu. It is not adjustable; it's either on or off.
Highlight recovery, called "Highlight Tone Priority," is likewise selected in a menu and is either on or off. When on, the minimum ISO is ISO 200.
Frame Rate top
3.9 FPS.
Buffer Depth top
Using a fast (UDMA) card, it's essentially unlimited in JPG, since the 5D Mark II can spit images out to your card faster than it can shoot them.
Canon rates it as 310 LARGE FINE JPGs with a fast UDMA card, and 78 with a slower card.
The buffer is only 13 or 14 deep for raw, and if you shoot raw + a LARGE FINE JPG, only 8 deep.
Even an 8-deep buffer is plenty deep for anything I shoot. Unlike the LEICA M9, I just can't shoot faster than the Canon 5D Mark II can handle.
Video (as of v2.0.4 firmware) top
Outputs
File on your card.
Type C mini HDMI connector.
3.5mm stereo jack for analog audio and video.
File Format
.MOV format, MPEG-4 AVC/H.264 variable bit rate video compression.
Image Format
1920 x 1080 (16:9 HD) at 29.97, 25.00 and 23.976 fps, which are the correct rates for teleproduction. The menus erroneously list 29.97 and 23.976 as 30 fps and 24 fps.
640 x 480 pixels (VGA) at 29.97 and 25.00 fps, the correct rates for teleproduction. The menus erroneously list 29.97 as 30 fps. Warning: broadcast TV is not 640x480; that's a computer standard. NTSC broadcast TV, when digitized, is 720 x 483 non-square pixels at 59.94 interlaced fields per second, not 30 or 29.97 sequential frames per second.
Data Rates
1920 x 1080: about 330 MB per minute, for all frame rates.
640 x 480: about 165 MB per minute, all frame rates.
Maximum take duration
The maximum length of a take is 4 GB.
The file sizes vary with subject detail, and Canon says 4GB will get you about 12 minutes in HD or 24 minutes of regular definition.
If you have less detail in your subject, you can run as long as 29 minutes and 59 seconds if you can do it without hitting 4GB first.
The 5D Mark II gets hot as you shoot video. Page 13 of the USA users guide (CT1-1028-002, January 2010) says, and I quote, that the 5D Mark II can cause "slight skin burns."
Audio with video
Linear PCM audio, uncompressed.
A mono mic is built in right below the "5D" label on the front, and there's an external 3.5mm stereo input.
Manual level adjustment, with meters, is available in the menu system.
LCD top
3.0"
High 640x480 pixel resolution (920,000 RGB dots).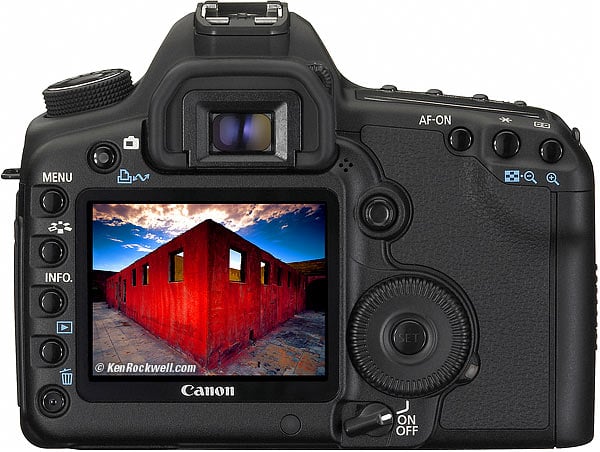 Canon 5D Mark II. enlarge.
Live View
Yes. I never use it.
If you use it for extend periods, the 5D Mark II can get hot. Page 13 of the USA users guide (CT1-1028-002, January 2010) says, and I quote, that the 5D Mark II can cause "slight skin burns."
Battery and Power top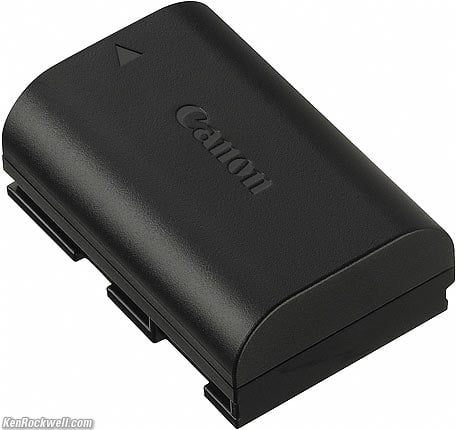 LP-B6 Battery.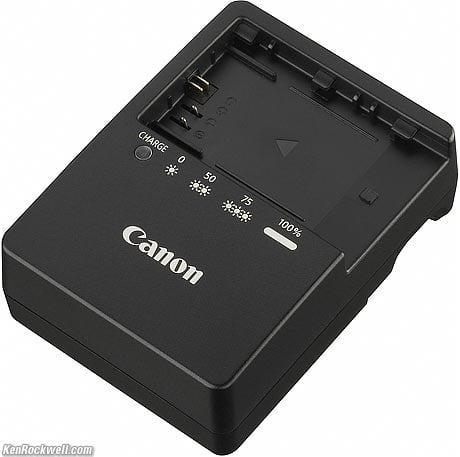 LC-E6 Charger.
LP-E6 battery and LC-E6 charger.
These are not interchangeable with the BP-511A battery and charger of the original 5D.
CR1616 for clock backup.
Data Storage top
CF card, one slot.
I have no idea of the maximum capacity rating; I use a Lexar 600x 32GB CF card, and it holds 10,000 large JPGS!
Data Communication top
Slow USB 2.
I'd forget about it; use a fast card reader.
Size (rated) top
6.0 x 4.5 x 3.0"
152.0 x 113.5 x 75.0 mm.
Weight top
32 oz (907g) measured with battery and card, but no strap, caps or lens.
Rated by Canon as 28.6 oz. (810g), stripped like it was left out in the Bronx overnight.
Announced top
17 September 2008.
Shipping Since top
Canon promised it by the end of November 2008, and that's when they started to ship.
Price (USA) top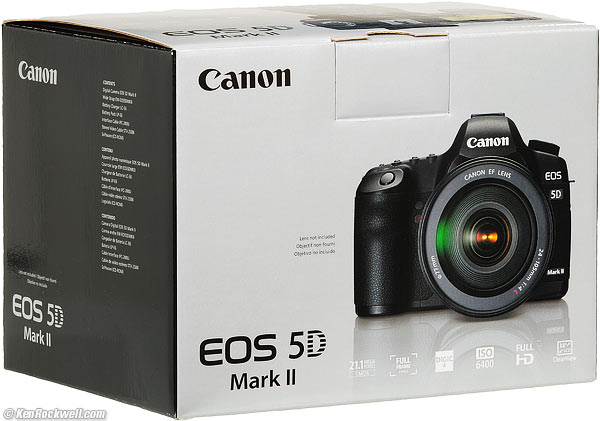 Box, Canon 5D Mark II.
5D Mark II body
$2,499, January 2010 (first price concession, just after Christmas)
$2,699, September 2008 - December 2009.
5D Mark II with 24-105mm f/4L IS
$3,199 January 2010 - .
$3,499 September 2008 - December 2009.
Canon Item Number
2764B003.
More Information top
Product Data
Canon's teaser: The new 5D
Canon USA's page on the 5D Mark II
Canon USA's 5D Mark II specifications
Firmware
Firmware v2.0.4. This firmware makes the 5D Mark II a totally different and better camera from the original v1 firmware.
Canon 5D Mark II Firmware updates
Users Manuals
Canon's 5D Mark II Pocket Guide
Canon's Full 5D Mark II Users Manual
Help me help you top
I support my growing family through this website, as crazy as it might seem.
If you find this as helpful as a book you might have had to buy or a workshop you may have had to take, feel free to help me continue helping everyone.
If you've gotten your gear through one of my links or helped otherwise, you're family. It's great people like you who allow me to keep adding to this site full-time. Thanks!
If you haven't helped yet, please do, and consider helping me with a gift of $5.00.
The biggest help is to use these links to Adorama, Amazon, B&H, Calumet, Ritz, J&R and when you get your goodies. It costs you nothing and is a huge help to me. eBay is always a gamble, but all the other places have the best prices and service, which is why I've used them since before this website existed. I recommend them all personally.
Thanks for reading!
Ken
Home Donate New Search Gallery How-To Books Links Workshops About Contact