Home Donate New Search Gallery How-To Books Links Workshops About Contact
Canon 5D Mark II
What's New from the old 5D
© 2010 KenRockwell.com. All rights reserved.
5D Mk II Review Specs Performance Compared Usage Recommendations
Diagrams What's New What's Old Sales Fluff Lenses Video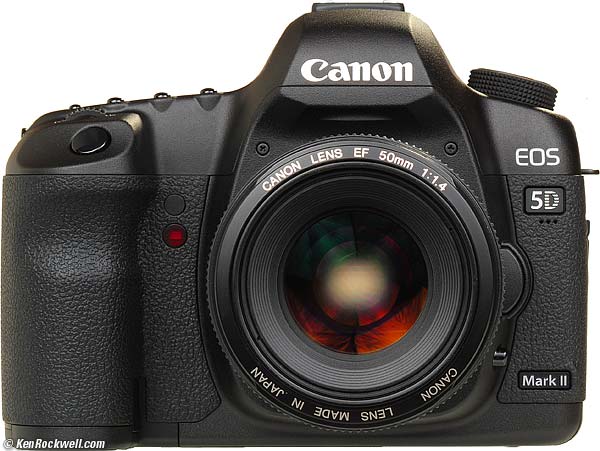 Canon EOS 5D Mark II and 50mm f/1.4. enlarge.
May 2010 Canon 5D Mark II Review More Canon Reviews
Quick Control Screen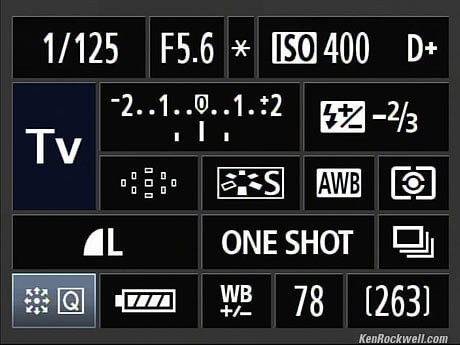 Canon 5D Mark II Quick Control Screen.
You can control everything from one tap of the SET button, if you turn on this feature by pressing:
MENU > CAMERA••••• (C.Fn) > C.Fn IV Operation/Others > SET > 3: Assign SET Button > SET > 5: Quick Control Screen > SET.
Now when you tap SET, it wakes up a control screen on the rear LCD from which we can control everything with the dial, joystick and SET button.
This is a far more valuable upgrade from the old 5D than the pixel count.
How to Use the Quick Control Screen.
Three Total Recall Positions top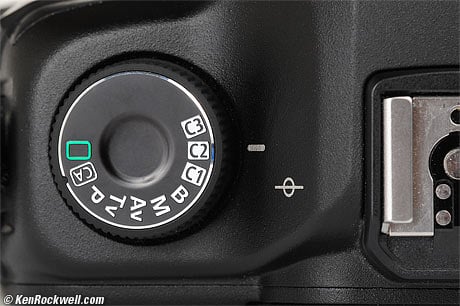 C1, C2 and C3 Total Recall positions. bigger.
The 5D Mark II has three of these; the classic 5D only had one.
These mean the world to me; they let me shoot more things better and faster.
Excellent LCD top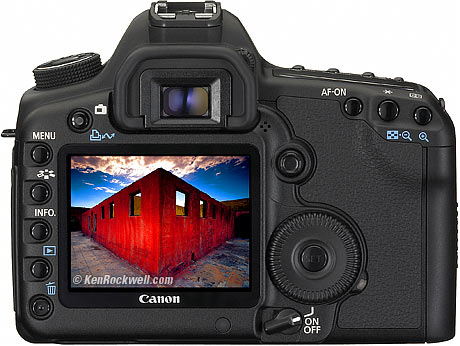 Canon 5D Mark II. enlarge.
The old 5D had a crummy LCD, even after Canon tried to update it.
This alone is reason enough for me to dump my old 5D in favor of the new 5D Mark II. The 5D Mark II's LCD is superb.
The LCD is covered with anti-reflection coated glass, but sadly, it picks up fingerprints like a magnet. By comparison, the screen coating of the SD880 point-and-shoot seems to repel fingerprints.
Sadly, unlike my illustration, the actual 5D Mark II can't fill the screen with an image; even when zoomed it has a black bar across the top with exposure data.
Auto ISO top
This new feature alone is also enough to make me love the new 5D Mark II over my old 5D.
Auto ISO is on by default, and not hidden deep inside menus as it is on Nikon.
Battery Gauge in the Finder top
There is a five-segment gauge in the finder. Nice!
Playback top
Now also reads Picture contrast, saturation, AF offset and etc. settings.
More Pixels top
Yes, more pixels, but you had better have some real Perkin-Elmer spy-satellite grade optics to make good use of them. For most people, all the more pixels of the 5D Mark II is going to show you are the limits of your Canon L-series lenses and your technique.
Canon 5D Mark II Lens Recommendations.
Chrome Hot Shoe top
Silly but true: the old 5D had a black hot shoe whose finish quickly wore off with light use.
The new silver hot shoe will look good much longer.
Help me help you top
I support my growing family through this website, as crazy as it might seem.
If you find this as helpful as a book you might have had to buy or a workshop you may have had to take, feel free to help me continue helping everyone.
If you've gotten your gear through one of my links or helped otherwise, you're family. It's great people like you who allow me to keep adding to this site full-time. Thanks!
If you haven't helped yet, please do, and consider helping me with a gift of $5.00.
The biggest help is to use these links to Adorama, Amazon, B&H, Calumet, Ritz, J&R and when you get your goodies. It costs you nothing and is a huge help to me. eBay is always a gamble, but all the other places have the best prices and service, which is why I've used them since before this website existed. I recommend them all personally.
Thanks for reading!
Ken
Home Donate New Search Gallery How-To Books Links Workshops About Contact