Home Donate New Search Gallery Reviews How-To Books Links Workshops About Contact
Canon G1 X
14MP 14x18mm sensor, 3" Flippy LCD, 28-112mm
© 2012 KenRockwell.com. All rights reserved.
Intro Specs Performance Compared Usage Recommendations More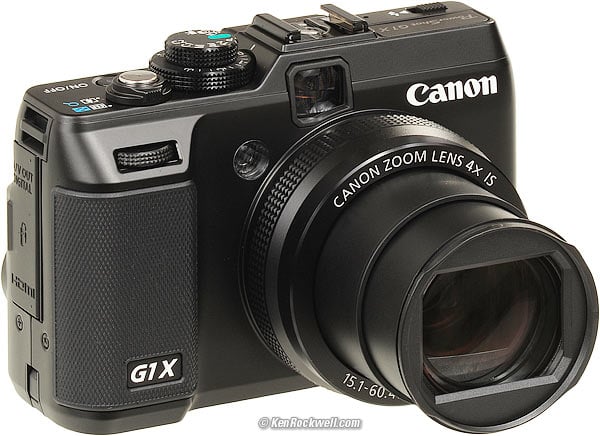 Canon G1 X (18.770 oz./532.2 g, no filter thread, about $650). enlarge. This free website's biggest source of support is when you use these links, especially these directly to it at Adorama and at Amazon when you get anything, regardless of the country in which you live. Thanks! Ken
April 2012 Canon PowerShot reviews Canon reviews All Reviews
NEW: 2012 DSLR Comparison 18 April 2012
Introduction top
Intro Specs Performance Compared Usage Recommendations More
The Canon G1 X is the biggest compact digital camera ever from Canon. It's bigger because it uses the largest sensor ever crammed into a compact digital camera by Canon, a healthy 14 x 18.7mm (1.85x crop factor) CMOS chip.
The Canon G1 X has the same technical image quality as a real DSLR, but with the same slow response of a traditional point-and-shoot. It handles exactly like any other Canon PowerShot, but a little slower. (Canon names all its compact digital cameras "PowerShot.")
The Canon G1 X is a rich-guy's vacation camera. You pay a premium price for its small size and superb technical image quality, and it works wonders for nature, travel and landscape photography — but a Canon Rebel T3 with its kit lens outperforms the G1 X at almost everything for $300 less, but in a larger package. Rich guys don't care at all about a few hundred dollars — but they do care about convenience and perceived mechanical quality.
The Canon G1 X' large sensor makes it uniquely superb for travel and landscape photos. For photos of places and things, the G1 X is far superior technically to other PowerShots because its images are much, much cleaner at every ISO than any tiny-sensored camera. The G1 X has a superbly sharp lens.
The G1 X goes to ISO 12,800, and it looks great for ISO 12,800; worlds better than other expensive compact cameras (like the Fuji X10) at much lower ISOs.
The G1 X is about 15% bigger than any of the recent G- series, like the G12, G11, G10, or G9. While its identical controls are in the same places, the G1 X feels like a chunky version of the other G cameras — but with cleaner, sharper photos devoid of the noise, grain and noise reduction smudging artifacts of those other cameras.
The G1 X has a nice rubber grip so it's not likely to slip out of your hand, even without a strap.
On its top mode dial, there are C1 and C2 "total camera-state recall" positions. These are easy to program to recall everything about how you have the camera set. I use C1 for nature, outdoor and landscape shots, and C2 for family photos. I set C1 to VIVID, LARGE image size, -2/3 exposure compensation, AWB + A4 white balance, 1920x1080 video and so forth. I have C2 set to Standard, Medium image size, AWB + A2 white balance, 640x480 video and so forth. This way I shoot things at C1, and when my kids do something cute, all I do is flip the dial to C2 and fire away, far faster than I could recall all these settings from a Nikon D4 or D800E settings bank menu.
The G1 X' larger sensor of requires a much larger lens. Getting close-focus with a larger lens requires much larger lens-element movement. Since a lens element only can move so far, the G1 X has poor close-up ability, and no macro ability at all, even though it has a button marked "macro." Forget close-up shots, but worse, you'll have to hit the "macro" button just to get to within a few feet at the long end of the zoom for head-and-shoulder shots! If you don't press "macro" in the tele mode when trying to focus at a few feet away, it won't focus and will give you a yellow!! warning on the LCD.
In exchange for its inability to do closeups, the big, low-noise sensor allows a 60-second maximum exposure time in Manual mode, up from 15 seconds in other PowerShots.
Even with its big sensor, the G1 X is still just a Canon Powershot, and handles exactly like its brethren: too slow for people and action photos, and its flash exposure control is horrible and has a long delay between preflash and actual flash.
The color rendition, resolution and stabilized zoom lens of this G1 X is superior for nature and landscape and travel shots, but for people pictures, the Fuji X100 is much better because it handles faster and has better, lower-contrast color rendition optimized for people. The Fuji X100 and G1 X don't compete against each other; each is very good at something at which the other is not. The man who buys one of these will probably buy both.
My Fuji X100 still handles much faster and works in more kinds of light for better people pictures, but for travel and landscape photos, the G1 X is even better because of its zoom and more vivid colors.
The Canon G1 X is big, clunky and slow for a point-and-shoot, but gives far higher technical image quality for nature, outdoor and landscape shots than any other point-and-shoot camera, making it a top pick for anyone who needs the smallest possible camera from which to pull the largest possible prints. The Canon G1 X is a rich-guy's vacation camera, and I love rich-guy's vacation cameras like the Contax G2 and Nikon 35Ti. With its big sensor hidden in a point-and-shoot body, it reminds me of the guys who used to shoehorn V-8 engines into Pintos and Miatas: little things that pack far more power than you'd suspect.
New
The Canon G1 X adds over other PowerShots:
"Copyright" menu.
Programmable auto ISO.
Smooth optical zooming (and VR) while rolling video.
+\- 3 stops exposure compensation (not needed).
Electronic level.
"Hg lamp" option in white balance.
Missing
No GPS, thank goodness (I don't want a GPS in my camera for security reasons).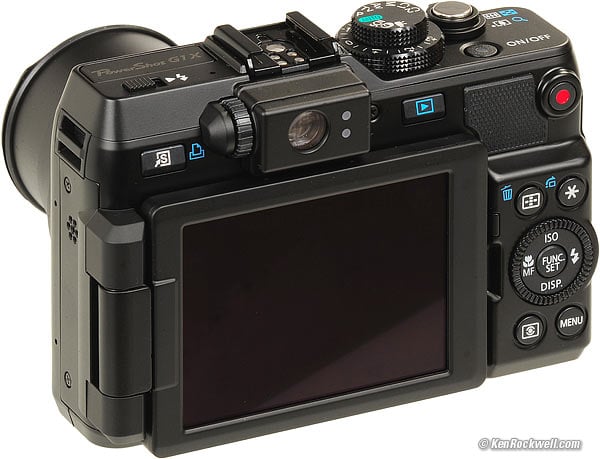 Back, Canon G1 X. bigger.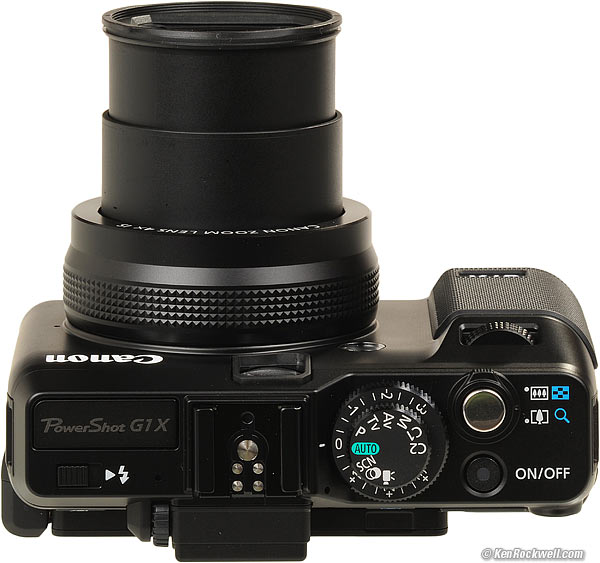 Top, Canon G1 X. bigger.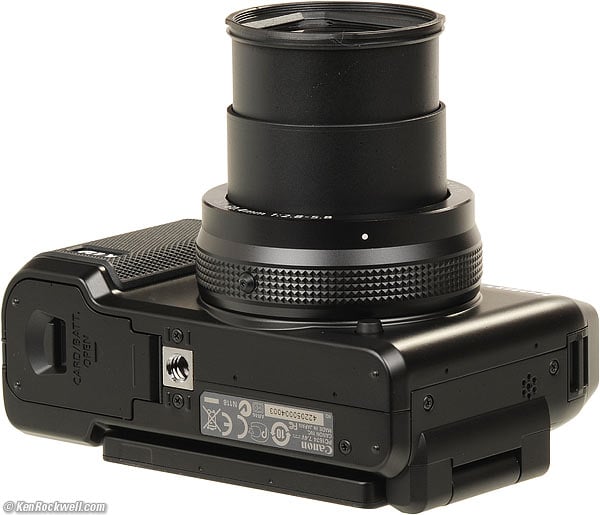 Bottom, Canon G1 X. bigger.
Specifications top
Intro Specs Performance Compared Usage Recommendations More
Sensor
14MP.
14 x 18.7mm (1.85x crop factor) CMOS. 23.36mm diagonal, professional 4:3 aspect ratio.
Canon claims a misleading "1.5 inch sensor," but that's a deceptive number based on the size of a video pick-up vacuum tube that would have the same imaging area as this chip! Canon is a great company, so it's unusual to see them touting such a deceptive specification.
ISO
AUTO: 100 ~ 1,600.
Manual: 100 ~ 12,800.
Image Sizes and Formats
4,352 x 3,264 pixels native.
Also 3,072 x 2,304 (M1), 1,600 x 1,200 (M2) and 640 x 480 (S).
Cropped modes also let you record images cropped from the full 4:3 down to 16:9. 3:2. 1:1 (square) and 4:5 vertical.
JPG and/or CR2 raw.
Movies
1,920 x 1080 @ 23.976p: 4.355 MB/s.
1,280 x 720 @ 29.97p: 3.054 MB/s.
640 x 480 @ 29.97p: 1.416 MB/s.
Maximum clip length seems limited only by card size.
Lens
15.1 ~ 60.4mm f/2.8 ~ 5.8. Mid-range, it's about f/5.
Equivalent to 28-112mm.
Close focus to only about a foot at wide, 3 feet at tele (30% closer in MACRO mode, 30% less close usually).
Finder
Optical peep-hole zoom.
Rear flippy LCD.
No internal LCD like the unique Fuji X100.
Shutter
60 seconds - 1/4,000, not all speeds available at all settings.
Flash
Built-in, pop-up flash.
Storage
SD card.
LCD
3"
Correct full-height 3:4 aspect ratio.
922,000 dots.
RGB Histogram?
Yes, in playback.

Outputs
USB.
HDMI (CEC compatible).
PAL or NTSC analog video.
Stereo analog audio.
Body Covers
Plastic top cover.
Metal in other spots.
Power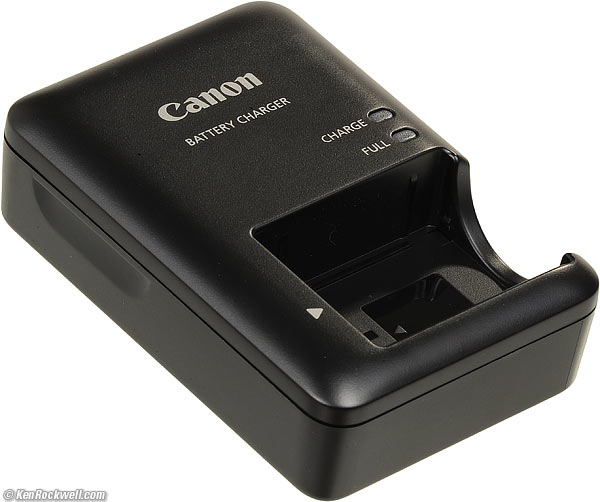 CB-2LC Battery Charger.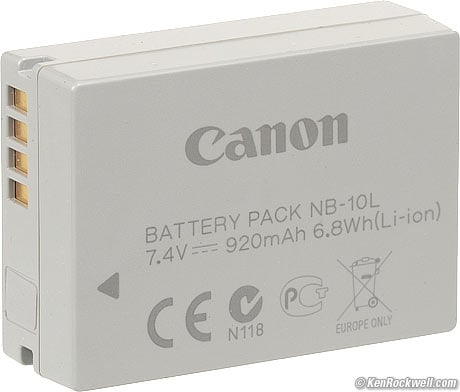 NB-10L Li-Ion battery.
NB-10L Li-Ion battery.
Battery Charger CB-2LC 100~240V, 50-60 cps.
Charger power consumption (actual measured): 7.2W charging, 0.0 W when complete.
Size
116.7 x 80.5 x 64.7 mm (4.60 x 3.17 x 2.55 inches), rated WHD.
Weight
18.770 oz. (532.2 g) with battery and card (but no strap or cap), measured.
Canon rates it at 19.0 oz. (534g) with battery and card, and 17.3 oz. (492 g), stripped and empty.
Environmental
32-104°F (0-40°C).
10-90% RH.
Quality
Made in Japan.
Battery made in China with Japanese cells.
Lens cap and charger made in China.
Included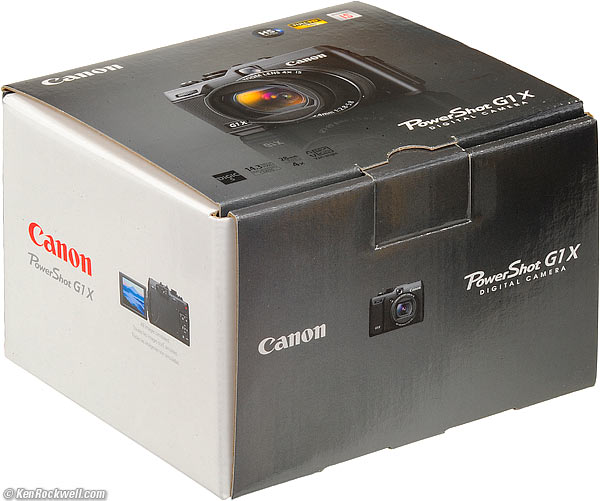 Canon G1 X box. bigger.
PowerShot G1 X Body.
Battery Pack NB-10L.
Battery Charger CB-2LC.
Dedicated plastic lens cap with keeper string.
Neck Strap NS-DC9.
USB Interface Cable IFC-400PCU.
"Getting Started" guide.
Digital Camera Solution CD-ROM with software and manual.
Warranty Card.
NO MEMORY CARD.
NO PRINTED USER MANUAL.
Announced
January 2012.
Available
March 2012.
Canon Item Code
5249B001.
Price, USA
$650, May 2013.
$800, January-March 2012.
Performance top
Intro Specs Performance Compared Usage Recommendations More
Technical Image Quality
As expected, technical image quality is superb.
Click each for the camera-original JPG file (Kid photos made as Medium as opposed to Large image size, made easy by the C1 and C2 settings of the G1 X):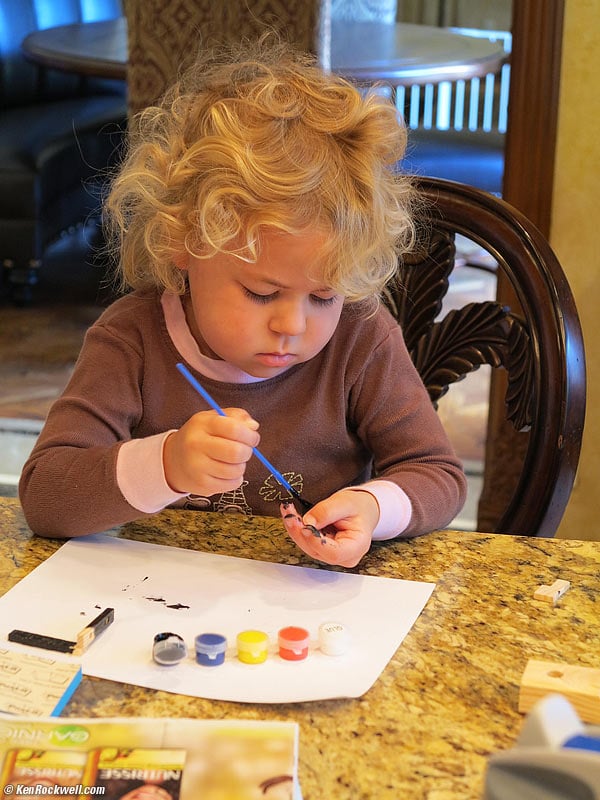 Katie at ISO 1,600, no flash. Full-size.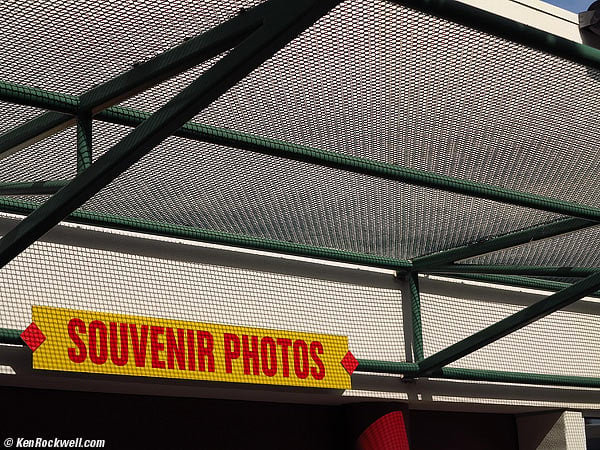 ISO 160. (watch for shallow depth of field). Full-size.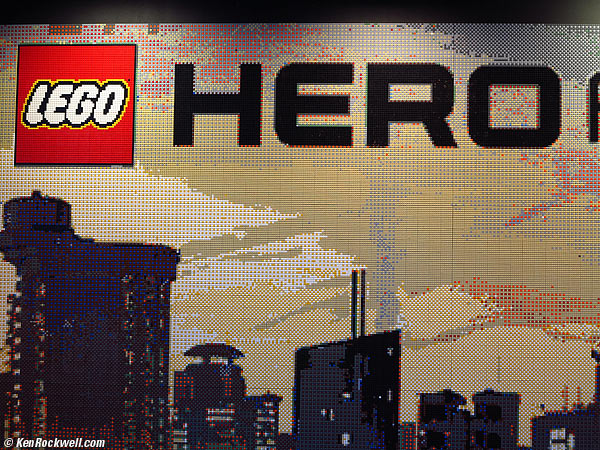 ISO 800, hand-held at 1/30 second at 95mm (equivalent) with kids climbing on me. Full-size.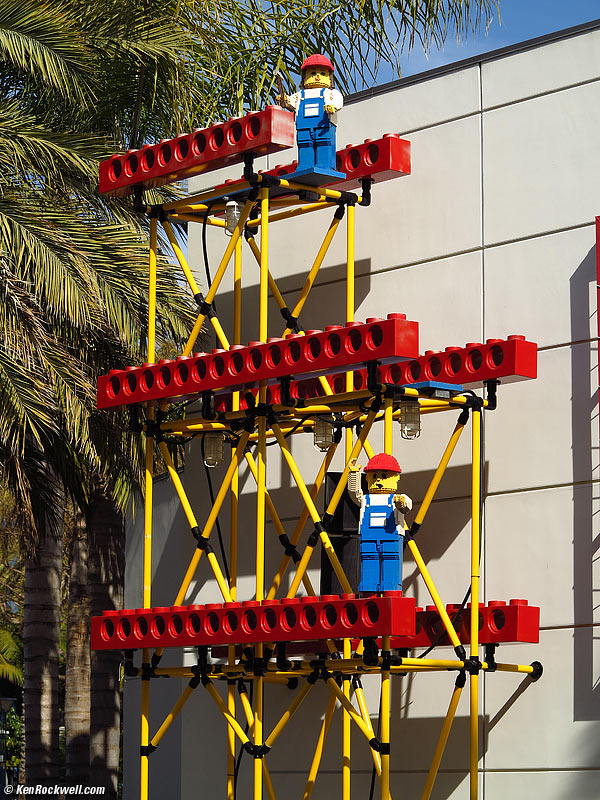 ISO 100. Full-size.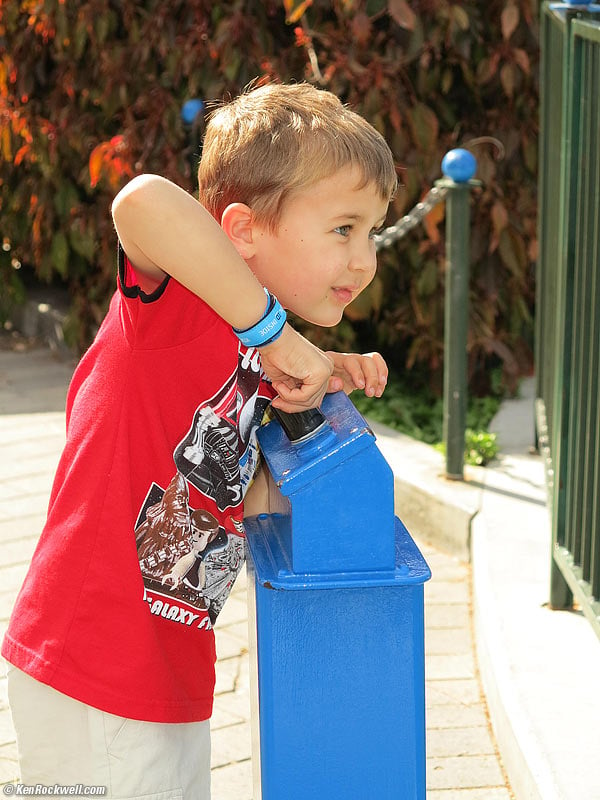 Ryan at ISO 200 with flash (watch shallow depth of field). Full-size.
Distortion
The G1 X's JPG files have mild to moderate barrel distortion. Distortion is strongest in the middle of the zoom range, different from most zooms.
This can be corrected by plugging these figures into Photoshop's lens distortion filter. These aren't facts or specifications, they are the results of my research that requires hours of photography and calculations on the resulting data.
| | | |
| --- | --- | --- |
| Focal Length | Equivalent | Factor (JPGs) |
| 15.1mm | 28mm | +1.0 |
| 19.6mm | 36mm | +2.0 |
| 29.3mm | 54mm | +2.0 |
| 41.3mm | 77mm | +1.0 |
| 55.1mm | 102mm | +1.0 |
| 60.4mm | 112mm | +1.0 |
© 2012 KenRockwell.com. All rights reserved.
Macro is awful; any SLR from the past 50 years gives much tighter images.
The G1 X' larger sensor demands a longer actual focal-length lens, and longer lenses can't focus as close as the tiny gnat-eye lenses used on other compact powershot cameras.
This is as close as it gets at the wide setting. This is the only camera whose close-focus ability is so poor that I had to hold my arm away from the camera!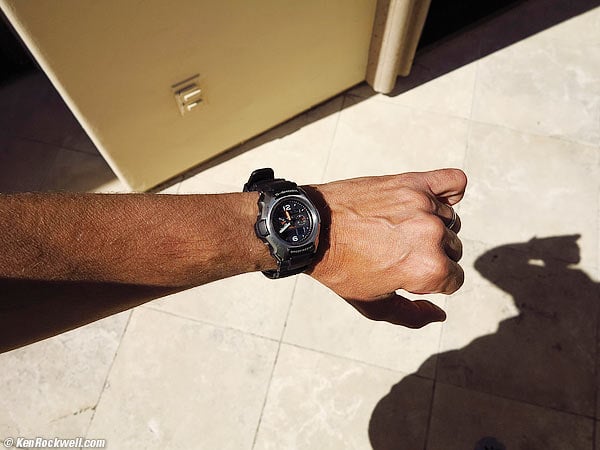 Canon G1 X at closest focus at wide setting, normal AF.
If I go out of my way to engage the "macro" mode, this is as close as I can get. Other compact cameras get so close you often can fill the frame with just my watch: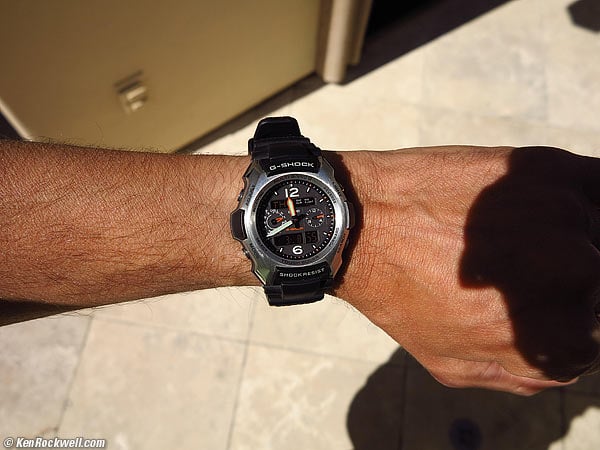 Canon G1 X at closest focus at wide setting, MACRO mode.
Even though the big lens of the G1 X can't focus very close, at least it's very sharp. Here is a crop from a 100%-magnification image that would print at about 43 x 32" (110 x 80 cm) if you printed the entire image at this magnification: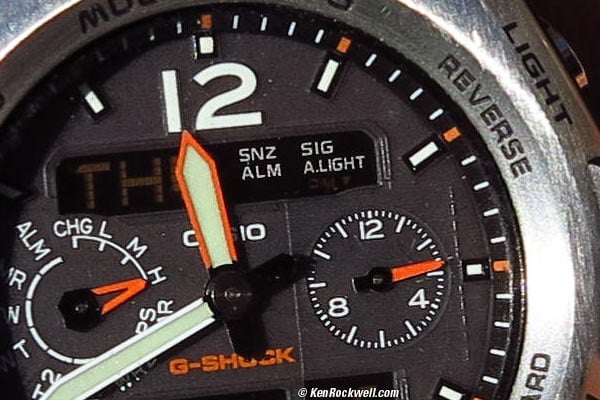 Crop from above image at 100%.
At longer focal lengths, the close-focus distance gets longer, just as SLR zooms did back in the 1960s.
This is a huge defect in the G1 X, and one I'm sure will be improved in future models.
High ISOs
The G1 X is significantly better than any other tiny-sensored point and shoot, and about the same as other cameras with similar small sensors (DX, micro 4/3 etc.).
Here are crops from 100% images after all images were scaled slightly to match the resolution of the highest-resolution camera, the Nikon D7000. These therefore are small crops from the very center of each image.
I only spent a half-hour trying to get these images to match; I still didn't get all the white balances etc. to match; that takes too much time. Most (but not all) of these were set to fixed DAYLIGHT white balance, lit by window light, and left at their VIVID settings. All were shot in the lowest quality, highest-resolution JPG settings as I always shoot these; in these samples, JPG artifacts aren't visible.
Ignore differences in zoom settings; this is as close as I got without any more recursion.
All were shot at f/4.5 so you can see background blur differences.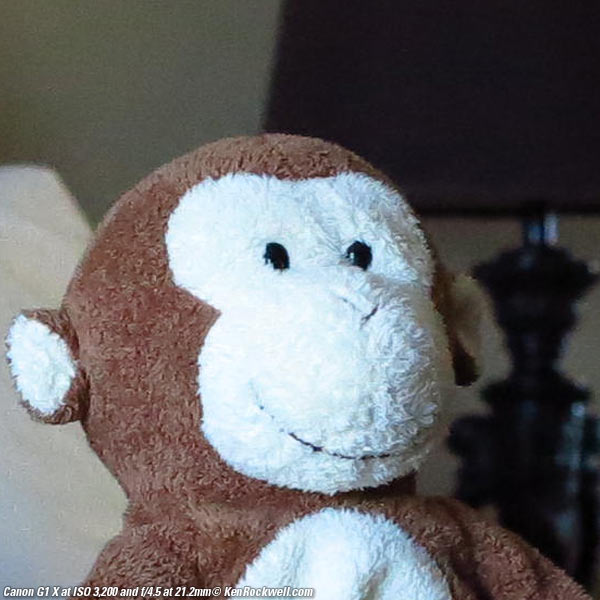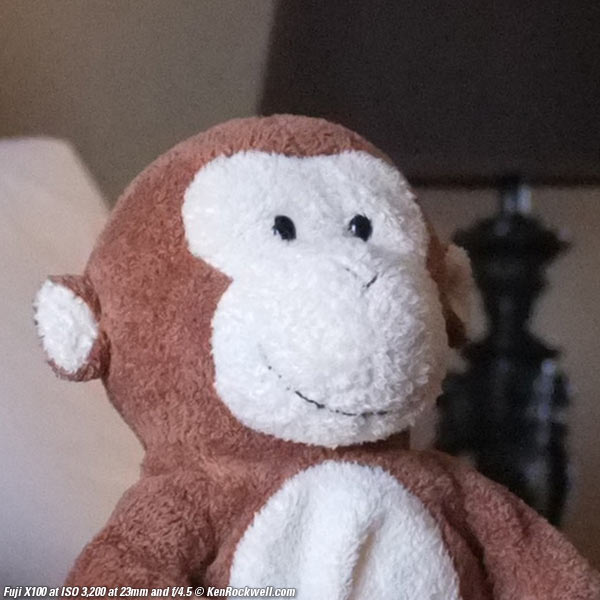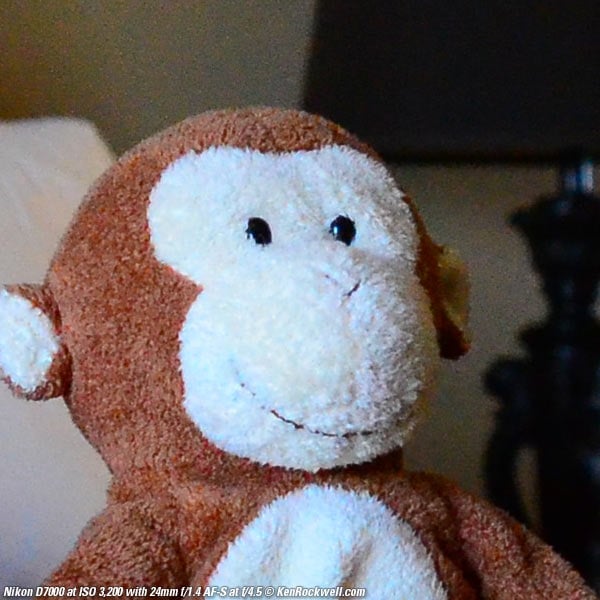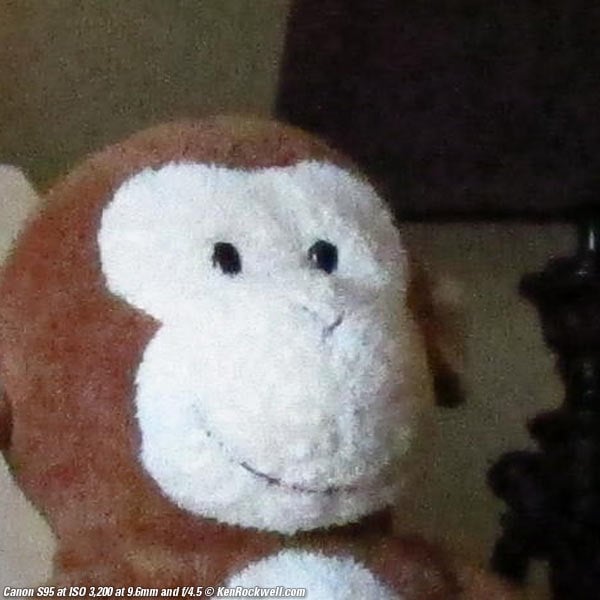 The S95 is awful, as to be expected from its teeny-tiny sensor. I won't consider it further in this analysis. Yes, this is why this G1 X is so superior to every other Powershot; ever other Powershot, especially the S100 and G12, have the same teeny-tiny sensors. They'll look OK at normal print sizes, but blown-up like this to the equivalent of what would print at about 48 x 32" (120 x 80 cm) for a compete image, look hideous, with textures completely smudged away by the noise reduction.
For people photos (that's me posing), it's clear that the Fuji's lower contrast and saturation is superior. The Canon G1 X's highlights blow-out too easily. I had the D7000's color jacked,too. The Canon G1 X, like most Powershots, easily loses the highlights.
The Fuji is a bit softer, however it's 12MP resolution had to be upsampled here, so that's to be expected. I still prefer the X100 to the others: it has the cleanest, most natural image devoid of digital noise-reduction artifacts.
The Nikon D7000 is sharper and noisier. The Nikon D7000, with the highest resolution, was not resampled, so I'd expect this.
Movies
Movies look great, and are recorded at relatively high bit rates so they don't show artifacts. This means the movie files look marvelous (better than most television and cable broadcasts) and allow for careful editing, but they take up a lot of file space.
Image stabilization works great while shooting hand-held, and you even can zoom the lens while rolling. Better than for still images, the G1 X makes slow zooms appropriate for zooming while rolling (most amateurs zoom way too fast while rolling; the G1 X does it properly).
Flash
Flash exposure is poor, as Canon PowerShots usually are. Nikon DSLRs and the Fuji X100 are worlds better.
I never use the flash on the G1 X; it's too much work to get it to expose properly.
Forget flash for people photos. The G1 X first fires a preflash, and a moment later, finally fires the real flash and takes the picture. This moment is long enough to ensure that you never catch the expression you wanted for people pictures, so don't get the G1 X if family photos are your intent — get a real DSLR.
Flash exposure is awful. Indoors, even set for slow sync, the flash overpowers everything.
The Auto White Balance has the same defect as many Canon powershots, and forces a much warmer than necessary balance whenever the flash is popped up for fill flash.
The only good news is that it's easy to turn the flash on and off. The "bolt" button is used to set what the flash does, but to turn it on and off, simply slide the popup switch and it pops up, and push down the flash to squelch it.
I didn't bother trying my luck with an external flash. Flash exposure control is one of Canon's core incompetencies, and on other G-series cameras, popping on an external flash only improved recycle time, not exposure control. By the time you put a flash on this thing, again you'd be better off with a DSLR and its own popup flash.
Ergonomics, LCDs and Finders
Overall
There are two strap slots for a neck strap.
If you've ever used any Canon PowerShot, the G1 X is the same.
Compared to the most recent PowerShots like the S100, the G1 X has a lot more lag in shooting and responding to inputs.
The big lens always has to erect before shooting. You need to hold the ON button, wait for the lens to erect, then hold the shutter while the G1 X focuses and sets exposure, and eventually, press the shutter the rest of the way to shoot.
If you're using flash, there is an extra significant fraction of a second delay from your final press which first fires a preflash, thinks about it, and then eventually fires the real flash to taker the picture. It doesn't seem that long all by itself, but this flash lag is long enough to miss smiles in people pictures.
The rubbery grip panels work well; the G1 X isn't likely to slip out of your hands like many other compacts.
Caps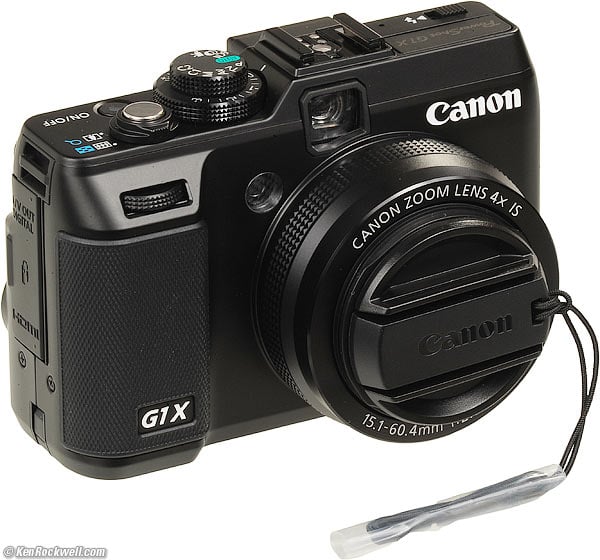 Whoops - Needs a dedicated, loose lens cap!
The lens is so much bigger than other PowerShots that there's no room for a built-in lens barrier. Therefore, you have to dork around with an old-fashioned lens cap. Canon includes one along with an annoying keeper string, which is a good thing, because it's a custom size.
There are no filter threads, just a set of non-spiral ridges to hold the cap. If you want to use a UV filter in place of a lens cap, you'll have to cross-thread the front of the G1 X — if you can find a filter to fit. 46mm is too big, and 43mm is too small. Good luck.
Finder
The finder is a huge step down from the Fuji X100's hybrid live TTL LCD and optical and playback LCD. The only finder of the G1 X is a tiny optical peephole on the rear flippy LCD; never an LCD in the finder window.
No matter what you hit, you'll still have things drawn on your LCD as you try to compose your photo.
The optical peephole is undistorted at the longer focal lengths, but has barrel distortion at the wide end.
The optical finder is partially blocked in the lower left corner by the lens in the wider half of the zoom range.
There is no eye control; the LCD stays lit even if you raise the G1 X to your eye.
The finder has no parallax compensation; it simply shows much less than you actually get in your picture to be safe, but using the optical finder, you'll always need to crop your photos later.
The optical finder shares no other information; it's just a peephole with two LEDs next to the eye hole.
This used to be acceptable ten years ago, but with the high standard set by the Fuji X100, makes the G1 X' finder seem as primitive as it is — and we look like dorks holding a camera at arm's length to look at the rear LCD.
Dials and Controls
The two metal top dials are wonderful.
The C1 and C2 settings on the top dial allow instant-recall of everything about the camera as I explained in the introduction.
The big exposure-compensation dial is excellent, but lacks a deeper detent at "0." It's easy to flick with one hand as you shoot.
Compared to the S90, S95 and S100, there is only limited programming for dials and buttons, but that's not a problem because the G1 X has all you need anyway. Unlike the S-klasse cameras, the rotating front ring is replaced by a front dial.
The front and rear dials are as good as ever put in a compact camera.
Playback
Another core incompetency of Canon, most playback controls are locked-out while shooting until you press the PLAY button.
There is no diagonal scroll, only up-down and left-right.
"Mute" still mutes video playback, but if you don't use this "Mute," then even turning off all the "volume" settings still lets the "AF OK" beeper beep. Hint: use the "Mute" option, and click the UP button each time to raise the playback level.
LCD
The LCD is excellent: bright and sharp and smooth. Hint: Hold DISP to make it brighter.
It's on a flippy mount.
Power and charger
The charger is great; its rounded edges make it pop right into your luggage comfortably.
It has two LEDs: orange means charging, and green is done.
Safety
There is always a green LED lit on the top when the G1 X is ON, making it harder to conceal yourself at night.
Mechanical Quality
The two metal top knobs are nice, but most of the exterior is plastic: the top cover, the battery door, etc. Many other parts are alloy and the rear LCD holder feels like sheet metal.
Both extending lens barrels are plastic.
Folders, Files and Data
I shoot in LARGE NORMAL (default is LARGE FINE).
LARGE NORMAL JPGs are about only 1 MB for 14 MP files, which is fantastic: full-resolution files are just one megabyte, and look great.
JPG files sizes vary greatly with image contrast and complexity.
Compared top
Intro Specs Performance Compared Usage Recommendations More
NEW: 2012 DSLR Comparison 18 April 2012
G1 X

Announced

2012 Jan.

2010 Sep.

late 2011

2010 Sep.

2011 Sept.

2010 Aug.

For people?

too slow

OK speed; great color in any light

OK speed; great color in any light

too slow

too slow

For landscapes

Superb

small sensor

small sensor, dull colors

dull colors

small sensor

small sensor

Flash exposure

horrible

great

magnificent

Lens (equiv.)

28-112mm

28-140mm

28-112mm

35mm

24-120mm

28-105mm

Max. Aperture

f/2.8 ~ 5.8

f/2.8 ~ 4.5

f/2 ~ 2.8

f/2

f/2 ~ 5.9

f/2.0 ~ 4.9

Sensor

14 MP 14x18mm

10MP


12 MP

12 MP
16x24mm

12 MP 1/1.7"

10 MP 1/1.7"

1.85x

4.6x

4x

1.5x

4.6x

4.6x

ISO

100-12,800

80-3,200

100-3,200

200-6,400

80-6,400

80 - 3,200

Aspect Ratio

Pro 4:3

Pro 4:3

Pro 4:3

only 1.5:1

Pro 4:3

Pro 4:3

Shutter button

Perfect

Small

Perfect

Perfect

Perfect

Small dot

Power Button

Hold top button

Hold top button

Just turn zoom ring

Ring around shutter

Hold top button

Hold top button

Power LED?

Yes.

Yes.

no.

Front control ring or dial

Yes

Yes

no

no

Yes

Yes

Rubber grip

Yes

slightly

no

no

Yes

no

Paint

smooth

fake leather

fake leather

Roughest

Rough

Exposure-Compensation

Dial
±3 stops

Dial
±2 stops

Dial
±2 stops

Dial
±2 stops

push button in menus

push button in menus

Video

1080/24p

720p

1080p

720/24p

1080/24p

720/23.98p

Zoom during video

Yes

Yes

no zoom

no

Sound

stereo

stereo

stereo

stereo

stereo

Stereo Mic separation

32mm

25mm

45mm

22mm

43mm

ND filter

Yes

Yes

Yes

no

GPS

No

No

Yes

No

LCD

3," 922k dots

2.8"
461k

2.8"

2.8," 460k dots

3," 461k dots

3," 461k dots

Size, Inches

4.60 x 3.17 x 2.55

4.41 x 3.00 x 1.90 inches

4.6 × 2.7 × 2.2

2.9 x 5.0 x 2.1

3.9 x 2.4 x 1.1

3.93 x 2.30 x 1.16

Size, mm

116.7 x 80.5 x 64.7

112.1 x 76.2 x 48.3

117.0 × 69.6 × 56.8

74.4 x 126.5 x 53.9

98.9 x 59.9 x 26.7

99.8 x 58.4 x 29.5

Battery

NB-10L

NB-7L

NP-50

NP-95

NB-5L

NB-6L

Weight, w/card and battery, actual measured

18.8 oz.
(532g)

12.4 oz.*
(351g)*

12.4 oz.
(351g)

15.5 oz.
(440g)

6.815 oz. (193.2g)

6.810 oz. (193.1g)

Price, 3/2012
* no battery or card.
Usage top
Intro Specs Performance Compared Usage Recommendations More
See also Canon's G1 X User Guide.
Power
The charger has a folding plug.
The orange light shows charging, and the green light says you're done.
The battery goes into the camera many ways, but fully clicks-in in only one position. Look for the small cut-out or arrow on the battery, otherwise it will go in only 95% of the way.
Shooting Settings
Most camera settings are set with FUNC SET button.
Press it, and a pictographic menu appears on the left. Press FUNC SET again to save the settings and exit.
The top "Oi" setting allows the G1 X to attempt to retain detail in highlights and shadows by running at higher ISOs than needed and messing with the image internally. I set this to AUTO, which is one click to the right. If you use this expect to see ISOs like 160 and 320 be used in broad daylight if it's contrasty. Your photos will have better highlight detail.
Next down, I leave ISO on AUTO.
I leave AWB set, but turn the ring to A4 to get warmer (less blue) photos.
The next OFF setting is where we set color rendition. I prefer vivid colors, so I click one right to V (Vivid), and press FUNC SET again.
I leave bracketing off.
The rectangle is where we set how the shutter fires. I use the multiple rectangle mode, which takes multiple photos if you hold down the shutter button.
Movies
Just press the red dot button on the back; no need for special movie modes.
For stills while rolling, just press the shutter button. The movie stops and the G1 X makes a still snap. At the usual settings, the still image captures the entire 4:3 gate aperture, while your 16:9 movie was only capturing the cropped 16:9 section.
Beepers
The "Mute" menu option still mutes movie playback, while otherwise the "AF OK" beeper sounds even with all the other sounds off. Canon has never figured out how to let us turn off all the fluff while shooting, while still being able to hear our movies on playback.
If you have MUTE set, you can hear movie playback sound by pressing the rear "up" button to increase the volume.
Camera-State save and recall
Once I get the G1 X as I want it, I save this to the "C1" or "C2" position on the top dial. Once saved, every time I turn on the camera, or set it elsewhere and return to the C1 or C2 position, everything about my camera is reset exactly as I want it.
Since each shot often involves different settings, this way I can get everything back to my own personal defaults for the next subject.
To save your camera's settings, and it includes even the zoom setting, while ready to shoot, press MENU, scroll down to the very bottom "Save Settings" option, press FUNC SET, select OK, and press FUNC SET again. Done!
I use C1 for landscapes, and C2 for family photos as described at the introduction.
RGB Histogram
To see the RGB histogram, press DISP on playback until you get to the screen with a small image and a lot of data. Now press the UP control (marked +/- on the rear dial) to toggle between these.
Recommendations top
Intro Specs Performance Compared Usage Recommendations More
The G1 X is the best compact camera there is for nature and landscape shots. For a trip to Yosemite, it's the best little camera there is if you don't want to bother carrying a DSLR. The G1 X' relatively huge sensor allows for far cleaner and larger prints than from the lesser point-and-shoots like the old Canon G12.
The G1 X has no close-up, much less macro, ability. Forget it for head shots. It's handling is slow and fill-flash performance poor, so it's a poor choice for people pictures.
Any DSLR is a far better idea for people pictures.
The Canon G1 X is a premium product for people who demand the best and don't care about price. If price matters more than convenience, the Canon Rebel T3 with its kit lens performs as well for landscapes, and far better for people pictures, and costs $300 less. Canon makes the G1 X for people who demand the best, not the cheapest. (See also Is It Worth It?)
If you've found the effort and expense I incurred for you in purchasing, researching and reporting on the Canon G1 X helpful, this free website's biggest source of support is when you use these links, especially these directly to it at Adorama and at Amazon when you get anything, regardless of in what country you live. Thanks! Ken
More Information top
Intro Specs Performance Compared Usage Recommendations More
Help me help you top
I support my growing family through this website, as crazy as it might seem.
The biggest help is when you use any of these links to Adorama, Amazon, eBay, B&H, Ritz, Calumet, J&R and ScanCafe when you get anything. It costs you nothing, and is this site's, and thus my family's, biggest source of support. eBay is always a gamble, but all the other places always have the best prices and service, which is why I've used them since before this website existed. I recommend them all personally.
If you find this page as helpful as a book you might have had to buy or a workshop you may have had to take, feel free to help me continue helping everyone.
If you've gotten your gear through one of my links or helped otherwise, you're family. It's great people like you who allow me to keep adding to this site full-time. Thanks!
If you haven't helped yet, please do, and consider helping me with a gift of $5.00.
As this page is copyrighted and formally registered, it is unlawful to make copies, especially in the form of printouts for personal use. If you wish to make a printout for personal use, you are granted one-time permission only if you PayPal me $5.00 per printout or part thereof. Thank you!
Thanks for reading!
Mr. & Mrs. Ken Rockwell, Ryan and Katie.
Home Donate New Search Gallery Reviews How-To Books Links Workshops About Contact