Canon EVF-DC2
EOS-M & PowerShot Electronic Finder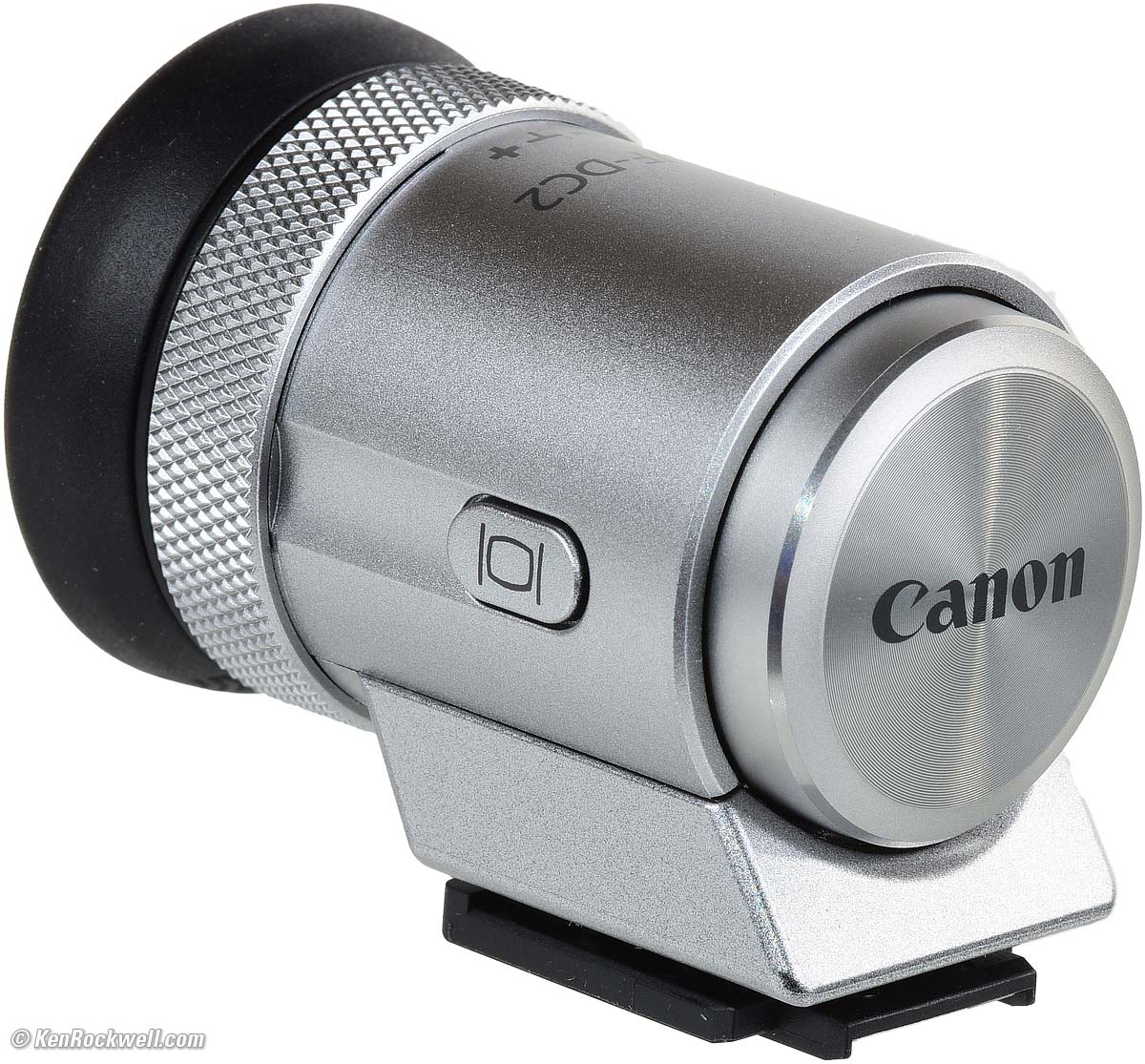 Canon EVF-DC2 in silver (1.020 oz./28.9 g, about $210). It also comes in black. bigger. I got mine at B&H. I'd also get it at Adorama, at Amazon or at Crutchfield.
This ad-free website's biggest source of support is when you use those or any of these links to my personally-approved sources when you get anything, regardless of the country in which you live. Canon does not seal its boxes in any way, so never buy at retail or any other source not on my personally approved list since you'll have no way of knowing if you're missing accessories, getting a defective, damaged, returned, store demo or used item. Buy only from the approved sources I use myself for the best prices, service, return policies and selection. Thanks for helping me help you! Ken.
June 2017 Canon Reviews:   EOS-M  Lenses Flash All Reviews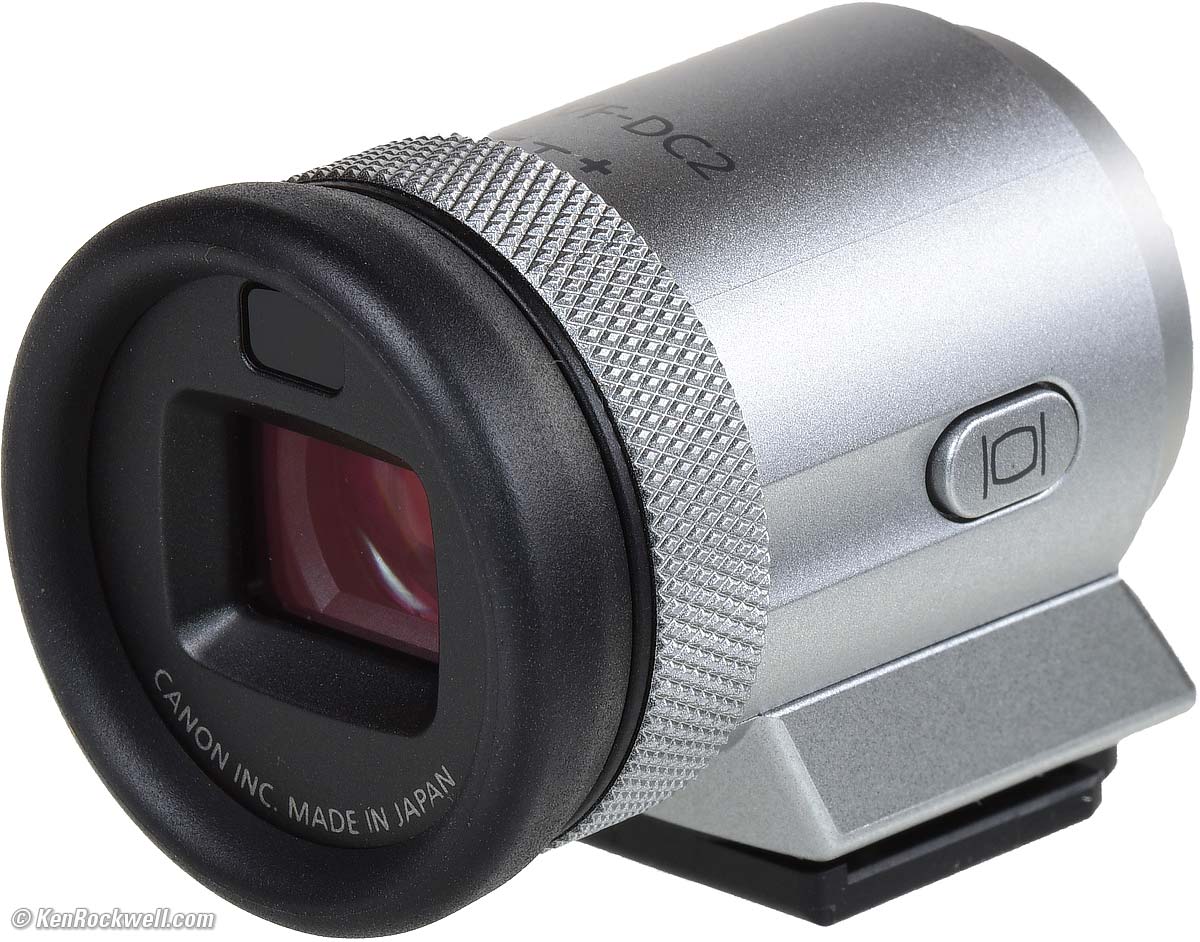 Canon EVF-DC2. bigger.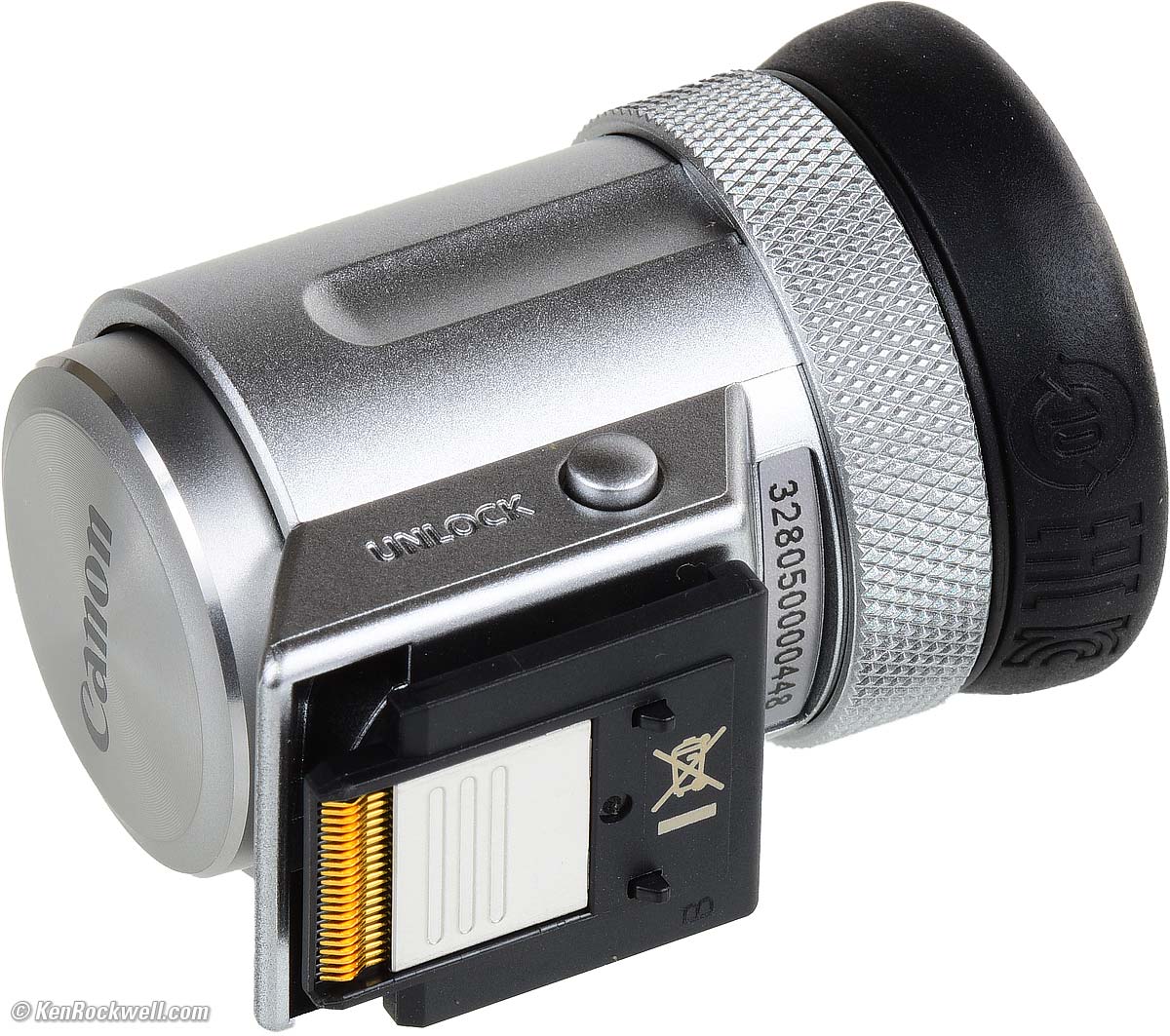 Canon EVF-DC2. bigger.
Introduction
This Canon EVF-DC2 is an excellent electronic viewfinder for Canon's EOS-M mirrorless cameras and some better Powershots. Specifically, I reviewed it on the Canon EOS M6 camera body.
Compatibility
As of June 2017, the EVF-DC2 works with the: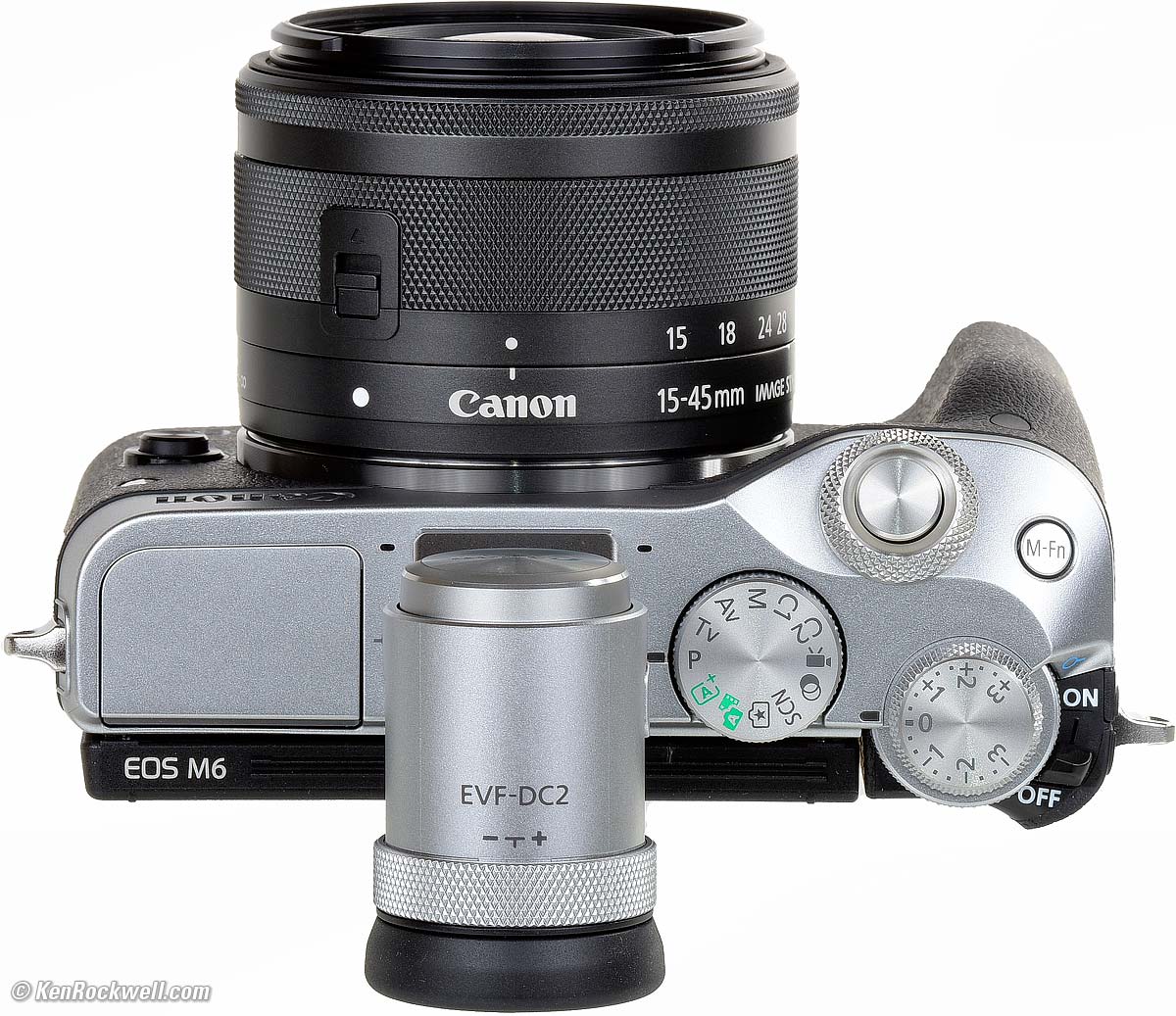 Silver Canon EOS M6 with silver EVF-DC2 and black EF-M 15-45mm IS STM. bigger.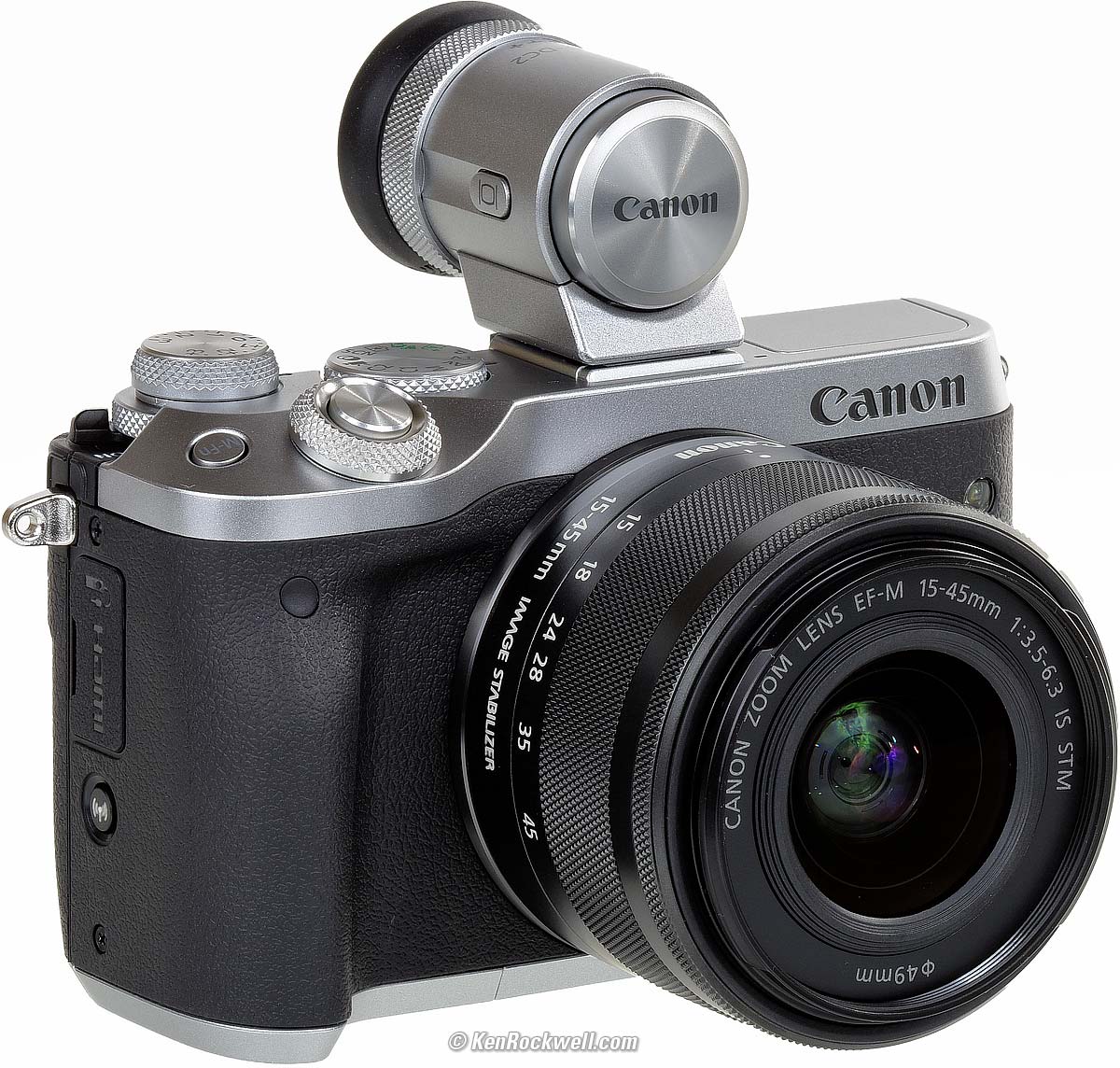 Silver Canon EOS M6 with silver EVF-DC2 and black EF-M 15-45mm IS STM. bigger.
Performance
It's the sharpest EVF I've ever used because it has superior optics to Sony and Fuji. Specifically, Sony and Fuji have great OLED displays, but their optics often get fuzzy due to iffy diopter adjustments; they get soft in different areas of the finder. This Canon finder is sharp edge to edge, has lots of eye relief, and never gets fuzzy in the center when you adjust the sides to be sharp; it's all sharp!
It has eye-control to swap between it and the rear LCD automatically.
It lacks auto brightness control, so it will be dim in daylight unless you manually increase its brightness in your camera,
It has too much color saturation. It looks great, but what you see in this finder is more saturated than your images, or than you'll see on the camera's rear LCD. Don't use the finder for critical color decisions.
Not only is it sharp, motion is also smooth and live, at least on the EOS M6. It's beautiful!
This isn't garbage offshored to China like LEICA's hideous LEICA EVF-2; this Canon EVF-DC2 is very well made in Japan.
Recommendations
If you have a camera with which it's compatible, you have to have one of these. It turns a goofy shoot-at-arm's-length fiasco into a real camera. The image quality in this finder is marvelous!
It comes in black and in silver.
© Ken Rockwell. All rights reserved. Tous droits réservés. Alle Rechte vorbehalten.
Help Me Help You
I support my growing family through this website, as crazy as it might seem.
The biggest help is when you use any of these links when you get anything. It costs you nothing, and is this site's, and thus my family's, biggest source of support. These places always have the best prices and service, which is why I've used them since before this website existed. I recommend them all personally.
If you find this page as helpful as a book you might have had to buy or a workshop you may have had to take, feel free to help me continue helping everyone.
If you've gotten your gear through one of my links or helped otherwise, you're family. It's great people like you who allow me to keep adding to this site full-time. Thanks!
If you haven't helped yet, please do, and consider helping me with a gift of $5.00.
As this page is copyrighted and formally registered, it is unlawful to make copies, especially in the form of printouts for personal use. If you wish to make a printout for personal use, you are granted one-time permission only if you PayPal me $5.00 per printout or part thereof. Thank you!
Thanks for reading!
Mr. & Mrs. Ken Rockwell, Ryan and Katie.