Home Donate New Search Gallery Reviews How-To Books Links Workshops About Contact
Canon EOS 3
35mm, 45-point AF (1998-2007)
© 2013 KenRockwell.com. All rights reserved.
Intro Specs Performance Usage Recommendations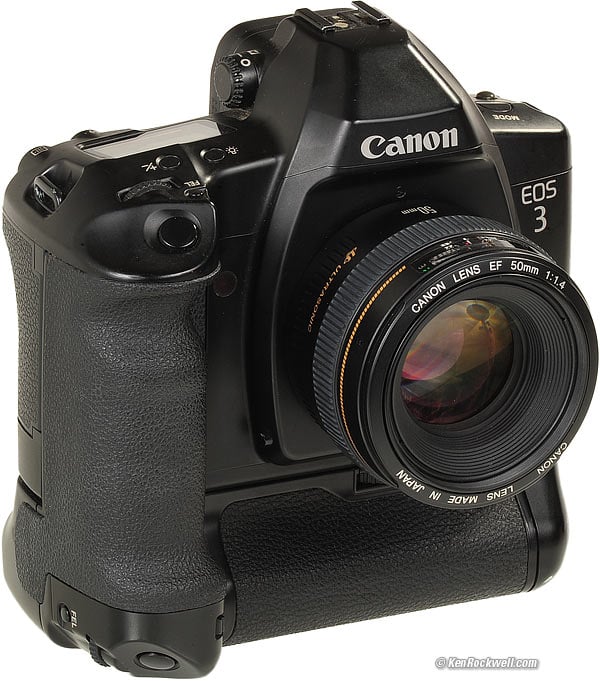 Canon EOS 3 and PB-E2 booster (51.080 oz./1,448.1g with 8-AA cells and film, about $250 used, including grip), shown with 50/1.4 EF. enlarge. This free website's biggest source of support is when you use these links, especially this link directly to the Canon EOS 3 at eBay (see How to Win at eBay), and you also can get them used from Adorama and OC Camera. It helps me keep reviewing these oldies when you get anything through these links, regardless of the country in which you live. Thanks! Ken.
July 2013 Canon Reviews Canon 35mm SLRs Canon Lenses All Reviews
How to shoot the EOS 3 digitally
Film specials: transparency (slide) film B&W film color print film
Good
Clairvoyantly brilliant and easy-to-use 45-point autofocus system, big, clear finder, completely compatible with every Canon EOS lens, including USM and IS.
Bad
Nothing, really, excpe tthat it feels plasticy and it sounds rough and noisy.
Introduction top
Intro Specs Performance Usage Recommendations
The Canon EOS 3, shown here with its huge PB-E2 Power Booster and vertical grip, is an extraordinary SLR. This grip is optional; with a standard GR-E2 grip the EOS 3 is a much more reasonably sized camera.
The EOS 3 stands out because of its extraordinary autofocus system, which clairvoyantly reads your mind to know exactly which of its sea of 45 AF sensors to use for each shot. The EOS 3's AF system is so much faster and easier to use and to set than anything available today.
When I first picked it up, I was astonished at how it just knew where I wanted it to focus, without me having to to do anything. No matter if I wanted to focus on the obvious part of an image, or a subtle, low-contrast item off to the side, the EOS 3 somehow just knew, and magically used the correct AF sensor every time.
Then I realized that it has Eye Controlled Focus, a name which doesn't do this system justice. It should be called "mind-controlled autofocus," since you don't have to do anything to control the AF system other than just shoot. The AF system is constantly looking at your eye, and already knows where you're looking when you press the shutter, so without you even having to think, the EOS 3 already knows where it needs to focus, and it just does.
The EOS 3's AF system is far ahead of today's cameras, which no longer use this expensive system. With newer cameras, we again have to slave through dicking around with knobs and dials to choose AF points, something the EOS 3 does all by itself by magic.
If for some reason you dislike the magic mind-reading AF system, it's easy to set back to old-fashioned manual AF point selection, or also can be set to auto AF point selection, which works as well as the same non-mind-reading modes of today's cameras.
Everything else about the EOS 3 is brilliantly simple. It does what we need it to do, and isn't loaded with junk features to get in the way. Yes, it has the dreaded custom functions, and they may be ignored.
The EOS 3 is made to good amateur standards, with a plastic exterior and presumably metal innards. I'm not a fan of the big, optional PB-E2 grip, which makes the EOS 3 a pro sized camera with pro-sized weight, yet only the outward durability of an advanced amateur camera. Canon claims the EOS 3 is gasketed for rain resistance.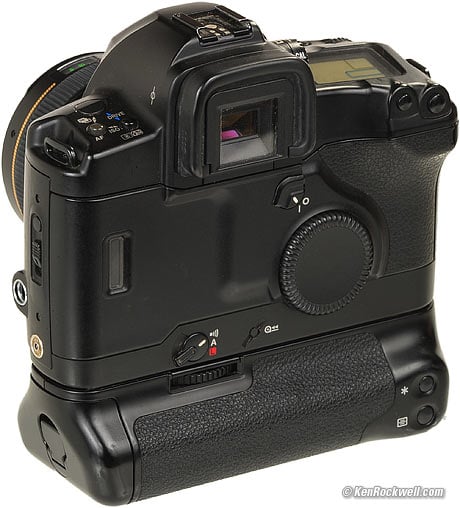 Back, Canon EOS 3 and PB-E2 booster. enlarge.
Specifications top
Intro Specs Performance Usage Recommendations
Type
35mm Electronic AF SLR.
Finder
0.72x magnification with 50mm lens.
97% coverage.
8 optional screens, in addition to the standard screen.
Autofocus top
45 zones.
Automatic mind-reading selection via eye control.
Meter top
Evaluative: 21 zones, monochrome.
Center ("Partial"): center 8.5% of screen area.
Spot: 2.4% of screen area. Linked to focus point.
Center-weighted average.
Multiple spot-metering.
Exposure Modes top
P, Tv, Av, DEP (depth-of-field), Bulb, Manual.
Shutter
top
Vertical metal focal plane.
1/8,000 to 30 seconds.
Flash Sync: 1/200.
Cable Releases socket: No, just some screwy electronic contacts.
Mirror Lock-up: set it in Custom Function 12 and use an electronic remote, like the RS-80N3 (page 89 in the users manual.)
Flash top
1/200 sync speed. Trick FP mode, too.
PC (Prontor-Compur) socket, please to have positive polarity on the center contact.
Canon suggests the 550EX or E-TTL flash, which can work wirelessly and do all sorts of things that no one will ever figure out.
Maximum Frame Rates top
3.3 FPS when focus is tracking, with standard battery (not shown).
7 FPS with with PB-E2 (shown) and Ni-MH cells, either focus mode (One-Shot or AI Servo).
I haven't shot in the motor modes, but the manual says that the finder display blacks-out in the continuous shooting modes.
Batteries and Power top
The standard EOS 3 (not shown) uses one 2CR5 battery.
Battery check: Press button hidden inside right-side door. Bar graph displayed on top LCD.
Rated 50 rolls of 36 with the standard 2CR5 battery.
With the PB-E2 grip as shown, it takes 8 AA alkaline, Ni-MH or Ni-Cd cells. I see no rating for battery life.
With the BP-E1 grip, it takes a 2CR5 and 4 AA alkaline, Ni-MH or Ni-Cd, and I also see no battery life rating.
Rewind
top
Rated 6.5 seconds.
Also has a more quiet mode.
Size top
Rated 6.3 x 4.7 x 2.8" (161 x 119.2 x 70.8mm) WHD, standard grip (not shown).
Weight top
Canon rates the standard body (not shown) at 27.5 oz. (780g), stripped naked.
I measure 29.065 oz. (824.1g) with battery, and 29.845 oz. (846.6g) if we add a roll of 36-exposure Fuji Velvia 50.
With the PB-E2 grip as shown, I measure 50.300 oz. (1,426.0g) total with 8-AA alkaline cells.
I measure 51.080 oz. (1,448.1g) total with 8-AA alkaline cells and a roll of 36-exposure Fuji Velvia 50 film.
Accessories top
See pages 135-139 of your EOS 3 User's Guide (select the EOS-3_manual.pdf link and agree).
Announced top
October 1998.
Shipped top
Shipping since early 1999.
Discontinued top
Sold till 2007.
Performance top
Intro Specs Performance Usage Recommendations
Overall
The EOS 3 is a brilliant camera that just works and gets out of the way.
Autofocus
As covered in detail the introduction, the EOS-3's AF system is magical.
Metering
The EOS 3 seemed to handle being pointed into the sun, or bright surfaces in full sun, without underexposing.
IN dim light, images seemed a bit underexposed.
As all cameras, you'll have to experiment to see how you want it to perform in varying light, and compensate if necessary by experience.
Noise and Vibration
The EOS 3 sounds and feels like a Graflex when it goes off. Canon's new F-1 was much, much smoother.
Film Economy
The EOS 3 only gives 36 exposures on DX-coded film, heeding the rated number of exposures and rewinding promptly after frame 36.
Ergonomics top
As covered in the introduction, the EOS 3 is a very well thought out camera.
Depth-of-Field Preview
Better than EOS cameras today, the EOS 3's depth-of-field preview button is on the correct side of the camera, where is can be tapped with a finger as you hold the EOS 3 with only your right hand. (Today's lesser Canon SLRs put this button on the other side, eliminating the feature unless you have a second hand free to tap it on the left side of the camera.)
Top LCD
The top LCD it too small to read.
The frame counter on the top LCD is too small.
There is a blue EL illuminator for the top LCD, but its' too dim to be of much use.
Finder
The finder is big and bright and sharp. Numeric data light up against black along the bottom, and a bar graph runs vertically along the right side. The frame counter is below the bar graph on the right.
There is no in-finder indication of the selected exposure mode, horrifically, one needs to stop shooting and look at the tiny top LCD. You can't cheat; when the MODE button is pressed, the finder displays all turn black.
The EOS 3 lacks the big High-Eyepoint eyepieces of Nikons, thus the bar graph on the right side is often blocked by the EOS 3's small eyepiece, requiring careful eye positioning to see it.
Better, there is no garbage littering your compositional space, just a light circle or oval, but no AF points scratched-in. If invoked, the various AF points light magically in red as needed, and are never in the way.
PB-E2 Booster Grip (optional)
I dislike big and heavy, but for those of you who like heavy cameras, the grip is nice. It feels good, has the right controls in the right places, and actually feels tougher than the EOS 3 itself.
Usage top
Intro Specs Performance Usage Recommendations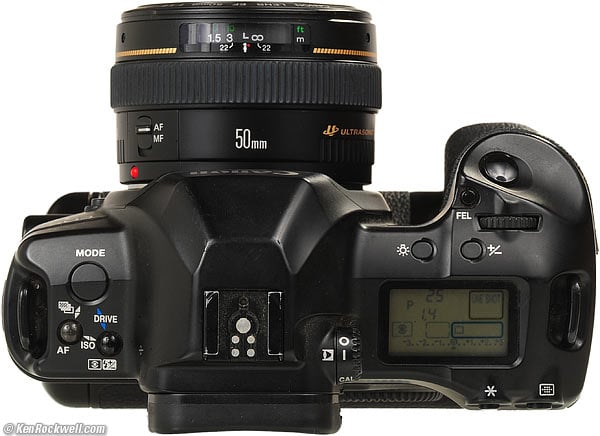 Top, Canon EOS 3 and PB-E2 booster. enlarge.
Read Canon USA's EOS 3 User's Guide (select the EOS-3_manual.pdf link and agree.) It's pretty simple. Here are the basics:
Battery Check top
Press the button hidden inside the right-side door. A bar graph is displayed on the top LCD.
Master Reset top
To reset a newly camera back to sanity, flip open the right-hand door, and hold the CLEAR button. This sets everything back to normal. It doesn't reset the custom functions, so this is a good idea to hit every time you go out shooting to get everything back to normal the easy way.
To reset all the custom functions as well, hold down both the CF and CLEAR buttons at the same time.
Loading top
Pop open the back, pop in film, draw to the fluorescent orange dot on the right, and close the back. It advances by itself.
Mind-Controlled Focus top
See the rotary switch just to the right of the flash shoe?
O is OFF. I is ON, and CAL is calibrate.
In the O, off, position, the AF system is the same as Canon's newest cameras today. In the I, or ON, position, the EOS 3 reads your thoughts and selects the correct AF point magically.
To calibrate this system for even better results:
1.) Turn on the beeper with rear power switch.
2.) Set to CAL. You'll see "cal-x" in the finder.
3.) Rotate the top dial to select which of the three mind-control memories you'd like to program. Choose "1" for yourself, "2" for your wife, and "3" for your assistant.
4.) Stare at the blinking AF point.
5.) Hold still and press and hold the shutter button until the EOS 3 beeps.
6.) Release the shutter.
7.) Look at the next blinking AF point, and repeat until you've done all four. You'll see "end-x" when you're done. If you get a long series of beeps instead, the EOS 3 gave up, so try again.
Tilt the camera to vertical, and repeat the whole thing again.
You can keep doing this under different lighting conditions, and if you do, your EOS 3 will become even better at reading your mind under more conditions.
To erase any of the three memory positions and start over, select it, and hold the • and [:::] buttons (AEL and manual focus point select) buttons together until CAL blinks.
Shooting top
Manual settings work in third stops. You probably can change this in a custom function.
The default program exposure mode is optimized for faster shutter speeds at larger apertures for action.
For we landscape and wide-angle shooters, we're always flicking the control dial to shift the program back to smaller apertures.
The program shift goes in full stops for each click, yay!
Rewinding top
At the end of the roll, the EOS 3 rewinds by itself. Feel free to use the dedicated rewind button on the back if you want to pull a roll early.
If you want it to rewind about 10 decibels more quietly, press the rear rewind button to switch between the fast but loud and quiet but slower modes. CF-1 lets you define which you prefer. CF-2 lets you select tails-out.
The EOS 3 has detailed "rewinding" graphics on its top LCD. It uses a lot of segments moving very fast to entertain while you're waiting for the film to rewind.
36 Exposures rewind quickly, rated 6.5 seconds.
Once rewound, there is no LCD display on the top LCD or in the finder. All there is is a "film present" icon until you remove your old film.
Recommendations top
Intro Specs Performance Usage Recommendations
Want a great 35mm Canon EOS camera? Have a good look at the EOS 3.
If you want a more sane solution, as I'd prefer, remove the optional PB-E2 Booster Grip as shown here, and replace the grip with the standard one that shipped with the EOS 3. When you do this, the EOS 3 becomes a much more manageable camera.
Oddly, they seem to sell for the same price with either the standard grip, or the big 8-AA PB-E2 vertical grip as shown here.
More Information top
Canon USA's EOS 3 User's Guide (select the EOS-3_manual.pdf link and agree)
Mike Butkus' scan of the printed Canon EOS 3 Users Guide. If you use this version, remember to drop a few dollars in Mike Butkus' hat to support him for all the priceless manuals he makes available online.
Acknowledgement
Many thanks to Jerry Johnson of Orange County, California who loaned me his EOS 3 for this review.
Help me help you top
I support my growing family through this website, as crazy as it might seem.
The biggest help is when you use any of these links when you get anything, regardless of the country in which you live. It costs you nothing, and is this site's, and thus my family's, biggest source of support. These places have the best prices and service, which is why I've used them since before this website existed. I recommend them all personally.
If you find this page as helpful as a book you might have had to buy or a workshop you may have had to take, feel free to help me continue helping everyone.
If you've gotten your gear through one of my links or helped otherwise, you're family. It's great people like you who allow me to keep adding to this site full-time. Thanks!
If you haven't helped yet, please do, and consider helping me with a gift of $5.00.
As this page is copyrighted and formally registered, it is unlawful to make copies, especially in the form of printouts for personal use. If you wish to make a printout for personal use, you are granted one-time permission only if you PayPal me $5.00 per printout or part thereof. Thank you!
Thanks for reading!
Mr. & Mrs. Ken Rockwell, Ryan and Katie.
Home Donate New Search Gallery Reviews How-To Books Links Workshops About Contact