Home Donate New Search Gallery Reviews How-To Books Links Workshops About Contact
Canon EX AUTO
(c. 1972-1975)
© 2010 KenRockwell.com. All rights reserved.
Intro Specs Performance Usage Recommendations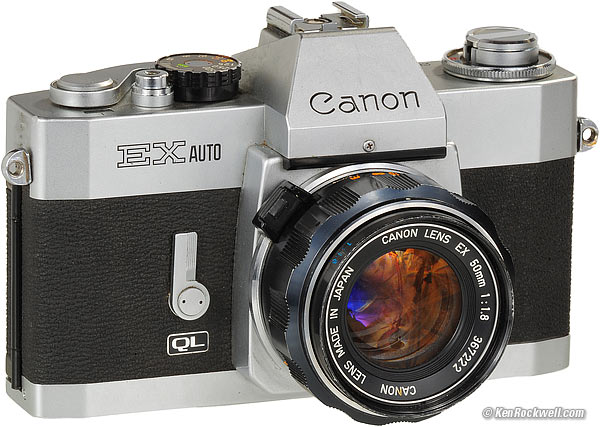 Canon EX AUTO (32.055 oz./908.7g with film, battery and 50/1.8). enlarge. This free website's biggest source of support is when you use these links, especially this link directly to the Canon EX AUTO camera at eBay, as well as these links to Adorama, Amazon, B&H, Calumet, Ritz, J&R and eBay when you get anything, regardless of the country in which you live. Thanks! Ken.
Christmas 2010 More Canon Reviews Canon Lenses Other Reviews
Introduction top
Intro Specs Performance Usage Recommendations
The Canon EX AUTO is a basic 35mm SLR with manual metering, as well as fully automatic shutter-priority EE (electric eye) exposure.
Used with the Canolite D speedlight, it automatically calculates perfect flash exposures based on focused distance.
Its viewfinder is unique among Oriental cameras. Just like early LEICA SLRs, it presents a sharp, bright aerial image without using ground glass.
It has a central microprism for focusing, and otherwise the entire finder is in focus, bright and sharp, just like a rangefinder camera. With the EX AUTO, one cannot see the effects of depth-of-field through the finder.
The finder is big as well as bright; bigger and brighter than my Nikon D3!
The lenses are only partly interchangeable. The rear half of the lens is permanently attached to the EX AUTO body, while front sections interchange. This has the advantage of making for less expensive accessory lenses, since you only have to buy the front half, and that the camera is never open to dust and dirt while changing lenses.
The combination of an aerial image finder and a sealed mirror box means that the finder of this 40-year-old camera is still bigger, brighter and more free of dust than my new Nikon DSLRs. Ha!
QL means Quick Load. To load, all one does is pull the film across and close the back; there is no threading or any of the other foolishness needed with LEICAs. It loads much faster than my manual-focus Nikons, too!
This Canon EX AUTO replaced October 1969's similar Canon EX EE in February 1972. They use the same lens components.
Specifications top
Intro Specs Performance Usage Recommendations
Lenses
EX mount: only the front sections interchange while the rear section (3 elements in 2 groups) remains with the camera body. Thread mount.
6-bladed diaphragm stopping down to f/16.
The infra-red focus indices are calculated for film with sensitivities peaked at 800 microns.
50mm f/1.8 standard lens
48mm filter size.
Close focus: 1.5 feet (0.45 meters).
Other EX Lenses
35mm f/3.5 EX.
95mm f/3.5 EX.
125mm f/3.5 EX.
EX AUTO Camera Body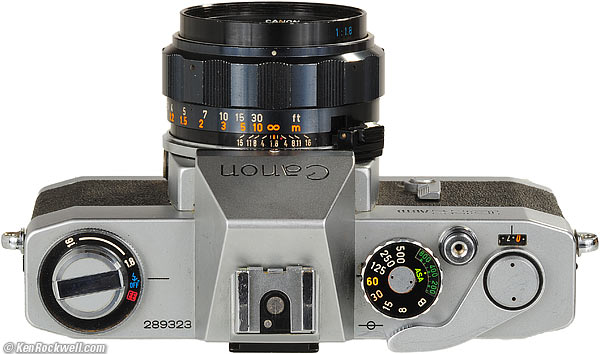 Top, Canon EX AUTO. enlarge.
Finder
Exposure needle indicates auto aperture to be set, or manually set aperture.
Microprism center spot.
Aerial image is always bright and in focus, even if on-film image is not.
90% magnification with 50mm lens.
94% horizontal coverage, 92% vertical.
Instant return mirror.
Works with angle finder A2 or B.
Shockless mirror.
Film Advance
174º solid-metal lever
Ratcheted for use with multiple strokes if you prefer.
Exposure
Through-The-Lens (TTL) Electric Eye (EE) shutter-preferred system.
Set the shutter speed, and the EX AUTO sets the aperture.
Heavily center-weighted.
Full-aperture metering.
ASA 25 - 800.
Shutter
Cloth focal-plane.
Bulb, 1/8 to 1/500.
Self Timer.
Standard cable release socket in shutter release.
Flash
X sync at 1/60.
Hot shoe and PC terminal.
Distance-coupled automatic exposure when used with dedicated Canolite D speedlight.
Size
5 5/8 x 3 5/8 x 3 1/4" (143 x 92 x 84mm), rated.
Weight
32.055 oz. (908.7g), measured with 36 exposure film, PX-13 mercury battery and EX 50mm f/1.8.
31 3/4 oz. (900g), rated, with 50mm lens.
Power
M20, PX-13 or 625 mercury cell.
Today, use an Wein EPX-625.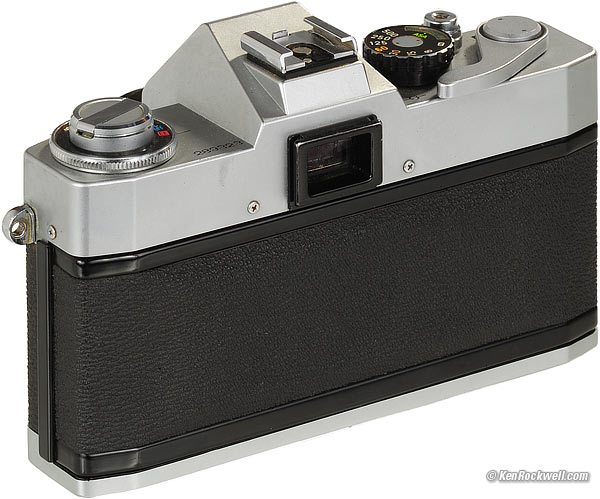 Rear, Canon EX AUTO. enlarge.
Performance top
Intro Specs Performance Usage Recommendations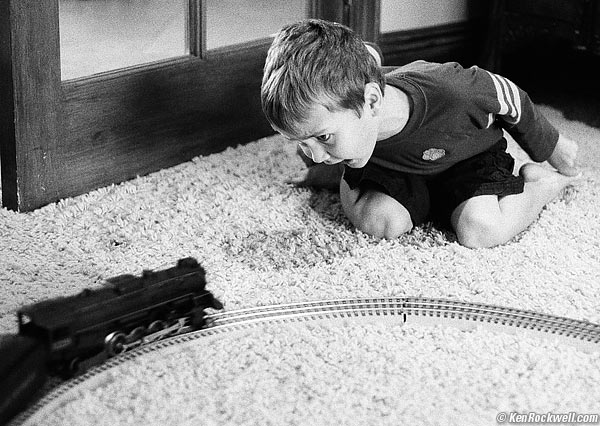 Ryan LOVES his Polar Express!!! 21 November 2010. bigger. (Canon EX AUTO, Canon EX 50mm f/1.8, 1/60 at f/1.8, Kodak TMax 400, moderate crop from lucky frame 39, NCPS process and scan.)
Overall
I'm impressed: this simple camera just works. It feels good and shoots great.
Focus
The microprism is suitably precise, and the focus helicoid is smooth and without play.
Since the rest of the finder is always a sharp, bright aerial image, you cannot see defocus, so it takes more effort to focus. A traditional rangefinder camera is probably faster.
Flash
The hot shoe is dedicated for the Canolite D speedlight.
Pop on the flash, set the blue bolt on the top left dial, engage the lever with the blue bolt to the lens' focus ring, and shoot.
Use whatever shutter sped you like, up to 1/60, with the Canolite D speedlight.
With other flashes, set the aperture manually.
Ergonomics
The EX AUTO handles effortlessly.
It's a bit noisy when it goes off; it can scare a dog up close.
It has a "shockless" mirror system that works: there is very little recoil.
The frame counter is on the small side.
The top cover seems to be heavily plated plastic which matches the chrome of the metal bottom cover.
Power and Battery
I was given this camera with a decades-old mercury battery that still works! So long as you turn it off when you're done, a mercury cell ought to outlast your interest in in this camera. Canon only rated it at one year.
Wein EPX-625 zinc-air cells last about a year for me.
Usage top
Intro Specs Performance Usage Recommendations
Loading and Advance
It's all standard 35mm SLR.
Loading is advanced: simply open the back all the way, pull the leader across to the red mark, and close the back: you're done with no need to thread anything.
There is no film reminder or window, just the ASA dial.
The frame counter is fully automatic. It has numbers for even-numbered frames to frame 38, and has dots for odd-numbered frames to frame 39.
0, 20 and 36 are in orange. 24 is in white.
The bottom rewind button rotates during rewind, making it easy to stop if you want to leave the leader out.
Battery and Power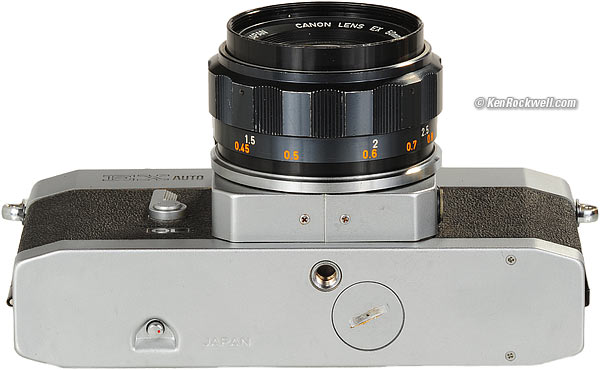 Bottom, Canon EX AUTO. enlarge.
Battery Type
If you don't have a real mercury 625 cell, the Wein EPX-625 zinc-air cells work just as well.
Battery Check
The manual describes a difficult battery check procedure:
Set ASA 100.
Set 1/30.
Set EE.
Point it at the sky, and if the needle hits more then f/16, you're OK.
Dead Battery?
If you have a dead battery, it shoots at f/1.8.
Metering and Exposure
Easy!
Set your ASA, set your shutter speed, and set EE on the top left dial. Focus and shoot; the EX AUTO's electric eye sets the aperture all by itself.
For manual metering, set EE on the top left dial and read the aperture in the finder. Then twist the top left dial clockwise to set your desired manual aperture, looking at the needle in the finder, and shoot. You can do this without taking your eye from the finder.
If you forget to turn it to EE, forget to set a manual aperture or have a dead battery, it shoots at f/1.8.
Recommendations top
Intro Specs Performance Usage Recommendations
I wouldn't go out of my way to buy one of these specifically, but if someone gave me one, as a friend in Green Bay, Wisconsin did with this sample, I'd have no problem cranking out great pictures with it.
Yes, it has a limited range of shutter speeds, but those are the only speeds I ever use. In fact, I'd have no problem shooting everything if it only went to 1/250 of a second. I find nothing of value missing from this camera; even the 50mm f/1.8 lens is great, and all I'd need to shoot everything.
If this were the only camera I every used again, I'd have no problem cranking out wonderful images. It just shoots, with none of the baloney common with complex digital cameras.
More Information
Help me help you top
I support my growing family through this website, as crazy as it might seem.
The biggest help is when you use any of these links to Adorama, Amazon, eBay, Ritz, Calumet, J&R and ScanCafe when you get anything, regardless of the country in which you live. It costs you nothing, and is this site's, and thus my family's, biggest source of support. These places have the best prices and service, which is why I've used them since before this website existed. I recommend them all personally.
If you find this page as helpful as a book you might have had to buy or a workshop you may have had to take, feel free to help me continue helping everyone.
If you've gotten your gear through one of my links or helped otherwise, you're family. It's great people like you who allow me to keep adding to this site full-time. Thanks!
If you haven't helped yet, please do, and consider helping me with a gift of $5.00.
As this page is copyrighted and formally registered, it is unlawful to make copies, especially in the form of printouts for personal use. If you wish to make a printout for personal use, you are granted one-time permission only if you PayPal me $5.00 per printout or part thereof. Thank you!
Thanks for reading!
Mr. & Mrs. Ken Rockwell, Ryan and Katie.
Home Donate New Search Gallery Reviews How-To Books Links Workshops About Contact