Home Donate New Search Gallery Reviews How-To Books Links Workshops About Contact
Canon 28mm f/1.8 USM
© 2007-2012 KenRockwell.com
Introduction Specs Performance Recommendations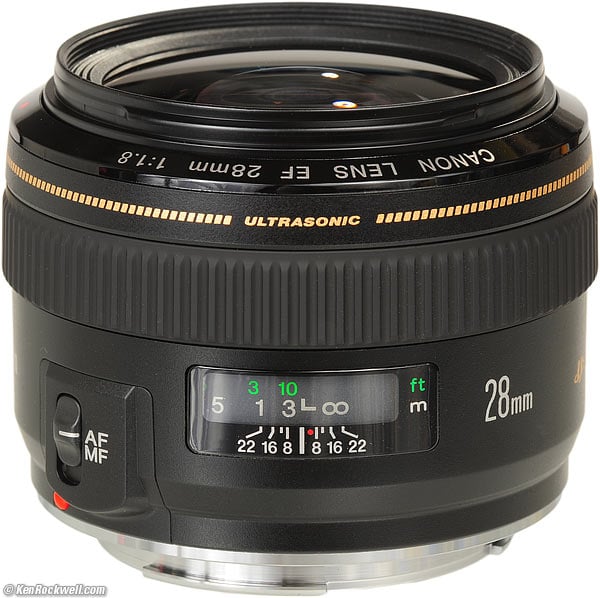 Canon EF 28mm f/1.8 USM (58mm filters, 10.9 oz/309g). enlarge. I got this one at Adorama; Amazon is another great place I use personally. It helps me keep adding to this site when you get yours from these links, thanks! Ken.
July 2007, revised May 2010 More Canon Reviews
Sample Images From New York City May and June 2010
Sample Photos from Maui May 2010
Introduction top
Intro Specs Performance Recommendations
The Canon 28mm f/1.8 EF is much nicer than I expected. This is a great little lens for just about anything. It works well and never gets in the way of making a great photograph. Pop it on any Canon camera, head out any time day or night, and you'll be prepared for great photos without flash. It sells for about $400 today.
You have to use the Canon 28mm f/1.8 yourself to appreciate how great it works and feels. It's well made, tight, smooth and precise. Focus is easy and fast, it doesn't weigh anything, optics are sharp and fast and it just works. It has no weak points in operation, unlike some other more expensive lenses. If you need it, the AF/MF switch is easy to move and doesn't move by itself like the one on my Nikon D200.
It's a moderate wide angle on film and full-frame cameras like my Canon 5D, a normal lens on 1.6x cameras like the Rebel and 30D, and a wide-normal on 1.3x cameras like the Canon 1D Mk III.
It's much better than the Sigma 30mm f/1.4, and costs less! The Canon's mechanics feel much better, there are none of the Sigma's autofocus accuracy issues, and this Canon 28mm f/1.8 covers all formats, not just the 1.6x cameras of the Sigma.
Good
1.) Excellent optics.
2.) 7-bladed diaphragm for magnificent 14-pointed sunstars.
3.) Super easy to use; never gets in the way of making great photos.
4.) Fast, accurate autofocus.
5.) Instant manual focus - just grab the ring.
6.) Lightweight.
7.) Feels great in the hand; very well made.
8.) Very little distortion.
9.) Fast, f/1.8, for use in the dark without flash.
10.) Little to no flare for shooting directly into light sources.
Bad
The images look great for handheld, low-light photography even wide open at f/1.8. If you prefer to shoot test charts at f/1.8, it has lower contrast at f/1.8 than at other apertures. If you enjoy shooting test charts, simply stop down to f/2.8 where performance is excellent, or spend $1,000 on an L-series lens if you need lab-perfect performance wide open. This is negligible, but I wanted to put something here to fill the space
Specifications top
Intro Specs Performance Recommendations
Name
Canon calls this the Canon EF 28mm f/1.8 USM.
EF: Electronic Focus. All modern Canon lenses focus with a motor in the lens.
USM: Ultra-Sonic Motor: The focus motor operates silently. There's no "USM" on the lens, instead it says "Ultrasonic" in gold.
Focal Length
28mm.
Used on a 1.3x camera it gives an angle of view similar to what a 35mm lens would give on a 35mm film camera.
On a 1.6x camera it gives an angle of view similar to what a 45mm lens would give on a 35mm film camera. See also Crop Factor. It's wide on full-frame, wide-normal on 1.3x, and textbook-perfect normal on 1.6x cameras.
Optics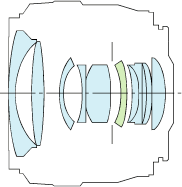 Canon 28/2.8 IS internal construction. (aspherical).
10 elements in 9 groups, including one aspherical element.
Rear-group focusing.
Diaphragm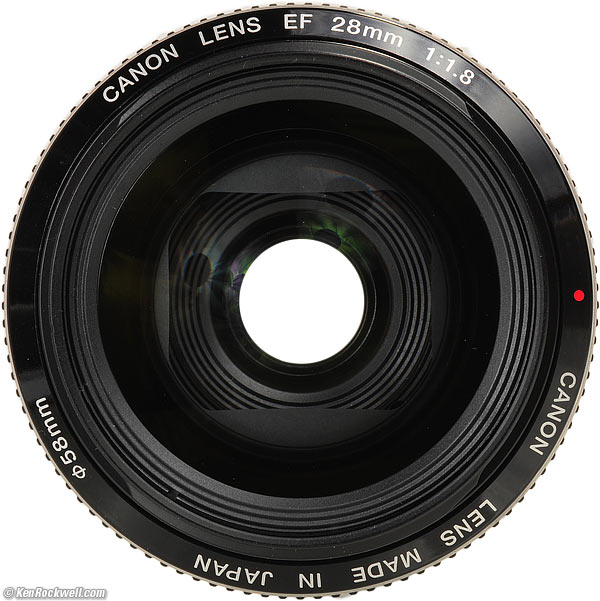 Canon 28mm f/1.8 at f/1.8 (diaphragm not seen).
7 conventional blades.
Stops down to f/22.
Filter Thread
58mm, plastic.
Never moves.
Close Focus
0.82 feet (0.25 meters) from the image plane (the back of the camera), marked.
Maximum Reproduction Ratio
1:5.6.
Infrared Focus Index
YES, at f/4.

Canon EF 28mm f/1.8 Focus Scale
Size
2.888" diameter x 2.185 " extension from flange (73.34 x 55.50 mm), measured.
No change with focusing.
Weight
2007 sample: 10.905 oz. (309.1g), measured.
2010 sample: 10.915 oz. (309.5g), measured.
Hood
EW-63II, not included.
Case
LP814, not included.
Introduced
September, 1995.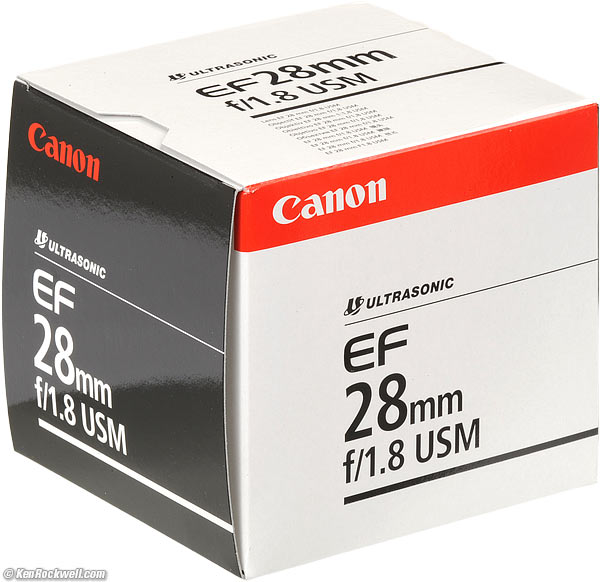 Box, Canon EF 28mm f/1.8 USM.
Performance top
Intro Specs Performance Recommendations
Autofocus Bokeh Color Color Fringes Construction Distortion
Ergonomics Eyeblow Falloff Film Filters Flare Flash Macro
Serial Number Sharpness and Coma Sunstars Image Stabilization
Overall
I'll get into detail below just because I can. None of this gets in the way of real photography. I spent days researching and writing all this, and all you really should do is just go get this lens and go shooting.
Focus performance top
Focus is perfect. It's always dead on, even wide open, on both my Canon Rebel XTi and Canon 5D. This is one of the subtle but critical things that make this lens so good. Some other Canon and Sigma lenses have weird nesses that get in the way of perfect focus every time. I found nothing but perfection with the Canon 28mm f/1.8.
AF is fast; faster than my own eyes can focus.
What Moves
Only the rear optical group moves with focusing, which means that nothing moves as far as you can see or feel with the lens on a camera. The front filter ring stays put.
Ease of Manual Focusing
Excellent: just grab the ring anytime, no need to move any switches. If you want manual-only focus, slide the switch to MF. It's an easy switch to move when you want, and it doesn't move by itself like the switch on my Nikon D200.
Autofocus Accuracy
Perfect, dead on every time. This is better than some of the more expensive lenses I've tried, which either have some offset (focus not exactly on the intended subject every time) or which sometimes miss completely.
I always got perfect results with the Canon 28mm f/1.8.
At f/1.8 the Canon 28mm f/1.8 does have a slight soft-focus effect, and you will see a sharp core inside the veiling. This is normal. If you want a lens that's perfectly sharp sharp wide open, get a $1,000 L lens.
Focus Breathing
Breathing is a motion picture term which refers to what happens as you pull (change) focus from near to far. I list this for people putting these lenses on their Canon XL-1s for shooting video.
The Canon 28mm f/1.8 has slightly greater magnification when focused more closely.
Bokeh performance top
Bokeh is ordinary. The blur is usually quite pleasant, which is better than my Nikon 28mm f/1.4, but you can on rare occasions get it to look a little funny.
Bokeh is rarely an issue with wide lenses since everything is usually in focus anyway.
The background bokeh of the Canon 28mm f/1.8 is great if the subject is further away, like 10' (3m), and can look funnier if the subject is close, like at 3' (1m).
Lateral Color Fringes performance top
On a 5D Mark II, just like with Canon's zooms, you'll see color fringes on the sides. They clean up in Photoshop's Lens Distortion Filter, and if you have a module, DxO. Otherwise, try the Canon 50mm f/1.8 instead if these bother you.
The Canon 28mm f/1.8 has some color fringes at the far corners of my full-frame 5D. Here's the full-frame image from which the crop is taken: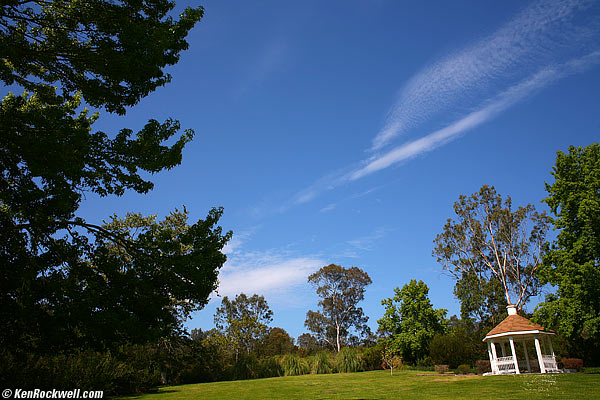 Full-frame image from my Canon 5D at f/8.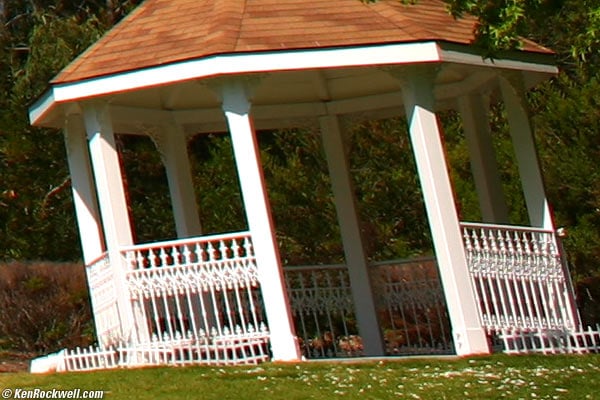 Unsharpened crop from above image at 100%.
I see a little bit of red, but considering this is an extreme example, and that the full image would print at 44" (1.1m) wide at this magnification, I'm not worrying about it.
Star images look great; see Sharpness and Coma for examples.
Color Rendition performance top
I see no difference from my other Canon lenses.
Construction Quality performance top
Exterior
Plastic.
Filter Threads
Plastic.
Focus Ring
Rubbery plastic.
Markings
Paint.
Switches
Plastic.
Mount
Metal.
Internals
I see plastic, with presumably some metal.
Noises when shaken
Very mild clunking. This is normal.
Made in
Japan.
Distortion performance top
Distortion is pretty good.
Full-Frame
It has a mild, but complex, signature on my full-frame Canon 5D.
I'd leave it as-is. There are two little higher order dips in the wall on the top middle left and right. Overall (first-order) it's dead-on.
I see no DxO module for it, and Photoshop CS2's simple first order corrections can't fix what little distortion is here.
I really have to go out of my way to find a boring wall like this to show what little distortion the Canon 28mm f/1.8 has.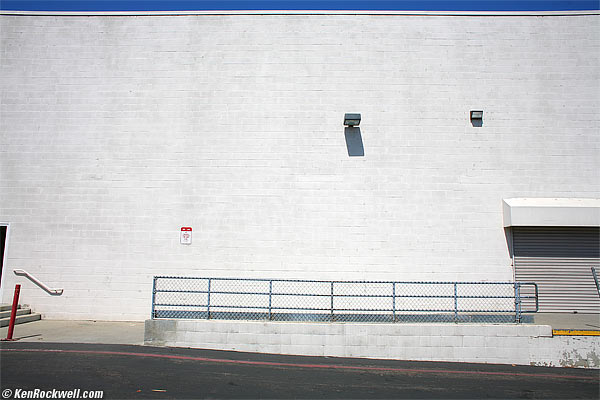 Canon 28mm f/1.8 on Full Frame Canon 5D at f/7.1.
Horizon, Canon 28mm f/1.8 at f/6.3 on 5D Mark II. bigger.
1.6x Cameras
The Canon 28mm f/1.8 has a simple, easy to correct distortion signature on 1.6x cameras like my Canon Rebel XTi.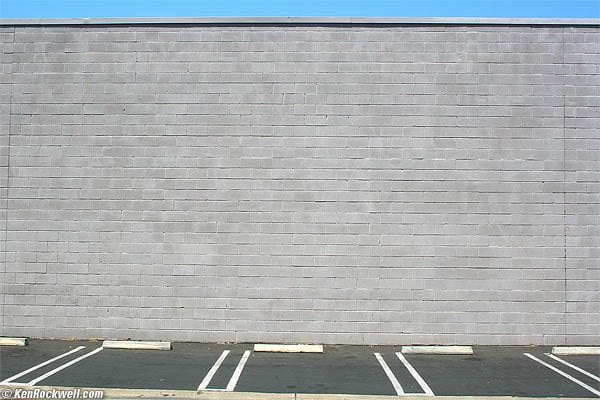 Canon 28mm f/1.8 on 1.6x Canon Rebel XTi at f/7.1.

Roll your mouse over the image to see after correction in Photoshop CS2's lens distortion filter at +1.25.

Ergonomics performance top

Perfect! Nothing gets in your way.

Exposure Accuracy performance top

Perfect, I see no problems.

Eyeblow performance top

back to Performance or back to Introduction.

None. The rear group moves, but not enough glass is moving far enough to make any wind blow out my camera's eyepiece.

Falloff (Darker Corners) performance top

I never saw any falloff in real photos, except if I was looking for it at f/1.8 on my full-frame Canon 5D. Due to the crop factor, this will be invisible on 1.6x cameras most people use.

Here are shots of an Expodisc. Shooting flat fields and laying them on another flat field is a devious test which exaggerates even the slightest falloff. You'll never see it this bad in normal photography.

Canon 50mm f/1.8 II falloff on full-frame, no correction.

© 2010 KenRockwell.com. All rights reserved.

The slight falloff remains regardless of aperture; there is no point in stopping down past f/2.8 to improve it. This is quite excellent, better than my fast manual focus Nikon wide angles.

Film, use on performance top

The Canon 28mm f/1.8 EF works great on film. It's designed for film cameras!

Filters, use with performance top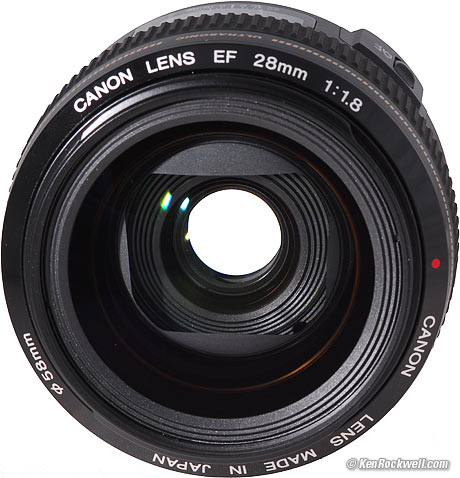 Front element and internal rectangular flare stop, Canon EF 28mm f/1.8
I see no problems, even on full-frame, with any filter, even a rotating polarizer. The front element is big, but not quite as big as the 58mm threads. At the angles involved, 58mm filters are plenty.
On smaller format cameras this will be even less than an issue. (see crop factor.)
Flare and Ghosts performance top
Flare isn't a problem, even if you deliberately try to cause it. As shown above under filters, the Canon 28mm f/1.8 incorporates an internal rectangular flare blocker to help avoid flare and ghosts from light coming from outside the 35mm full-frame image area.
Ghosts also aren't an issue. I really had to push this and get lucky in this shot on my Rebel XTI. This is the mid-afternoon sun reflecting off reflective windows.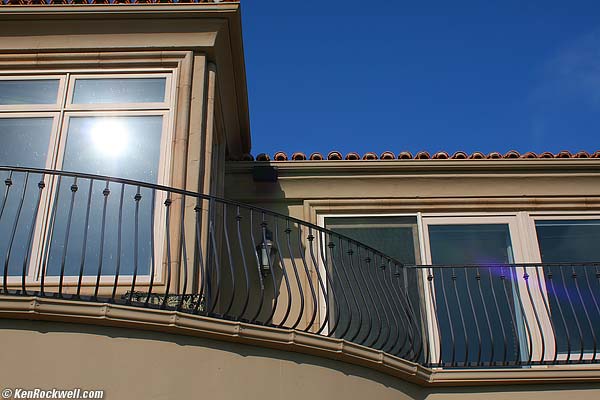 Just a hint of a ghost under extreme conditions. Canon 28mm f/1.8 at f/8 on Rebel XTi.
Hint: if you can't see the ghost, look for a violet apparition on the right side covering the dark windows.
Here's another extreme example, the 3/4 full moon directly in the image, and there's no problem.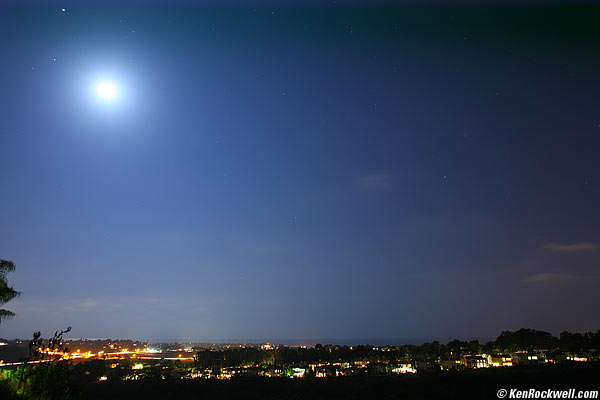 Moonlight. Canon 28mm f/1.8 at f/4, 15 seconds at ISO 400, full-frame Canon 5D.
The Canon 28m f/1.8's lack of flare and ghosts make it ideal for use in available light where you may be facing a window indoors or have stage lights shining at you.
Looking through the front of the lens I see an internal rectangular shade to help this even more. Canon knows what they're doing!
Flash, use with performance top
Built-in flashes are often so close to the camera that the lens may cast a shadow visible at the bottom of an image.
I see no problem, even at the closest focus distance with the built-in flash of my Rebel XTi.
Macro performance top
Close focus is fine, at less than a foot. It's as sharp as it is at regular distances and focus is right on.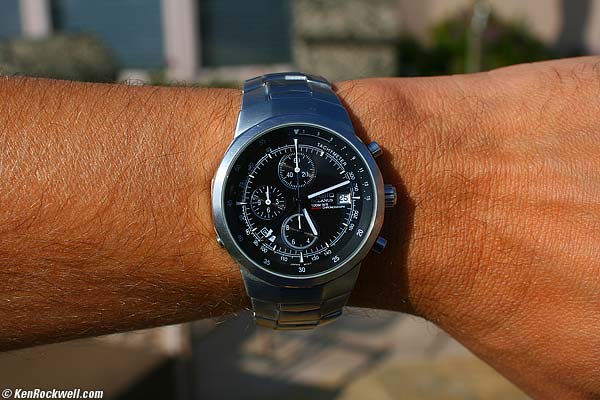 Canon 28mm f/1.8 at closest focus, f/7.1, full image, Rebel XTi.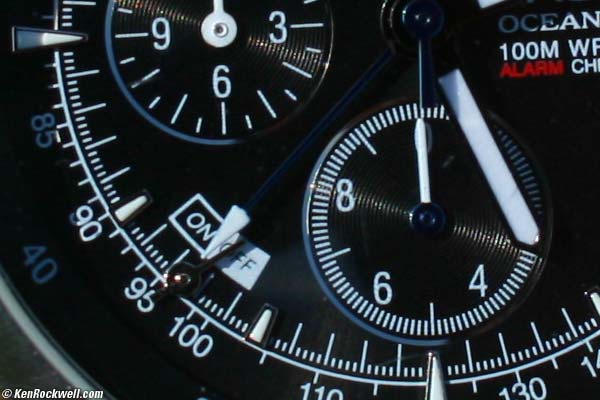 100% crop from above, no extra sharpening.
Of course if you shoot at f/1.8 it will have a bit of a soft focus effect, which would serve you right for shooting at f/1.8 in daylight.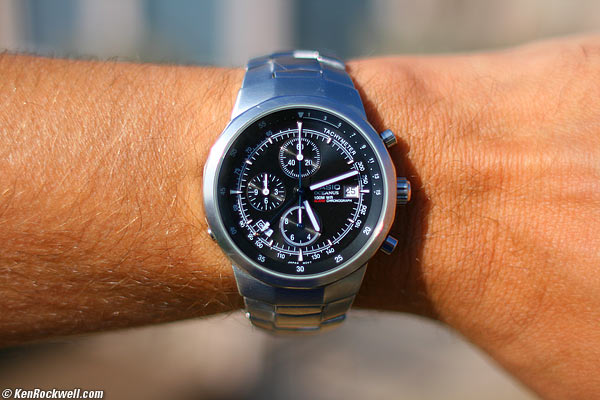 Canon 28mm f/1.8 at closest focus, f/1.8, full image, Rebel XTi.
100% crop from above, no extra sharpening.
At f/1.8 the watch's face is in focus, but the hands are not. Depth of field is about zero this close at f/1.8.
See how the face is sharp, with some veiling? That's longitudinal spherical aberration, and it's normal for this lens wide open. Stop down to f/2.8 or smaller and it goes away.
Serial Number performance top
The serial number of the Canon 28mm f/1.8 is laser-burnt into the black plastic on the back of the lens mount. It's black-on-black, so you may have to look closely to find it 180 degrees opposite the gold electrical contacts.
I see no date code.
Sharpness performance top
This part got so big that I made a new page showing the sharpness of the Canon 28mm f/1.8.
Sunstars performance top
The straight 7-bladed diaphragm makes for excellent 14-pointed stars on brilliant points of light at smaller apertures.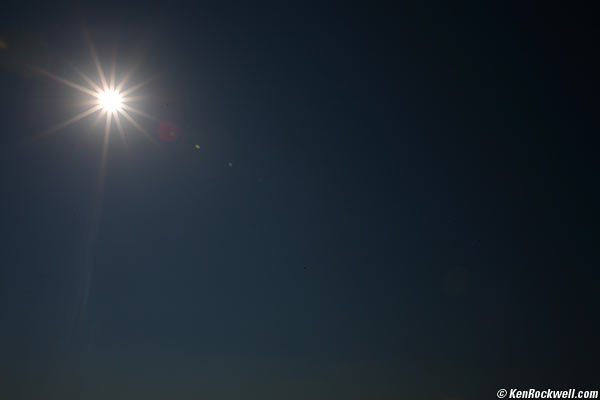 Noonday Sun. Canon 28mm f/1.8, f/22 at 1/50 (manual), Canon 5D at ISO 50.
You'll see the same thing at night and at wider apertures. Here's a full image at f/4: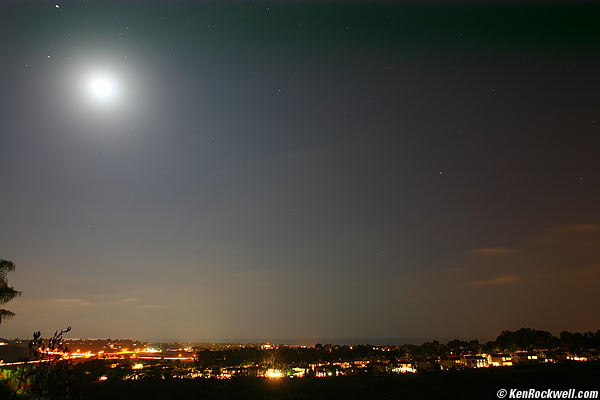 Full-frame image, Canon 28mm f/1.8 at f/4 for 32 seconds, Canon 5D at ISO 200.
And here's the lower left corner cropped from the above image at 100%: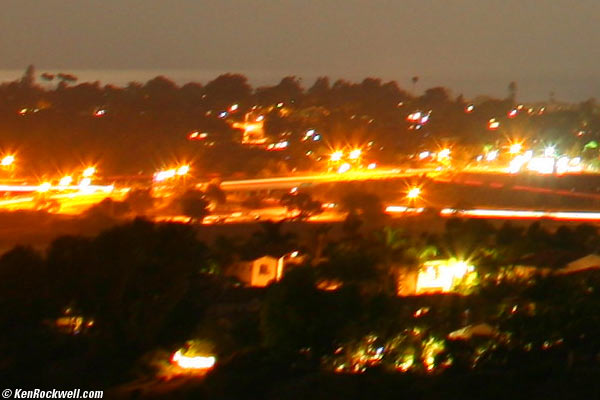 Crop from above at 100% (would be 44" (110cm) wide if entire image printed this big).
Sunstars become more prominent as you stop down and as the light sources become more intense. If I wanted to wait for 15 minutes at f/22, the star effects would be much more pronounced.
In daytime on digital, it helps to underexpose; otherwise sunstars are lost in the white bloom that surrounds the sun. Film's highlight shoulder helps retain sunstars that often get washed-out with digital capture.
If you have a strong, bright point of light, you might not see it in the full image: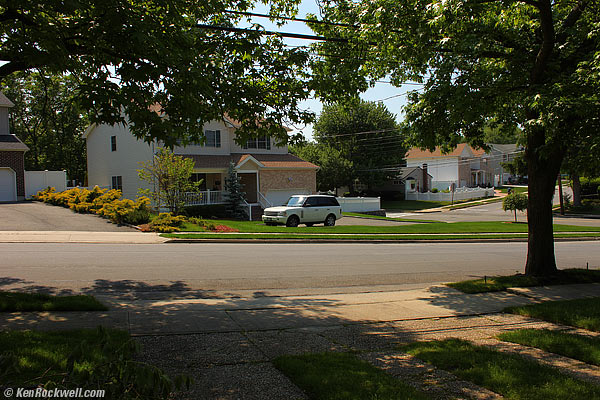 The Street, 2:49 PM.
but look closely at the reflection off a windshield, and you'll see it quite obviously in this crop from a small section of the 5D Mark II image at 100%, shot at f/13: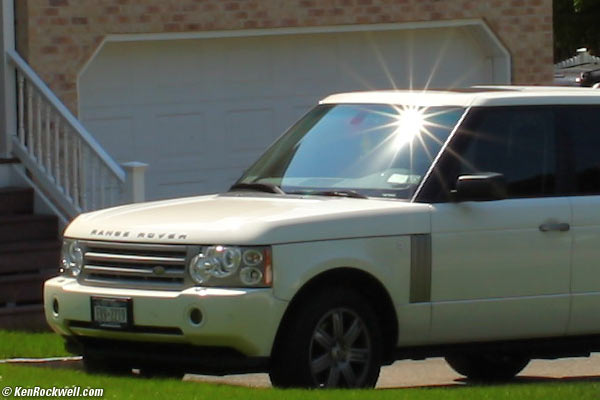 14-pointed sunstar.
Image Stabilization performance top
The Canon 28mm f/1.8 has no IS, but just for fun, let's see for how long a shutter speed I can hold it.
This lists the percentage of perfectly sharp shots I can get at each speed, hand-held. Perfect means perfect at 100% magnification (44" or 1.1m wide print). At normal sizes I can shoot at much slower speeds.
| | | | | | |
| --- | --- | --- | --- | --- | --- |
| 1/2 | 1/4 | 1/8 | 1/15 | 1/30 | 1/60 |
| 0% | 17% | 50% | 70% | 100% | 100% |
50% of my shots at 1/8 are perfectly sharp, which means a marketer might claim that I'm getting a 2-stop improvement over the old-wives-tale of 1/30 second. That's what I call "Marketing Stops Improvement," or Lying with Statistics.
TIP: In dim light, fire several shots in the continuous shutter mode and pick the sharpest later. Blur is a random event, so if you fire enough shots, you'll eventually get a sharp one even at slow speeds!
See also Why IS is Important for more.
Recommendations top
Intro Specs Performance Recommendations
Just get one! It's an unusually good lens for photography. Its benefits aren't as apparent by reading about it as they are by using the Canon 28mm f/1.8. The Canon 28mm f/1.8 is a pleasure with which to shoot. It just works and gives consistently excellent images, without any of the autofocus weird nesses or balky zoom rings of some other more expensive lenses.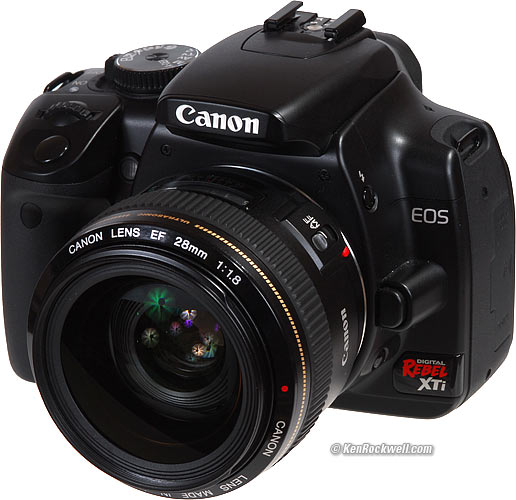 Canon Digital Rebel XTi and Canon 28mm f/1.8
The Canon 28mm f/1.8 makes a perfect fast normal lens on the 1.6x cameras, and is the perfect size and weight to go with them.
The great optics of the Canon 28mm f/1.8 work perfectly on my full-frame 5D, too.
If you need perfect contrast for astronomy, stop down to f/2.8 or spend $1,000 on an L lens like the 24mm /1.4L, 35mm f/1.4L or the Nikon 28mm f/1.4 on a Nikon.
Help me help you top
I support my growing family through this website, as crazy as it might seem.
The biggest help is when you use any of these links when you get anything. It costs you nothing, and is this site's, and thus my family's, biggest source of support. eBay is always a gamble, but all the other places always have the best prices and service, which is why I've used them since before this website existed. I recommend them all personally.
If you find this page as helpful as a book you might have had to buy or a workshop you may have had to take, feel free to help me continue helping everyone.
If you've gotten your gear through one of my links or helped otherwise, you're family. It's great people like you who allow me to keep adding to this site full-time. Thanks!
If you haven't helped yet, please do, and consider helping me with a gift of $5.00.
As this page is copyrighted and formally registered, it is unlawful to make copies, especially in the form of printouts for personal use. If you wish to make a printout for personal use, you are granted one-time permission only if you PayPal me $5.00 per printout or part thereof. Thank you!
Thanks for reading!
Mr. & Mrs. Ken Rockwell, Ryan and Katie.
Home Donate New Search Gallery Reviews How-To Books Links Workshops About Contact