Home Donate New Search Gallery How-To Books Links Workshops About Contact
Canon 800mm f/5.6
© 2008 KenRockwell.com. All rights reserved.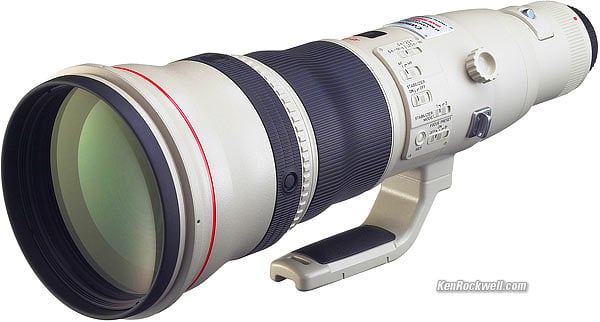 Canon EF 800mm f/5.6L IS USM. enlarge. I'd get mine at Adorama or Amazon. It helps me keep adding to this site when you get yours from those links, too.
June 2008 More Canon Reviews
SALE, May 2013: Canon 800mm f/5.6 L IS now includes a $1,000 Gift Card!
Introduction
Canon announced the EF 800mm f/5.6L IS USM on January 23rd, 2008. It started shipping in May, 2008. It is the world's longest focal length lens with an Optical Image Stabilizer system.
You birders will love this! There is no substitute — Nikon's copy costs so much more that you could buy this Canon 800mm and a Canon body to go with it for the same price.
Specifications
Name
Canon calls this the EF 800mm f/5.6L IS USM.
EF: Electronic Focus. Every Canon lens since 1986 has been this.
IS: Image Stabilization.
USM: Ultra-sonic motor. It doesn't make any noise as focused, and you just grab the focus ring at any time for instant manual override.
Optics
18 elements in 10 groups. Two of these are fluorite, one is UD glass and one is super-D glass.
Close Focus
19.7 feet (6m).
Maximum Reproduction Ratio
1:7.1.
Filters
52mm drop-in
Size
18.1" long x 6.4" diameter (461 x 162mm).
Weight
9.9 pounds (4.5 kg).
Barrel
Magnesium alloy.
Gasketed against weather.
Teleconverters
EF 1.4x II and EF 2x II.
Only some AF sensors may with with the 1.4x TC, and forget it with the 2x.
Case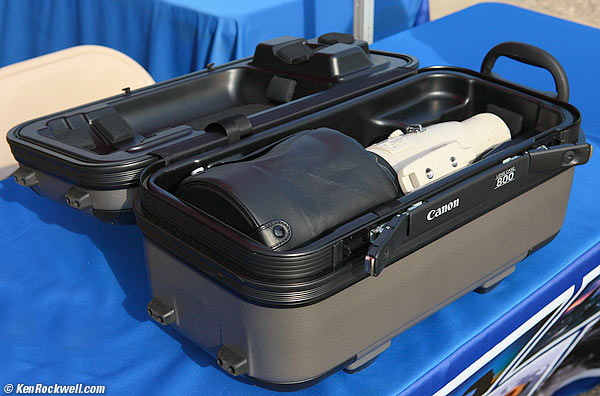 Case, Canon 800mm f/5.6. bigger.

Price

$10,900, USA, July 2010.

$11,999, USA, 2008.

Announced

23 January 2008.

Available

Since May 2008.

Performance

I've only used this lens a little bit in Yellowstone.

It's is surprising how little it weighs, considering its huge size.

Everyone else made fun of me trying to hand-hold it like a rifle, but as we drove around the park, the others quickly tired of setting up the tripod each time, and were hand-holding it, too. You won't get hte best results hand-holding because the IS system isn't really designed for it, but it's better than nothing.

Optically it's magnificent, but your biggest limitations to sharp images are atmospheric conditions like haze and heat shimmer, as well as camera motion. Just like most astronomical telescopes, this 800mm lens is far better than anyone's ability to make use of everything it can do.

Canon EF 800mm f/5.6L IS USM. enlarge
Falloff
Here are casual snaps of the sky on a 5D Mark II, firmware 1.1.0, with no peripheral illumination correction. Showing these against a flat gray background greatly exxagerates any falloff.
Canon EF 800mm f/5.6 L IS falloff on full-frame at infinity.
© 2010 KenRockwell.com. All rights reserved.
Recommendations
You people know who you are. If I needed an 800mm IS lens, I'd get one.
On the other hand, I don't need an 800mm lens. For most people, a shorter lens, like the 400mm f/2.8 IS or 600mm f/4 IS are more flexible options because teleconverters can make these lenses into an 800mm f/5.6, but if you have an 800mm f/5.6, you can't convert it back into a shorter, faster lens.
The Canon 400mm f/2.8 IS has the same diameter, costs only half as much as the 800mm, is shorter, but weighs two pounds more.
The Canon 600mm f/4 IS also has the same diameter, costs 2/3 as much as the 800mm, is the same length, and weights two pounds more.
Help me help you top
I support my growing family through this website, as crazy as it might seem.
If you find this as helpful as a book you might have had to buy or a workshop you may have had to take, feel free to help me continue helping everyone.
If you've gotten your gear through one of my links or helped otherwise, you're family. It's great people like you who allow me to keep adding to this site full-time. Thanks!
If you haven't helped yet, please do, and consider helping me with a gift of $5.00.
The biggest help is to use these links to Adorama, Amazon, B&H, Calumet, Ritz, J&R and when you get your goodies. It costs you nothing and is a huge help to me. eBay is always a gamble, but all the other places have the best prices and service, which is why I've used them since before this website existed. I recommend them all personally.
Thanks for reading!
Ken
Home Donate New Search Gallery How-To Books Links Workshops About Contact