Home Donate New Search Gallery How-To Books Links Workshops About Contact
Canon T2i
EOS Digital Rebel
$800, 18MP 1.6x, 3" LCD, 3.7 fps, 1080p HD
© 2010 KenRockwell.com. All rights reserved.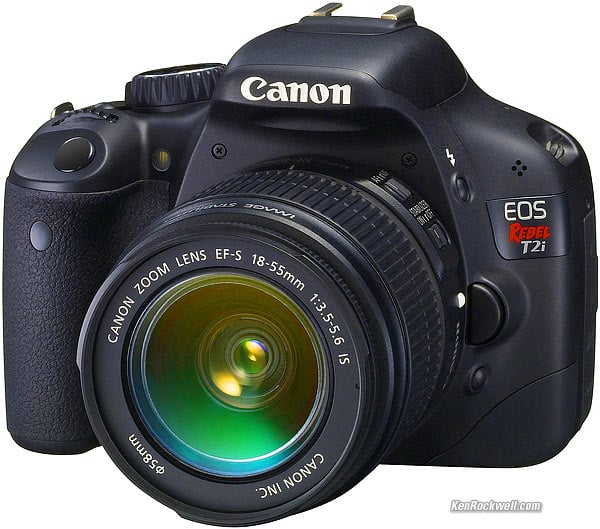 Canon Digital Rebel T2i (18.7oz/530g) with EF-S 18-55mm f/3.5-5.6 IS. enlarge. I'd get it at Adorama or Amazon. It helps me keep adding this site when you get yours from these links, thanks! Ken.
08 February 2010 More Canon Reviews
Introduction top
Intro Specs Performance Usage Recommendations
Introduced Monday, 08 February 2010, the Canon T2i Digital Rebel is Canon's top Rebel camera.
It has a depth-of-field preview button and Live View. There is a "quick set" button to use the rear LCD to set just about anything fat, as we can do on the 5D Mark II.
It has a big high-resolution screen. New in a DSLR, it's a little bit shorter than other 3" LCDs so it's just a little bit smaller than other 3" SLR LCDs.
The 3:2 shape of the T2i's LCD is slightly shorter than the 4:3 shaped LCDs of other DSLRs.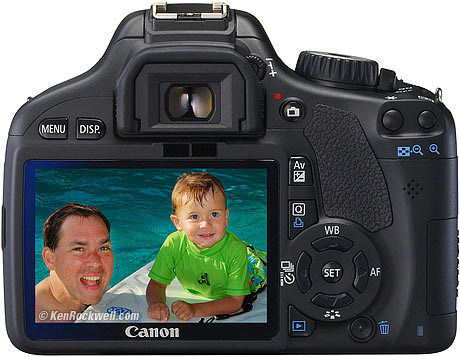 Back, Canon T2i. enlarge.
Image Tricks
The key to giving a camera its look, the T2i has all of Canon's latest tricks, including:
Canon's Auto Lighting Optimizer, which does magical things to enhance shadow detail and add contrast if needed.
Highlight Tone Priority improves the look of otherwise harsh highlights.
Peripheral Illumination Correction greatly reduces darkened corners.
I didn't explore, but I presume all the usual image tweaks like saturation and etc. are in there, which let me get great results right out of the camera as JPGs.
Video
The T2i adds manual exposure control, a stereo mic input (but no mention of manual gain control).
Canon adds a digital zoom feature for movies, which Canon calls "Movie Crop." It lets you apply digital zoom to 640x480 movie files as you shoot without losing sharpness.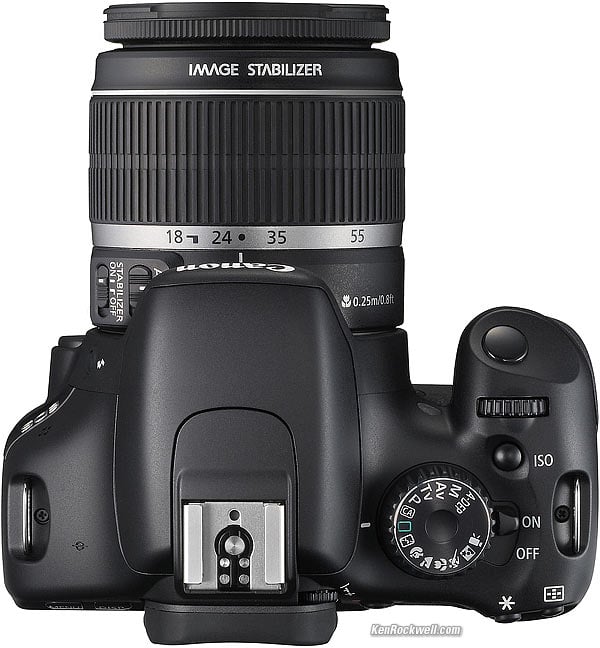 Top, Canon T2i. enlarge.
Specifications top
Type
Autofocus
9 points.
AF-Assist light: None. (fires inappropriate and blinding blasts of flash instead.)
Finder
95% coverage.
0.47x magnification with standard 27mm lens. (0.87x only with 50mm telephoto.)
19mm eyepoint.
-3 to +1 diopter.
Shutter, Meter and Exposure
1/200 flash sync.
1/4,000 ~ 30 seconds, bulb.
3.7 fps.
Remote Switch RS-60E3 and Remote Controller RC-1/RC-5/RC-6
Buffer depth: 34 JPG or 6 raw.
63-zone dual-layer meter, whatever that means.
± 5 EV exposure compensation
Sensor
Physical
1.6x (22.3 x 14.9mm: sub-APS-C) Canon CMOS.
Self-cleaning.
Pixels
18MP (5,184 x 3,456 pixels) native.
Also 3,456 x 2,304 and 2,592 x 1,728 pixel settings.
ISO
ISO 100 - 6,400. ISO 12,800 in a stupid mode.
Auto ISO can also work in movies and manual exposure. (I sure hope it automatically cancels in manual mode!)
WB
Magenta/green and amber/blue WB tweaks.
Flash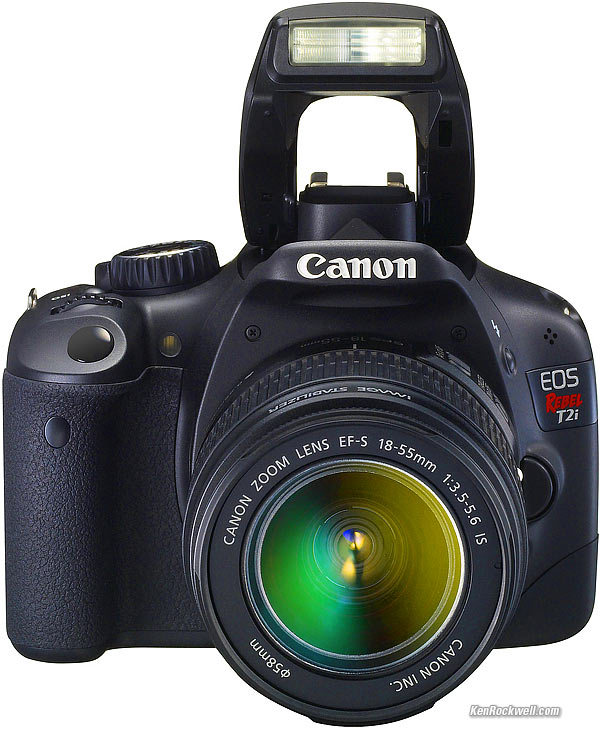 Canon T2i built-in flash. enlarge.
Built-in.
Rated GN 13 meters (43 feet) at ISO 100.
Rated 3 seconds recycling.
+/- 2 stops flash exposure compensation.
Files
JPG and raw.
Movies
Data Format
MOV (image data: H.264; audio: Linear PCM (with internal mic: monaural, with external mic: stereo))
Video Formats
1920 x 1080 at 30p (29.97), 24p (23.976) or 25p.
1280 x 720 at 60p (59.94) or 50p.
640 x 480 at 60p (59.94) or 50p.
Video digital zoom (called Movie Crop recording by Canon) in 640 x 480.
(Note: Canon isn't telling us if this means you get 30p and 24 p, or only 29.97 and 23.98 rates. I'm guessing that it's really using the pulled-down rates only (29.97 and 23.98), and mentioning the even rates (24 and 30) only for convenience in dealing with people outside of Hollywood. Having worked for years in Hollywood, we know that 24 fps is completely different from 23.98.)
Continuous Shooting Time (4GB card)
12 min. in 1920 x 1080.
18 min. in 1280 x 720.
24 min. in 640 x 480.
Video Focus
Autofocus: Quick mode, Live mode, Face Detection Live mode.
I doubt this means it can focus as well as a Powershot, or a real video camera.
Video Exposure
Manual or Program.
1/4,000 to 1/30 second. (1/60 at 50 or 60 fps). This is pretty swift, it's telling us that we can get up to a 360º shutter!
Up to ±3 stops compensation in 1/3- or 1/2-stop increments

Audio
Linear Pulse-Code Modulation (PCM).
48 ksps, 16 bits.
Internal mono mic.
External 3.5mm stereo microphone jack.
Bad: I see AGC only. I see no manual level control.
Playback Tricks
Consumer Electronics Control (CEC) compatibility which allows users to play back still or video files on a CEC-compliant HDTV, using the TV remote to control the camera when connected via HDMI interface.
Variable-speed slow motion.
Jump to first frame, previous frame, next frame, jump to last frame, cut out first or last, frame.
LCD
3:2 aspect ratio.
3-inch diagonal.
1.04 million dots, which means very, very sharp.
The Rebel T2i camera's LCD monitor can display a full-screen video image utilizing the entire screen.
Data Storage
SD, SDHC and SDXC memory cards.
Live View, a built-in pop-up flash, and the EOS integrated cleaning system, as well as compatibility with Canon EX-series Speedlites and Canon EF and EF-S lenses allowing users to fully explore multiple creative photographic possibilities. The new EOS Rebel T2i Digital SLR camera is also compatible with Canon's new BG-E8 battery grip and new RC-6 wireless remote control for both still images and video capture.
Power
LP-E8 Li-ion battery pack.
Rated 500 shots.
Size
5.1 x 3.8 x 3.0 inches.
128.8 x 97.5 x 75.3mm.
Weight
18.7 oz. (530g), including battery and card.
Environment
0-40ºC (32-104ºF)
0-85% relative humidity.
Included
EOS Rebel T2i Body (and maybe EF-S 18-55mm f/3.5-5.6 IS depending on kit)
Eyecup Ef
Wide Strap EW-100DBIII
USB Interface Cable IFC-130U
AV Cable AVC-DC400ST
Battery Pack LP-E8
Battery Charger LC-E8
EOS Digital Solution Disc and Instruction Manuals
"Great Photography is Easy" Booklet and "Do More with Macro" Booklet
Optional Accessories
Remote Switch RS-60E3
Remote Controller RC-1/RC-5/RC-6
Announced
08 February 2010.
Available
Early March 2010.
Price
$799.99, USA, body-only.
$899.99, USA, with EF-S 18-55mm f/3.5-5.6 IS.
Recommendations top
Intro Specs Performance Usage Recommendations
I loved the Canon Digital Rebel T1i, and expect that the T2i does everything just a little bit better. It also costs more.
Every Canon DSLR can make great photos. Heck, I was able to make spectacular images with astoundingly great colors on an 8MP Canon Rebel XT, which went obsolete in 2006.
Most of the new features are just fluff.
Buy whichever you need, and if you can't see any reason to pay more, even Canon's cheapest DSLRs are superb. Heck, my favorite digital camera is my Canon S90 point-and-shoot, from which I elicit excellent images.
Help me help you top
I support my growing family through this website, as crazy as it might seem.
If you find this as helpful as a book you might have had to buy or a workshop you may have had to take, feel free to help me continue helping everyone.
If you've gotten your gear through one of my links or helped otherwise, you're family. It's great people like you who allow me to keep adding to this site full-time. Thanks!
If you haven't helped yet, please do, and consider helping me with a gift of $5.00.
The biggest help is to use these links to Adorama, Amazon, Calumet, Ritz and J&R when you get your goodies. It costs you nothing and is a huge help. These places have the best prices and service, which is why I've used them since before this website existed. I recommend them all personally.
Thanks for reading!
Ken
Home Donate New Search Gallery How-To Books Links Workshops About Contact