Casio EX-Z70
© 2006 KenRockwell.com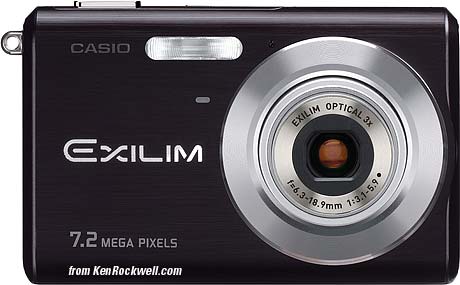 I'd get the EX-Z70 here or here. It also comes in silver. It helps me publish this site when you get yours from those links, too.
INTRODUCTION
This is an inexpensive, tiny, lightweight and high-resolution (7MP) Casio. MSRP is $249. It was introduced 08 August 2006. It makes great photos and is super easy to use and carry. It has a big, bright 2.5" LCD screen and weighs so little you'll forget it's in your pocket.
Operation is superb and identical to all the other Casios, except the more expensive EX-Z1000. I prefer this EX-Z70!
I love the black anodized aluminum case. It also comes in amateur silver.
The LCD is very bright and perfectly visible in direct sunlight. It can look a little washed out in dim light.
It's a great little camera for $249 that makes it easy to make loads of great photos, but today you can get much better if you're willing spend $299 on something like a Casio EX-S600 or Canon SD550. Then again, the other cameras don't look anywhere near as swift as the EX-Z70 does, because those cameras don't come in black. I love black cameras. The EX-Z70 is a great camera, but others are better still for not much more more money.
Image quality of the EX-X70 is the same as other 7MP cameras. The lens isn't quite as good, but still makes sharp 12 x 18" prints.
The buttons are plastic, while the more expensive Casios use metal.
Unlike most recent Casios, it has no cradle. You have to fool around with removing the battery to charge it and remove the card to download pictures. It comes with a cable, however it's data transfer only works at the old, slow USB 1.1 rate which means photos taker much longer to download than they should.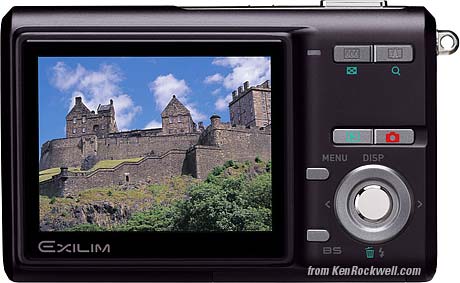 Casio EX-Z70 in black.
SPECIFICATIONS
CCD SENSOR: smaller 1/2.5," 3,072 x 2,304 pixels.
IMAGE SIZES: 3,072 x 2,304, 3,072 x 2,048 (3:2), 2,560 x 1,920, 2,048 x 1,536, 1,600 x 1,200 and 640 x 480 pixels. Movies in 640 x 480 @ 30 fps (HQ), 512 x 384 @ 30 fps (Normal) and 320 x 240 @ 15 fps (LP).
ISO: 50 - 400. Up to 800 in trick modes.
LENS: 6.3 - 18.9mm f/3.1 - 5.9, 3x zoom (about the same as a 38 - 114 mm would look on a 35 mm film camera), 6 elements, 5 groups, convex front surface, one aspheric. It's tinier than the other tiny lenses used on these cameras and doesn't have to extend very far when turned on.
NO OPTICAL FINDER: use the bright LCD.
FOCUS:
AF Zones: 9
Focus Modes: Auto, Macro, Hyperfocal, Infinity, Manual.
AF Assist lamp.
Close Focus: 16" normal mode, 4" in macro mode (at wide setting)
LCD SCREEN: 2.5," blindingly bright and auto-adjusting. 480 x 240 resolution (115,200 pixels).
SIZE: 2.39 x 3.75 x 0.78" rated, excluding projections.
WEIGHT: 4.16 oz, stripped naked.
POWER: Li-ion battery recharged in external charger.
PRICE: $249 MSRP, September 2006.
PERFORMANCE
LCD Screen: 2.5," bright enough to use outdoor in direct sunlight. It's a tiny bit red, coarse, and has a little less contrast than screens on more expensive cameras.
LENS
The lens is tinier than other compact cameras. It's wonderfully sharp, but will get soft and have more chromatic aberration than more expensive cameras in the corners.
Distortion: The lens has more distortion than other cameras at the mid and tele positions. It corrects perfectly in Photoshop CS2's lens distortion filter using these figures:
+4 at 6.3mm wide, -2.5 at 10.4mm mid, -4 at 14.5mm, -3.0 at 18.9 (tele)
MECHANICS: Its case is aluminum and the buttons are mostly plastic. The EX-Z70 I used was made in China.
PICTURE QUALITY: The lens is sharp, but has a lot of distortion if you care. It corrects easily in Photoshop CS2's lens distortion filter. It can get soft in the corners. TIP: The default sharpening is harsh. I prefer the sharpness set to -1 and the saturation set to +1.
COLOR and EXPOSURE: Color is fine, but be careful sure not to overexpose. Like most compacts, the EX-Z70 tends to err towards overexposure. I set my L/R nav buttons to exposure compensation, so with the real-time YRGB histogram it's easy to get perfect exposure.
WHITE BALANCE: The EX-Z70 has the best Auto White Balance of any camera I've used to date, including multi-thousand dollar DSLRs. It gives perfect results even under tungsten light. It sets perfectly even under residential indoor tungsten. The EX-Z70 doesn't look orange like every other camera does on AWB indoors.
FLASH RECYCLE TIME: It still takes a while, just like the other Casios. If you shoot a lot of people photo with flash you'll be happier with a Canon SD550 or SD700., since they don't make you wait as long for the flash to recharge.
VIDEO
Video is OK. The default image size is only 512 x 384, not 640 x 480.
10 second clips have file sizes of:
LP: 2.9 MB (320 x 240 @ 15 fps)
NORMAL: 7.5 MB (512 x 384 @ 30 fps)
HQ: 12.9 MB (640 x 480 @ 30 fps)
File size is big but the files are easy to read on most computers. The EX-Z70 uses the simple motion JPEG format, which wastes a lot of file space compared to the more advanced (but unrelated) MPEG formats. Motion JPEG makes no use of motion vectors and is not as efficient for encoding video. The Casio EX-Z850, EX-Z750 and EX-S600 make the same 10 second file with Normal quality only using 2.7 MB of file space, and those cameras have higher video resolution as well (640 x0 480 vs. 512 x 384).
BATTERY LIFE: I haven't killed it yet after 200 shots on my first charge.
DATA:
Transfer: slow: 25 seconds to transfer 20 MB or 14 photos. it's only the old USB 1.1 standard (12 Mb/s, not 480 Mb/s!) This drives me nuts and is why I suggest other cameras with fast transfer times like the Casio EX-S600, Canon SD550 or Canon SD700.
Formatting: My 1GB 32x Lexar SD card reformats in 10 seconds. My 2 GB Sandisk Extreme II reformats in 6.3 seconds. My old 256MB Sandisk blue card formats in a couple of seconds.
Best Shot Editor
Hackers will want to try this to create and edit their own best shot modes.
RECOMENDATIONS
The EX-Z70 is a swell camera that's easy to love. It weighs the same as the higher-end cameras, but has a little bigger size. This means it's less dense, and feels like it weighs less in your pocket.
It looks great and works wonderfully. I'd be all over it, except that at $249 it's very close in price to much better models. if your budget is $249 then go for it. If you have $299, go for a Casio EX-S600 or Canon SD550.