Home Donate New Search Gallery How-To Books Links Workshops About Contact
Fuji Provia 400X
© 2009 KenRockwell.com. All rights reserved.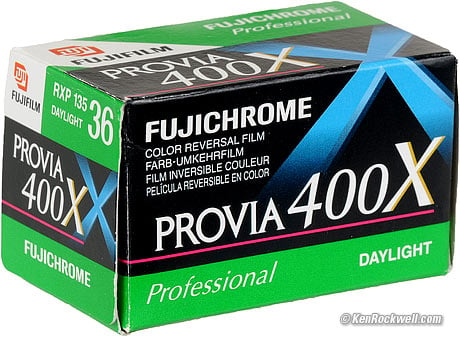 Fuji 400X (RXPIII). You can get it at Adorama. It helps me keep adding to this site when you get yours through these links, thanks! Ken.
May 2009 More Fuji Reviews More Reviews
I tried a sample roll of Fuji 400X (ISO 400).
Fuji 400X is essentially ISO 400 Provia. Fuji 400X has nice, moderate color (meaning brighter than Kodak but not Velvia, either) and much finer grain than I've seen before in ISO 400 film.
Fuji 400X is a fast film I might pull out in low light, if I have no DSLR handy. DSLRs are faster and cleaner in low light than this, or any, film.
It's not that much grainier than my ISO 50 Velvia. Unlike digital, film has grain even at slow speeds, so faster film doens't get that much worse as you go to higher ISOs. This is quite different from DX DSLRs, which get very nasty very wuickly after you exceed about ISO 1,600.
Fuji 400X looks great for its intended use. It's quite clean, and the colors are swell. Nothing looks like Velvia 50, of course, but for what I'd shoot at ISO 400, this seems like the ticket.
The only downside to Fuji 400X is that it is much more expensive than other film; about $10 a roll at deep discount. All this speed with all this quality doens't come cheaply.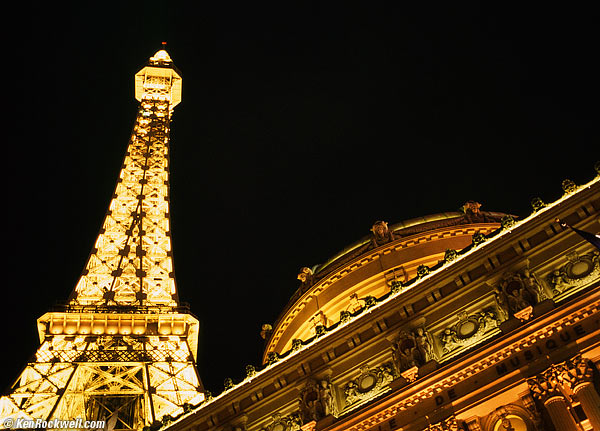 La Tour Vegas. enlarge. Leica M7, Fuji 400X, Leica 35mm f/2 SUMMICRON ASPH, f/2 at 1/12, hand-held. NCPS process and scan, shown exactly as scanned.
PLUG top
I support my growing family through this website, as crazy as it might seem.
If you find this as helpful as a book you might have had to buy or a workshop you may have had to take, feel free to help me continue helping everyone.
If you've gotten your gear through one of my links or helped otherwise, you're family. It's great people like you who allow me to keep adding to this site full-time. Thanks!
If you haven't helped yet, please do, and consider helping me with a gift of $5.00.
The biggest help is to use these links to Adorama, Amazon, B&H, Calumet, Ritz and J&R when you get your goodies. It costs you nothing and is a huge help. These places have the best prices and service, which is why I've used them since before this website existed. I recommend them all personally.
Thanks for reading!
Ken
Home Donate New Search Gallery How-To Books Links Workshops About Contact