Fuji S2 Review Test
© 2004 KenRockwell.com
about these reviews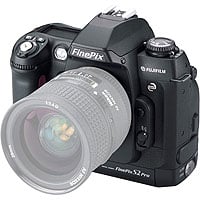 get it here
INTRODUCTION More Fuji Reviews More Reviews
Caution: old design, to be replaced by the S3.
Everyone asks me what I think of the S2. Personally prefer, bought and use the Nikon D70. Not only is the D70 half the price, but even if it was the same price I'd still use the D70 because it's two years more advanced, has triple the sync speed, runs on just one battery. Here are my impressions from some use of the S2.
The Fuji S2 is a Nikon N80 with digital innards by Fuji. In other words, it just a re-done D100, and the D100 is already obsolete. Look for the upcoming S3 here.
The S2 has a tiny bit more resolution, costs more, is less convenient for heavy shooting since it needs two kinds of batteries and is a bit slower than the obsolete D100 on which it is based. Of course if shooting test charts is your thing the S2 supposedly is a little better. I dislike it because the handling and menu system make no sense to me. Likewise unlike the Nikon D100 on which it's based the S2 has all sorts of things growing off of it that Fuji couldn't fit inside.
The S2's biggest gotcha is that it needs TWO kinds of batteries to run everything. It has a separate set of batteries just for the electronics (4 x AA) and another set just to run the mechanics (2 x CR123). I hear different stories about what really powers what; the CR123 may just be for the internal flash and a couple of people say it runs fine skipping the CR123s. If you are new to digital know that you are charging or changing batteries every day, just like a camcorder. I'd suggest rechargeable AAs, and hopefully the CR123s will last a while. Several people tell me you get decent functionality with just the AAs, so if you go for the S2 check it out for yourself.
You can get the CR123s for about a dollar each at botachtactical.com as of June 2004.
COMPARISONS and SPECIFICATIONS
Standard DX size CCD: 23 x 16mm (this is the standard CCD size for digital SLR cameras, it is smaller than the obsolete 35mm film format.)
Native resolution 3,024 x 2,016. Also downsampled at 2,304 x 1,536 and 1,440 x 960 and upsampled to 4,256 x 2,848 pixels.
Slow flash sync, only 1/125 (D100 is 1/180 and pro DSLRS are 1/500. This is the maximum speed you may use any time the flash is on.)
ISO 100 - 1,600 (worse than Nikon DSLRS which usually go to ISO 6,400, although noise is about the same at the same speeds as far as I'm concerned.)
Slow 2FPS, 7 or 8 frame buffer (D100 is 3FPS)
No mirror lock-up (D100 can do this, although maybe only for CD cleaning which doesn't count. Look it up if it's important to you for long teles on a tripod.)
Plenty of white balance settings, but I saw no ability to tune each one as the Nikons can (this is more important than resolution).
Has a PC terminal for studio flash (D100 does not, although there are lots of hot shoe adapters available and the wireless hot shoe mounted triggers are a better way to go than corded anyway)
Has a firewire data connection, although I just use a card reader.
Takes standard CF and microdrives, also SmartMedia.
Formats: JPG (sRGB), RAW and TIF (both sRGB and Adobe RGB)
You have your choice of individual R, G and B histograms, far superior to the useless Y-channel only histograms on Nikon DSLRs.
The LCD cover is sort of like cloudy Tupperware, reminiscent of the factory version for the D1H. The D100 has a much clearer cover. If I was going to buy the S2 I would throw away the included cover and get a real one from Hoodman immediately.
PERFORMANCE
The interpolated 4,256 x 2,848 pixel images are 4.2 MB JPGs which look great, much better than they have any right to. People who split pixels often consider this the best camera this side of the Canon 1Ds.
Native resolution is 3,024 x 2,016.
The downsampled 2,304 x 1,536 images look great, much better than 3MP cameras which have this as their native resolution. This is because even at "native" resolutions digital still cameras are still Bayer interpolating, meaning if you downsample to this resolution as the S2 does that it looks much better than cameras which have this as their native resolution. The S2 at this resolution is much better than my D1H or Canon A70.
Otherwise speed and most other things are similar to the N80 on which this is based. See my N80 page for all that. It's pretty good!
SUMMARY & FINAL SUGGESTIONS
I work in the field so I'm obviously skipping this. For use in a studio where the ergonomics, power and handling are less important and resolution might be it could be perfect.
The S2 offers slightly better resolution (just a small part of overall image quality) and slightly lower speed and practicality than the obsolete Nikon D100. The S2 also costs more than the D100. For my uses I would prefer the D70, and since it costs only half as much as the S2 and is more practical for me. The only real advantage of the S2 is very slightly higher image resolution, which to me is much less significant than all the other disadvantages.
Personally I avoid RAW modes and would just shoot JPG. More here on that.
Everyone I know who owns the S2 LOVES it. Personally getting 5% more image quality is less important to me than 100% more cost and less favorable features. See more about why everyone prefers something different here.