Home Donate New Search Gallery Reviews How-To Books Links Workshops About Contact
Fuji X10
12MP, 4x manual IS zoom, 2.8" LCD
© 2011 KenRockwell.com. All rights reserved.
Intro Specs Performance Compared Usage Recommendations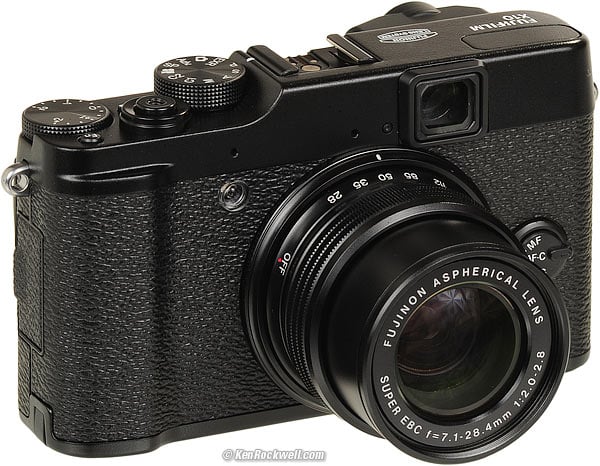 Fuji X10 (12.4 oz./351g with battery and card, about $600). enlarge. This free website's biggest source of support is when you use these links, especially this link directly to it at Adorama or at Amazon, when you get anything, regardless of the country in which you live. Thank you! Ken.
December 2011 X100 Review Fuji Nikon Canon LEICA All Reviews
Introduction top
Intro Specs Performance Compared Usage Recommendations
The Fuji X10 is a very solid and well-made point-and-shoot digital camera, with the same tiny sensor size and resultant technical image quality as every other digital point-and-shoot.
Technically, the X10 has nothing in common with the much larger sensor used in the Fuji X100 on whose coattails this Fuji X10 rides. I'll be making many comparisons to the X100, but know that the tiny P&S sensor of this P&S means noisy, softer images at ISOs above ISO 1,000, and not the sharp and smooth images of DSLRs or the X100 that use half-frame sensors, which are all much bigger than the teeny-tiny sensors that P&S cameras like this use.
Another big gotcha between this X10 and the X100 is that this X10 has only an optical peephole or the rear LCD as a finder. This X10 does not have an LCD viewfinder visible through the peephole as is unique to the X100. This means that the only way to try to shoot action with the X10 is either with the optical peephole, or by holding the camera at arm's length looking at the LCD. The magic of the combo TTL LCD finder of the X100 is one of the biggest features of the X100, and absent here.
Now that we've made these points very clear, the X10 is unique in having a real-man's manual zoom. There's none of this "W - T" pushbutton baloney. With the X10, just turn the zoom ring to zoom to any position you want instantly.
Better than other point-and-shoots, there likewise is no need for that stupid erection motor. The power switch is integral with the zoom ring! Just rotate the X10's zoom ring away from OFF, and it turns on as you extend the lens much faster than those stupid motors of other point-and-shoots.
The X10 feels great, in fact, it's more solid and feels better than most of the mostly plastic DSLRs like the Nikon D7000 or Canon 5D Mark II that most people accept today. The X10's knobs are metal, not plastic. Likewise, the X10's laser-engraved metal zoom ring feels as it should, far better than the dinky painted plastic zoom rings of most DSLR lenses.
Overall handling speed is the same as the Fuji X100 and other point-and-shoots. It takes a moment to focus and settle on exposure; it's not instantaneous as are DSLRs.
I have to laugh. While the X100 attempts to copy the look of the immortal LEICA M3, the top plate of the X10 as seen from the front reminds me vaguely of a black LEICA IIIf.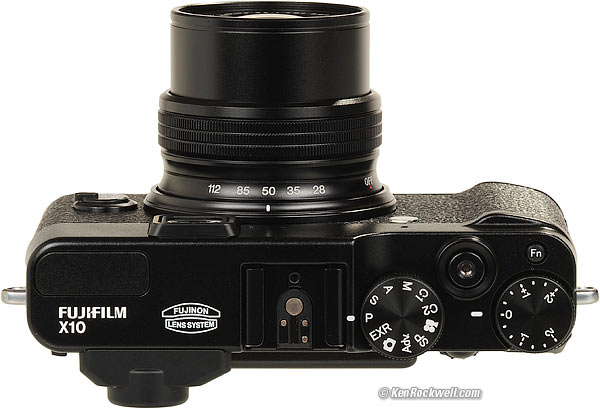 Top, Fuji X10. enlarge.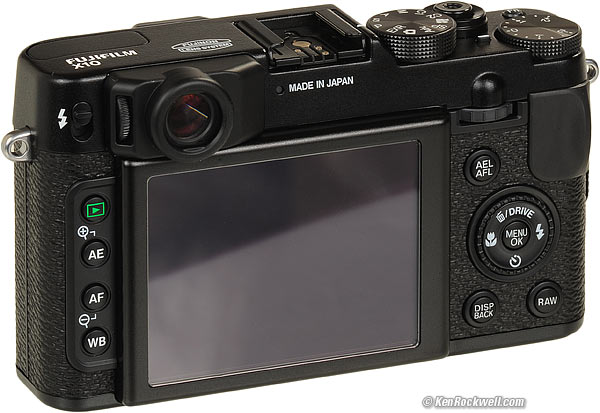 Rear, Fuji X10. enlarge.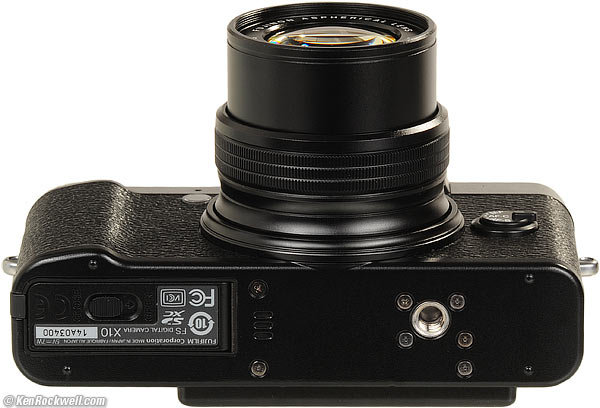 Bottom, Fuji X10. enlarge.
Specifications top
Intro Specs Performance Compared Usage Recommendations
Lens
7.1 ~ 28.4mm f/2 ~ 2.8 zoom (28 ~ 112mm equiv.)
Optical image stabilization.
Sensor
Tiny 12 MP.
4,000 x 3,000 pixels native.
Internally-stitched panorama mode creates images up to 11,520 pixels long!
ISO 100 - 3,200 (up to ISO 12,800 at lower resolution).
Shutter
1/1,000 - 30 seconds depending on mode.
Takes a standard threaded cable release!
Movies
Up to 1080p.
Stereo sound: 25mm mic spacing.
Finder
Optical finder and rear LCD only, no LCD finder as has the Fuji X100.
Flash
Little pop-up flash built-in.
LCD
2.8"
High-resolution; nice and sharp and smooth.
Power
NP-50 lithium-ion battery, rated 270 shots.
Nice universal-voltage, folding-plug charger.
Optional AC-5VX AC power adapter and CP-50 DC coupler.
Quality
Made in Japan.
Includes a real, printed manual in the box.
Environmental (operating)
0 ~ 40°C (32 ~ 104°F).
10 ~ 80% RH, no condensation.
Size
4.6 × 2.7 × 2.2 inches WHD.
117.0 × 69.6 × 56.8 millimeters WHD.
About 90% the size of the Fuji X100.
Weight
12.375 (350.8g), measured by me with battery and card.
Fuji specifies 12.3 oz. (350g) with battery and card and 11.6 oz. (330g) stripped.
Introduced
Late 2011.
See Fuji's X10 Owner's Manual for much more.
Performance top
Intro Specs Performance Compared Usage Recommendations
Ergonomics
The Fuji X10 is a solid little jewel of precision. Its zoom control brilliantly eliminates the need for that stupid power switch! Real cameras don't have power switches.
The X10 has real strap lugs, much better than most point-and-shoot cameras, so it's always around your neck ready to shoot.
The biggest potential gotcha is protecting the lens. The great news is that there's no automatic protective barrier to open and close every time (these barriers are the first thing to break on most compact cameras, committing them to the trash), however, that also means you'll either have to fiddle with a lens cap, or try to figure out some way to attach a filter.
Fuji includes a fancy felt-lined metal cap that's a joy to feel at home, but real photographers don't use lens caps. No one wants to piddle with caps for each photo.
That brings us to filters. The X10 has no real filter thread; Fuji expects us to buy their $60 dedicated hood which includes a 52mm filter adapter. I'm sure there are clever ways around this as there are for the X100, but I don't know what they are for the X10.
If you buy this adapter and use a 52mm filter, you'll have some optical viewfinder blockage because the finder will be partially obscured by the filter at the wider settings.
The X10 might take standard 40.5mm filters; I have not tried.
Astounding but true, the lens blocks the optical finder at wider settings, and this is with no hood and no filters. Add the hood or a filter adapter, and this finder blockage will only get worse: the finder sees the edge of the lens at wide settings!
If you shoot with any of the cropped modes, the optical finder will not block itself to reflect the smaller image; you'll have to use the rear LCD or guess.
The LCD is high resolution; it's images are smooth and sharp. Diagonal scrolling works on playback, and unlike the X100, rotating the rear dial lets one swap among images while zoomed.
In manual focus, the LCD is smart enough to zoom automatically as you're twiddling the manual focus ring (the rear round ring).
The X10's charger can charge either the NP-50, or an NP-45, battery.
Image Quality
Flash Exposure Control
Used as fill-flash, the X10 has extraordinarily good flash exposure control, better than any other camera except the X100, which is as good.
The flash balances itself perfectly on the first shot every time, regardless of how light or dark the setting, and regardless of how close you are in macro.
Lens Sharpness
The lens is superb. It's sharp even wide-open at all zoom settings.
Distortion
Distortion is invisible at any zoom setting at reasonable distances, suggesting that Fuji might be correcting JPGs automatically in-camera.
If this is the case, be careful if shooting raw, since most raw software won't provide these corrections and might leave your images more distorted than if you had shot JPGs. Then again, maybe it's just a superb lens; I didn't look at any raw files. Fuji has been making lenses since at least the 1940s; they know what they're doing.
Plug these figures into Photoshop's lens distortion filter to correct the distortion. These aren't facts or specifications, they are the results of my research.
| | | |
| --- | --- | --- |
| Actual | (equiv.) | JPG at 10' (3m) |
| 7.1mm | 28mm | +1.0 |
| 8.3mm | 35mm | +1.5 |
| 11.3mm | 50mm | +1.0 |
| 18mm | 85mm | 0.0 |
| 28.4mm | 112mm | -0.5 |
© 2011 KenRockwell.com
Distortion gets worse at macro distances at the wide end.
Color Rendition
Shooting JPGs, this X10 has relatively muted colors ideal for people pictures, even with its saturation set to HIGH.
For nature and landscape shots, I prefer the Canon powershot cameras, like the Canon S95.
If you shoot in the raw, colors could be anything depending on what software you use.
Macro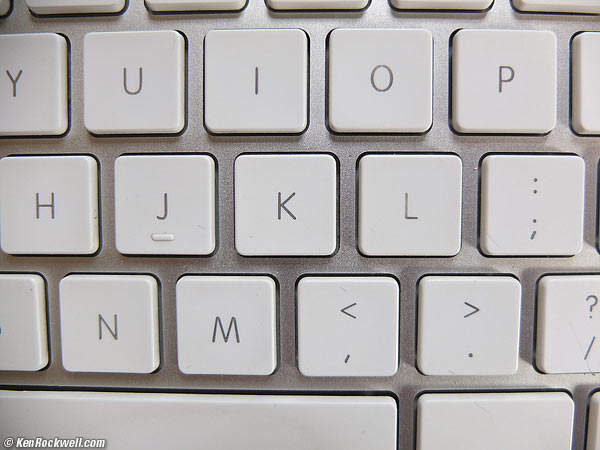 At close-focus distance at 7.1mm (28mm equiv.)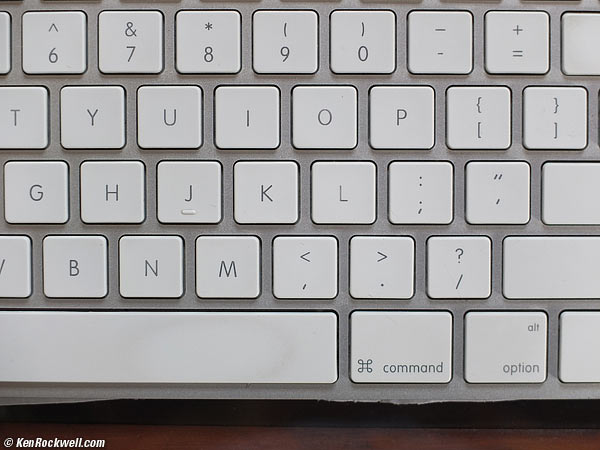 At close-focus distance at 28.4mm (112mm equiv.)
Noise
As expected, it's the same as other small-sensor point-and-shoots, nowhere near as good as the sees-in-the-dark Fuji X100 or DSLRs. Even at ISO 400 there is noise, and by ISO 800, subject textures have evaporated under all the noise reduction.
Shoot above ISO 1,000 and the results are noisy and subject textures are missing due to the noise reduction, same as with other compact cameras.
Data
JPGs all have about the same file size, regardless of image complexity. They are about 3MB for a full-resolution JPG in the NORMAL JPG option. File size will be much larger at the default FINE setting.
Like the X100, the X10 isn't well enough designed to title the memory cards. Pop a card in your computer, and it comes up as "untitled" instead of "FUJI X10" as it ought to.
Compared top
Intro Specs Performance Compared Usage Recommendations
The X10 is about 90% the size of the Fuji X100 in each dimension, and uses a smaller battery pack. The X10 is much bigger than a Canon S100.
The X100's sensor has about ten times the area of the little sensor in this X10, which explains why the X100 is far more sensitive and gives far cleaner images at high ISOs.
For instance, at ISO 1,250, this X10's images look dirty, while the images of the X100 are super-clean and loaded with subject texture.
Personally, having gotten used to the combined optical & TTL LCD finder of the X100, I couldn't photograph my family with the X10 — they move too fast!
The X10 and X100 operate about as quickly as each other when making settings or trying to focus and shoot. They are about as good as other point-and-shoots, and nowhere near as fast as real DSLRs.
The top rear control dial is better than the simpler lever on the X100.
This X10 has a better AF-mode switch than the X100, but neither is that great.
The X10 has a real flash-mode switch, far better than needing to have to look at the LCD while jiggling a button on the X100. On the X10, there's a button to pop it up, and press the flash to squelch it. Bingo!
Both the X10 and X100 have unlocked, easy to knock exposure compensation dials. They both need a stronger detent at "0," or at least a lock of some kind to prevent shooting at +1 by accident.
The X10 shoots in the professional 4:3 aspect ratio, while the X100 shoots in the too-short-vertically 1.5:1 aspect ratio.
Usage top
Intro Specs Performance Compared Usage Recommendations
There is no power switch! You turn the X10 on by rotating the zoom ring away from OFF, or hold the PLAY button to play.
I'd use the LEICA strap for the X10. It's the perfect size, simple, and attaches immediately without scratching anything.
The simple flash-up button is deceptive: there is also a menu option controlled by the BOLT button on the back. By default, it's set to AUTO, so I prefer to set the menu once to FORCED ON so it fires anytime it's popped up.
See Fuji's X10 Owner's Manual for much more.
Recommendations top
Intro Specs Performance Compared Usage Recommendations
The Fuji X10 is a superb point-and-shoot camera.
I'm not swapping it for my X100 since the X100's much larger sensor works far better in the low light under which I photograph my family, but for you travelers who prefer an excellent zoom lens especially for use at low ISOs, this X10 is great.
More Information
Fuji's X10 Owner's Manual (sorry, Fuji included no index!)
Help me help you top
I support my growing family through this website, as crazy as it might seem.
The biggest help is when you use any of these links to Adorama, Amazon, eBay, Ritz, Calumet, J&R and ScanCafe when you get anything, regardless of the country in which you live. It costs you nothing, and is this site's, and thus my family's, biggest source of support. These places have the best prices and service, which is why I've used them since before this website existed. I recommend them all personally.
If you find this page as helpful as a book you might have had to buy or a workshop you may have had to take, feel free to help me continue helping everyone.
If you've gotten your gear through one of my links or helped otherwise, you're family. It's great people like you who allow me to keep adding to this site full-time. Thanks!
If you haven't helped yet, please do, and consider helping me with a gift of $5.00.
As this page is copyrighted and formally registered, it is unlawful to make copies, especially in the form of printouts for personal use. If you wish to make a printout for personal use, you are granted one-time permission only if you PayPal me $5.00 per printout or part thereof. Thank you!
Thanks for reading!
Mr. & Mrs. Ken Rockwell, Ryan and Katie.
Home Donate New Search Gallery Reviews How-To Books Links Workshops About Contact