Hasselblad Extension Tubes
Introduction Compatibility Chronology & Part Numbers Usage Distance Table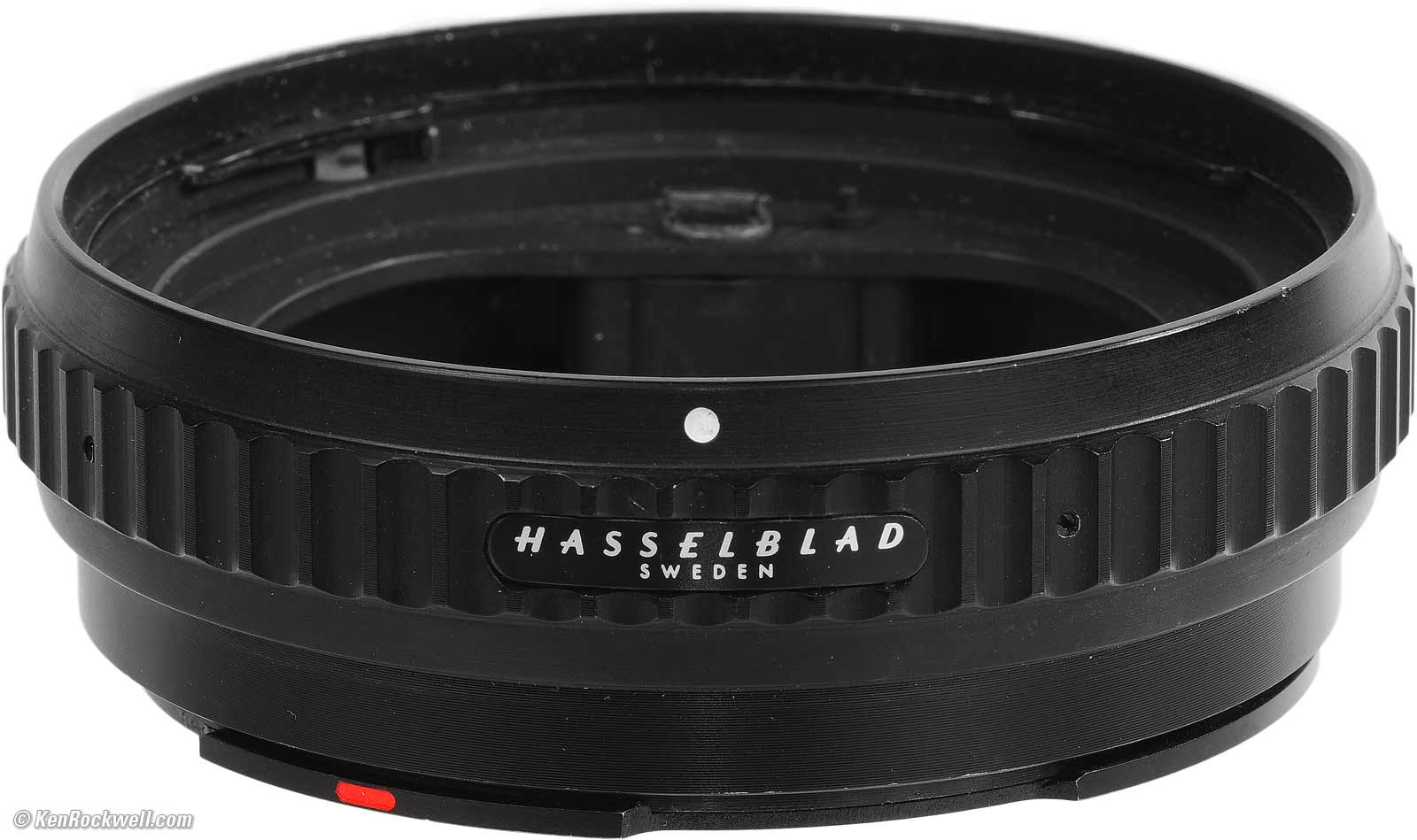 Hasselblad Extension Tube 21. bigger.
This ad-free website's biggest source of support is when you use those or any of these links to my personally-approved sources when you get anything, regardless of the country in which you live. Use only the approved sources I use myself for the best prices, service, return policies and selection. Thanks for helping me help you! Ken.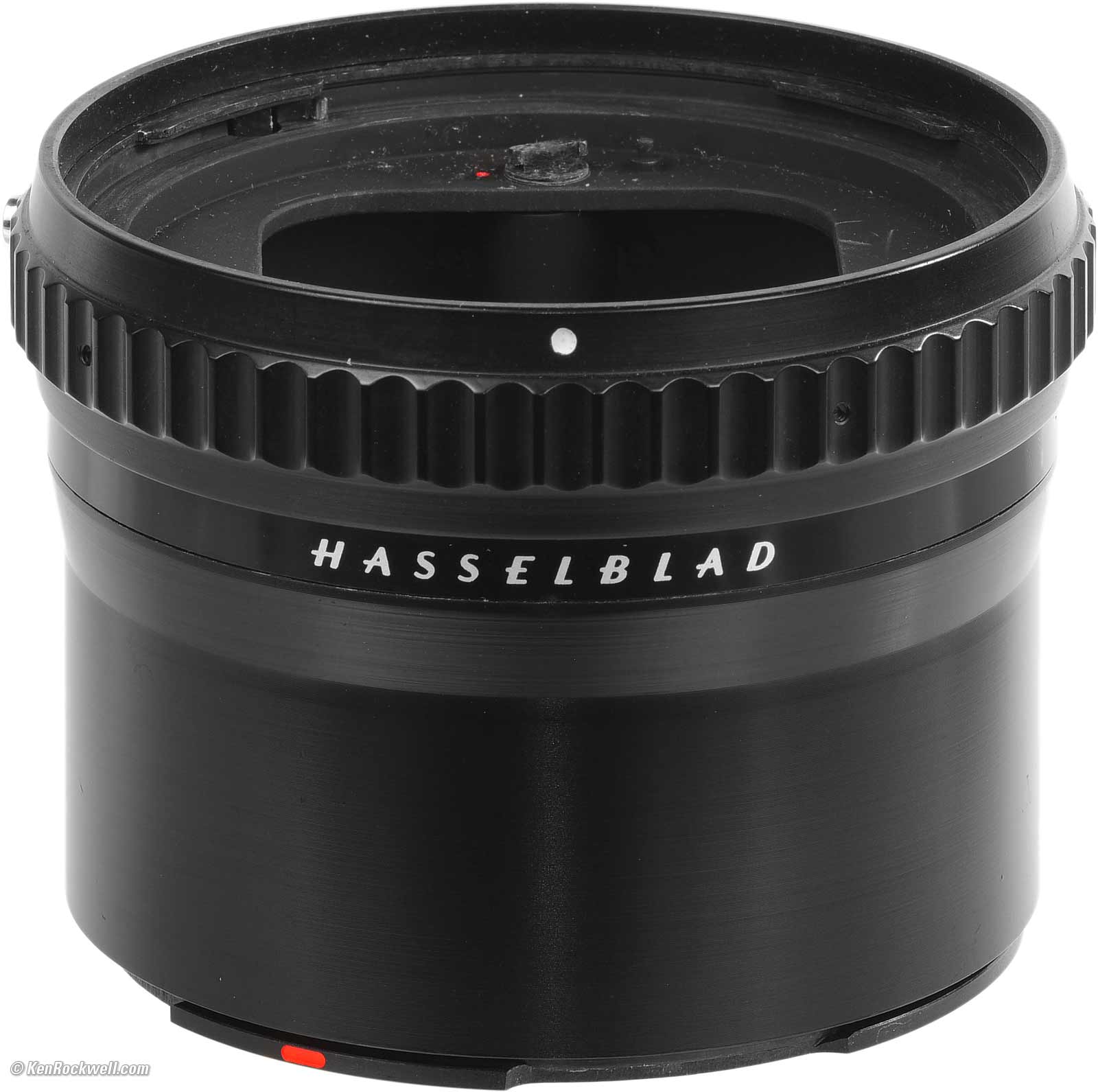 Hasselblad Extension Tube 55. bigger.
December 2015 Hasselblad Mamiya Contax LEICA Nikon Canon Zeiss All Reviews
Introduction
Top Introduction Compatibility Chronology & Part Numbers Usage Distance Table
Extension tubes are empty tubes we can attach between our lens and camera body to extend the lens farther from our film or image sensor.
This lets us focus much more closely for macro use, but also reduces the effective exposure due to the extra distance.
TTL meters like the PME series compensate automatically, but you may have to apply manual exposure compensation when used with external exposure meters.
The lens focuses more closely with the tube in place, but of course no longer can focus to infinity.
They sell for about $25 used at this link directly to them at eBay. Be sure to read How to Win at eBay so you can pay this little.
Compatibility
Top Introduction Compatibility Chronology & Part Numbers Usage Distance Table
All the newer tubes work with older equipment, as the ability to work with newer focal-plane or electronic cameras.
Older tubes used on newer cameras may lose electronic communication, or not mount to the 2000 & 200 series cameras.
Everything old and new works great with the original 500, 501 and 503 series.
Chronology & Part Numbers
Top Introduction Compatibility Chronology & Part Numbers Usage Distance Table
1957 ~ 1982: Fluted Grips (500 series)
These first series of tubes have fluted grips matching the C lenses. These are what I show at the top.
They originally came in only 21mm and 55mm lengths in 1957, and 10mm was added in 1973.
These work with all traditional Hasselblads, but not with any focal plane models (2000 and 200 series) because they interfere with those cameras' shutter speed ring.
1957 ~ 1982
21mm (TIMDC or 40010) and 55mm (TIMBC or 40029)
1973 ~ 1982
10mm (40363)
1977 ~ 1991: Fine Milled Grips (adds FC & F compatibility)
These tubes have slightly different barrels so that they can clear the shutter-speed rings of the 2000 and 200 series focal-plane shutter cameras.
1977 ~ 1991
16mm (40541)
32mm (40568)
1981 ~ 1991
8mm (40649; too short to work with the focal-plane cameras)
56mm (40657)
1991 ~ 2013: Smooth Barrels (adds TCC & E compatibility)
This series has electronic contacts for use with the TCC cameras and FE and CFE lenses.
They also work on the older cameras and with older lenses.
The model numbers changed in 1994 with the 205 FE, but seem like the same tubes.
1991 ~ 1994
16mm TCC (40543)
32mm TCC (40570)
56mm TCC (40659)
1994 ~ 2013
16mm E (40654)
32mm E (40655)
56mm E (40656)
Usage
Top Introduction Compatibility Chronology & Part Numbers Usage Distance Table
To keep your cameras and lenses in synchronization and prevent jams,
1.) Be sure lens and camera are charged (film advanced).
2.) Mount the tube to the camera first, and then mount the lens to the tube.
2a.) If using more than one tube, attach one tube to the camera first, then stack the next tube on the first tube, and put the lens on last.
3.) To remove, be sure everything is charged (film advanced and shutter cocked).
4.) Pull the lens first, then each tube in sequence working down towards the camera.
If you remove them in the wrong order, you'll probably fire the lens and have to recock it off the camera — otherwise you won't be able to mount it again.
Distance Table
Top Introduction Compatibility Chronology & Part Numbers Usage Distance Table
This tabulates the close-focus distance with lens set to infinity (they will focus closer as lens is focussed closer).
These are simple calculations presuming a thin lens of the indicated focal length; I didn't calculate these for real lenses with their principal points separated.
This is the distance from the subject to the image plane. The distance to the front of the lens will of course be much closer since the front of the lens is ahead of the image plane.
| | | | | | | | |
| --- | --- | --- | --- | --- | --- | --- | --- |
| Lens\Tube | 8mm | 10mm | 16mm | 21mm | 32mm | 55mm | 56mm |
| 30mm | * | * | * | * | * | * | * |
| 40mm | 240mm | 200mm | * | * | * | * | * |
| 50mm | 363mm | 300mm | 206mm | 169mm* | * | * | * |
| 60mm | 510mm | 420mm | 285mm | 224mm | 173mm | * | * |
| 80mm | 880mm | 720mm | 480mm | 385mm | 280mm | 196mm | 194mm |
| 100mm | 1.35m | 1.1m | 725mm | 576mm | 413mm | 282mm | 279mm |
| 120mm | 1.92m | 1.56m | 1.02m | 806mm | 570mm | 382mm | 377mm |
| 135mm** | 2.41m | 1.96m | 1.79m | 1.003m | 705mm | 466mm | 460mm |
| 150mm | 2.963m | 2.400m | 1.556m | 1.221m | 583mm | 559mm | 552mm |
| 180mm | 4.23m | 3.42m | 2.205m | 1.723m | 1.193m | 769mm | 759mm |
| 250mm | 8.063m | 6.500m | 4.156m | 3.226m | 2.203m | 1.386m | 1.366m |
| 350mm | 15.66m | 12.600m | 8.006m | 6.183m | 4.178m | 2.577m | 2.538m |
| 500mm | 31.75m | 25.500m | 16.125m | 12.404m | 8.3125m | 5.04545m | 4.964m |
* doesn't work; focuses so close that it focuses inside the lens!
** the 135mm is a short mount that must be used on a bellows, so these calculations are what happens if you add the tube to a bellows already focussed at infinity.
© Ken Rockwell. All rights reserved. Tous droits réservés. Alle Rechte vorbehalten.
Help Me Help You
I support my growing family through this website, as crazy as it might seem.
The biggest help is when you use any of these links when you get anything. It costs you nothing, and is this site's, and thus my family's, biggest source of support. eBay is always a gamble, but all the other places always have the best prices and service, which is why I've used them since before this website existed. I recommend them all personally.
If you find this page as helpful as a book you might have had to buy or a workshop you may have had to take, feel free to help me continue helping everyone.
If you've gotten your gear through one of my links or helped otherwise, you're family. It's great people like you who allow me to keep adding to this site full-time. Thanks!
If you haven't helped yet, please do, and consider helping me with a gift of $5.00.
As this page is copyrighted and formally registered, it is unlawful to make copies, especially in the form of printouts for personal use. If you wish to make a printout for personal use, you are granted one-time permission only if you PayPal me $5.00 per printout or part thereof. Thank you!
Thanks for reading!
Mr. & Mrs. Ken Rockwell, Ryan and Katie.