Hasselblad X1D
33 x 44mm 50 MP Mirrorless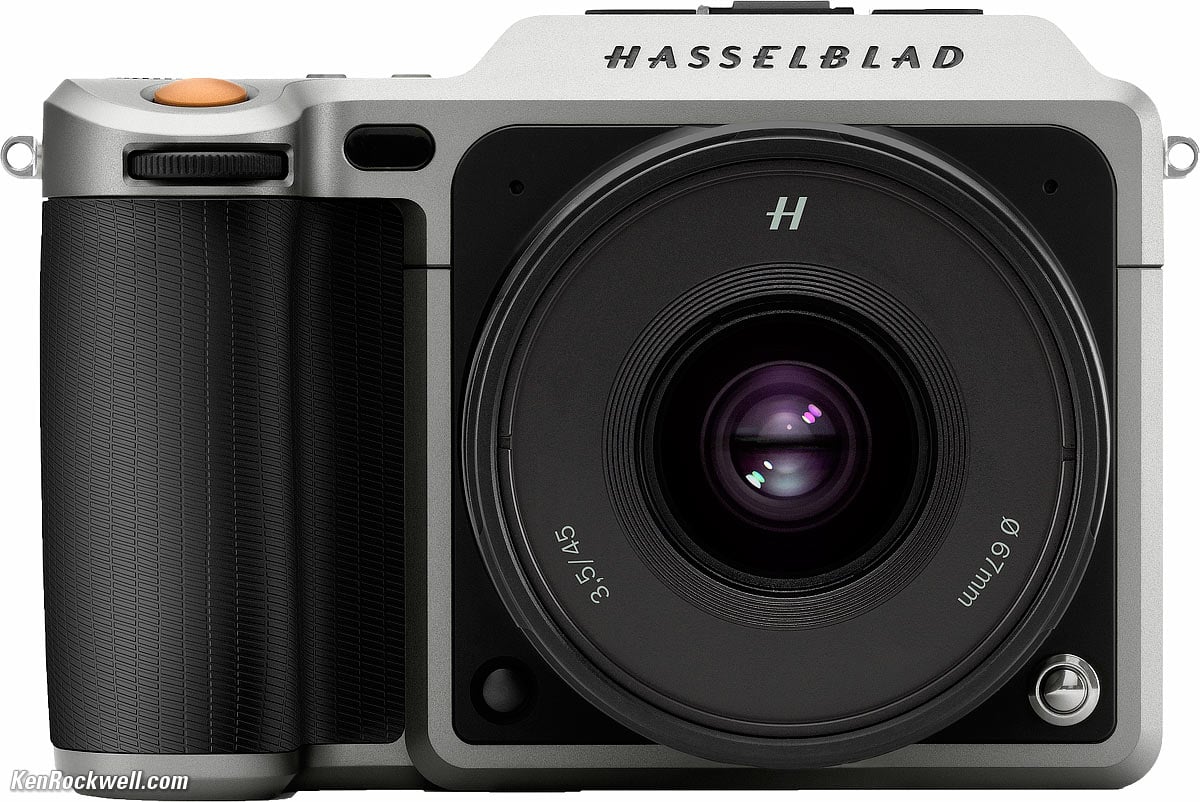 Hasselblad X1D-50C and 45mm f/3.5. bigger.
This ad-free website's biggest source of support is when you use those or any of these links to my personally-approved sources when you get anything, regardless of the country in which you live. xx does not seal its boxes in any way, so never buy at retail or any other source not on my personally approved list since you'll have no way of knowing if you're missing accessories, getting a defective, damaged, returned, store demo or used camera. Buy only from the approved sources I use myself for the best prices, service, return policies and selection. Thanks for helping me help you! Ken.
Photos too big for your computer? Just drag the lower right corner of your browser window to the left and all my ultra-high resolution images will magically squeeze to fit.
The Hasselblad X1D-50C comes from B&H and from Adorama for $8,995.
June 2016 Hasselblad Mamiya Contax LEICA Nikon Canon Zeiss All Reviews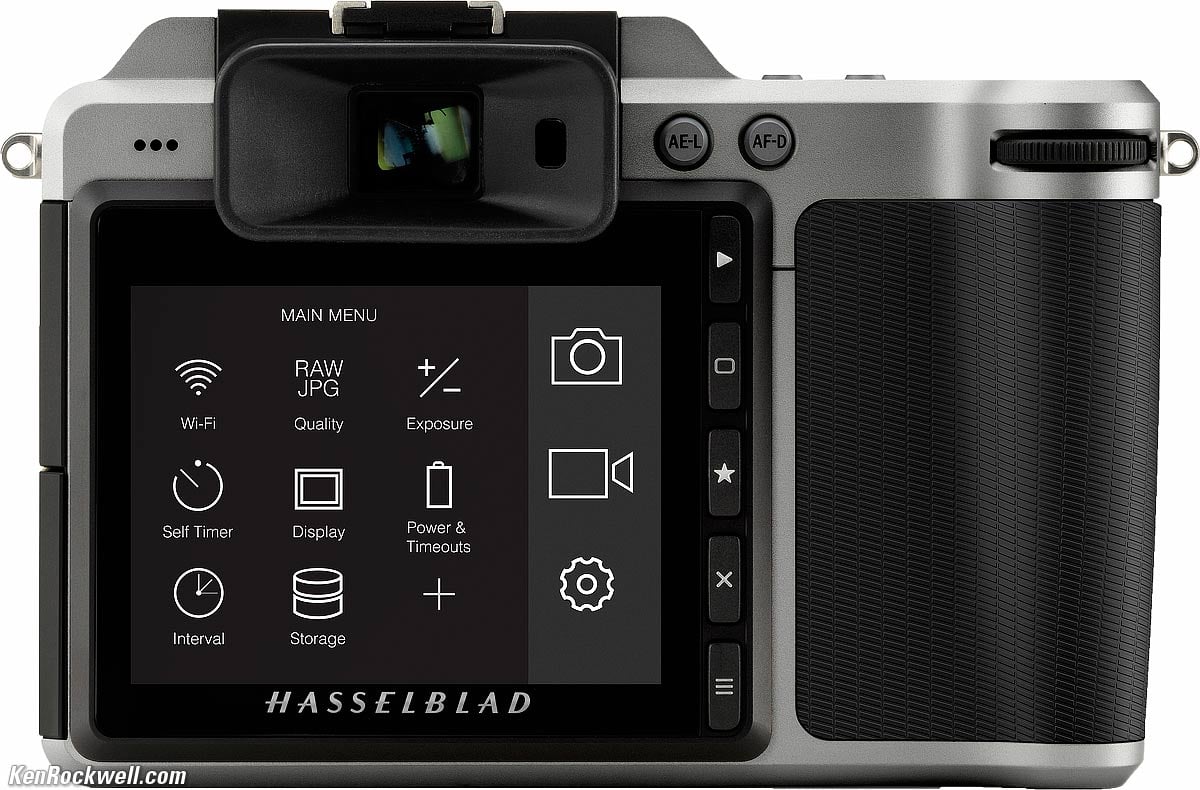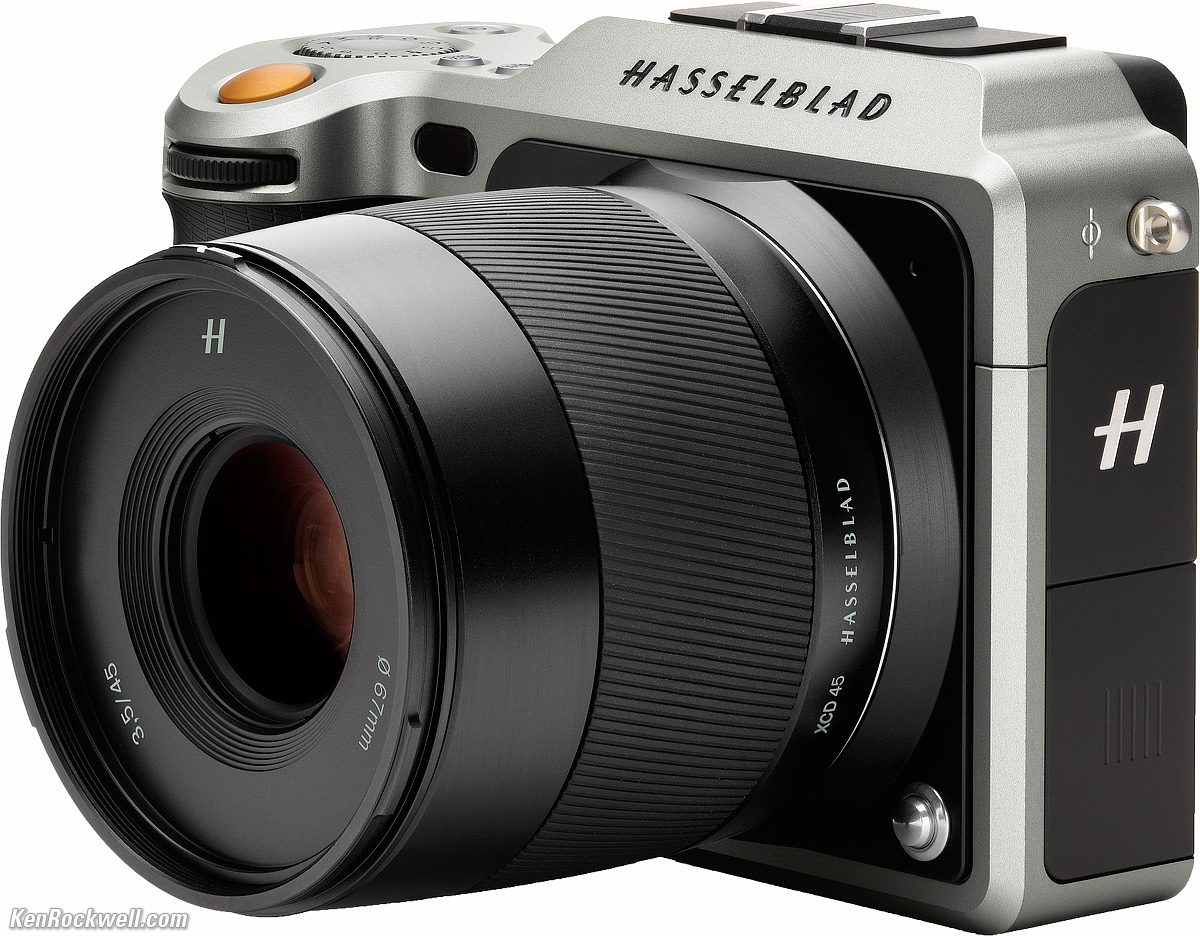 Hasselblad X1D-50C and 45mm f/3.5. bigger.
This is telling: Hasselblad just announced the system I designed back in 2009 for Nikon. I'm still telling the world that Nikon and/or Canon need to introduce new "halo" medium format mirrorless systems, with a complete set of all-new larger-format lenses, to let them leapfrog Sony who has been leapfrogging Nikon and Canon.
This new Hasselblad is smaller than it seems to we Hasselblad users; it looks as short as a bare SWC body, but we always have to attach a back to the SWC. In this case, what you see above is the complete camera!
Lo and behold, Hasselblad grabbed the gold ring and this new X1D may indeed be the future of serious photography. Sony hasn't gotten their color and highlight rendition (image quality) as good as Nikon and Canon, and Nikon and Canon have their heads in the sand about mirrorless, so Bingo!, Hasselblad may have just hit this right on the head. The new Hasselblad X1D-50C is priced right, made in Sweden, looks handsome, and packs a big sensor in a small package.
Lenses
The X1D uses new XCD lenses.
There's also a promised adapter with a built-in leaf shutter for HC and HCD lenses.
There are only two XCD lenses today, and these are the only two most people need:
XCD 45mm f/3.5, also from Adorama: $2,295.
When the X1D is set to 33x33mm square format, this lens sees the same as an 80mm lens sees on a 6x6cm Hasselblad.
XCD 90mm f/3.5, also from Adorama: $2,695.
When the X1D is set to 33x33mm square format, this lens sees the same as a 150mm lens sees on a 6x6cm Hasselblad.
And of course, there's also a $350 Hasselblad Camera bag.
Specifications
33 x 44mm 50MP sensor, can be set shoot 33mm square.
ISO 100 ~ 25,600.
JPG and Hasselblad 3FR raw file format.
2.3 FPS.
1/2,000 to 1 hour leaf shutter, with flash sync at all speeds.
Leaf ("central") shutters rated 1,000,000 exposures.
1080/25p h.264 video.
2.36 MP electronic finder.
3" 920,000 dot LCD touchscreen.
Two SD card slots.
WiFi & GPS.
Mini HDMI, 3.5mm audio input and output, and USB 3.0 Type C.
Why I love it
Flash Sync Speed
The 1/2,000 sync speed of the X1D is hugely important for pro portrait and people shooting. It will let us light outdoor scenes with one-tenth the flash power we need today with 1/200 DSLR sync, and we can shoot at larger apertures — something no other mirrorless or DSLR system can do today. The best we have today is Hasselblad's original C system, with 1/500 to 1/1,000 shutters.
Technical Image Quality
While I doubt that the X1D has any significantly better or worse technical performance than the Canon 5DSR (the sensor sizes aren't that much different and I suspect Canon has far more experience and resources in digital to let them get more performance out of their sensor than Hasselblad can get out of theirs), the real difference between them is that the Hasselblad has the correct 4:3 aspect ratio, much faster sync and smaller size and weight — while we have far more lenses available for the Canon System
Overall
Only Canon and Hasselblad make systems with at least 50 MP. Nikon and Sony and the rest aren't there yet.
In the USA, the X1D's price isn't that much more than the superb Canon 5DSR. The real issue about this Hasselblad for serious use is that Canon makes a complete professional system with numerous superb lenses and flash that are plentiful and inexpensive. There are very few lenses available for this Hasselblad — and they are much more expensive than Canon or Nikon.
The real key will be how well Hasselblad has pulled off the ergonomics. If it's a balky, obtuse interface needing menus to do everything, all we have another rich man's toy. If it's well thought out and fast, intuitive and easy to shoot, we have a winner — and possibly the future of serious photography. Sensor size alone has little to do with anything when you know what you're doing, and even if it did, 33 x 44 isn't much different than 24 x 36.
Much more to come.
© Ken Rockwell. All rights reserved. Tous droits réservés. Alle Rechte vorbehalten.
Help Me Help You
I support my growing family through this website, as crazy as it might seem.
The biggest help is when you use any of these links when you get anything. It costs you nothing, and is this site's, and thus my family's, biggest source of support. eBay is always a gamble (see How to Win at eBay), but all the other places always have the best prices and service, which is why I've used them since before this website existed. I recommend them all personally.
If you find this page as helpful as a book you might have had to buy or a workshop you may have had to take, feel free to help me continue helping everyone.
If you've gotten your gear through one of my links or helped otherwise, you're family. It's great people like you who allow me to keep adding to this site full-time. Thanks!
If you haven't helped yet, please do, and consider helping me with a gift of $5.00.
As this page is copyrighted and formally registered, it is unlawful to make copies, especially in the form of printouts for personal use. If you wish to make a printout for personal use, you are granted one-time permission only if you PayPal me $5.00 per printout or part thereof. Thank you!
Thanks for reading!
Mr. & Mrs. Ken Rockwell, Ryan and Katie.