See also: LEICA 50mm SUMMICRON basic information
1979-today: LEICA SUMMICRON-M 50mm f/2
1994-today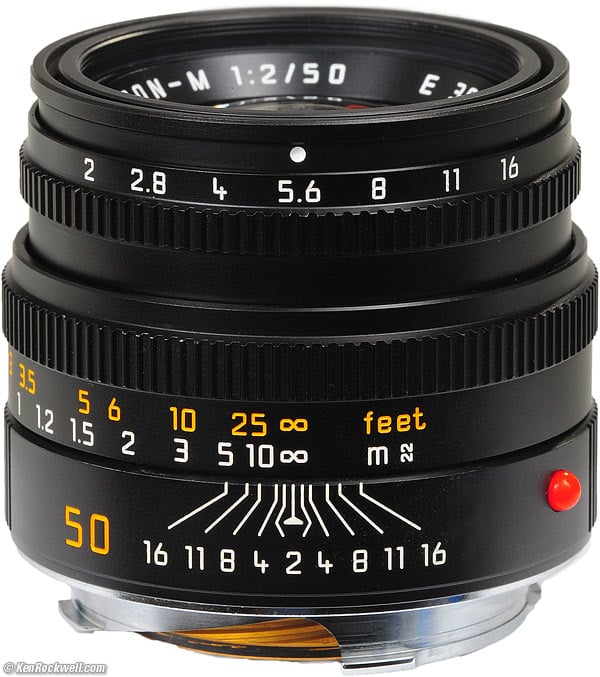 LEICA SUMMICRON-M 50mm f/2. enlarge.
This is the current model SUMMICRON, made of anodized aluminum. It also comes in chrome-plated brass.
It adds a built-in telescoping hood for the first time in a 50mm SUMMICRON.
1999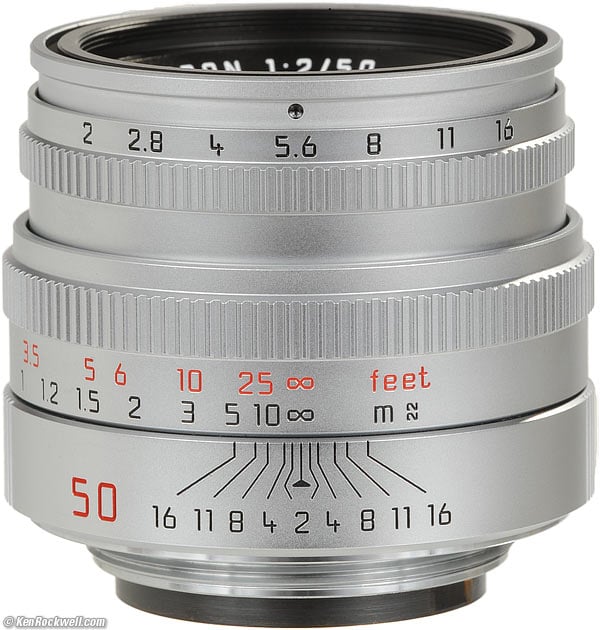 LEICA SUMMICRON-M 50mm f/2, M39 Screw Mount. enlarge.
In 1999, a special silber chrom screw-mount version was sold only in Japan. It is the highest performance 50mm lens ever made for Leica's screw-mount cameras.
1979-1994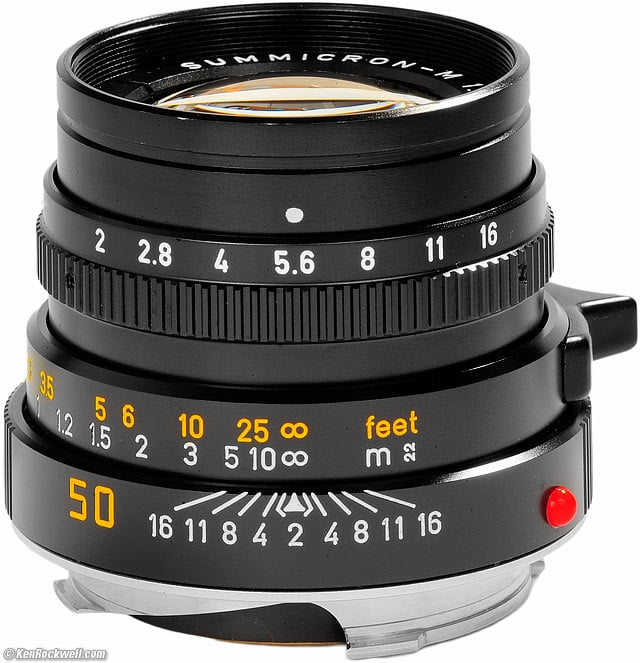 The -M was added to SUMMICRON to differentiate it from Leica's discontinued "R" SLR system.
This lens is the first to employ today's optical design.
It has a focus tab instead of a focus ring.
Early versions are made in Canada, and later ones from about 1991 are Made in Germany.
1969-1979: LEICA SUMMICRON 50mm f/2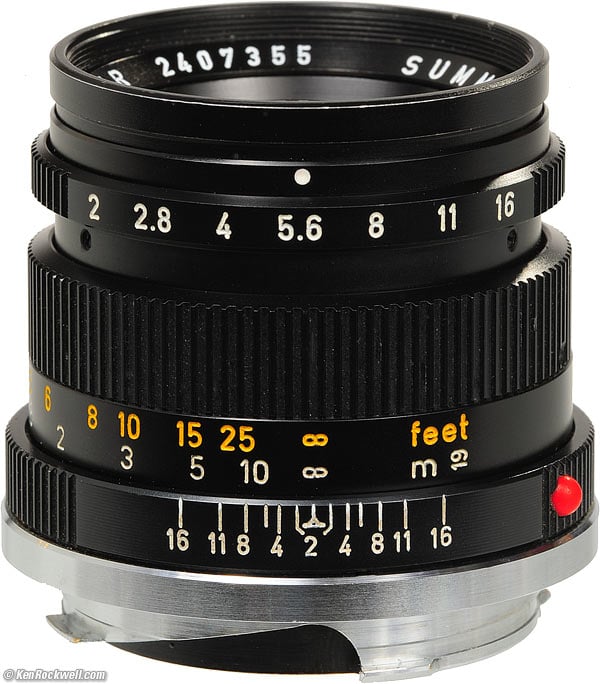 LEICA SUMMICRON 50mm f/2. enlarge.
This lens uses a simplified 6-element design.
It has similar overall performance to the previous version, with lighter weight due to its mostly aluminum body.
It has higher local contrast in exchange for lower overall resolution.
It was made in Germany, and later in Canada. It is a performance bargain used, selling for only about $400.
1956-1968: LEICA SUMMICRON 50mm f/2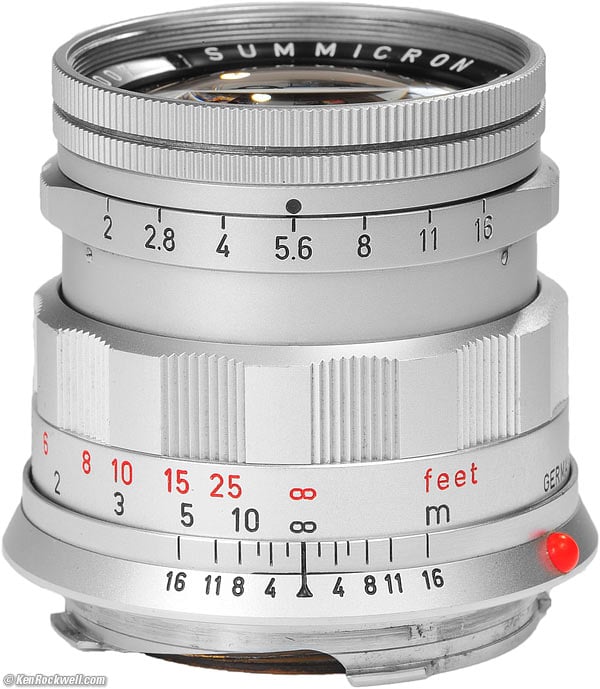 LEICA SUMMICRON 50mm f/2, Rigid. enlarge.
This SUMMICRON has a slightly revised optical design from its collapsible predecessor, still with 7 elements but with superior performance.
This non-collapsible, or Rigid, version came in both screw and bayonet mounts.
It is made from aluminum.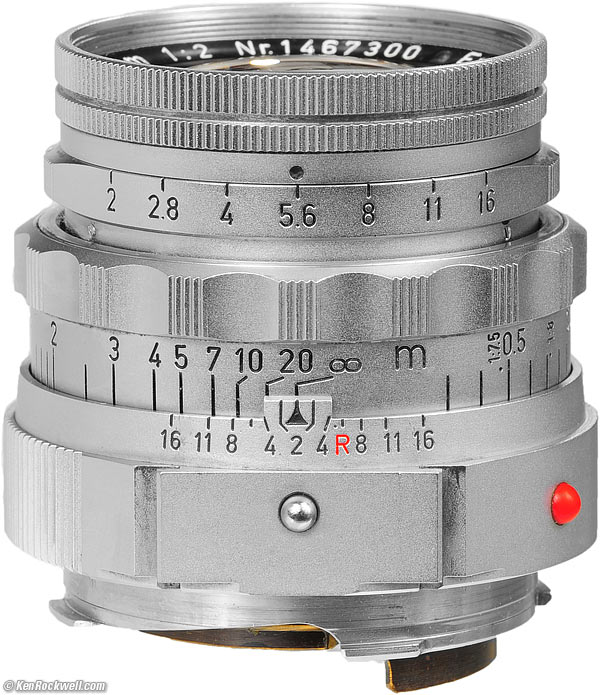 LEICA SUMMICRON 50mm f/2, with near-focusing range (shown without near-focusing attachment). enlarge.
The bayonet mount version also came in this special version with an additional near-focusing range, which required an included auxiliary viewfinder attachment.
This version with the near-focusing range is made of solid brass.
The rigid bayonet version, with or without the near-focusing range, was wildly popular.
1953-1960: Collapsible LEICA SUMMICRON 5cm f/2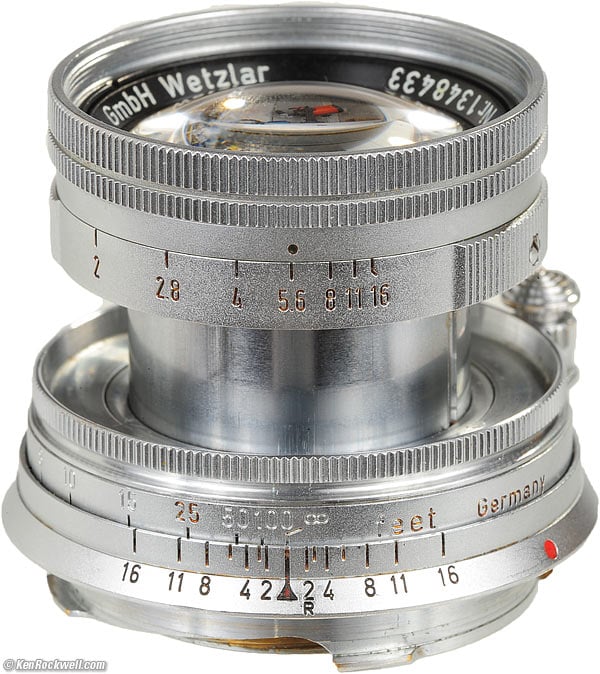 LEICA SUMMICRON 5cm f/2, Collapsible. enlarge.
This 7-element lens was first introduced for screw-mount cameras like the stunning LEICA IIIf, and also available in the new bayonet mount for the LEICA M3 starting in 1954.
This, as all SUMMICRONS, was very popular.
The only caution about shooting or buying this great lens today is that its front element is made of glass as soft as chalk, and most have been damaged by careless cleaning over the years. It is very unusual to find one that passes the flashlight test.
See also: LEICA 50mm SUMMICRON basic information
Help me help you top
I support my growing family through this website, as crazy as it might seem.
The biggest help is when you use any of these links when you get anything. It costs you nothing, and is this site's, and thus my family's, biggest source of support. eBay is always a gamble, but all the other places always have the best prices and service, which is why I've used them since before this website existed. I recommend them all personally.
If you find this page as helpful as a book you might have had to buy or a workshop you may have had to take, feel free to help me continue helping everyone.
If you've gotten your gear through one of my links or helped otherwise, you're family. It's great people like you who allow me to keep adding to this site full-time. Thanks!
If you haven't helped yet, please do, and consider helping me with a gift of $5.00.
As this page is copyrighted and formally registered, it is unlawful to make copies, especially in the form of printouts for personal use. If you wish to make a printout for personal use, you are granted one-time permission only if you PayPal me $5.00 per printout or part thereof. Thank you!
Thanks for reading!
Mr. & Mrs. Ken Rockwell, Ryan and Katie.
Home Donate New Search Gallery How-To Books Links Workshops About Contact