Home Donate New Search Gallery How-To Books Links Workshops About Contact
LEICA M9
Firmware 1.138
© 2010 KenRockwell.com. All rights reserved.
Intro Specs Performance Usage Compared Recommendations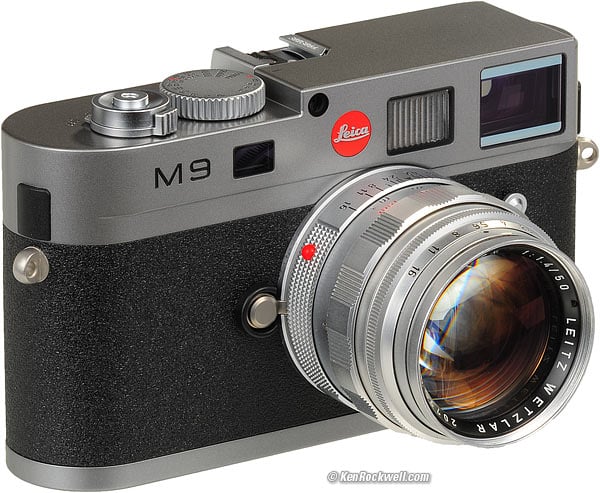 LEICA M9 (20.9oz/593g with battery and card, but no lens, cap or strap) with a LEICA SUMMILUX 50mm f/1.4 from 1964. enlarge.
August 2010 LEICA M9 Review LEICA Reviews LEICA Lens Reviews
Introduction
This is the first firmware update for the LEICA M9 as of August 2010.
When introduced in September, 2009, firmware 1.002 was current until updated to version 1.116 in March 2010, which was in turn replaced by today's 1.138.
Leica fixed the fact that in 1.116 that power turned off automatically after your preset preference, even if you were piddling in menus. With 1.138, if you must waste your time fooling with menus or playback, the LEICA M9 will not turn itself off while you are fiddling.
Leica tells us that it now works with a broader range of cards, and that SanDisk's Extreme III are still Leica's top recommendation.
Leica also claims better AWB in artificial light.
American time display is claimed to be improved, but is still incorrect. As I write this at 2:37 PM, it is displayed as 02:37 PM. Whoops!
Saving user profiles is improved, or so Leica claims.
It's the usual copy the .UPD file to the SD card and then put it in the M9, the only catch is to wait at least 3 seconds after turning on the M9.
Once downloaded, all I did was format the card in my M9, pop the card into my Mac, and drag the .UPD file to the card. (The Mac automatically turned the ZIP into the UPD file.)
I popped the card in the M9, turned it on, waited the three seconds as cautioned in the instructions, and only then, selected and clicked yes, and it installed all by itself.
I turned the M9 off and then back on as instructed by a message on my LCD, and all is fine. If you know Germans, you know to follow the instructions and not to waver.
Performance
Now that I'm running v 1.138, here's how it works:
It seems as if my camera has reset itself. All my menu and profile settings have reverted to defaults. My M9 even reset its file-number counter, which I was using to keep a running total of shots made.
To get my file-numbers back into my sequence, I simply put the SD card into my computer, and renamed the last file accordingly. My M9 now number files from that file number.
The manual lens codings remain the same as v1.002; there are no new older lenses added.
As usual, this is a welcome update.
LEICA M9 Review more LEICA Reviews LEICA Lens Reviews
Help me help you top
I support my growing family through this website, as crazy as it might seem.
If you find this as helpful as a book you might have had to buy or a workshop you may have had to take, feel free to help me continue helping everyone.
If you've gotten your gear through one of my links or helped otherwise, you're family. It's great people like you who allow me to keep adding to this site full-time. Thanks!
If you haven't helped yet, please do, and consider helping me with a gift of $5.00.
The biggest help is to use these links to Adorama, Amazon, Calumet, Ritz and J&R when you get your goodies. It costs you nothing and is a huge help. These places have the best prices and service, which is why I've used them since before this website existed. I recommend them all personally.
Thanks for reading!
Ken
Home Donate New Search Gallery How-To Books Links Workshops About Contact