Home Donate New Search Gallery How-To Books Links Workshops About Contact
LEICA M9 Titanium
© 2010 KenRockwell.com. All rights reserved.
Intro Specs Performance Compared Usage Recommendations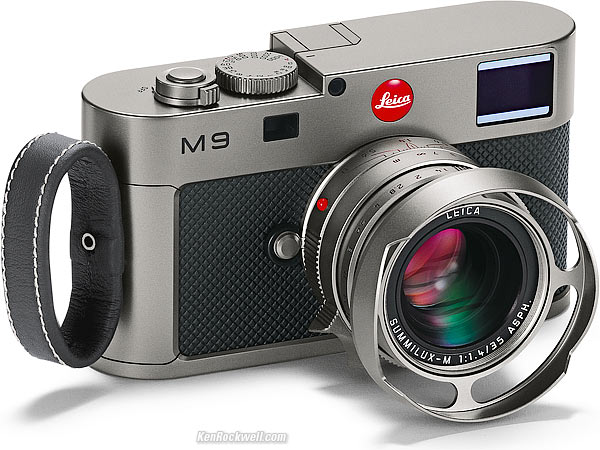 LEICA M9 Titanium mit LEICA SUMMILUX-M 35mm f/1.4. grander.
October 2010 LEICA Reviews LEICA Lenses Nikon Canon
The LEICA M9 Titanium is a traditional LEICA M9, but with its external metal parts rendered in solid titanium.
Even crazier is that its included 35mm f/1.4 SUMMILUX-M lens is also made not of aluminum, not of brass, and not of titanium-painted aluminum, but of solid titanium.
Leica got a little lazy trying to engrave all the numbers in the solid titanium barrel. The depth-of-field scale stops at f/11, even though the lens goes to f/16, and the focus scale is only engraved in meters, not also in feet.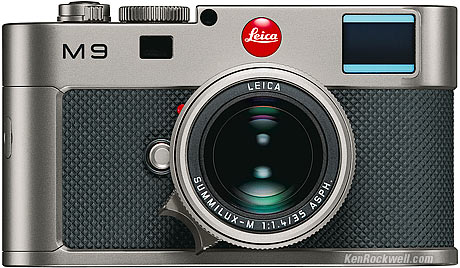 LEICA M9 Titanium. grander.
Not only is the accessory shoe covered with what may or may not be a removable cover, the frameline illuminating window has been removed as part of Leica's relentless pursuit of design perfection. This was the window through which light used to enter to illuminate the frame lines.
I haven't tried it personally, but I've been told that the frame lines are now illuminated with internal LEDs, and better, that only one frame at a time lights in red,. The M9 Titanium can light just one frame at a time, instead of two at a time as on most other LEICAs, because focal lengths are read electronically instead of mechanically.
More, mostly from Leica's press release:


LEICA M9 'Titanium' designed by Walter de'Silva

In collaboration with the chief designer of the Volkswagen Group, Leica Camera AG presents a unique special edition.

Solms, Germany (September 21, 2010) - Leica Camera AG presents a new camera edition: The LEICA M9 'Titanium,' debuting at Photokina on September 21. This exclusive special edition is the result of a collaboration with Walter de'Silva, the prominent automobile designer.
Responsible for groundbreaking design concepts in the latest models from the Volkswagen Group (which includes various marques like Porsche, SEAT, Skoda, , Bentley, Lamborghini, Bugatti and Audi), the chief designer and his Audi Design Team reinterpreted the design of the LEICA M9 just as he envisaged it. The outcome is a unique camera with a new rendering of the characteristic features of Leica rangefinder cameras, which lends precision engineering, unique style and solid titanium to extraordinary formal design.

The LEICA M9 'Titanium' is an especially desirable object for both Leica connoisseurs and aficionados of outstanding design. The LEICA M9 'Titanium' is constructed exclusively with premium quality materials. All visible metal elements of the camera body are made from solid titanium, a particularly light but extremely strong and durable metal that can only be manufactured with special tools. This special edition is strictly limited to only 500 cameras worldwide and is offered as a set together with a LEICA SUMMILUX-M 35mm f/1.4 ASPH. lens,
whose exterior metal components are also manufactured from solid titanium.

Walter de'Silva has given the Leica M camera an ergonomic, precise, logical and stringent look and feel without changing the intrinsic character of the rangefinder camera. Thus, the compact construction and technical features of the LEICA M9 'Titanium' retain the distinctive style of a true Leica M camera.

Walter de'Silva addressed not only the design of the camera, but also focused on its handling and technical features. These features include the completely new LED illumination of the bright-line frames in the viewfinder, thus removing the necessity for the standard illuminating window and making the frontal aspect of the camera more balanced. Entirely new in the history of camera technology is the camera's carrying concept. In place of the traditional strap lugs of standard cameras, Walter de'Silva and Leica engineers developed an innovative camera carrying concept that is reduced to only one single mounting point on the camera body. The metal finger loop covered with fine Nappa leather ensures a secure, steady and ergonomic grip when shooting or carrying the camera with only one hand. Furthermore, the
new specially designed, stylish shoulder holster holds and safely protects the camera and lens in transport and keeps it ready to shoot at a moment's notice.

The camera's trim, which uses leather typically reserved for the interiors of Audi's premium automobiles, fits perfectly with the body's titanium surface and provides outstanding grip.
The grip characteristics are further enhanced by a specially designed and embossed diamond structure. In addition, the exposed surfaces are treated with a hard coating applied by a specialized company in Switzerland. Scratch-resistant, sapphire-crystal glass is employed as a protective cover for the camera monitor and further enhances the exclusive and rugged character of the camera. The Leica logo has been restyled and is elaborately hand-engraved in pure resin, inlayed with white enamel and subsequently sealed with a clear varnish and polished.

The LEICA SUMMILUX-M 35mm f/1.4 ASPH. lens of this special edition features a new, focused design concept in which the essential elements harmonize perfectly with the style of the camera. Its round, screw-mount lens hood is constructed with four slits around its circumference to prevent obstruction of the view through the finder.

The LEICA M9 'Titanium' special-edition set includes the camera body, Summilux-M 35mm f/1.4 ASPH. lens, distinctive shoulder holster, carrying strap and finger loops in two different sizes that are also in the same Audi premium leather as used on the camera body. Also part of the set is a book devoted to the design process leading to the creation of this high quality, special titanium edition, which also includes an interview with designer Walter de'Silva. The unique set is presented in an elaborately handcrafted black casket with recesses for the camera and lens lined with Alcantara microsuede in Leica red.

The LEICA M9 'Titanium' will be available starting November 2010.
More Information
Help me help you top
I support my growing family through this website, as crazy as it might seem.
The biggest help is when you use any of these links to Adorama, Amazon, B&H, eBay, Ritz, Calumet and J&R and when you get anything. It costs you nothing, and is this site's, and thus my family's, biggest source of support. eBay is always a gamble, but all the other places always have the best prices and service, which is why I've used them since before this website existed. I recommend them all personally.
If you find this page as helpful as a book you might have had to buy or a workshop you may have had to take, feel free to help me continue helping everyone.
If you've gotten your gear through one of my links or helped otherwise, you're family. It's great people like you who allow me to keep adding to this site full-time. Thanks!
If you haven't helped yet, please do, and consider helping me with a gift of $5.00.
As this page is copyrighted and formally registered, it is unlawful to make copies, especially in the form of printouts for personal use. If you wish to make a printout for personal use, you are granted one-time permission only if you PayPal me $5.00 per printout or part thereof. Thank you!
Thanks for reading!
Mr. & Mrs. Ken Rockwell, Ryan and Katie.
Home Donate New Search Gallery How-To Books Links Workshops About Contact