My broker, Joan Reynolds, (949) 707-4440 is a professional with decades of experience. She helped up with this home, which closed just days after it was listed, at the right price!
Call Joan for anything to do with Southern California real estate at (949) 707-4440. She did a fantastic job! She works like crazy. I was just about to set up a website for her as a thank-you, but when I called to ask she was busy with another couple closing on a house they were buying. Joan is fantastic. I highly recommend her.
Kitchen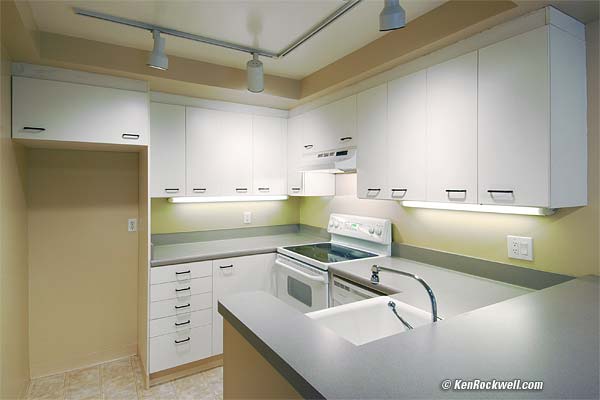 Loads of relaxed, empty space, a rare luxury in La Jolla.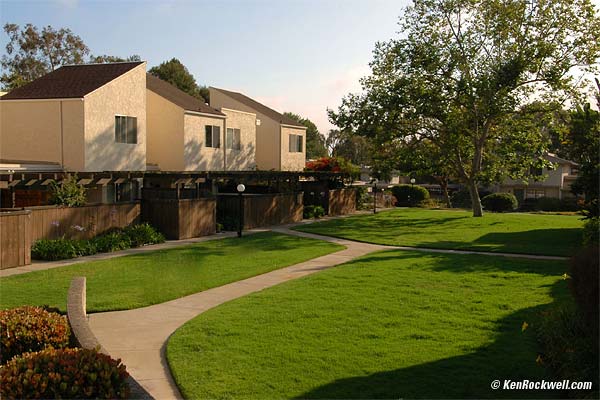 I now present a small taste de la grande vie.
La Jolla Mesa Estates History
First envisioned in the late 1960s by La Jolla's elite, La Jolla Mesa Estates was conceived as a collection of fine, small homes somewhat further inland to be used temporarily when the "June gloom" left La Jolla's older waterfront and Mount Soledad homes shrouded in fog in the months of May, June and July. With its much more cosmopolitan location just 10,000 feet away from the seashore the weather is much sunnier at La Jolla Mesa Estates, while retaining the same mild temperatures year round. At La Jolla Mesa Estates every day is like the first day of spring!
Construction started in 1973 and continued for several years. Each unit is different and reflects the individual tastes and personalities of each owner.
In the 1970s La Jolla Mesa Estates was on a vast undeveloped mesa. Today La Jolla Mesa Estates is dead smack in the heart of La Jolla's newest downtown, within walking distance of everything that matters. For those who travel by motorcar La Jolla Mesa Estates is just 90 seconds away from either the 5 or 805 freeways, and minutes away from the 52, 163, 8 and others, all while being far enough away not to be troubled by traffic, noise or congestion.
Facts and Figures about La Jolla Mesa Estates
Exclusive Torrey Pines (San Diego) coastal zip code 92121 lies between the zip codes of old La Jolla 92037 and Del Mar 92014. See the links for the demographics: 92121 has a higher median household income, one tenth the population and more land than the old La Jolla 92037. 92121 is not to be confused with the condo-glutted, lower income, crowded 92122 "UTC" zip.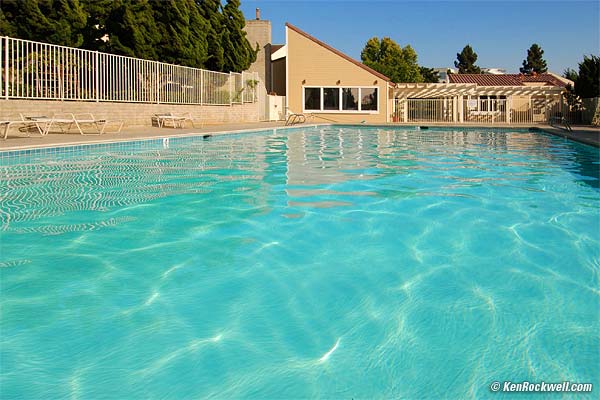 Heated Pool. Better than Fiji, and a whole lot closer!
Heated pool, spa, and separate recreational clubhouse with separate kitchen, baths and pool table. Just like Club Med, every day!
Very low density area, only 14 dwelling units/acre. Less desirable developments like the south-of-La-Jolla-Village-Drive Renaissance can pack in neighbors at 45 dwelling units per acre. 136 privately owned homes on about 9 acres. Lots of green space.
Walk to UCSD, UTC shopping and walk to La Jolla Farms beach. The best restaurants in all of San Diego and La Jolla are a block or two away: Donavan's, Tutto Mare, Roy's, PF Chang's, Cozymel's, Harry's Bar, etc. Pamplemousse Grille is just a few miles north.
La Jolla Mesa Estates anchors the northernmost tip of Platinum Triangle area of the Golden Triangle north of La Jolla Village Drive. It's 15 minutes from Symphony Hall, downtown San Diego and 15 minutes from Encinitas and North County. People stuck in homes on top of the old La Jolla Mesa need 30 minutes just to get to the freeway.
The location and convenience are perfect; the traffic is going in the opposite direction morning and night to anywhere in La Jolla, San Diego and southern California area. In fact, the owner of the pictured unit was a high-powered Hollywood player who found the drive and La Jolla location so pleasurable he left his second Beverly Hills home and just stayed here for the work week.
Facts and Figures about the Featured Suite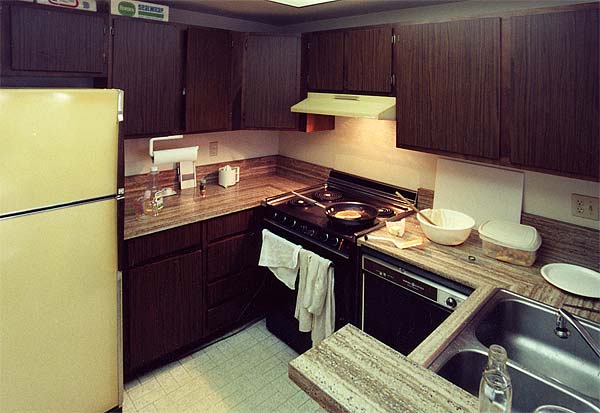 Original Solid Travertine-Slab Kitchen, 1973 - 1988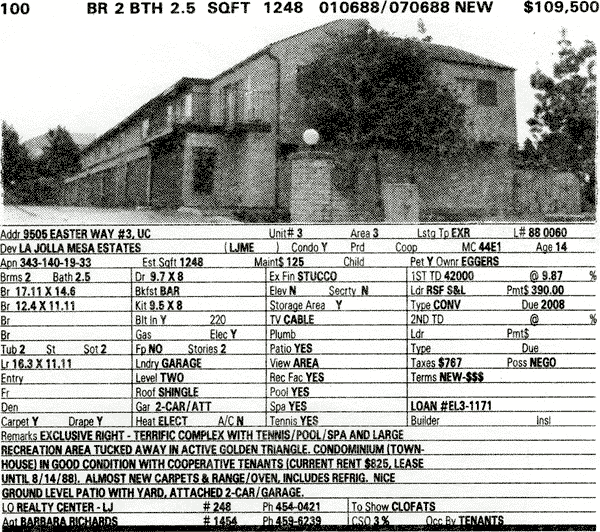 Sample 1988 MLS listing - printed in a 3-ring binder in those days!
1988 - 2004 (click to enlarge)
1,148 Square Feet.
2 bedrooms, one of which is a huge 18 x 14+ feet. Other similar units in the neighborhood have this huge bedroom divided into two complete, smaller bedrooms.
Only two levels. No need to walk up narrow stairs with groceries as in the far denser commercial housing developments south of La Jolla Village Drive like Renaissance.
2 - 1/2 baths: 2 master baths upstairs, one half bath downstairs. Seven coats of hand-rubbed varnish on Appalachian Red Oak trim in the baths, Italian tile and special order imported grout as well.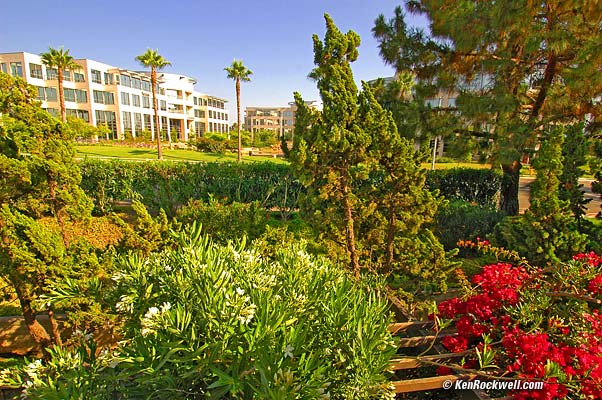 Bedroom view of bougainvillea, man-made lake, palms and distant waterfalls.
Private gated yard.
View of palm-tree-lined street (reminiscent of Beverly Hills' Rodeo Drive) and man-made lake. View to old Mount Soledad and Torrey Pines mesa, beyond which lies the sea.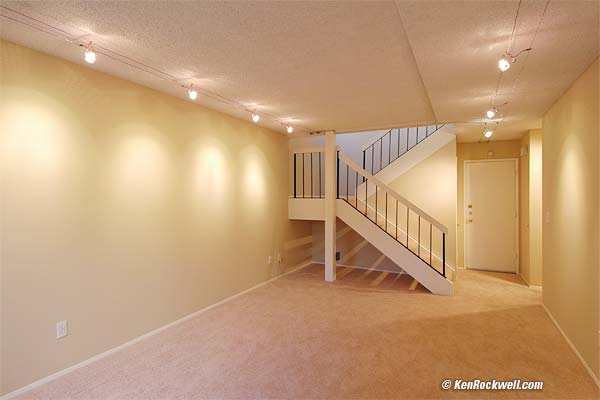 Gallery with custom lighting to highlight your fine art collection.
Automatic lighting in baths, halls, kitchen and garage.
Artist-designed lighting in the gallery for showcasing your collection.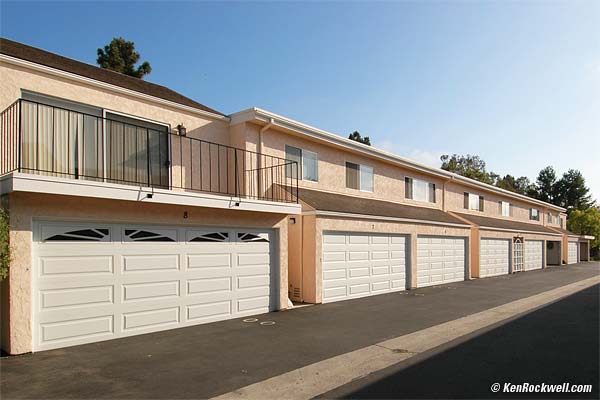 Extra-wide driveway for easy access to the oversized luxury garage.
Oversized 2 car attached garage on the same level as the kitchen, dining and living areas. There is room for ample storage to the side of the garage and plenty of room for two of the largest luxury automobiles and additional laundry and storage areas. Automatic opener. Insulated doors for temperature control for your Ferrari, Bentley or whatever.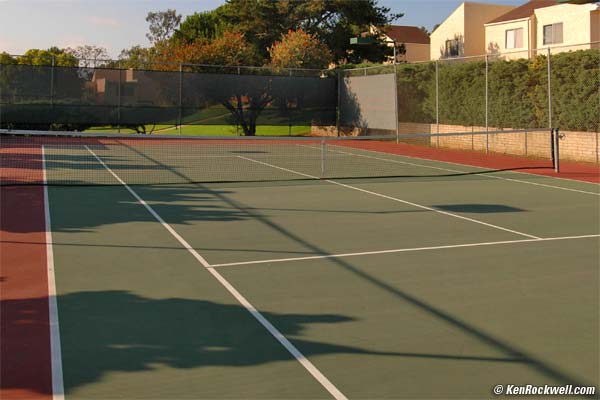 Lighted Tennis Court
Home Donate New Search Gallery How-To Books Links Workshops About Contact