Home Donate New Search Gallery Reviews How-To Books Links Workshops About Contact
Mercedes GL550
World's Best SUV. Made in USA.
Intro Specs Performance Compared Usage Recommendations More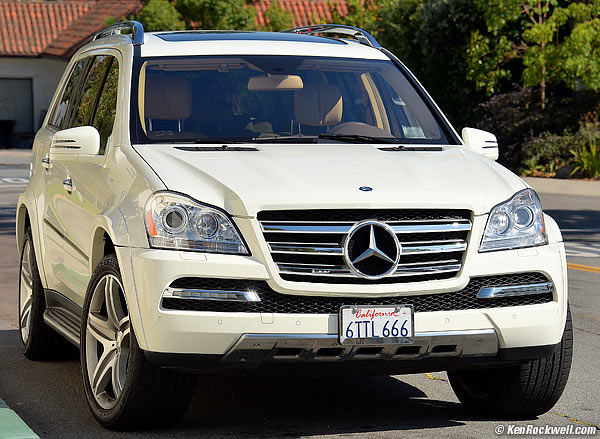 2011 Mercedes GL550 (holds 6 adults comfortably, 7 less so, 336 CID/5.5 litre V8, 382 hp @ 6,000 RPM, 391 ft-lb @ 2,800 RPM, 39.7 foot turning circle, 26.4 gal./100 litre tank, about $100,000 new). enlarge. I'd get it at this link directly to them at eBay (see How to Win at eBay).
This free website's biggest source of support is when you use those or any of these links to approved sources when you get anything, regardless of the country in which you live — but I receive nothing for my efforts if you take the chance of buying elsewhere. I get no government hand-outs and run no pledge drives to support my research, so please always use any of these links to approved sources for the best prices, service and selection whenever you get anything. Thanks for helping me help you! Ken.
August 2015 Mercedes reviews Other car reviews All reviews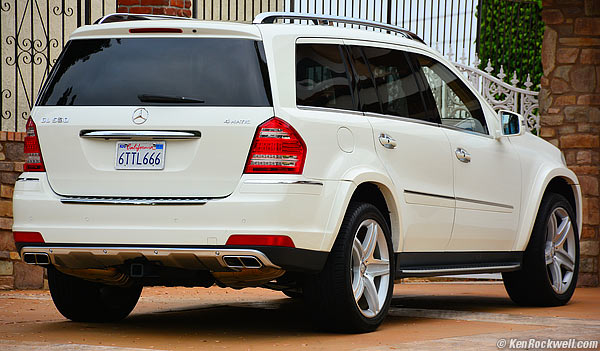 Mercedes GL550. enlarge.

Mercedes GL550: plenty of room for everyone. enlarge.
Take your golf buddies, your family or your entire board of directors with you; there is no safer, faster or more comfortable way to travel — especially as world conditions continue to destabilize.
Introduction top
Intro Specs Performance Compared Usage Recommendations More
The Mercedes GL550 is the world's best SUV because it's a huge SUV that's also fast and nimble. It handles, parks and maneuvers just like a much smaller car, with a tight turning radius and parking aids that let the active driver muscle this beast around like it was nothing.
With a tight 39.7 foot turning circle, this beast turns much tighter than a Dodge Grand Caravan or Mercedes S-klasse! It's more nimble than most two-row SUVs, and the GL550 has a 3/4 ton cargo capacity and is rated to tow 7,500 pounds.
The third-row seats actually fit two full-sized adults if you're careful.
Nimble means it's easy to maneuver. While fluff brands like BMW and Porsche have parking sensors that start beeping as soon as you get within several feet of something and never shut up, the Mercedes sensors don't start going off until you're actually close enough that you need them.
If you're good, you can get the GL550 in your garage and never hear it beep unless you want to use the sensors to get you to within a few inches of the end of your garage. When you have gotten close enough and the beeps go steady to indicate that you're super-close, they shut up after a moment so they don't drive you insane. Lesser brands just keep on beeping for no good reason, assuming that their drivers are stupid.
In the GL550, I can use the real-time parking SONAR to slip out of a parking line-up at school and be on my way with only inches to spare, while people stuck in BMWs are stuck until traffic starts to move again because their parking sensors can't tell the difference between inches and feet.
It's also brilliantly thought out for active duty for people who need to haul either a lot of people in safety and comfort, or haul a lot of art and antiques back and forth between home and gallery, or any family with kids. In fact, the GL550 is the most popular mommy-van in better neighborhoods for exactly this reason. The GL550 makes it easy to move all the seats up and down to reconfigure it for anything. Everything is brilliant: even the Xenon headlights steer themselves as you turn.
If mom needs to bring home a new sofa or 500 pounds of manure for the garden, no problem, she can pop down the two rear rows of seats in no time all by herself. In fact, the rear two seats have individual automatic motorized controls: one button push and either seat flips up or down.
Of course each seat folds flat against the deck for a flat carpeted carry surface. All you do is lift the middle seat pads up and pop each middle seat down, then push both buttons for the rear seats. Done.
Good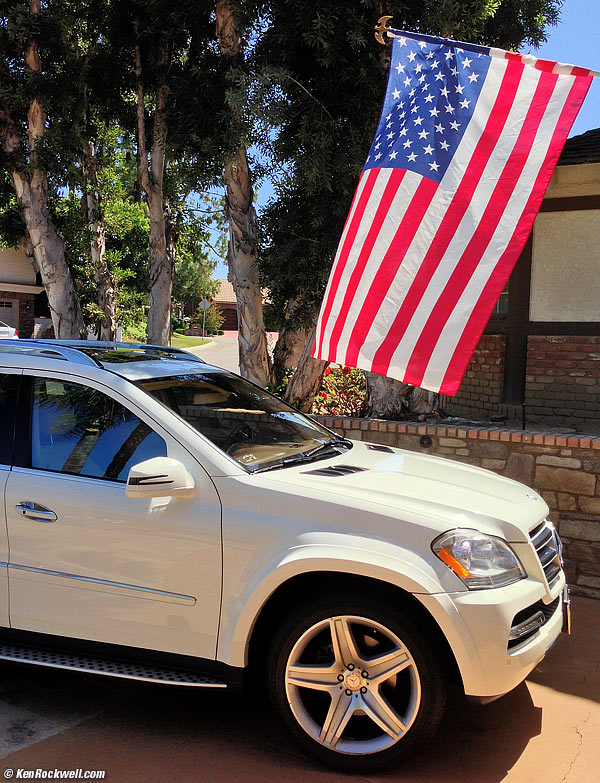 Mercedes GL550: Best American-Made SUV. enlarge.
While designed in Germany, the GL550 is made in Tuscaloosa, Alabama, USA. The GL550 is made by Americans who build the best cars they can; they aren't union workers just watching the clock until retirement or the next strike. We drive our GL550 with American pride, something drivers of Porsches and Dodges, an Italian company making cars in Canada, can't. The South is doing it again, they make the world's best SUV just south of Birmingham.
Sensible, practical, comfortable, nimble and very well designed and built large SUV.
Loads of power and tight handling with comfy ride.
Rated to ford 20"/50cm of water for river crossings — or for getting your family to safety during an emergency.
GPS-controlled master clock keeps dash clock set to within a fraction of a second, automatically.
Special infra-red reflective glass keeps the interior cooler when parked and lets the GL550 cool faster. The GL550 is comfortable the minute you start it up.
Ventilated seats with fans.
GPS, bluetooth phone connections, CD changers, DVD players, keyless and touchless door unlocking and ignition.
Loads of headroom for driving with helmets.
Bad
None of this is that bad, but since I'm part German and therefore log everything, here's what annoys me:
Mediocre radio/GPS/Nav/Phone system: too much delay in response to button pushes, one screen is shared by both front seat people for all functions, and sound quality is only ho-hum. For instance, the radio has to warm up when you start the car, and since the back-up camera is part of the radio, it doesn't start to work usually until after you've backed out of your garage.
The hatch is motorized, which is much slower than just having a manual hatch. Worse, the control system often malfunctions and stops partway down. We've never figured out how to get it to work properly 100% of the time, instead, we have to wait and hit the CLOSE button again every so often.
The seat fans are audible.
Missing
Nothing. Maybe lesser models lack important things, while most GL550s will have everything.
There ought to be a pilot-override for the rear seat air conditioner, and that's it.
Extra Features
Rear Seat Entertainment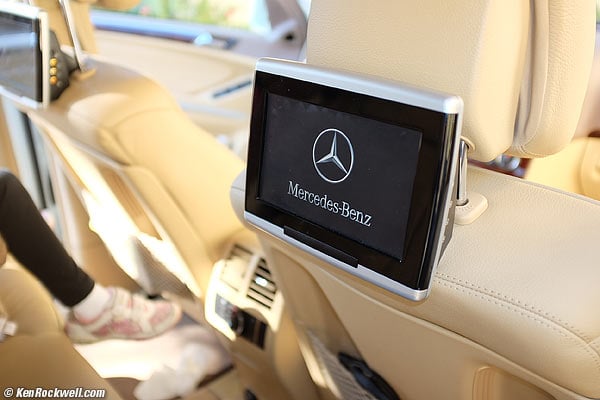 Mercedes GL550 rear-seat entertainment (DVD players).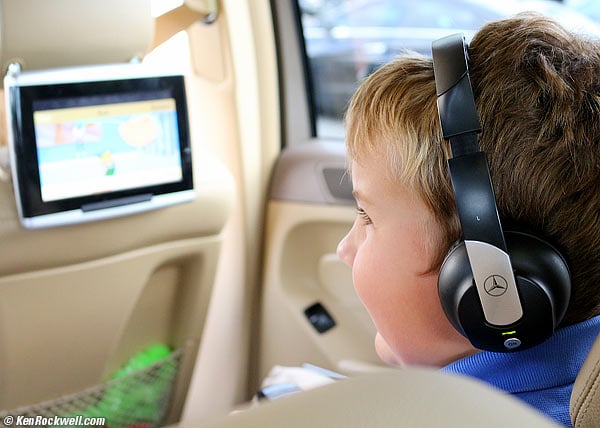 Ryan loves his Mercedes GL550 mobile theatre!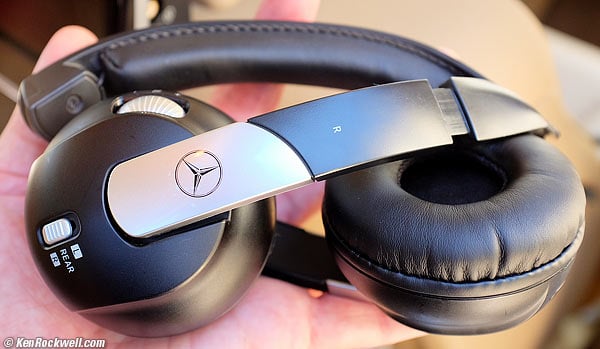 Mercedes GL550 rear-seat entertainment wireless headphones (AKG infra-red).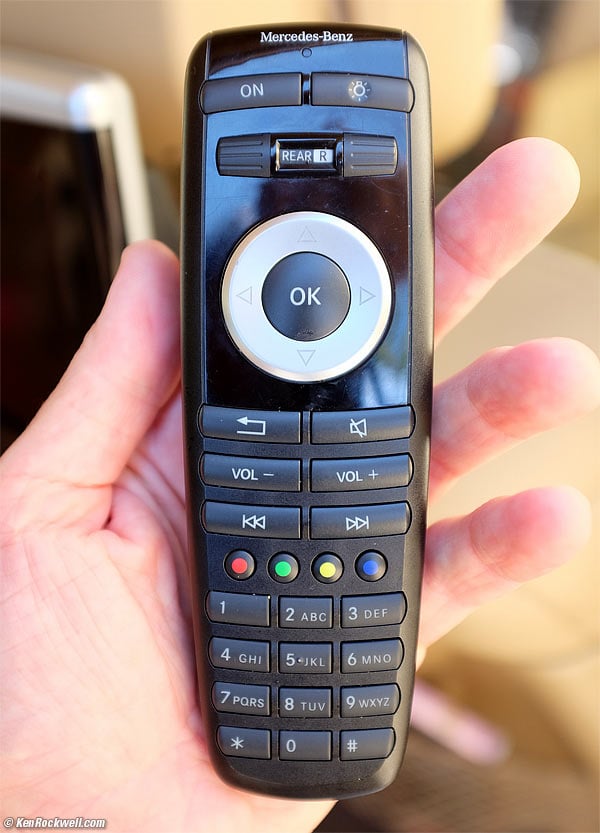 Mercedes GL550 rear-seat entertainment remote control (2-AAA).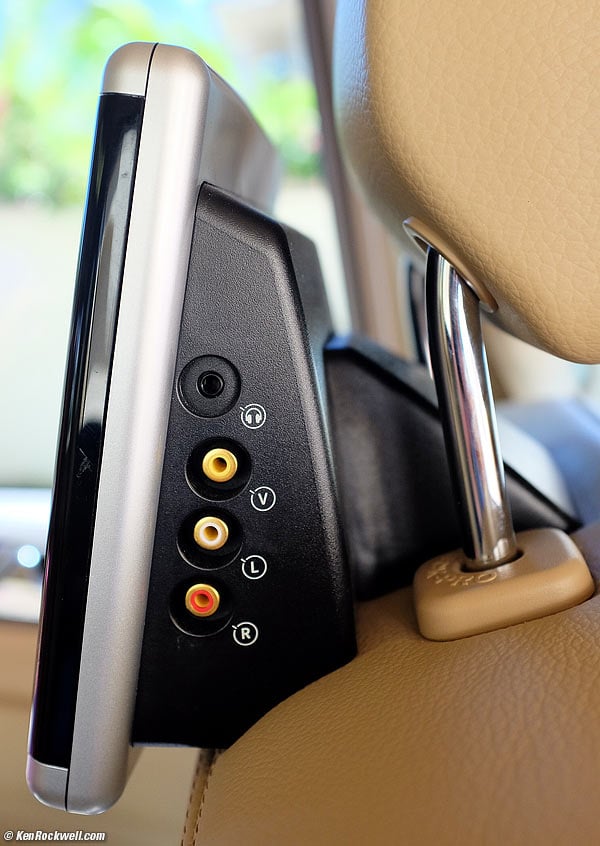 Mercedes GL550 rear-seat entertainment wired connections (emergency headphone jack if wireless headphones lost and composite video and stereo audio auxiliary inputs).
Specifications top
Intro Specs Performance Compared Usage Recommendations More
Vehicle Type
Full-time 4 wheel drive "4 Matic."
Unibody.
Model 164.886. (GL450 is 164.871 and GL350 is 164.835)
Engine
90º V8.
Model 273.
336 CID /5.5 litres.
382 hp @ 6,000 RPM.
391 ft-lb @ 2,800 RPM.
Oil-filled motor mounts.
Fuel
26.4 gallon (100 litre) tank.
Premium unleaded, at least 91 octane (96 RON/86 MON).
Wheels
10J x 21 H2.
37mm (1.46") offset.
Tires
Continental 295/40 R21 111V XL M+S.
Exterior
39.7 foot turning circle.
201.1"(5,108 mm) long. (I measure 223" long with the rear hatch open.)
85.5 inches (2,170 mm) wide, including mirrors.
72.4 - 75.6" tall depending on the position of the suspension, up to 76.8" tall with the off-Road Pro engineering package.
8.0 - 10.9" ground clearance, up to 12.1" with the off-road package.
121.1" (3,075mm) wheelbase.
Payload
This is a 3/4 ton truck.
It's rated 1500 pounds total for passengers and cargo combined; take ten bodies or one driver and 1,350 pounds of cargo.
Trailer Hitch
Class IV, 2".
Towing
7,500 pounds Gross Trailer Weight (GTW).
600 pounds Trailer Drawbar Weight (TWR).
Roof Load
200 pounds (90kg) maximum.
Rear Cargo Bay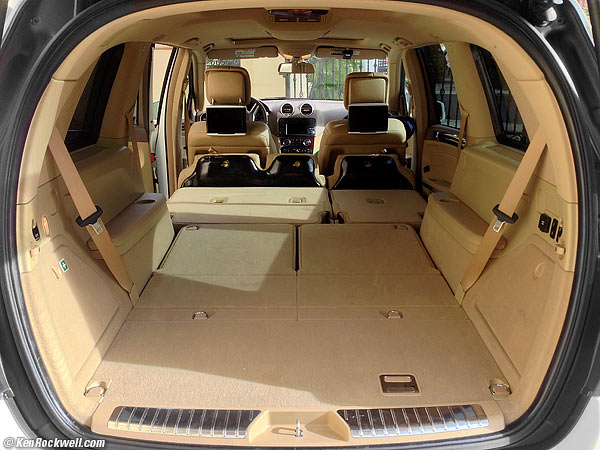 Mercedes GL550 rear cargo area, all seats folded down. enlarge.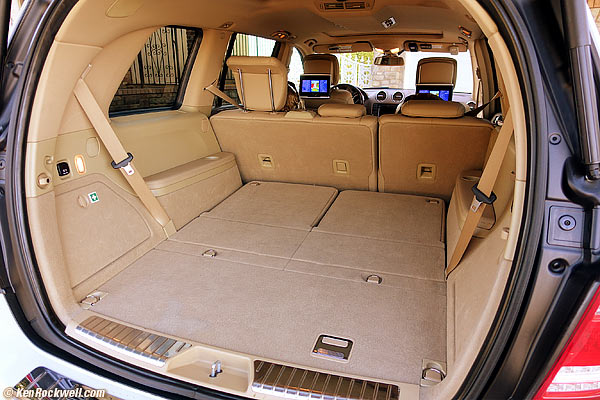 Mercedes GL550 rear cargo area, rear seats folded down. enlarge.
You get all this space with the middle seats up, which is luxurious seating for four adults, with room to squeeze a fifth in the middle of the middle row of seats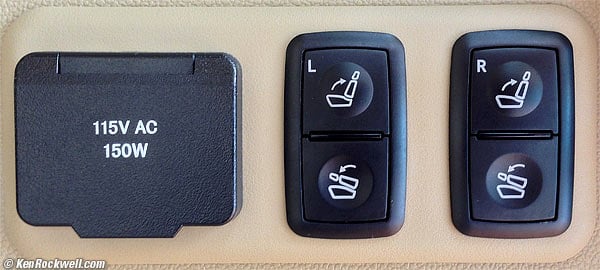 Mercedes GL550 rear seat controls. There's also a 115 VAC outlet for chargers or anything, and a duplicate set of controls behind the middle left seat.

Cargo Bay Dimensions

40.5" wide overall (45" wide at the cleats).

34.5" tall at the center and 30" tall at the sides. It's 32" tall throughout most of its width.

19" deep with all seats up.

40-44" deep with rear seats down.

77" deep with all seats down.

Radio/Nav/Phone etc.

Radio: AM, FM, Sirius (pay) and Weather band (free).

CD/DVD: 6 disc changer.

iPod: There's a 30-pin iPod/iPhone dock connector in the glove box. Use an adapter for newer iPhones with lightning connectors.

Aux: 3.5mm stereo.

SD card for some kinds of music files.

Bluetooth connection for phone, but not for playing music from phone. To play music via bluetooth, just get an adapter.

I forget what else it plays; it plays just about anything.

Performance top

Intro Specs Performance Compared Usage Recommendations More

Overall

The GL is a blast to jump in and take for a ride. It hauls three-quarters of a ton, and feels like driving a much smaller car.

The GL550 is a living room on wheels. It has more entertainment options than my living room!

Keyless Go (Touchless keys)

Keyless Go works great. I invented the concept and shared it with Mercedes back in 1992, and once you get a car with it, will want your house and everything to work this well.

With Keyless Go, you never have to touch a key again! The GL550 locks and unlocks for you by magic, and it starts and stops without the key as well.

If you do want to touch the remote, say to relock the GL550 once you've gotten up to your hotel room, it works from at least 100 feet (30 meters) away.

The GL550 is so smart that the dashboard tells you when the key battery is getting low so you can change it before it dies. No big deal if it does; you can use the metal key to unlock the door and the rest of the key to start the car after you pull out the "START" keyhole cover.

Parking

Its parking SONAR makes it fast and easy to park or maneuver around tight spaces.

Acceleration

The big V8 and four wheel drive do what it's supposed to.

I can run 0 to 60 MPH in only 6.65 seconds, which is faster than most modern sports cars or 1960s muscle cars. Heck, it's almost as fast as an SL500!

Gas Mileage

Gas mileage is great with its huge 26.4 gallon tank.

Fuel economy is about 11 MPG locally, 19 MPG fully-loaded running cross-country at 70-75 MPH, and about 21 MPG empty and holding it down to 65 MPH on the freeway. Your mileage will be in this range depending on how you drive.

I see from 25 to 30 MPG at 55-60 MPH if I'm drafting a semi.

The GL550's own MPG computer is reasonably accurate, unlike most cars whose MPG gauges deliberately lie to make you happier with your Ford than if you actually calculated the MPG based on real data.

Comfort

Even the sides of the seats are heated, not just the back and bottoms.

Radio/CD/Nav/Phone etc.

It's easy to pair bluetooth phones, and more importantly, once paired, the GL550 automatically connects whenever you get in the car. If you and your wife share it, no problem: it just connects to whoever gets in first. You never have to fiddle with bluetooth after pairing it the first time.

It takes a long time to load CDs into the single slot. You have to stop and pay attention.

Clock Accuracy

it's perfect. It sets itself via the GPS.

The clock is settable only in 30 minute time-zone increments.

The clock doesn't auto update for daylight time.

Rear Seat Entertainment

Each set of headphones and each remote takes two AAA cells.

The remotes go for years on a set.

Used for hours a day, the headphone batteries seem to last for months.

Compared top

Intro Specs Performance Compared Usage Recommendations More

Versus BMW

BMW makes nothing comparable. Their X5 is much smaller than the GL-klasse. If BMW attempted to imitate the GL-klasse, it would be called the X7.

The GL550 third-row seats fit adults. The X5 rear seats only fit kids.

Versus Volvo

Volvo makes nothing this big, and their dinky V8 engines come from Japan.

Versus Escalade

You've got to be kidding. GM's products feel like junk; just look at the plastic fake wood and sloppy trim in the front, and the trim quality plummets as you move back each row of seats.

When we looked at these, we couldn't help but laugh at how ridiculous was the process to try to move the seats around. Good luck. We don't support Socialism or (Soviet) unions, so we don't want the poor quality of union-made cars.

We demand American-made, and we deserve better than GM. We demand a car that that shows just how good American cars can be.

Versus other Mercedes

Versus the GLK

The GLK is a very small SUV.

It comes with only a buzzy 6-cylinder engine.

It's inexpensive and no joy to drive.

Versus the ML

The ML-klasse is mostly the same as the GL-klasse, just missing the third row of seats and therefore shorter overall. Otherwise it's mostly the same car.

If you don't need all the cargo capacity, by all means look at the ML klasse.

Versus the GL550 (2008-2011)

Reviewed here.

Versus the GL550 (2012-)

There's a newer model GL550, but it has only a smaller 4.7 l engine and weaker styling.

While its smaller motor has slightly higher rated power, this is only through the use of a turbo charger which has to "spin up" before it starts making that power. The 2008-2011 GL550 reviewed here always has all its power on tap for instant use — which is when you need it. Turbo engines suffer from "turbo lag," meaning they don't make full power until after you step on the gas and wait for the turbo to spin up.

Versus the GL450

The GL450 is pretty much the same thing, with a somewhat smaller engine and fewer standard features. The GL550 doesn't cost that much more than the GL450 if you add the same options to the GL450. The GL450 is a good, honest American car as well.

Versus the GL320 and GL350

The GL350 and GL320 are Diesels. They provide basic transportation for people worried about fuel consumption. They have a more basic level of trim and features, and they too can be optioned up like the better models. No one buys a Mercedes to worry about what it costs to drive.

Versus the GL63

The GL63 is for pimps. It makes no sense; this is a truck and any more power and flash than the GL550 is meaningless. It's like the Porsche Cayenne Turbo S, strictly for those with low self esteem.

Usage top

Intro Specs Performance Compared Usage Recommendations More

Touchless Keys - Keyless Go

I invented the Keyless Go concept back in 1992. Just keep the key in your pocket, and you never have to touch it!

To unlock the doors, merely touch the handle, wait a half second, then pull them open.

To start the engine, hold the brake and push the ignition switch on the dashboard.

To stop the engine, press the button again. The engine won't switch-off while rolling. You have to be at a full stop.

To lock the doors, merely tap the little black button on the outside handle.

The GL550 is smart enough to tell you, on the dashboard, when the touchless keys need new batteries.

Each key takes one common CR2025 cell.

Radio/Nav/Phone/etc.

Remember to wait a second after every button you press on the radio.

To play music via bluetooth, just get an adapter.

Rear Seat Entertainment

Each set of headphones and each remote takes two AAA cells.

Replace the remote cells when the remote pilot light doesn't stay lit when a button is held.

Replace the headphone cells when the pilot light turns red. Even then they run for many more hours; we did an 8-hour trip before we replaced them after they turned red.

Fuel

Run only on Premium fuel. I prefer Top Tier fuel for its better long-term performance.

Many gas pumps stop at $100, so simply put your card in again to complete refuelling.

Wipers

It's OK to leave wipers on automatic; they won't wipe a dry window when the GL550 started again.

Recommendations top

Intro Specs Performance Compared Usage Recommendations More

Get one, we love ours to death. I love it, my wife loves it and my kids love it. My kids call it "Stomper," named for how well it can drive over just about anything.

Join the Mercedes-Benz Club of America, as often there are significant member discounts when buying new or used cars at the dealers.

If you don't need to order a new one, we chose to buy a used one to get the better 5.5L engine in our 2011 instead of the smaller engine in the newer models. Not only did we get a better engine, we only paid half the price of a new GL550! Ours had only 20,000 miles on it when we bought it, not bad for a $50,000 discount with a full warranty!

If you've found all the time, effort and expense I put into researching and sharing all this, this free website's biggest source of support is when you use these links when you get anything, regardless of the country in which you live.

Thanks!

Ken.

More Information top

Intro Specs Performance Compared Usage Recommendations More

Join the Mercedes-Benz Club of America. It's often free, as many dealers offer discounts to members which more than pays your dues each year.

Help me help you top

I support my growing family through this website, as crazy as it might seem.

The biggest help is when you use any of these links to approved sources when you get anything, regardless of the country in which you live. It costs you nothing, and is this site's, and thus my family's, biggest source of support. These places have the best prices and service, which is why I've used them since before this website existed. I recommend them all personally.

If you find this page as helpful as a book you might have had to buy or a workshop you may have had to take, feel free to help me continue helping everyone.

If you've gotten your gear through one of my links or helped otherwise, you're family. It's great people like you who allow me to keep adding to this site full-time. Thanks!

If you haven't helped yet, please do, and consider helping me with a gift of $5.00.

As this page is copyrighted and formally registered, it is unlawful to make copies, especially in the form of printouts for personal use. If you wish to make a printout for personal use, you are granted one-time permission only if you PayPal me $5.00 per printout or part thereof. Thank you!

Thanks for reading!

Mr. & Mrs. Ken Rockwell, Ryan and Katie.

Home Donate New Search Gallery Reviews How-To Books Links Workshops About Contact