Home Donate New Search Gallery Reviews How-To Books Links Workshops About Contact
Minolta Maxxum 7000
(a.k.a. Dynax 7000 AF, 1985-1988)
World's First Autofocus SLR
© 2013 KenRockwell.com. All rights reserved.
Intro Specs Performance Usage Recommendations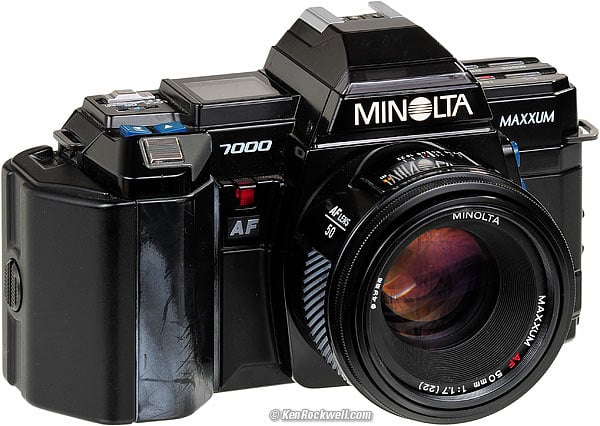 Minolta Maxxum 7000 with BH-70L 4-AA battery holder (35mm autofocus SLR, Maxxum/Sony Alpha lens mount, 24.6 oz./698 g with 4-AA alkaline cells and film , about $20 used) and Maxxum 50mm f/1.7. enlarge. My biggest source of support is when you use any of these links, especially this link directly to them at eBay (see How to Win at eBay), when you get anything, regardless of the country in which you live. Please always use these links when getting any of your gear so I can continue to share what I know. It helps me keep adding to this free website when you get yours through these links — but I receive nothing for my efforts if you buy elsewhere. Thank you for your support! Ken.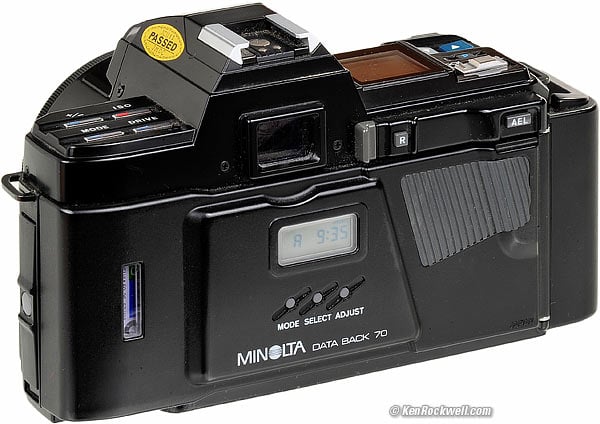 Minolta Maxxum 7000 with Data Back 70. enlarge.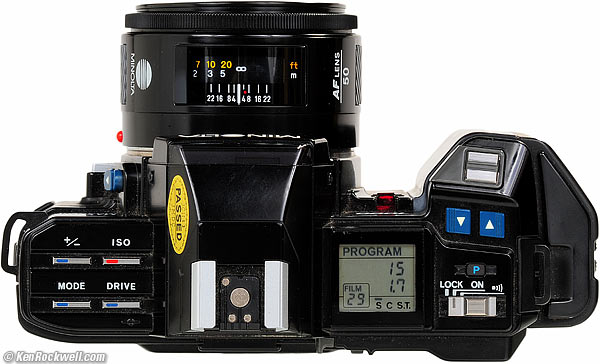 Minolta Maxxum 7000 with Maxxum 50mm f/1.7. enlarge.
May 2013 Minolta Sony Pentax Nikon Canon All Reviews Better Pictures
How to shoot the Maxxum 7000 digitally.
MAXXUM 7000 example photos, 13 and 14 February 2010.
Introduction top
Intro Specs Performance Usage Recommendations
This Minolta Maxxum 7000 is the world's first autofocus SLR. It is called Dynax outside the USA, and Maxxum 7000 AF in Europe; it's all the same camera.
There were some earlier attempts at autofocus SLRs prior to the Maxxum 7000 like the Nikon F3AF, but they were kludges with AF systems built into lenses instead of the camera.
The Maxxum 7000 has center-weighted metering, a body-integral AF system, and full digital computer control. The AF motor is in the camera and drives the lens through a screwdriver connection poking out of the lens mount.
The MAXXUM 7000 has a life-sensing touch switch: just touch it and the meter wakes up without needing any pressure on the button. Press a little more to turn on and lock AF and press the rest of the way to shoot.
Lenses
The MAXXUM uses the new Minolta "A" mount which was introduced along with it, and lives to this day as Sony's Alpha mount.
Minolta Maxxum AF lenses are fully compatible on the Sony Alpha mount, and Sony Alpha and Zeiss lenses for Sony Alpha likewise work great on the Maxxum 7000.
Specifications top
Intro Specs Performance Usage Recommendations
Lens Compatibility
Stainless-steel self-lubricating bayonet.
Works with all Minolta MAXXUM AF and Sony Alpha lenses.
Autofocus
TTL phase-detection with 8-bit digital on-board computer.
One central point.
Focuses and locks in Single advance mode, continues to track moving objects in Continuous advance mode.
Finder
0.85x magnification with 50mm lens.
94% coverage.
Bright Acute-Matte screen.
Bottom data LCD is lit from ambient light above the MAXXUM 7000, or by amber LEDs when the light is dim.
To the left of the data LCD are four big LEDs: three LEDs ( > o < ) for focus, and one red flash bolt.
Light Meter
Center-weighted silicon photocell.
Second silicon photocell for TTL OTF flash meter.
Rated to read at a very wide LV —1 (LV negative one; 4 seconds at f/1.4 at ISO 100) to LV 20 (f/22 at 1/2,000 at ISO 100).
DX coded and sets manually from ISO 25 to ISO 6,400 (only to ISO 1,000 with TTL flash).
±4 stops compensation, set in half stops.
Exposure Modes
Program, Aperture-, Shutter-priority and Manual (P, A, S and M).
Program shifts itself when wider than 35mm or longer than 105mm.
Manually shiftable program.
Flash
Through-the-lens (TTL) off-the-film (OTF) real-time exposure control
Standard hot shoe (lacking in all newer MAXXUM and older Sony cameras).
Dedicated contacts.
The Minolta 4000 AF (large), 2800 AF (medium) and 1800 AF (small) were the usual flashes sold with the MAXXUM 7000.
Flash Sync
1/100.
Shutter
Vertical metal focal plane.
30 seconds to 1/2,000 and Bulb.
Maximum Bulb time: 9 hours with alkaline AA, 4 hours with alkaline AAA.
Sets in full stops in manual.
Sets steplessly and reads in half stops in auto modes.
10s self-timer.
Remote control
RC-1000 cord attaches to three pins hidden under a plastic cover on the front corner of the MAXXUM 7000 body.
Frame Rate
2 frames per second.
Power
As shipped, the MAXXUM 7000 uses 4-AAA cells in the standard BH-70S battery holder (not shown here).
The BH-70L battery holder takes 4-AA cells as shown here, making the camera bigger and heavier while increasing battery life.
The EP-70 external battery holder takes 4-AA cells and is used in cold weather so you can keep the batteries warm in your pocket.
The BH-70T takes a 6-volt lithium battery.
| | | |
| --- | --- | --- |
| Rated Battery Life | rolls of 36 exp. | rolls of 24 exp. |
| 4 - AAA Alkaline | 17 | 25 |
| 4 - AA Alkaline | 43 | 65 |
| 4 - AA Heavy Duty | 13 | 20 |
| 4 - AA Ni-Cd 1,000 mAh | 13 | 20 |
| 4 - AA Ni-Cd 2,000 mAh | 27 | 40 |
| Lithium | 57 | 85 |
Maximum Bulb time: 9 hours with alkaline AA, 4 hours with alkaline AAA.
The manual claim that there is a lithium cell in the camera to retain frame count and ISO if you remove the main battery grip. If this cell is dead, you won't see these displayed with the main batteries removed, and supposedly they'll blink when the main battery is attached to let you know.
Quality
Made in Japan.
Stainless-steel lens mount.
Plastic covers and switches.
Environmental
LCDs work from -20º C to +50ºC (15º C to 120º F).
Size
52 x 91.5 x 138 mm.
2-1/16 x 3-5/8 x 5-7/16 inches.
Weight
24.610 oz. (697.6 g) measured with 4-AA alkaline cells and film.
19-9/19 oz. (555g) rated, empty.
Announced
January 1985.
Price, USA
May 2013: about $20 used, body-only.
May 1986: $700 at local retail, with Maxxum 50mm f/1.7 lens, corrected for inflation in 2013. ($329.95 in 1986 dollars).
Performance top
Intro Specs Performance Usage Recommendations
Overall
The MAXXUM 7000 is an autofocus SLR that does what we need, and nothing we don't. The only thing missing is a frame counter in the finder.
It's better than newer SLRs and DSLRs because it has a bigger, brighter finder and it's much faster and easier to set.
Autofocus
Autofocus works fine. It's much faster than newer cameras because it's so much faster to get it to go: with only one point, it just goes without having to read manual and spend all day in menus just trying to set it.
It is whiny as it motors in and out, what are you expecting for the 1980s? Silent motors weren't invented yet.
AF is fast and sure, but if you're pointed at something lacking vertical texture or contrast, it may get stuck. Likewise, just like today's newest cameras, if you're way out of focus, it may hang-up until you get it more in focus, and if it's too dark, just like the newest Nikon D600, it won't focus either.
For actual photography, it works great.
Finder
The finder is big, clean, clear and bright. In fact, it's data displays are far more legible than those in the newer and far more expensive Nikon F4!
It isn't loaded with garbage like newer cameras; the frame is one big cleat frame with a small rectangle in the middle to mark the AF spot.
It's easy to set and read the exposure mode, ISO and exposure compensation right in the finder.
The finder's lower data display is lit by ambient light, or an amber LCD in dim light. The LED lights automatically based on the light coming in the front of the lens, not the actual light illuminating the LCD from the top.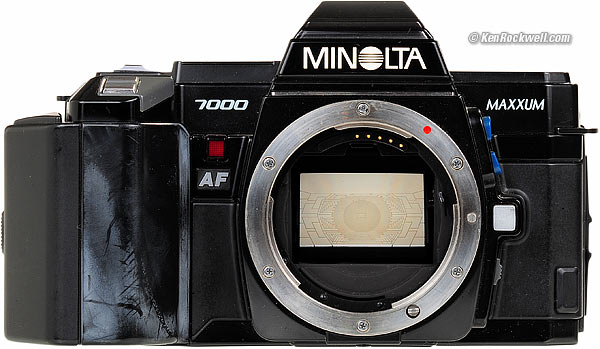 Minolta Maxxum 7000 with BH-70L 4-AA battery holder. The engravings define the meter pattern. enlarge.
If you look hard, the finder is very slightly dimmer in the center because a greater portion of the light is diverted to the light meter's photo cell.
Flash
There is no built in flash.
The Minolta 4000 AF (large), 2800 AF (medium) and 1800 AF (small) are all modern thyristor flash units dedicated to the MAXXUM 7000.
Older PX-series flashes flash OK and offer TTL exposure, but there is no AF illuminator and no flash distance check. Even older X-series flashes lose TTL metering as well.
Flash works automatically, set the MAXXUM 7000 to Program and snap away.
Flash control is TTL OTF, however it's not very smart.
In most modes, the shutter speed will only vary from 1/60 to the maximum sync speed of 1/100, regardless of the light level.
Likewise, regardless of distance or film speed, the MAXXUM 7000 defaults to f/2.8 when in Program mode with flash. (The Canon EOS flash system of 1987 is much, much smarter.)
It's hard to see the top LCD to read frame count with a flash mounted.
Shutter and Advance
The MAXXUM 7000's trigger pull is normal; it's smooth and requires the usual push-in to fire.
Nice is that it's got a life-sensor to wake up the meter; you don't have to press it — just touch it!
There is relatively little recoil (vibration) when fired.
Rewind
Rewind is initiated manually.
It takes 34 seconds for 36 exposures.
Ergonomics
The MAXXUM 7000 is simple, loaded with just what we need, so it's very easy to use. Everything is fast and simple to setup and adjust, and loading is completely automatic - and the film-type window is easy to read.
The top LCD shows frame count, exposure and film advance mode even when off or idle. Oddly, the top LCD is so close to the hot shoe that it can be hard to see when using a flash like the 1800 AF.
The touch-sensing shutter button is great; the meter wakes up without needing any pressure.
ISO is read by DX, and to set or confirm manually, just press the ISO button and the arrow buttons near the shutter. You can see it both on the top LCD, as well as through the finder.
Ditto for exposure mode and exposure compensation: hold the button and press the arrows, and you can read it at the top and through the finder. I wish all cameras today were this good.
I prefer the MAXXUM's slots for the shoulder strap instead of the lugs on Nikon.
With the 4-AA holder, it's a little heavy on the right side, as it looks in the picture.
The finder's LCD is well illuminated, but the top LCD is not.
Meter and Exposure
Easy! Simple, to the point center-weighted metering.
There's an AE lock, missing on many other cameras.
The range is very good, working to 30 seconds most of the time, even if not rated to read that low. Once it gets below the rated light level you'll see the up and down exposure arrows in the finder blink, and it works fine down to 30 seconds, below which the entire display blinks.
Noise
The shutter is about as noisy as any other motorized SLR, while the AF motor is pretty whiny.
Durability
People have given me about four of these. They all work fine after over 25 years.
The worst thing that happens is either batteries have been allowed to leak, or that the rubber trim, just like chocolate, will exude some white stuff from lack of use as seen here, which rubs off when put back in service.
Compared top
Intro Specs Performance Usage Recommendations
I prefer this original MAXXUM to the newer MAXXUM 7000i, mostly for the added simplicity, and the standard hot shoe.
With the 7000i, Minolta attempted to screw customers and third-party flash makers like Vivitar and used a bizarre dedicated shoe for which few others made flashes. This weird shoe was used by Minolta, and later Sony, right up until 2012.
Usage top
Intro Specs Performance Usage Recommendations
Loading
Loading is automatic: pull the leader to the right, and close the back. The MAXXUM 7000 advances to the first frame, and you're ready to shoot.
It reads and sets ISO via DX at loading. Feel free to change the ISO manually, but remember that the MAXXUM 7000 won't reset it back to the DX speed until loaded the next time.
Unloading
When you've hit the end of the roll, start rewind manually by pressing the "R" button near the eyepiece, and then slide that lever to the left.
Exposure
Hold MODE and press the arrows by the shutter to select the exposure mode. You can see this in the finder, too.
In Manual mode, the up and down arrow buttons by the lens change aperture, and the arrow buttons on the top change the shutter speed.
For program shift and setting apertures or shutter speeds in A and S modes, either button pair works to change the settings.
The program mode has three default programs, and shifts itself between them based on focal length. There is one program for wider than 35mm, the regular program for 35mm to 105mm, and another for lenses set longer than 105mm.
Program can be shifted manually too; just tap the arrow buttons. If you've set a manual program shift, it cancels in 10 seconds if ignored, or immediately after you shoot; keep your finger on the button to reuse the shifted program for the next shot.
If using a red (R60 or 25) filter, set exposure compensation to +1 stop.
Once it gets below the rated light level you'll see the up and down exposure arrows blink in the finder, and it works fine down to 30 seconds, below which the entire display blinks.
In Bulb, the top LCD counts to 99 seconds and rolls around to 0 at 100 seconds, and keeps repeating. AAA alkalines are rated for 4 hours and AA alkaline are rated for 9 hours total bulb exposure.
Flash
The bolt blinks in the finder for the ready! signal; blinking doesn't mean anything's wrong.
After your shot, a rapid blink means exposure was OK.
In most modes, the shutter will only range from 1/60 to 1/100. For slower speeds in automatic modes, Slow Sync is had by pressing the AE lock button while in A mode. Do this, and the MAXXUM 7000 now sets a shutter speed of double what the meter reads for ambient. Be careful to check the exposure with the flash off; you easily can press the AEL button and the MAXXUM 7000 might try to set a speed far higher than the 1/100 sync speed.
Reset
If you've been messing with the settings, hold the "P" button near the power switch to reset to Program mode, Single advance and ±0 stops exposure compensation.
Recommendations top
Intro Specs Performance Usage Recommendations
For shooting 35mm film with autofocus there are many choices, and I'd probably prefer any of the Canon EOS cameras for their better handing of flash exposures and seamless integration with the newer EOS digital cameras, but for $20 you can't go wrong.
If all I had to use was a MAXXUM 7000, I'd shoot and enjoy it. It works very well.
Additionally, if you shoot any of the Sony Alpha full-frame system, the MAXXUM lenses are completely interchangeable with the Sony.
If you've found all the time, effort and expense I put into researching and sharing all this, this free website's biggest source of support is when you use these links, especially this link directly to them at eBay (see How to Win at eBay), when you get anything, regardless of the country in which you live. Thanks! Ken.
Help me help you top
I support my growing family through this website, as crazy as it might seem.
The biggest help is when you use any of these links when you get anything, regardless of the country in which you live. It costs you nothing, and is this site's, and thus my family's, biggest source of support. These places have the best prices and service, which is why I've used them since before this website existed. I recommend them all personally.
If you find this page as helpful as a book you might have had to buy or a workshop you may have had to take, feel free to help me continue helping everyone.
If you've gotten your gear through one of my links or helped otherwise, you're family. It's great people like you who allow me to keep adding to this site full-time. Thanks!
If you haven't helped yet, please do, and consider helping me with a gift of $5.00.
As this page is copyrighted and formally registered, it is unlawful to make copies, especially in the form of printouts for personal use. If you wish to make a printout for personal use, you are granted one-time permission only if you PayPal me $5.00 per printout or part thereof. Thank you!
Thanks for reading!
Mr. & Mrs. Ken Rockwell, Ryan and Katie.
Home Donate New Search Gallery Reviews How-To Books Links Workshops About Contact