Nikon 18-200mm
© 2006 KenRockwell.com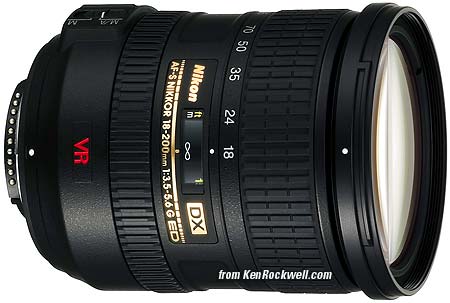 Nikon 18-200mm. (enlarge)
HOOD
I've never unwrapped mine. Hoods are an obsolete throwback to simpler times.
Flare
There is no problem with flare. Modern lenses have this fixed.
If the sun is shining directly on my lens I'll use my hand to shield it. This works better than any hood, and is easier than hauling around the hood.
I prefer this over hauling around and attaching a big hood every time I shoot.
For infra-red the hood will help, since lenses aren't free from IR flare.
Water Spray
In the old days we used hoods to protect against rain and sea spray.
They work for that, but I wouldn't dare get the outside of this lens wet.
Physical Damage Hazard
The hood can make it more likely you'll damage your lens.
In the old days of manual metal lenses we worried about marring the paint on the front of the lens barrel. A filter or hood would prevent that.
Today the most delicate part of the 18-200mm is the zoom assembly. The front of the lens is only very delicately attached to the rest of the lens. Knock the front of the lens too hard and you can destroy the whole thing.
You could crack a zoom cam or pinion which then knocks the lens out of alignment and requires expensive repairs.
Having a big hood sticking out only makes it more likely you could knock and damage your Nikon 18-200mm.