Home Search Gallery How-To Books Links Workshops About Contact
Nikon 18-200mm
© 2006 KenRockwell.com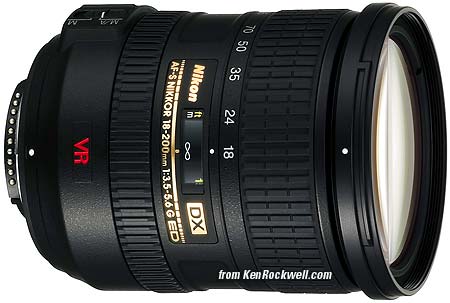 Nikon 18-200mm. (enlarge)
Sounds and Noises
The 18 - 200 VR is a very complex device with numerous internal optical, mechanical and electronic assemblies. It's not a dumb solid optical block as fixed focal-length manual focus lenses were 30 years ago.
It's supposed to rattle if you shake it. Mine does.
The VR system is supposed to make a continuous noise while it's working. Listen carefully and you'll hear the optics moving around inside to counteract the motion from your hand. It makes noise even on a tripod. It doesn't make noise if the VR switch is off or the camera's meter is off.