Nikon 18-200mm
© 2006 KenRockwell.com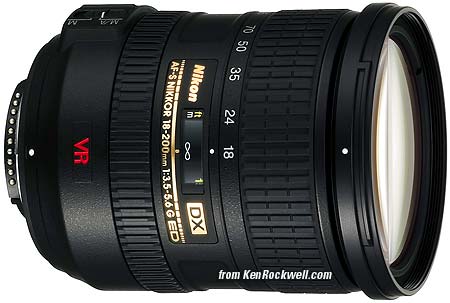 Nikon 18-200mm. (enlarge)
Warranty
Mine has a five year warranty.
I live in the USA and buy legitimate product. I have no idea what warranty you'll get in other countries or if buying gray market.
Nikon has fixed other products within a few days under warranty in the past. I'm not part of NPS or anything. I wouldn't count on them always being this zippy if I was in a rush; I always leave lots of time. I hand-carry and pickup my cameras from Nikon's Torrance (Los Angeles), California shop.
This is a complex lens. If anything goes wrong I want Nikon to deal with it, not an independent repair shop. I'd not suggest buying gray market, as I used to do with my fixed manual focus lenses.
Serial Number
The serial number is laser engraved on the bottom of the lens, between the focus and zoom rings. You'll see it an inch (3cm) above the printing that says Nikon, Made in ---, DX SWM VR ED IF Aspherical ø72.
If your serial number begins with US, then you have a USA lens with the 5 year warranty. If it's just digits, you probably don't. Any questions? Ask Nikon at (800) NIKON-UX.