Nikon 18-200mm
© 2006 KenRockwell.com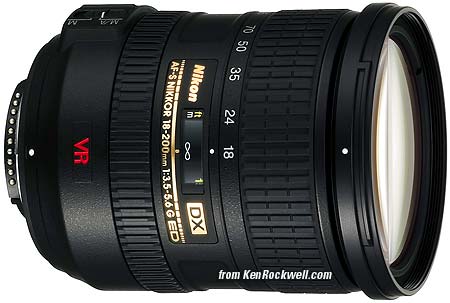 Nikon 18-200mm. (enlarge)
Zoom Performance
The zoom ring is very well cammed. This means equal rotation of the zoom ring gets you the same percentage change of focal length anyplace in the lens' range. This makes it easy to set your cropping and focal length at any setting.
This is much better than the 18 - 70, whose wide-angle range is crammed together at one end making it difficult to set an exact wide angle on the 18 - 70.
The 18 - 200 mm has markings at 18, 24, 35, 50, 70, 135 and 200 mm. Oddly, no marking at 105 mm.
Zoom Creep, Slipping and Holding
When set to 18 mm my zoom stays put when carried around my neck.
Set it to to anything other than 18mm and it will creep out when pointed down.
It doesn't creep at 18mm. Leave it at 24mm and of course it creeps. This Nikkor is unique, since other brand 18 - 200s need lock switches to stay put at 18mm.
One guy wrote me that his slipped even at 18mm, but that Nikon fixed it. Another wrote to say he's had two and both were so tight they didn't slip at any setting.
It will creep if you leave it at other than 18mm and point it down. That's what zooms do.
Trick:
It's natural that the lens tries to creep if pointed up or down.
I help my 18 - 200 zoom way in or way out by pointing it up or down if I need to zoom a long way in or out. It saves wear on the cams and makes it faster and easier to let its own weight help it along. It's quite natural and easy to do when the camera is in my hands.
Here is my lens with my 72 -> 77mm step up ring and my 77 mm Hoya HMC UV filter attached. I step up the 72mm filter thread to 77mm to match all my other pro lenses and filters, even though the only other lens I use today is my 12 - 24 mm.
The measured lengths are from the lens flange excluding my filters and adaptors. I left them in the photos to show how the lens looks in real life, and took them off for measurements to avoid discrepancy with Nikon's published numbers.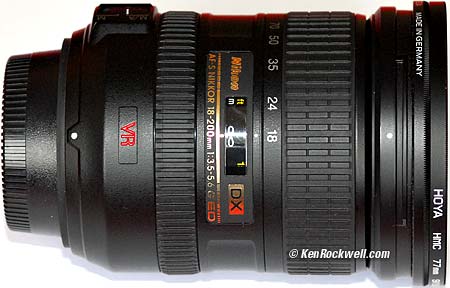 18 mm: 3.8" (96.5 mm) extension from lens flange.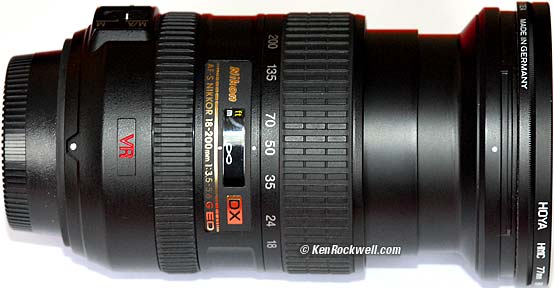 50 mm: 5.0" (127mm) extension from lens flange.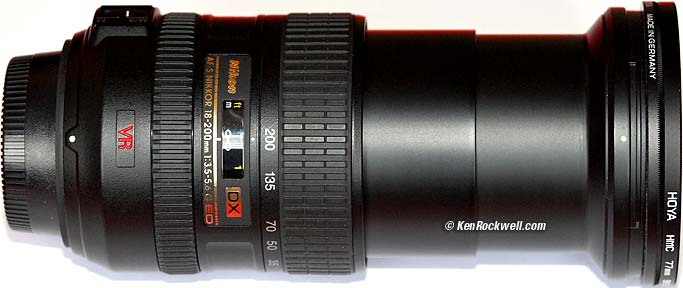 200 mm: 6.4" (162 mm) extension from lens flange.