Home Donate New Search Gallery How-To Books Links Workshops About Contact
Nikon 200mm f/2 VR II
AF-S, FX and DX, $5,999.95, October 2010
© 2010 KenRockwell.com. All rights reserved.
Intro Specifications Performance Recommendations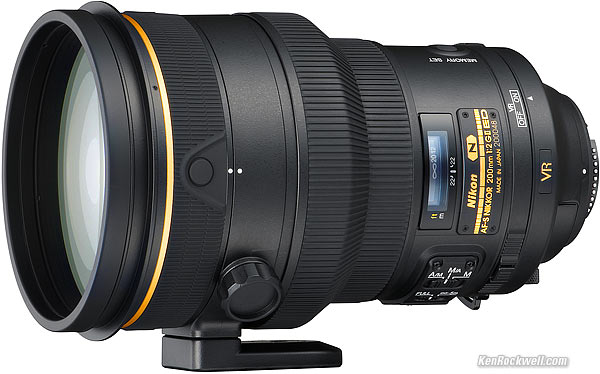 Nikon 200mm f/2 G VR II (52mm filters, 6.5 pounds/2.93kg, 6.2 feet/1.9m close focus, about $6,000). enlarge. The biggest source of support for this free website is when you use these links, especially this link directly to this lens at Adorama, at Amazon or at Ritz when you get anything. Thank you! Ken. (here's the link to the previous model for $1,200 less, in-stock at Adorama.)
15 September 2010 More Nikon Reviews Nikon Lens Reviews
Ideal for: Perfect for portraits and low-light indoor action shots. This is the lens for indoor volleyball!
Not for: Anyone on a money or weight budget.
Introduction top
Intro Specifications Performance Recommendations
This newest version of the 200mm f/2 VR now claims 4 stops improvement with VR. The previous model 200mm f/2 VR claimed only three.
This new model also adds Nano Crystal Coat to one surface of one element as a marketing ploy; none of Nikon's 200mm f/2 lenses (1977-present) have ever had flare or ghost problems.
This new model also adds an additional auto/manual focus mode with a slightly larger amount of focus-ring motion required to let the lens recognize that you want manual focus This is only useful if you tended to knock the focus ring by accident and unintentionally put the lens in manual-focus override.
Otherwise, this is the same 200mm f/2 VR lens as the 2004 model, for an extra $1,200.
Everything works perfectly on every digital Nikon, both FX and DX, and even on Nikon's cheapest digitals like the D40, D40x, D60, D3000, D3100 and D5000.
It's also perfect on decent or recent AF film cameras like the F6, F100, F5, N80 and N75.
The incompatibilities for older or cheaper film cameras are that:
1.) It won't autofocus with the cheapest new AF film cameras like the N55, but if you focus manually, everything else works great. Even if you lose autofocus, these cameras have in-finder focus confirmation dots to help you.
2.) Late 1980s ~ early 1990s AF cameras like the N90s, N70 and F4 will focus just fine, but you'll lose . You'll have Program and Shutter-priority modes, but lose Manual and Aperture-priority since you have no way to set the aperture on the camera or on the lens.
3.) You're really pushing it with the oldest AF cameras like the N2020, N6006 and N8008. You'll have no AF, confused exposure modes, and no . Manual focus is fine, along with electronic focus indications.
4.) Since it has no aperture ring, it's just about useless with manual focus film cameras.
See Nikon Lens Compatibility for details with your camera. Read down the "AF-S, AF-I," "G" and "" columns for this lens. You'll get the least of all the features displayed in all columns, since "G" (gelding) is a handicap which removes features.
Specifications top
Intro Specifications Performance Recommendations
Name top
Nikon calls this the Nikon AF-S NIKKOR 200mm f/2G ED VR II.
AF-S and SWM: Silent Wave Autofocus Motor.
NIKKOR: Nikon's brand name for their lenses.
G: Gelded for cost-reduction and removing compatibility with older cameras.
ED: Magic Extra-low Dispersion Glass.
VR: Vibration Reduction.
II: Same as the last one, just more expensive.
Optics top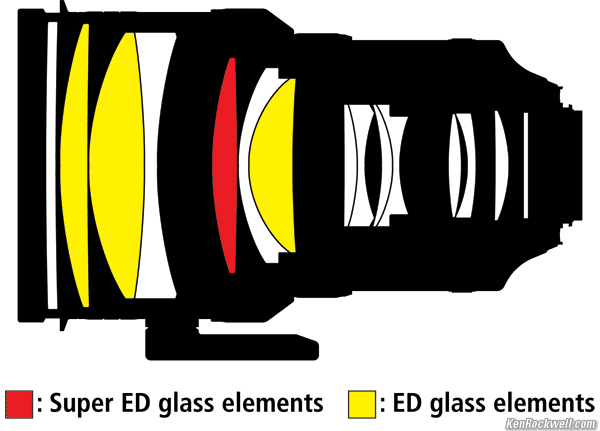 Internal diagram, Nikon 200mm f/2 VR II. bigger.
13 elements in 9 groups. 1 additional protective plate.
3 ED, 1 super ED.
Internal focusing; nothing moves externally as focused.
Nikon Super Integrated Coating (SIC), and one surface with nano-crystal coat. Nano-crystal coat is an anti-reflection coating which varies its index of refraction continuously to achieve even greater reflection reduction. It's only on one surface.
Diaphragm top
9 rounded blades.
Stops down to f/22.
Coverage top
Film, FX and DX.
Focal Length top
200mm.
When used on a DX camera, it gives an angle of view similar to what a 300mm lens gives when used on an FX or 35mm camera.
Angle of View top
12.3° on FX and Film.
8° on small-format DX.
Close Focus top
6.2 feet (1.9m).
Maximum Reproduction Ratio top
1:8.2.
Focus Modes top
Manual, and two auto modes.
The two autofocus modes, M/A and A/M, differ in just how far you have to turn the focus ring for it to shift itself into manual.
Nikon obfuscates these as "Equipped with three focus modes, M/A (autofocus with manual override, MF priority), M (manual) and A/M (autofocus with manual override, AF priority).
Focus Scale top
Yes, but small.
Depth-of-Field Scale top
No.
The two tiny pips for f/22 don't count. Why bother?
Infra-Red Focus Index top
No.
Aperture Ring top
No.
Vibration Reduction top
Claims 4 stops improvement.
Claims automatic tripod detection.
Filters top
52mm filters screw into a little drawer that slides in and out of the rear of the barrel.
Be sure to use only Nikon brand filters; other brands are sometimes a tad too long to fit in the slot.
Size top
Nikon specifies 4.9 " (124mm) diameter by 8.0" (203.5mm) extension from flange.
Weight top
Nikon specifies 6.5 pounds, or 103.4 oz. (2.93 kg).
Hood top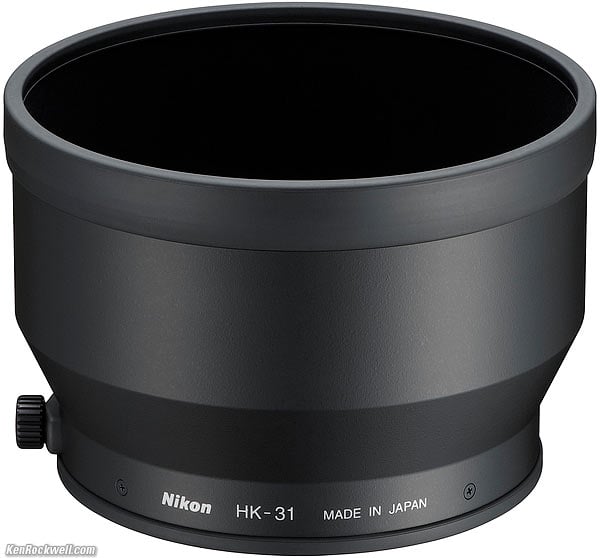 Nikon HK-31 Hood.
HK-31 hood, included.
Case top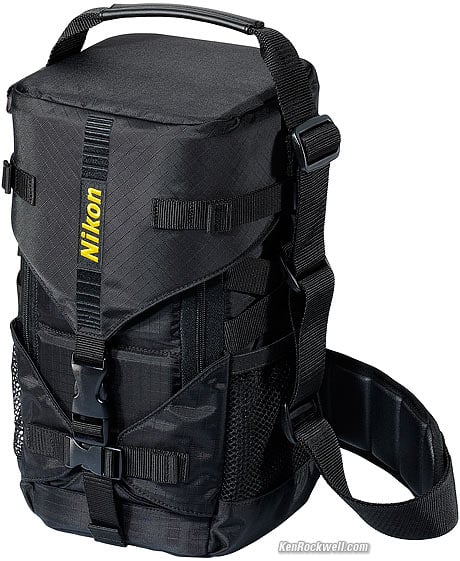 Nikon CL-L1 case. enlarge.
CL-L1, included.
Teleconverters top
Any of the TC-14E, TC-17E and TC-20E series.
Included top
Slip-on front lens cap
Rear Lens Cap LF-4.
Lens Hood HK-31.
Semi-soft Case CL-L1.
Dedicated slip-in filter holder.
52mm Screw-on Neutral Color NC Filter.
Strap LN-1.
Announced top
15 September 2010.
Available top
Promised for early October 2010.
Nikon Product Number top
2198.
Price top
$5,999.95, USA, September 2010.
Performance top
Intro Specifications Performance Recommendations
Here are Nikon's claimed MTF curves.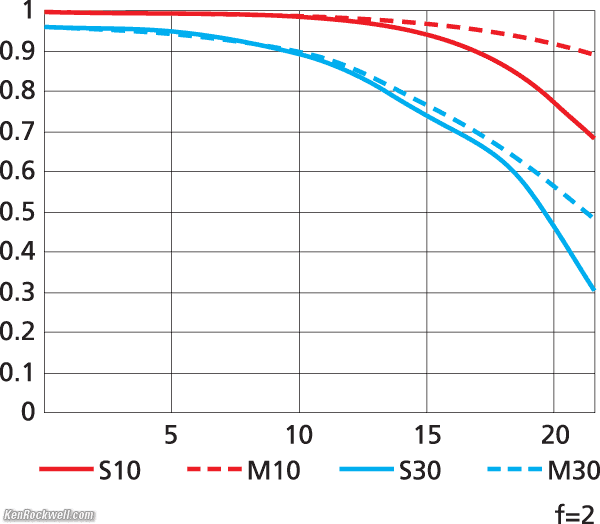 Nikon 200mm f/2 VR II AF-S claimed MTF at f/2.
This curve says that it is, as expected, ridiculously sharp everywhere except the far corners at f/2.
Recommendations top
Intro Specifications Performance Recommendations
You people know who you are.
200mm f/2 lenses are very specialized; most people find the similar 300mm f/2.8 or 200-400mm f/4 lenses more useful.
More Information
Nikon's Full-Line Lens Brochure
Help me help you top
I support my growing family through this website, as crazy as it might seem.
The biggest help is when you use any of these links to Adorama, Amazon, B&H, eBay, Ritz, Calumet and J&R and when you get your goodies. It costs you nothing, and is this site's, and thus my family's, biggest source of support. eBay is always a gamble, but all the other places always have the best prices and service, which is why I've used them since before this website existed. I recommend them all personally.
If you find this page as helpful as a book you might have had to buy or a workshop you may have had to take, feel free to help me continue helping everyone.
If you've gotten your gear through one of my links or helped otherwise, you're family. It's great people like you who allow me to keep adding to this site full-time. Thanks!
If you haven't helped yet, please do, and consider helping me with a gift of $5.00.
As this page is copyrighted and formally registered, it is unlawful to make copies, especially in the form of printouts for personal use. If you wish to make a printout for personal use, you are granted one-time permission only if you PayPal me $5.00 per printout or part thereof. Thank you!
Thanks for reading!
Mr. & Mrs. Ken Rockwell, Ryan and Katie.
Home Donate New Search Gallery How-To Books Links Workshops About Contact