Nikon D1H D1X Test Review: Specifications
Film vs. Digital About these reviews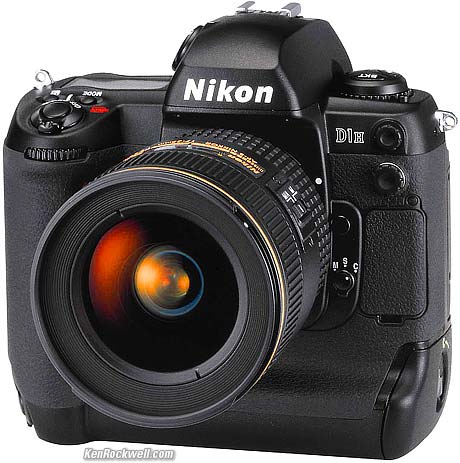 get the D1X here or here and D1H here or here
SPECIFICATIONS
Geeze, you don't need me for that. Go look here for the data.
The basics are a big, fat, heavy SLR camera with 16 x 24mm CCD size (1.5x effective focal length multiplier) and takes all Nikon manual and AF lenses except the weird ones like the very old ultra wides and fisheyes that require mirror lock up and external finders. It takes Compact Flash type I or II cards and microdrives up to at least a gig.
D1H:
1,312 x 2,000 pixel CCD and image size (fixed)
5 frames per second, 40 image buffer
ISO 200 - 1,600 (pushable to ISO 6,400)
D1X:
1,312 x 3,008 or 1,312 x 2,000 resolution (interpolated 2,000 x 3,008 image size in higher setting)
ISO 125 - 800 (pushable to ISO 3,200)
3 frames per second, 9 image buffer

Note that the resolution (not image size) of the D1X is identical to the D1H vertically, therefore giving only a 25% overall improvement over the D1H and original D1. The 2,000 pixel vertical image size of the D1X is an interpolation: the CCD does not have this resolution and the other boring websites that shoot test charts confirm that the vertical resolution of the two cameras is identical. Yes, this means the D1X is really only a 3.95 effective Megapixel camera, and the D1H is 2.62 MP, a very small difference. (see "The Megapixel Myth" for more.) Honestly, the extra horizontal pixels of the D1X are put to very good use due to the weird resampling that goes on, so you really do see an improvement over any other 6MP camera. The D1X gives superb results.
ahead to PERFORMANCE > >