Film vs. Digital About these reviews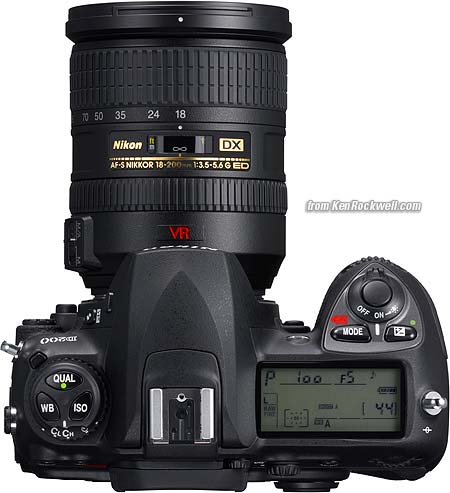 Nikon D200 with new 18 - 200 AFS-VR f/3.5-5.6G lens.
I bought mine from Ritz here. I bought another D200 from Adorama here. Also try Amazon here. Adorama usually has D200/18-70 kits in stock here. It helps me keep adding to this site when you click these links to get yours.
COMPATIBLE LENSES
Every autofocus and even manual focus Nikon lens made since 1977 works great! Except for wide angles you don't need to buy any new lenses. See also my page on Using the D200 with manual focus lenses.
Every Nikon Autofocus lens ever made: AF, AF-n, AF-D, AF-G, AF-S, VR, DX etc. works perfectly. I don't worry about D vs. non-D. I explain this alphabet soup here. Even my 20-year old AF lenses give perfect metering on my D70.
So long as your manual focus lens is AI or AI-S (which is all lenses since 1977) you'll get metering. If you enter some data about your manual focus lens you get matrix metering even with klunky old manual lenses! The D70s and D50 can't use the manual lenses very well at all; they work fine on the D200 as they do on the D2X. Manual lenses lose the Program and Shutter-priority exposure modes, so I stopped using my manual lenses in 1999.
Off-Brands
No-name lenses like Quantaray, Sigma, Tokina, Tamron, etc. aren't always compatible with new cameras. Sigma lenses have some problems on the D200 as you can read here. Nikon doesn't prosecute people for making lenses that fit Nikon cameras, but Nikon shares nothing about the electronic interfaces involved. It's not unusual for third-party lenses not to work 100% with new cameras. Nikon has always designed their lenses to work great with future cameras and often includes secret features about which they tell no one till the cameras are introduced later. For instance, my twenty-year old AF Nikkors digitally encode their name and focal length setting which is recorded in the EXIF info by the D200!
LENS SUGGESTIONS
I LOVE my new 18 - 200 VR lens I bought from Adorama here. You can read my review of it here. If you get an 18 - 200 you have no need for any of the 18 - 70 mm, 17 - 55 mm or 18 - 55 lenses.
There's really nothing the 18 - 200 VR doesn't do well. The only reason not to get it s is if it's too expensive. If so, then I suggest the simple 18 - 55 and saving your money for later.
Due to the 1.5x crop factor your wide and wide-to-tele zooms are no longer wide. For general purpose use you'll need a zoom that starts around 18mm, which is similar to 28 mm on a 35mm film camera.The 17 - 55 mm professional lens is heavy, fast and tough. The cheapie 18 - 55 lens is also perfectly fine, although it will feel pretty cheap mounted on the D200. The 18 - 70 mm lens costs more, and I prefer the cheaper 18 - 55.
I love my 12 - 24 mm ultrawide zoom and use it for 90% of my shots. Of course your taste will vary!
I have a huge page of specific suggestions and links to all my individual reviews here.
NEXT: ACCESSORIES
or back to PERFORMANCE
or back to D200 review page index
or back to top of D200 review