Nikon D300 Specifications
© 2008 KenRockwell.com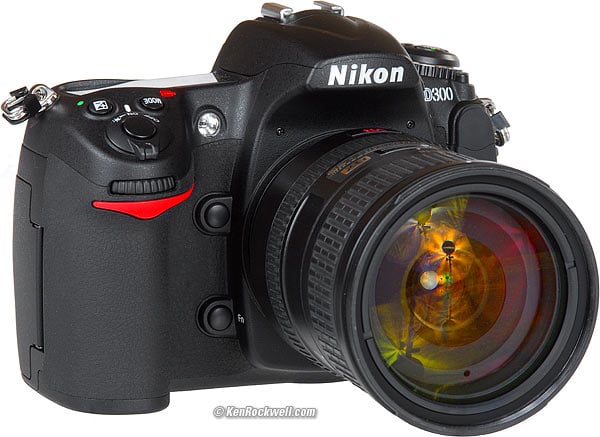 Nikon D300. enlarge. I got mine from Ritz; Adorama, Amazon and B&H Photo Video are also great places. It helps me keep adding to this site when you use these links to get yours, thanks! Ken.
January 2008
Finder
0.53x magnification with standard (for DX) 28mm lens. (0.94x with 50mm tele lens).
Glass pentaprism.
100% coverage.
19.5mm eye relief (eyepoint).
-2 to +1 diopters.
On-demand grid lines, much better than needing to replace a screen a la Canon.
Autofocus
51 points.
The center 15 sensors see detail in any orientation (cross sensors), while the other 36 sensors can only focus on details if they run in the correct direction (Nikon calls these horizontal sensors).
Multi-CAM 3500DX sensor .
Very sensitive as most AF systems, rated down to EV -1.
In Live View Mode, the AF system has another completely separate system that can autofocus directly from the image gathered by the image sensor, as point-and-shoots do.
AF Illuminator: Yes.
Shutter and Advance
Frame Rate: 6 FPS.
8 FPS with MB-D10 grip and any battery other than the standard EN-EL3e battery.
Note: Like every other camera, this presumes you're not expecting the pictures to be in focus. If you expect the photos to be in focus, the frame rate slows.
Shutter: 30 - 1/8,000 and bulb, in full, 1/2 or 1/3 stops.
Cable Release Socket: Nikon standard 10-pin, so budget about $100 for a cable release.
Buffer Depth: 100 shots, JPG Large, presuming you're using a good card like the San Disk Extreme IV I use.
Advance: Single; continuous frame rates selectable from 1 FPS to a maximum of 8 FPS depending on power supply. Live View (LV), self-timer (2-20 sec.), and mirror pre-release (Mup) modes.
Shutter Death: tested (not guaranteed) to 150,000 cycles.
Sensor, Image and Exposure
Nikon D300 Sensor.
Sensor: 12.3MP DX CMOS, 1.5222x crop factor, 23.6 x 15.8mm. That's 181 pixels per millimeter.
Ultrasonic Sensor Cleaner.
Image Sizes: 4,288 x 2,848 (L, native), 3,216 x 2,136 (M), 2,144 x 1,424 (S).
ISO: 200 - 3,200 (ISO 100 and 6,400 if you enable them in a custom function). The entire range can be set in 1/3 stops. Additionally, the range from ISO 200 - 3,200 can be set in 1/2 stops.
Metering: 1,005 pixel RGB Matrix, center weighted (selectable diameter) and spot. Couples to AI manual focus lenses, and if you enter information about your manual lens, you can get matrix metering with them, too.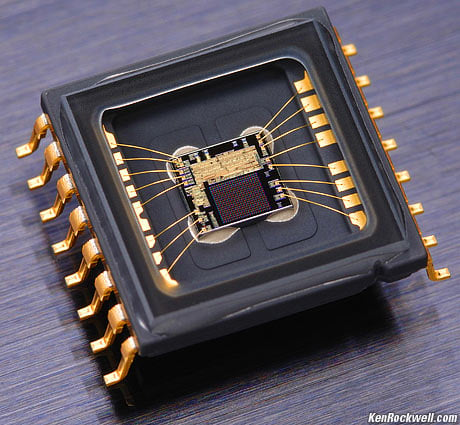 Nikon 1,005 Pixel RGB Sensor.
White Balance: Auto with 1,005 pixel sensor, seven of the usual presets (each with individual fine-tuning, a huge advantage of Nikon over Canon) and degrees Kelvin. 5 manual gray-card memories. Fluorescent now has seven presets inside it: Sodium-vapor, warm-white, white, cool-white, day white fluorescent, daylight fluorescent (yes, "day white" and "daylight" types; you figure it out), and mercury vapor.
New is green/magenta fine tuning, as well as a larger amber/blue fine tuning range of +/- 6 steps.
New is the ability to fine-tune a gray card setting.
Flash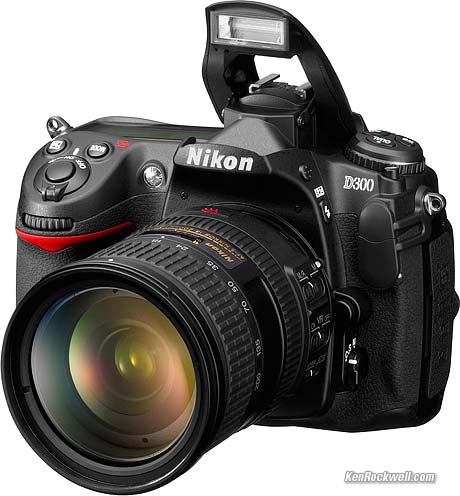 Nikon D300 Built-in Flash.
Built-in Flash: Yes; same GN 40'/12m pop-up as other Nikons.
Maximum Shutter Speed With Flash: 1/250 in normal modes. Trick FP mode for faster speeds with greatly reduced flash efficiency. (see Flash Sync Speeds.) The specs I'm reading are unclear, there is a delicious possibility that standard sync may be 1/320.
Flash Metering: Nikon's superb 1,005 pixel RGB iTTL sensor. Only works with SB-400, SB-600 and SB-800; other flashes can't use any TTL mode. Tip: If you have an old Nikon flash like an SB-20 or SB-80DX, use it in its A mode and set the D300 accordingly. It works reasonably well.
Data, Playback, Files and Storage
Formats: JPG, 14-bit and 12-bit NEF raw. You have your choice of uncompressed, lossless compressed and lossy compressed raw.
Color Playback Histogram: YES.
Live Histogram: No.
Storage: CF type I and II and microdrives.
Secret EXIF Text Data: YES, 36 characters added to each file. I use this in all my Nikons to put © KenRockwell.com and my phone in every one of my files automatically as they are created. See how to do it on a D200; I suspect the D300 is similar.
Data Transfer: USB. With optional WT-4: wireless and ethernet.
HDMI Video Output.
3" LCD Monitor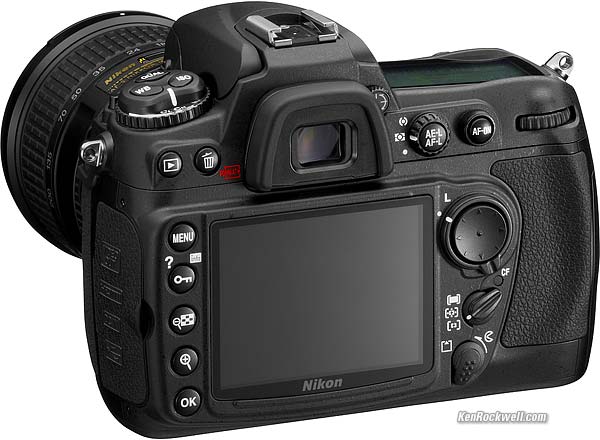 Nikon D300 enlarge
3-inch LCD with the option of live viewing ("Live View").
920,000 dots (640 x 480 x 3 [RGB]), quadruple the 320 x 240 x 3 [RGB] = 230,000 dot screens of the D40, D40x, D80, D200, the Canon Rebel XTi, Canon 40D, $4,500 Canon 1D Mk III or $8,000 Canon 1Ds Mk III.
920,000-dot high-resolution, which is a full 307,200 pixels (640 x 480 x 3), which is extremely high linear resolution; more than any other digital camera of which I know except the same screen on the D3. Every other camera is using only a 320 x 240 pixel resolution LCD, and I believe confusing dots with pixels. A pixel is properly three dots. 320 x 240 x 3 = the 230,000 dot/pixel number used in other 3" and 2.5" screens.
Color Playback Histogram: YES.
Live Histogram:no.
Size, Weight and Power
Size: 5.8 x 4.5 x 2.9" (147 x 114 x 74mm) W x H x D, specified.
Weight: 29.1 oz (825g) stripped: no battery, no card, no strap, no lens, etc., specified.
Power: EN-EL3e battery (same as D80 and D200, yay!). MB-D10 grip (see below) or optional EH-5a AC Adapter.
Battery Life: Unspecified. I get 1,000+ shots per charge, double to triple what I get on my D200.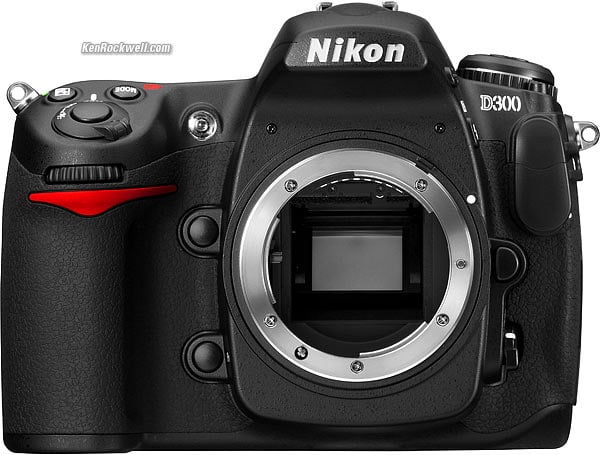 Nikon D300. enlarge.
Price and Availability
Price: $1,799.95 at introduction.
Announced: 23 August 2007.
First Retail Sale: 21 November 2007.
Back to Page Index of Nikon D300 Review
PLUG
If you find this as helpful as a book you might have had to buy or a workshop you may have had to take, feel free to help me continue helping everyone.
Thanks for reading!
Ken