Home Donate New Search Gallery Reviews How-To Books Links Workshops About Contact
Nikon D600 Accessories
24 MP FX, 5.5 FPS, 2-SD cards, $2,099
© 2012 KenRockwell.com. All rights reserved.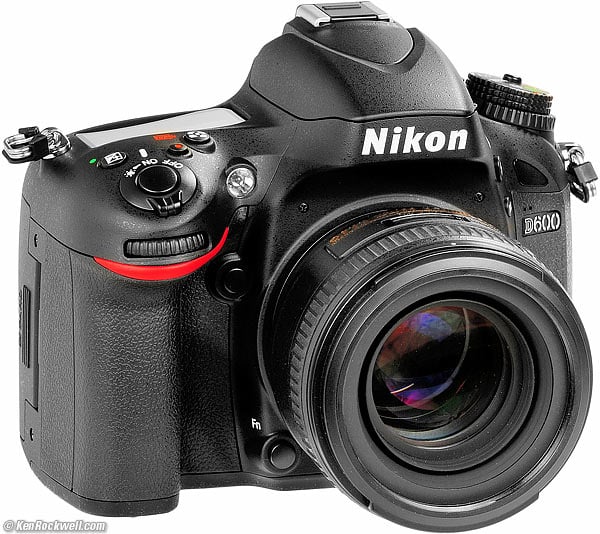 Nikon D600 (30.0 oz./850 g with battery and card) with 24-85mm VR. enlarge. This free website's biggest source of support is when you use these links, especially this link to the body at Adorama, and the kit with 24-85mm VR at Adorama and all the versions and accessories at Adorama, or this link to it at Amazon, when you get anything, regardless of the country in which you live. Thank you! Ken.
September 2012 More Nikon Reviews Nikon Lenses All Reviews
Optional Accessories top
MB-D14 Grip
top of Nikon D600 Review
top of specs page
The new MB-D14 grip ($275) is unique to the D600.
It uses either the usual EN-EL15 Li-ion Battery, or six AAs (alkaline, Ni-MH or lithium).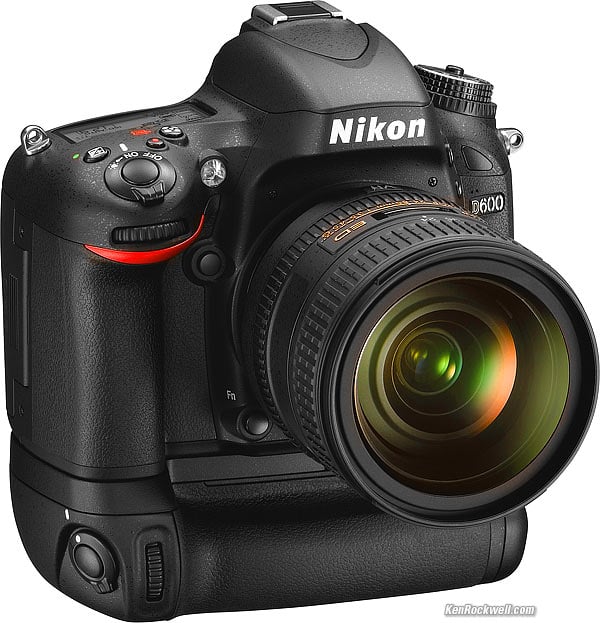 Nikon D600 with 24-85 VR and MB-D14 Grip. enlarge.


If you keep one EN-EL15 in your D600 and a second in the grip, it will sequence between them seamlessly.
The MB-D14 grip has vertical controls, a shutter-release lock lever, an AE-L/AF-L button, a multi selector, and two command dials. It uses magnesium alloy for its exterior.
Nikon also sells replacement replacement MS-D14 AA holders ($45) and replacement MS-D14EN EN-EL15 holders ($45) separately for the MB-D14 grip.
EH-5B AC Adapter top of Nikon D600 Review top of specs page
There is an EH-5B AC Adapter ($80), which needs the EP-5B Power Connector ($50) to work.
GP-1 GPS top of Nikon D600 Review top of specs page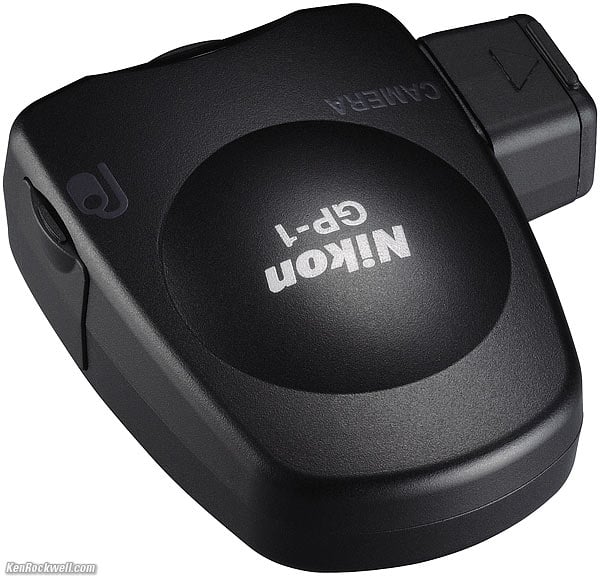 Nikon GP-1 GPS module (not showing the dorky cord you need to connect it! )
GP-1 GPS module ($195).
WU-1b Wireless Mobile Adapter D600 Review top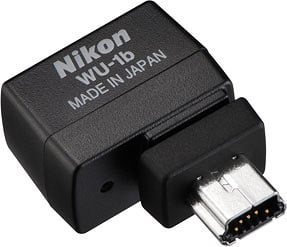 The new $50 WU-1b Wireless Mobile Adapter plugs into the D600's USB connector and then hangs out the side.
It allows two-way communication between the D600 and an iPhone or iPad or other Apple iDevice, or the Android. With an appropriate app (Nikon Wireless Mobile Adapter Utility), you can control the D600 remotely and see what it's doing via Live View on your iPod Touch or etc.
Once shot, the images also just fly into your iPad or whatever, from which you can send them out or do what you want with them.
ME-1 Stereo Mic top of Nikon D600 Review top of specs page
Nikon ME-1 stereo mic ($130).
ML-L3 Remote Release D600 Review top of specs page
ML-L3 Remote Control ($17).
Works with many other Nikons, too.
MC-DC2 Remote Cord D600 Review top of specs page
MC-DC2 Remote cord ($25).
Help me help you top
I support my growing family through this website, as crazy as it might seem.
The biggest help is when you use any of these links when you get anything, regardless of the country in which you live. It costs you nothing, and is this site's, and thus my family's, biggest source of support. These places have the best prices and service, which is why I've used them since before this website existed. I recommend them all personally.
If you find this page as helpful as a book you might have had to buy or a workshop you may have had to take, feel free to help me continue helping everyone.
If you've gotten your gear through one of my links or helped otherwise, you're family. It's great people like you who allow me to keep adding to this site full-time. Thanks!
If you haven't helped yet, please do, and consider helping me with a gift of $5.00.
As this page is copyrighted and formally registered, it is unlawful to make copies, especially in the form of printouts for personal use. If you wish to make a printout for personal use, you are granted one-time permission only if you PayPal me $5.00 per printout or part thereof. Thank you!
Thanks for reading!
Mr. & Mrs. Ken Rockwell, Ryan and Katie.
Home Donate New Search Gallery Reviews How-To Books Links Workshops About Contact