Nikon D70 and D70s News
© 2006 KenRockwell.com
About these reviews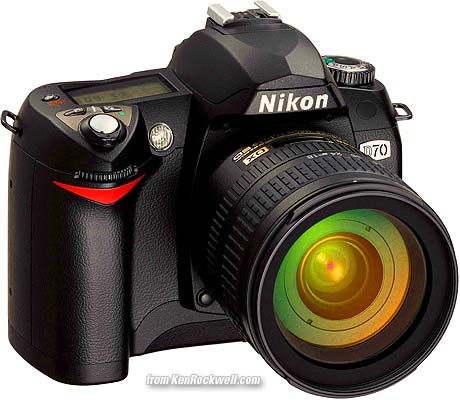 April 2006: I publish a complete users guide complete with all my secret settings for image quality.
December, 2005: The D70 has pretty much disappeared from store shelves, replaced by the almost identical D70s.
November 8th, 2005: Battery Recall.
October 2005 These guys here are shooting an animated movie with a D70!
September 2005 Nikon discovers a flaw where the green light may just blink at you and your camera is dead. They'll fix this for free. See here.
June 2005 An almost identical but newer version called the D70s is the same camera just with a slightly larger screen. Everything in this review applies to it. Personally I see no advantage to the D70s, so I'd get a D70 since you can get it for less than the D70s.
May 2005 New version 2.0 firmware here (USA), here (Asia) and here elsewhere.
April 2005 The new D70s is almost identical newer version of the D70. The price continues to improve, today it's $899 for the body and Nikon will give you a rebate if you buy a certain printer. The kit with the great lens is $1,199 and does have a $100 rebate for a total of $1,099. See the details for rebates here.
January 2005 It became the most popular Nikon SLR ever made.
January 28th, 2004 Formal announcement with specifications and photos.
End of 2003 The D70 was announced as nothing more than a fuzzy forecast of a lower priced digital SLR with no solid specs. It said nothing other than alluding to a lower-cost replacement for the D100. At the time I thought the press release was foretelling a crummy, low cost camera and that the press release was for no purpose other than trying to cut the mass flow of users from Nikon to Canon, since in August of 2003 Canon introduced the Digital Rebel at the revolutionary price of $999. The D100 was at $1,499 in 2003.