Home Donate New Search Gallery Reviews How-To Books Links Workshops About Contact
Nikon D800 & D800E Specifications
© 2012 KenRockwell.com. All Rights Reserved.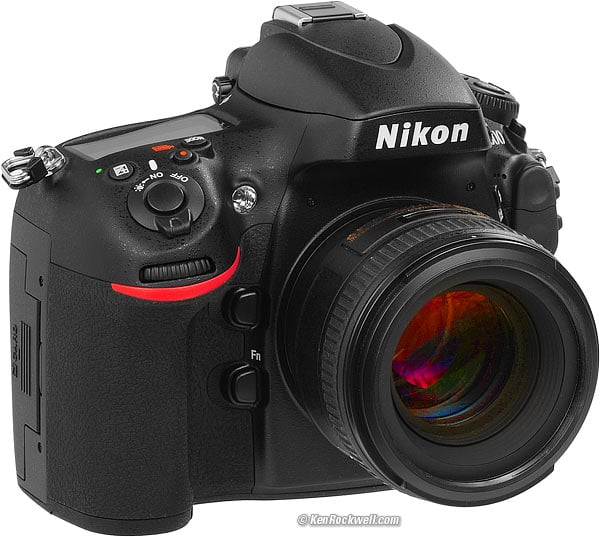 Nikon D800 (about $3,000, 35.1 oz./994g with battery and CF card) and 50mm f/1.4 G. enlarge.
May 2014 More Nikon Reviews Nikon Lenses All Reviews
NEW: Canon 5D Mark III vs. Nikon D800 27 June 2012
The Nikon D800E (same as D800 but slightly sharper)
D800 vs D800E D800 Review top
See also Nikon D800 versus D800E.
The D800E is the same camera and has the same sensor as the D800, except that the D800E has its anti-aliasing filter removed. IR and UV rejection are the same.
Sensor D800 Review top
36MP FX (35.9 x 24.0 mm) CMOS.
7,360 × 4,912 pixels (L, 36MP), 5,520 × 3,680 (M, 20MP), 3,680 × 2,456 (S, 9MP).
Sensor cleaner.
14-bit linear ADC, 16-bit data pipelines, same as the D3X.
Video only uses a central 32.8 x 18.4mm section at most.
Crop modes
It's easy to set a function button to allow direct selection of these from shot-to-shot:
Professional 5:4
30 x 24 mm.
6,144 × 4,912 pixels (L, 30MP), 4,608 × 3,680 (M), 3,072 × 2,456 (S).
1.2x Canon emulation
30.0 x 19.9 mm.
6,144 × 4,080 pixels (L, 25MP), 4,608 × 3,056 (M), 3,072 × 2,040 (S).
DX
23.4 x 15.6 mm.
4,800 × 3,200 pixels (L, 15.4MP), 3,600 × 2,400 (M), 2,400 × 1,600 (S).
ISO
100 ~ 6,400, expandable to 50 (LO-1) to ISO 25,600 (HI+2).
Lens Compatibility D800 Review top
With a built-in AF motor and an aperture feeler for manual-focus lenses, it's the same as the D3X and D7000: it works great with every Nikon lens made since 1977!
More at Nikon Lens Compatibility.
AF D800 Review top
51 points (only 15 are cross-type, and 9 will work even at f/8).
Dark LCD boxes indicate AF areas, lit occasionally in red.
Same CAM3500-FX sensor as D3X.
Fine-tuning, if you have slight errors with certain lenses.
Finder D800 Review top
100% coverage.
0.70x magnification with 50mm lens, same as D3X.
17mm eyepoint.
Electronic Level D800 Review top
Yes, electronic virtual horizon with roll and pitch, better than the D3X.
Works on rear LCD, and in the finder if you activate it by programming one of the Function buttons to do this.
Meter D800 Review top
91,000-pixel 3D Color Matrix Meter III with Advanced Scene Recognition and Face Recognition Systems. The funny thing is that it still uses only a 30,000-image reference database, the same as the Matrix meter of the 1980s!
i-TTL flash metering for use with SB-910, SB-900, SB-800, SB-700, SB-600 and SB-400.
4mm Spot and 8, 12, 15 or 20mm-diameter center-weighted.
Meter coupling: AI or CPU.
In-camera High Dynamic Range (HDR) capture.
Built-in Flash D800 Review top
Controls wireless flash.
GN 39/12 (Feet/meters at ISO 100).
Shutter D800 Review top
1/8,000 ~ 30 seconds in full, half or third-stops.
Bulb.
Flash Sync: 1/250.
Carbon fiber and Kevlar, tested to 200,000 cycles.
Requires an exotic 10-pin electronic remote cable, no thread for a real cable release.
Clumsy Mirror Up mode, and an excellent new delay mode for mirror lock-up.
Frame Rate D800 Review top
4 FPS FX.
(5 FPS DX, 6 FPS DX with MB-D12 battery grip, but if you want speed for DX shooting, the D7000 does 6 FPS right out of the box with the regular battery, for less than half the price and with better ergonomics!)
Live View D800 Review top
Two modes, with a rear selector lever.
23x zoom electronic loupe.
Video D800 Review top
Video only uses a central 32.8 x 18.4mm section of the sensor, at most.
No Standard definition or 4:3 options.
FX and DX gates.
1080/29.97p.
1080/23.976p.
1080/25p.
720/59.94p.
720/50p.
720/29.97p.
720/25p.
Time-lapse mode from 1 FPS down to about one frame every half-hour.
H.264/MPEG-4 AVC.
Up to 29:59 minutes per clip at normal quality.
Live, uncompressed 1080 HD signal directly from the HDMI port (8 bit, 4:2:2).
Audio D800 Review top
Built-in mono mic.
3.5mm stereo mic jack.
20-step manual recording gain control.
30-step manual output gain control.
3.5mm headphone jack.
Linear PCM recording.
File Formats D800 Review top
JPG, TIFF, NEF, or NEF+JPG.
NEF in 12- or 14-bit with no, lossy or lossless compression.
JPG in BASIC, NORMAL or FINE, Size or Quality-based.
LCD D800 Review top
Exquisite 3.2," 921,000 dots.
Tempered glass cover.
Auto brightness control.
Data Communication D800 Review top
USB 3.0, micro-B connector.
HDMI, type-C connector.
10-pin remote.
Data Storage D800 Review top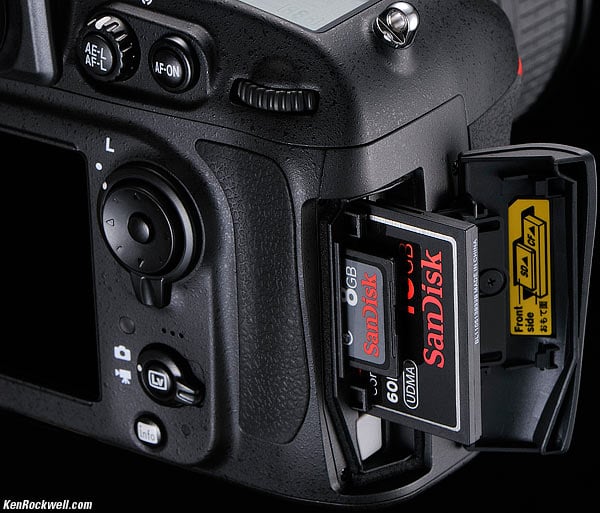 SD and CF Slots, Nikon D800. enlarge.
One CF card rated up to UDMA-7, and one SD card rated up to SDXC / UHS-1.
Power D800 Review top
EN-EL15 (same battery and charger as D7000).
Rated 900 shots.
Nikon rates it as 2 hours 35 minutes for a full recharge.
Nikon says the clock battery charges itself after two days with a regular battery inserted, and once charged, will keep the clock running for three months if you pull the main battery.
Size D800 Review top
4.8 x 5.7 × 3.2 inches, HWD.
123 × 146 x 81.5 millimeters, HWD.
Weight D800 Review top
35.075 oz. (994.3g), measured with battery and a CF card.
34.805 oz. (986.7g), measured with battery and an SD card.
35.140 oz. (996.2g), measured with battery, a CF card and an SD card.
34.740 oz. (984.8g), measured with battery but no cards.
31.675 oz. (897.9g), measured completely stripped.
3.065 oz. (87.0g), battery alone.
Nikon rates it at 35.3 oz. (1,000g or 2 lb., 3.3 oz.) with battery and SD card.
Nikon rates it at 31.7 oz. (900g or 1 lb., 15.7 oz.) stripped.
Price (USA) D800 Review top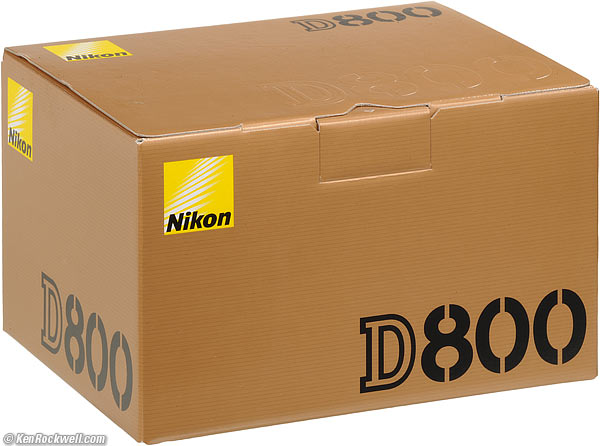 Nikon D800 box. See side.
2014 May: $2,800. (D800E: $3,300).
2012: February (introduction) - April 2012: $2,999.95. (D800E: $3,299.95).
Included D800 Review top
D800 body.
BF-1B Body Cap.
BM-12 clear LCD Monitor Cover.
BS-1 Accessory Shoe Cover.
EN-EL15 Rechargeable Li-ion Battery.
MH-25 Battery Charger.
DK-17 Eyepiece.
UC-E14 USB Cable.
USB Cable Clip.
Camera Strap.
ViewNX 2 CD-ROM.
Quality D800 Review top
Made in Japan.
Announced D800 Review top
07 February 2012.
Promised D800 Review top
Late March 2012, and that's when the very first samples reached photographers.
The D800E was promised for early April 2012, and didn't get in photographers hands until 08 May 2012.
Help me help you top
I support my growing family through this website, as crazy as it might seem.
The biggest help is when you use any of these links when you get anything, regardless of the country in which you live. It costs you nothing, and is this site's, and thus my family's, biggest source of support. These places have the best prices and service, which is why I've used them since before this website existed. I recommend them all personally.
If you find this page as helpful as a book you might have had to buy or a workshop you may have had to take, feel free to help me continue helping everyone.
If you've gotten your gear through one of my links or helped otherwise, you're family. It's great people like you who allow me to keep adding to this site full-time. Thanks!
If you haven't helped yet, please do, and consider helping me with a gift of $5.00.
As this page is copyrighted and formally registered, it is unlawful to make copies, especially in the form of printouts for personal use. If you wish to make a printout for personal use, you are granted one-time permission only if you PayPal me $5.00 per printout or part thereof. Thank you!
Thanks for reading!
Mr. & Mrs. Ken Rockwell, Ryan and Katie.
Home Donate New Search Gallery Reviews How-To Books Links Workshops About Contact