Nikon N60 (F60)
© 2004 KenRockwell.com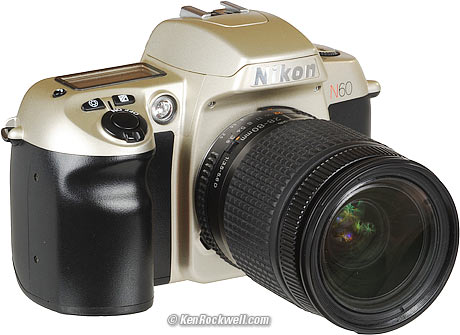 Nikon N60. enlarge. See Nikon's factory data here. Find a used one here
This camera is called the N60 in the USA and the F60 everywhere else. It was introduced in September 1998 and discontinued in May 2001.
Don't buy this primitive and discontinued poor copy of the excellent Canon Rebel 2000.
The new Nikon N55 and existing Canon Rebel 2000 are far superior cameras, at the same or lower price.
For instance, the obsolete Nikon N60 has only one focus sensor, has no compatibility with AF-S lenses, no depth-of-field preview and a slow motor drive. The new N65 has five useful AF sensors, works with AF-S lenses, has a 2.5 FPS motor drive and has a useful DOF preview button.
The old N60 has a heavy metal chassis and the new N65 is just plastic, however they both feel like throw-away cameras. The old N60 also has a 1/125 flash sync and the new N65 only 1/90, neither is very good.
Beware of dealers who are stuck with these obsolete but still new cameras in stock. Run out the door screaming if a dealer tries to unload one of his problems (unsold obsolete N60 cameras) on you.
Of course if you already have an N60 don't worry about it; it makes great pictures. The N60 does feel a little sturdier than the N65.
If you are starting from scratch the Canon Rebel 2000 is also a great camera.
Batteries: Two CR123A or DL123A 3V lithium.
PLUG
If you find this as helpful as a book you might have had to buy or a workshop you may have had to take, feel free to help me continue helping everyone.
Thanks for reading!
Ken
Home Search Gallery How-To Books Links Workshops About Contact