Home Donate New Search Gallery Reviews How-To Books Links Workshops About Contact
Book Review: The Complete Nikon Rangefinder System
© 2008 KenRockwell.com. All rights reserved.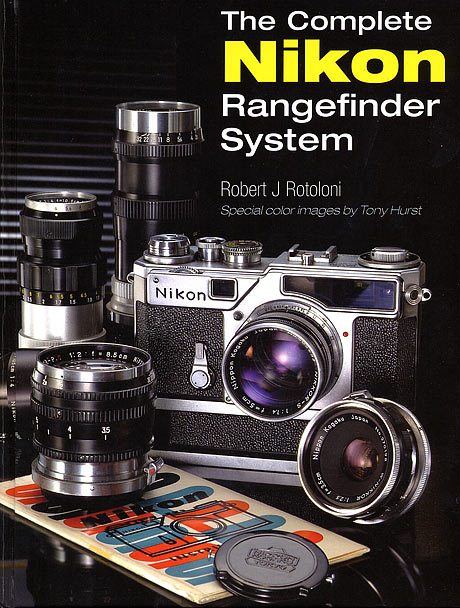 "The Complete Nikon Rangefinder System" by Robert Rotoloni, This free website's biggest source of support is when you use these links, especially this link right to it at Amazon, when you get anything, regardless of the country in which you live. Thanks! Ken.
May 2008 Nikon Rangefinder System Reviews Nikon SLR System All Reviews
"The Complete Nikon Rangefinder System" by Robert Rotoloni is the modern authoritative work documenting the 1950s Nikon rangefinder camera system for collectors.
This is the largest and most complete compilation of everything Nikon made in photography, excepting the SLR cameras and lenses, from 1932 - 1964. It even includes many never-manufactured prototypes.
Specifications top
Intro Specs Performance Recommendations
Size: 7-3/4" x 10-1/4" x 1-3/4."
Cover Thickness: 0.134" (3.4mm).
Page Thickness: 5.1 mils (130µ).
Pages: Numbered to 528.
Weight: 4 pounds, 9-3/4 oz. (2,090g)
Edition: Third.
Publisher: Hove Foto Books, England.
Printer: Die Keure N.L., Belgium.
Distributor: Camera Books, Oregon USA.
Price: $99.00, which is about right for a limited-run textbook.
Available: Since April 2008.
Performance back to top
Intro Specs Performance Recommendations
This is a book for collectors, not for photographers.
It is well printed, well reproduced and profusely illustrated. Except for a 23-page color section, it is entirely black-and-white. There are big pictures of everything, which is how I like it.
The images are mostly by the author, which show cameras but never examples of photos made with these cameras. The contrast and sharpness of the B/W images is on the low side, but that lets us see details. There are some excellent illustrations made by a professional photographer, but those are few and far between.
This book's downside is that it's all details. It lacks summations or overviews to make any sense of it all.
It's all details for an "in" group. It's loaded with facts and figures, but it never sums them all up in tables so that they can make any sense. It's almost as if it's a collection of smaller chapters which are never brought together with broad timelines or summary tables.
For instance, there is no table showing the key differentiating features of each camera, or any timelines to put things in perspective.
Other books, like The New Nikon Compendium, have only one small chapter to cover the entire rangefinder system, but include critical tables to sum up what's going on. These tables make the basic books more useful to photographers than this huge one. In other words, if you want to know which models have life-size finders and which have 0.7x finders, you have to read through the whole 528-page Rotoloni book, but can see it on one page with other books.
This Rotoloni book is for collectors, so everything is written from the standpoint of production dates, quantities, uniqueness and rarity. There are very few mentions of features, usage or performance.
There is next to no useful information for a photographer trying to figure out what lens or camera might do what. For instance, there never is any mention that the SP has four different flash sync modes. There are over a thousand illustrations, but never a picture of just the framelines in any of the viewfinders. It's as if collectors never even look through the finders, much less every actually run any film through these cameras.
There are some tables of factory production data correlating serial numbers to abstract internal batch numbers, but nothing to let us determine production dates by serial numbers.
Like most self-published works (including this website), it could use a good professional edit. There are numerous repetitions, too much personal chit-chat and too many unneeded exclamation points! This is typical for special interest books.
All the facts and details are nice, but it needs a solid go-through by an editor to put all the data in a more useful form. Even after reading the book, I still can't figure out when cameras or lenses were made using their serial numbers as we can for Nikon SLR lenses.
Recommendations back to top
Intro Specs Performance Recommendations
This is easy: if you're a Nikon rangefinder collector, I'm sure you already have the small second edition from 1993 and probably already have ordered this new third edition.
I bought and enjoyed this book, and I'm not even a collector.
If you're a photographer, you can skip it. It offers no help in actually using these cameras. As a photographer, I found the much smaller second edition just as useful. This third edition takes everything from the second edition, which was all that was really necessary, and adds tons of minor details and illustrations to add hundreds of pages to this third edition.
Help me help you top
I support my growing family through this website, as crazy as it might seem.
The biggest help is when you use any of these links to Adorama, Amazon, eBay, Ritz, Calumet, J&R and ScanCafe when you get anything, regardless of the country in which you live. It costs you nothing, and is this site's, and thus my family's, biggest source of support. These places have the best prices and service, which is why I've used them since before this website existed. I recommend them all personally.
If you find this page as helpful as a book you might have had to buy or a workshop you may have had to take, feel free to help me continue helping everyone.
If you've gotten your gear through one of my links or helped otherwise, you're family. It's great people like you who allow me to keep adding to this site full-time. Thanks!
If you haven't helped yet, please do, and consider helping me with a gift of $5.00.
As this page is copyrighted and formally registered, it is unlawful to make copies, especially in the form of printouts for personal use. If you wish to make a printout for personal use, you are granted one-time permission only if you PayPal me $5.00 per printout or part thereof. Thank you!
Thanks for reading!
Mr. & Mrs. Ken Rockwell, Ryan and Katie.
Home Donate New Search Gallery Reviews How-To Books Links Workshops About Contact