Home Donate New Search Gallery How-To Books Links Workshops About Contact
Pentax 645D
33x44mm sensor, 40MP, 1.1 fps.
$9,500. May 2010 (Japan only).
© 2010 KenRockwell.com. All rights reserved.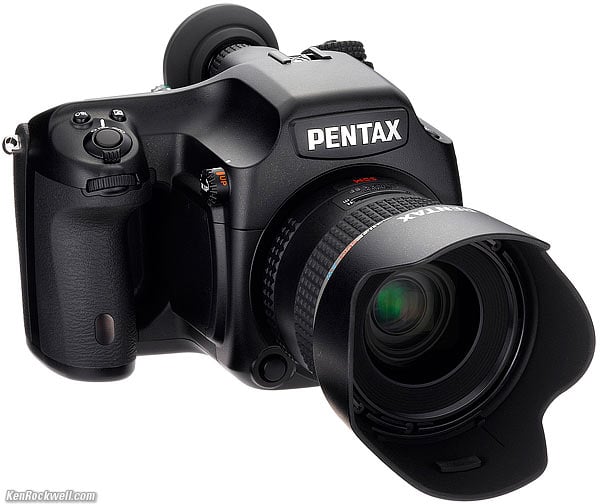 Pentax 645D. enlarge.
March 2010 More Pentax Reviews
NEWS: 10 March 2010 top
Today Pentax announced its first medium-format digital camera.
Pentax has been making 645 cameras since 1984, or for over 25 years.
The great news is the low four-digit price, undercutting Hasselblad, Mamiya and Leica by tens of thousands of dollars.
The bad news is that it's designed to appeal to hobbyists, meaning garbage features like 77-segment metering, wimpy, slow SD card media, stupid picture modes, live view, electronic level, 11-point AF — and gag me — multiple exposures and in-camera HDR, which have replaced the intelligent usability of simpler cameras designed for pros who know what they're doing.
Do you know how many AF sensors the $43,000 Hasselblad CF-39 has? One.
Do you know how many metering zones it has? One at a time, and it also has fewer pixels (39MP vs. 40).
Pros must know something Pentax doesn't.
The good news is that the Pentax 645D shoots the professional 4:3 aspect ratio as do Hasselblad and Mamiya. This is much better than the amateur 3:2 aspect ratio of the LEICA S2.
The bad news is that the Pentax' 33 x 44mm sensor isn't much bigger than 24 x 36mm; only 27% bigger linearly. Ultimately, what are you gaining by going to all this effort? It takes about 50 - 100% (linear) increases to make real progress.
33 x 44mm isn't real, full-frame medium format, which is 41.5 x 56mm. 33 x 44mm is only DX medium format.
645 refers to the 60 x 45 mm nominal film format, which is actually 56 x 41.5mm.
With this digital truncation, Pentax should call this the Pentax 433 not to be misleading.
You can see all the gory details directly at Pentax' websites, and also here and here.
Specifications top
Sensor
Kodak
33 x 44mm (55mm diagonal).
40MP
7,264 x 5,440 pixels, native.
ISO: Auto, 200 - 1,000. Also ISO 100 and ISO 1,600 in trick modes.
14-bit ADC.
Data Formats
Raw (PEF and DNG)
JPG.
Crop factors
1.27 versus real 645 (41.5x56mm).
0.79 versus 35mm film (24x36mm).
Shutter
Only designed for 50,000 shots, which seems like a typo.
Heck, my Nikon D3 already has more shots on it than that.
30s - 1/4,000, and bulb.
Flash Sync: 1/125.
Frame rate: 1.1 FPS.
Lens Compatibility
PENTAX 645AF2, 645AF, and 645A mount lenses, which means everything you already have for your old Pentax 645.
This also means that you might get an aperture ring if using the older Pentax 645 lenses that have them.
FInder
98% coverage.
0.62x magnification with normal (55mm on this 33x44mm format) lens.
LCD
3."
640x480 high-resolution.
Storage
Dual SD/SDHC slots.
Good news is two slots for backup.
Really bad news is that SDHC and SD card have download speeds too slow for pro use, especially with high-resolution files. speed tests.
Size
6.1 x 4.6 x 4.7 inches, WHD.
156 x 117 x 119 millimeters, WHD.
Weight
1,480 g (52.2 oz.) with battery and two SD memory cards.
1,400 g (49.4 oz.) stripped without battery or SD memory cards.
Critical Analysis top
Oh great.
This is the first amateur medium-format digital camera.
Medium-format digital cameras were one of the few remaining kinds of digital camera that still hadn't been screwed up with stupid features designed to sell cameras instead of designed to help you make better pictures more easily.
With this Pentax, I see a long list of garbage features which will only serve to distract, instead of focus, any photographer's attention.
I see no aperture or shutter speed dials. All I see is another confusing array of meaningless buttons that aren't going to help.
If Pentax added a digital back to the Pentax 645N, then we'd have something. The 645N is designed as a camera should be.
The 645D looks like another exercise in digital frustration.
Would you like to know what medium-format camera I want under my Christmas tree in 2010? I want a full-frame medium-format Phase One digital back for a Contax 645.
The Contax 645 is the best-handling camera out there today. It has no menus, no LCDs, no BS except what you actually need, like dedicated single-purpose knobs and buttons for aperture, shutter speed, meter, focus and advance modes, bracketing, exposure compensation, mirror lock-ups and self timers, and everything, all where you can work it in seconds.
This is why the Contax 645 is used in studios and on location daily, even if it's been out of production for years. Since Nikon shoots their camera product PR photos on Phase One backs, for all I know, they were shot on the Contax 645 body, if not Hasselblad or a small view camera
On the Pentax 645D, it looks like everything you actually need to do is only available via menus and stupid multi-function scroll wheels.
If I have to lose photos because the Pentax 645D won't fire because the pointless 11-zone AF system is set incorrectly, as can happen on Canon and Nikon DSLRs, I can do without this Pentax.
I'm sure this Pentax will be popular, but I'd rather use a setup designed to be allow me to make better pictures, not to throw features at impressionable hobbyists in order to sell more cameras. Designing cameras to appeal to unwitting feature-counters who aren't sufficiently experienced to discriminate between what's important, and what are merely degrading distractions, is the best way to make a bad camera.
If I get my hands on one I'll let you know, but for now, I'd rather shoot a Pentax 645N or a Contax 645 instead.
As my recent Route 66 trip showed me, getting the crap features out of my camera is the best way to make better pictures, and have more fun doing it.
When I get over complaining about how Pentax screwed-up the opportunity to make a great camera, I'm sure that I'll love it.
Hopefully the Pentax 645DN will improve on this original Pentax 645D in 2012, as the Pentax 645N greatly improved on the original Pentax 645. The original Pentax 645 also had a huge problem with pushbuttons where knobs should have been (still only half as bad as the Pentax 645D), and then the Pentax 645N added the knobs that should have been on the older Pentax 645 all along.
Help me help you top
I support my growing family through this website, as crazy as it might seem.
If you find this as helpful as a book you might have had to buy or a workshop you may have had to take, feel free to help me continue helping everyone.
If you've gotten your gear through one of my links or helped otherwise, you're family. It's great people like you who allow me to keep adding to this site full-time. Thanks!
If you haven't helped yet, please do, and consider helping me with a gift of $5.00.
The biggest help is to use these links to Adorama, Amazon, B&H, Calumet, Ritz, J&R and when you get your goodies. It costs you nothing and is a huge help to me. eBay is always a gamble, but all the other places have the best prices and service, which is why I've used them since before this website existed. I recommend them all personally.
Thanks for reading!
Ken
Home Donate New Search Gallery How-To Books Links Workshops About Contact