Home Donate New Search Gallery Reviews How-To Books Links Workshops About Contact
Rancho Pacifica
a Rancho Santa Fe neighborhood
© 2014 Ken Rockwell.com. All rights reserved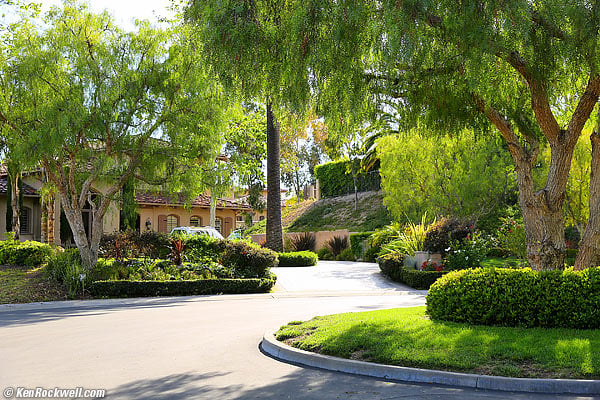 Trees in the middle of cul-de-sacs! bigger.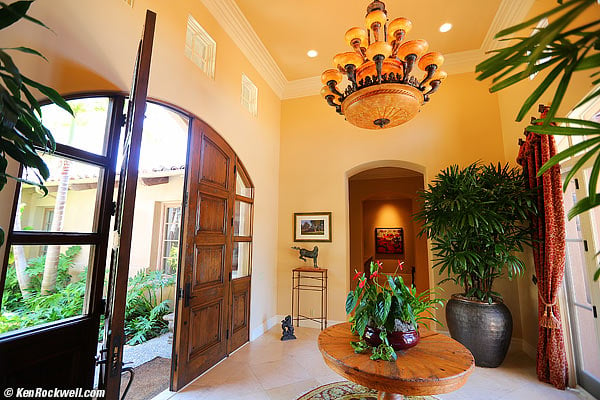 Typical Rancho Pacifica entryway. bigger.
June 2014
Rancho Pacifica is a neighborhood of Rancho Santa Fe located southwest of downtown Rancho Santa Fe and 2 miles (3 km) east of Del Mar. It is 18 miles (29 km) north of San Diego, California.
All of Rancho Sante Fe consists of multi-million-dollar homes, typically with 7,000 square feet to 15,000 square feet of living area on an acre or more of land. There are no "developments;" all are one-of-a-kind custom-built homes.
Rancho Pacifica offers numerous benefits over old Rancho Santa Fe, known locally as The Covenant, which is now over 90 years old. Rancho Santa Fe is home to many of the world's richest people.
The enclave of Rancho Pacifica was created in 2003 by these same people to enjoy the benefits of modern living so lacking in the old Rancho Santa Fe covenant.
Rancho Santa Fe Neighborhoods
The Covenant

Rancho Pacifica

Multi-million-dollar one-of-a-kind homes, some dating to 1922 and before.
Multi-million-dollar one-of-a-kind homes with modern plumbing and wiring.

Great public schools: R. Roger Rowe, then Torrey Pines High School.

Great public schools: Solana Santa Fe Elementary (also located in The Covenant), then Torrey Pines High School.

Stuffy parties.

Exciting parties.

Reasonable climate on west side, but hot in summer on east side.

Ocean breezes throughout.

Homes often burdened with orange groves that need to be maintained and farmed.

Normal landscaping.

Extreme wildfire danger, especially during October's Santa Ana winds every year. Every few years, like in 2003 and 2007, some homes burn. No homes burned in May 2014's fire, but it's not October yet.

Fires start out in remote dry areas of the county and are blown west towards Rancho Santa Fe. Surrounded by vast groves of eucalyptus trees, called "gasoline trees" by the fire department for the way they burn, these trees explode as the fires reach The Covenant.

Same fire danger as the rest of coastal California.

Far from remote eastern regions.

Few, if any, eucalyptus trees, but plenty of pepper trees.

20 minutes from freeway and beaches from the west side. Forget about it from the east side, which is essentially out in Escondido.

6 minutes to beaches and freeway.
No privacy. Streets are public and open to everyone 24/7.
No one gets past the guards and into the area unless they have a reason to be there.
Rancho Santa Fe Infrastructure
The Covenant

Rancho Pacifica

Water lines.

Water lines.

Electric lines run overhead on poles.

Electric lines run underground.

No mail delivery.

If you want to get or send mail, you have to rent a post office box and pick it up yourself at the post office. So much for Netflix!

Full mail delivery and pick up from your home.

No sewer connections.

Most homes drain household sewage into a cesspool (an underground pit) which is pumped out by a truck every so often.

Do you really want to live in a $10,000,000 home and have to worry about taking a long shower or flushing the toilet?

Modern sewer connections.

No cable TV.

Rancho Santa Fe is rural. The homes are so old that the cable companies haven't run lines out there, and the distances are so great that they have no incentive to run them today.

You're usually stuck with DirecTV.

Served by AT&T U-verse and Time Warner cable, as well as DirecTV.

No high-speed internet.

There's no cable TV, and AT&T U-verse runs 1.5 or 3 mbps at best, if you can get it. The homes are so far apart that U-verse can't get close enough to its nodes to offer fast internet.

DirecTV offers only AT&T U-verse, which as covered above, doesn't serve Rancho Santa Fe well.

As of June 2014, it's trivial to get a 50 mbps internet connection from either AT&T U-verse or Time Warner cable.

Homes have propane tanks out back that are refilled by truck every few months.

Again due to the old homes, there are few if any gas lines.

Gas line service.
Home Donate New Search Gallery Reviews How-To Books Links Workshops About Contact