Mercedes SL550
© 2006 KenRockwell.com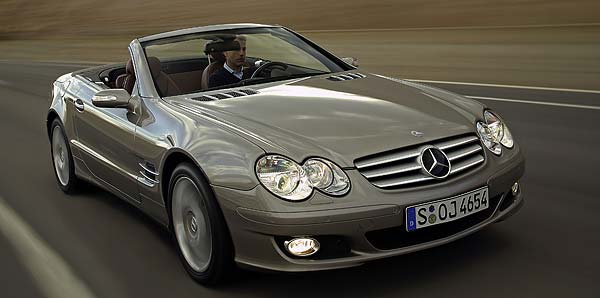 SL550. Spotters' guide: only three grille slats, not 4 as on 2003 - 2006.
Introduction
The SL550 debuted at the Geneva Auto Show in Switzerland in March, 2006. It's a vastly improved engine in a midlife facelift of the 2003 - 2006 SL Klasse.
The new engine of the 2007 SL550 eclipses every other SL500. Since the SL550 is the same body for the same price as 2003 - 2006 SL500s, I would avoid any bargains on new-old-stock 2006 SL500s lying around on dealer lots. I predict any discount for a leftover will be swamped by being stuck with a model far less desirable than the new SL550 will be in several years.
Other Models
In Europe, the SL550 retains the name SL500. It's the same thing; Mercedes is banking on the considerable weight of the SL500 name.
There's also a V6 SL350 in Europe. It has 272 hp and hits 62 MPH in 6.6 seconds.
The new 4.5 litre V8 isn't used in the SL-Klasse. There is no SL450.
See my SL500 pages for information on the previous models.
Major Change: Best New Engine Since 1990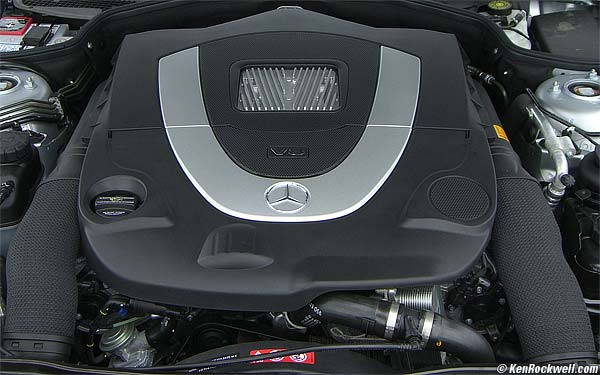 SL550 Engine: A lot lies under that plastic vanity cover. Note dual cold-air intakes. enlarge.
Mercedes finally returns to a four-valve engine for the SL550. Mercedes introduced 32-valve quad cam V8s in the 1990 SL500, but downgraded them to three valves from 1999 - 2006.
It, as most Mercedes engines these past decades, is made of aluminum.
First seen in the 2007 S-Class sedan, the new 5.5-liter engine has 382 horsepower at 6,000 RPM and 391 ft-lbs. of torque, a huge increase from the old three valve V-8 engines. Not only does it have more valves, the compression ratio climbs from 10.0 : 1 to 10.7 : 1, further increasing power and fuel economy. Torque is a huge, flat peak from 2,800 to 4,800 RPM, in other words, peak torque is maintained throughout this entire band!
This is a serious increase in power. For comparison, the 1994 - 2002 12 - cylinder SL600 and S600 models put out 389 hp, or just 7 hp (less than 2%) more than the new V-8. The V-12s put out 420 ft-lbs of torque, 29 ft-lbs (7%) more than the new V-8's, but usually added 300 lbs to the weight.
This is going to kick butt over the relatively anemic three valve engines used since 1999. See engine history below.
0 - 60 is rated at 5.3s, a full second faster than all the SL500s from 1990 - 2006! Weight is 4202 pounds, about 150 pounds heavier than the past 16 years.
What Else is New?
Cosmetics are almost identical. It takes a sharp eye to identify one SL or the other except for the SL500 or SL550 badge on the rear.
Headlights are the same. The fog lights seem to have grown an extra trim ring on the SL550. I'm unsure if the apparent greater depth of the lower front grille is real, or an artifact of camera angle. I suspect it's camera angle and lighting.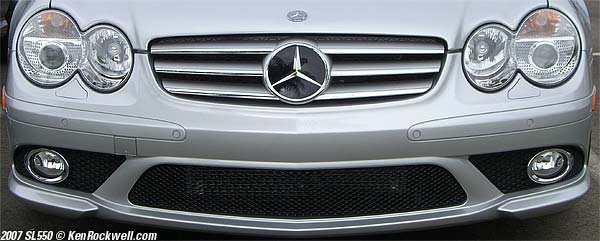 2007 SL550 (above) and 2006 SL500 (below). Click either to enlarge.

The biggest difference is to count the slats. The SL550 has only three, while the SL500 has four. The slats on the SL550 have chrome fronts while the SL500 slats are dull silver throughout.
The Mercedes star seems different, but that's because the SL550 shown has distronic radar cruise control. The radome (antenna) is the circular front badge, which is made of solid, clear black plastic. The SL500 shown doesn't happen to have that option, so it has the usual ventilated grille star.
This SL550 just happens to have parktronic, which are the four sonar transducers seen as 1/2" circles on the front bumper. The SL500 shown doesn't happen to have that option, so its bumper is cleaner.
Either SL comes with or without these options, which are part of the premium package II.
Tail lights
The SL550 has a clear section in its tail light for the turn signal and the back-up light..
The SL500 has silly smoked sections. I say silly because lights are supposed to make light - they need to be clear.
| | |
| --- | --- |
| | |
| 2007 SL550: clear turn and reverse. | 2006 SL500: smoked lenses. |
(click either to enlarge)
| | |
| --- | --- |
| | |
| 2007 SL550 | 2006 SL500 |
(click either to enlarge)
Other than the lenses, the rears of the SLs are the same. The 1/2" circles on the SL550 bumper are the optional parktronic parking sensors, available on either car.
Mercedes did the same thing, but more obviously, with the 1990 - 2002 SL500 (R129) by changing the tail light design in 1999 - 2002. Some people buy the newer lights and install them on older SL500s, which is silly since the older ones are better. In this case, I suspect the newer ones are better, with brighter turn and back up lights.
Wheels
The wheels are a little different between the two. I show the 50th anniversary edition wheels on the SL550 below. Mercedes has a lot of wheel options.
I dislike all these popular split-spoke wheels because they are twice as hard to keep clean as single-spoke wheels. These have twice as much surface to collect dirt, and smaller holes to clean. The best wheels are those on my E430: they only have five curved, easy-to-wipe-out-in-a-single-stroke holes.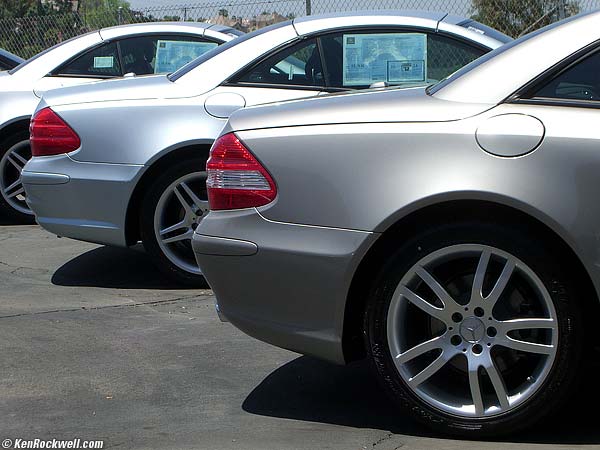 2007 SL550 with two 2006 SL500s behind.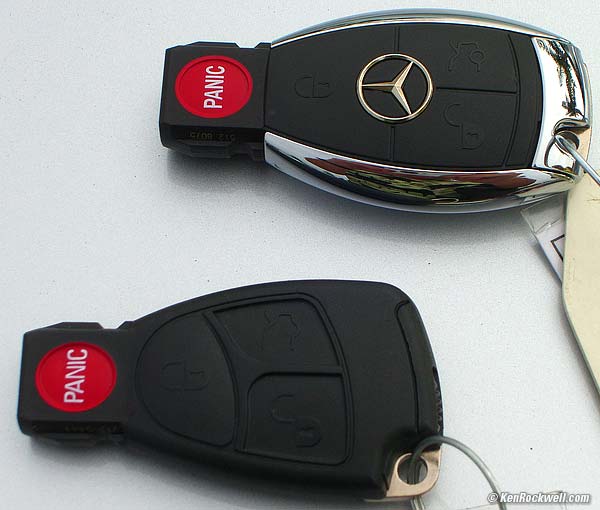 2007 key on top (chrome), 1998 - 2006 key on bottom (black).
Minor Changes
The new SL has a more aggressively styled front air dam and a new front grille as well as clear-lens tail lights and chrome-trimmed fog lights. The only way to notice is to count the slats on the grille: three on the 2007 and four on the 2003 - 2006.
Inside they have new metal door sills, new upholstery colors and softer leather.
The hands-free communication system is now be standard in the USA. Of course using this system while driving is a distraction. It's an offense to drive while distracted and can cause accidents and death exactly like being drunk. Multi-handset or Bluetooth interfaces are sold separately.
Sirius satellite radio hardware comes standard. The first six months are free.
I don't know about an iPod port.
Two Main Batteries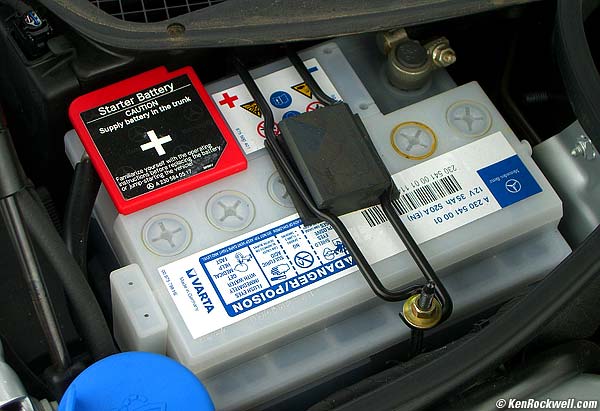 SL550 Front Battery
There is a small 35 Ah battery under the hood to start the engine. There is a larger battery in the trunk to run everything else.
If you run down the battery, you only ran down the battery in the trunk. You can still start with the small battery, and once started, the SL550 charges the other battery. Since Mercedes includes free lifetime roadside assistance, this saves all of us the hassle of dead batteries.
Mercedes is so smart that I wouldn't put it past them to have sensors which let you know when it's time to change either battery, and let you run on the other until you do. I'll let you know if one ever goes dead on me.
Fuel Economy
You don't buy a $100,000 car to save gas - you buy one to burn it! I'm concerned with fuel economy from the standpoint of engineering elegance, not economics. I'm always clocking myself to see how efficiently I can drive.
All this new power, and the SL550's MPG was expected to increase to 16/24 MPG (city/highway), which is about 1 MPG better than all the SLs have been since 1996. That's engineering elegance and progress.
Earlier 1990 - 1995 SL500s sucked even more gas because they lacked an overdrive on their early 4 speed transmissions.
WHOOPS! Now that the SL550 has arrived, the stickers read 14/22 MPG, which is a step backwards. Oh well. It's got a ton more power, so it's entitled. I have no idea why the SL550 has lower fuel economy ratings than the behemoth S550 with the same engine and much more weight.
| | |
| --- | --- |
| | |
| 2007 SL550 (click to enlarge) | 2006 SL500 (click to enlarge) |
I'll let you know as soon as I get more time with an SL550. I have a sneaking suspicion that I'll get much better fuel economy in the real world. The SL550's 7-speed transmission has very tall top gears (about 1,600 RPM at 60 MPH), so I suspect freeway mileage with the top up will be much better than 22MPG. For instance, my V8 E430 is EPA rated 24 MPG highway, and driven correctly I get 28 MPG on long freeway trips. I'm gambling the SL550 could give me 25MPG on long freeway trips.
As my research has shown, most people get the same fuel economy on short trips in traffic around town regardless of the car. I clock it on the same routes I drive with different cars, and if I'm only going 10 miles with stop signs, every car, 4 cylinder or V8, has gotten about 14 MPG.
It's always fun when people say "yeah, nice car, but it's a gas sucker," to let them know I get better economy than their Taurus.
We'll see.
Seven Speed Automatic
The SL550 is one of several Mercedes with the industry's first seven-speed automatics. It improves acceleration and fuel economy. Gears are so close in the higher gears that gear changes can be barely noticeable. The seven-speed shortens 0-to-60 mph time and allows significantly quicker acceleration for highway passing. Using seven gears allows individual gears to be spaced closer together while providing a larger overall spread between the lowest and highest gear. The seven-speed can skip a gear if necessary, switching from seventh gear straight down to fifth, for example, and even from sixth to second, skipping three gears at once. We'll have to see if it can do what it needs to, which is to drop instantly from top gear to first or second if you hammer it while coasting at reasonable speeds.
The SL55 AMG and V12 SL600 use a modified five-speed automatic.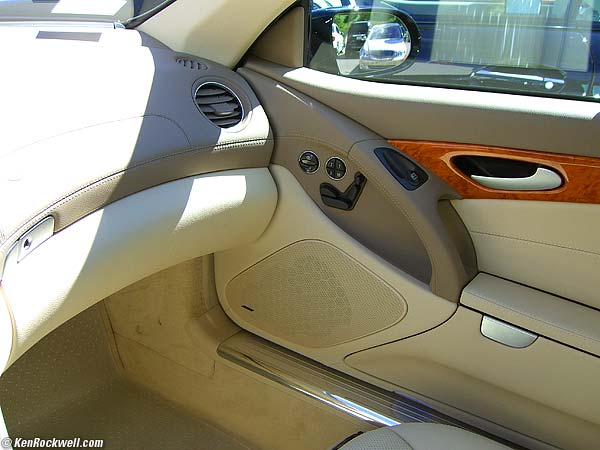 2007 SL550, Stone leather and light chestnut wood.
AMG Gets Hotter, too
The blown V8 of the SL55 AMG now has 510 horsepower at 6,100 RPM, up from 493, and 531 ft-lb. of torque from 2,600 - 4,000 RPM, up from 516, only a three percent increase. Even the first blown V8 AMG SL55 is a world unto itself, so no reason to go buy a new one. The 2007 gets more power from a bigger throttle valve , a more efficient blower and a new computer. The 2007-model SL55 AMG also comes with new carbon-fiber interior trim and redesigned 19-inch five-spoke AMG wheels.
Claimed 0 - 60 times improve to 4.3s from 4.5s. You can pay extra to have the 250 kph (155 MPH) speed limiter reprogrammed to 300 kph (187 mph). I wouldn't bother: I've driven these on a race track and never got above 130 MPH. The only person going faster than 155 MPH is the kid who borrows your SL55 and takes it to Vegas on the I-15.
The twin-turbo V12 of the SL600 gets a small horsepower bump to 510 hp from 493 hp, and has 612 ft-lb. of torque, up from 590 ft-lb.
50th Anniversary Edition
To honor the very first 300SL Roadster, there's a 50th anniversary edition of the SL550. A limited production run of 550 vehicles will be offered in pewter metallic with Cognac brown leather, black ash interior wood trim, and an exclusive 18" twin-five-spoke wheel.
Brakes
The SL550 has 12.3-inch front and 11.8-inch rear discs, while the SL600 and SL55 AMG both have 14.2-inch rotors with eight-piston front calipers and 13.0-inch rotors with four-piston rear calipers. The SL65 AMG has discs that are yet another 1.2 inches larger in diameter.
As on all other Mercedes, Brake Assist can potentially reduce braking distances in emergency or "panic" stops. In addition, the standard Electronic Stability Program (ESP) helps to keep the car on its intended path, preventing oversteer or understeer in turns, and providing straight-line traction control.
Metal Retracting Hard Top
The SL's retractable hardtop opens or closes in 16 seconds. It folds into the trunk. It lays just below the trunk lid on top of your trunk space. It's in the way for trunk loading. There's a button to raise the roof out of the trunk a bit to ease this. With the top collapsed only 7.2 cubic feet of oddly shaped space remain, less than the eminently usable rectangular 7.9 cubic feet of the 1990 - 2002 SL500.
With the top up and out of your trunk the 2003 - 2007 SL trunk holds 10.2 cubic feet. This is a huge improvement, but leaving the top up defeats the whole purpose of the SL.
A hydraulic pump and 11 computer-controlled hydraulic cylinders power the system. It's all controlled by a switch on the center console.
Unlike SLs before 2003, the metal roof can never be fully removed and there is no soft top. This is great, since those of us with previous SLs leave our metal hard tops in storage or hanging from the ceiling of our garages.
Trunk
The bad news about the retracting hard top is that it can't be removed and left at home as the past couple of decades of SLs have been able to do. The 2003 - 2007 SL top is not removable.
Because of this, you have to haul your hard top around in your trunk.
It's like having a second trunk lid which never really opens.
Move your mouse over to pop the trunk lid and see what's inside: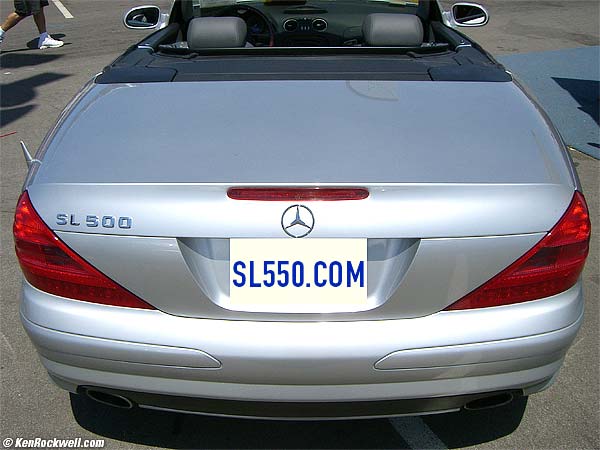 2003 - 2007 SL trunk. Move your mouse over to pop the trunk lid.
This might be fine in Michigan or northern Germany where putting the top down happens once a year, but here in Southern California this is a pain. We always have our tops down. That's the whole point of a convertible. We own other cars for when it rains. We only put convertible tops up to keep the bird poo out when parked outside.
I've been too afraid of this to bite on getting a 2003 - 2006 SL500, but with the SL550 I need to try one and see if I can work around having the roof in my way every time I want to get into the trunk.
The SL has a switch to raise the top out of the trunk a little bit, but it doesn't get completely out of the way. My 1997 SL500 has a much more useful trunk.
It's rated 10.2 cubic feet top up, which is good. It's rated 7.3 cubic feet with the top down, which is bad also because of the weird shape. The 1990 - 2002 SL had a bigger, more useable trunk with the top down.
Spare Tire
None, just a donut with a compressor to fill it up. Otherwise the donut is collapsed. It's not ready to use until you fill it.
You can't really drive on this as you could a full-size spare, as the 2002 and earlier SLs had.
ABC Active Suspension
Active suspension is designed to solve the usual tradeoff between ride comfort and handling precision. The SLs have excellent comfort and fantastic agility.
The SL chassis uses a fully independent, double-control-arm front suspension and the patented Mercedes-Benz five-link rear suspension.
All 2007 SL models come with second-generation Active Body Control (ABC), the Mercedes-Benz active-suspension technology that virtually eliminates body roll in cornering, squat under acceleration and dive during braking.
On AMG models, the ABC system is calibrated for even higher performance. Special AMG suspension struts with firmer damping and fully reworked systems such as ABS anti-lock brakes, Brake Assist, ASR traction control and ESP stability control complement the enhanced AMG chassis. Each SL model uses software programming specific to the model, akin to tuning the spring rates, shock damping and anti-roll bar stiffness of a conventional suspension.
Mercedes-Benz engineers use ABC's interplay of hydraulic, electronic and mechanical parts to reduce body roll by 68 percent (compared to the same vehicle with a conventional suspension), providing the driver with needed feedback through the vehicle chassis.
A 'Sport' switch on the center console increases roll reduction to 95 percent, along with tighter shock damping.
Dimensions
178.5" long by 80.0" wide.
Height is 51.0," top up.
Cd is 0.29, top up, and not published, but probably about 0.70, top down.
Weight: 4,220 pounds.
Turning Circle: 36.2 feet, curb-to-curb.
Wheels and Tires
255/40 ZR18 front and 285/35 ZR18 rear. Dinky collapsing spare.
Price and Availability
It hit the dealers in April 2006 starting at $95,575.
SLs have had the same price since the 1990s - they usually run $100,000 each year. This year's price is no surprise, but the new engine is!
For 2007 Mercedes is returning to a high performance 4-valve V8, the same technology introduced in 1990 but downgraded in 1999 - 2006.
Mercedes introduced the high-performance variable-valve-timing quad-cam 4-valve V8 in the 1990 SL500 which continued through 1998. It had 322 - 315 hp and 347 ft-lb of torque.
Chrysler-era cost reductions downgraded these engines to a lower performance 3-valve V8 in the 1999 - 2006 SL500s, including the V8 offerings in every other 2006 model. These 3-valve engines offer the same EPA fuel economy with less power (only 302 hp) and less torque (only 339 ft-lbs.) compared to the 1990 - 1998 4-valve engines. Of course marketers promoted this downgrade as some sort of benefit. Even the six-cylinder models stepped back to simpler technology and lower performance.
Thank God Mercedes returns to the better engine for the 2007 SL550!
I have to giggle that Mercedes calls these V8s "new-generation." Mercedes is simply returning to the superior 4-valve technology they introduced in 1990 and abandoned in 1999.
The V12 turbo remains at 3 valves and no one is complaining.
Credits
Many thanks to the great people at Hoehn Motors, Carlsbad; Fletcher Jones Motorcars, Newport Beach and Escondido Motors, Ltd., Escondido, California for showing me their cars. All of these dealers are great places to buy and have your vehicles serviced; I happen to use Hoehn because I live in Carlsbad.
More Information
See also Mercedes USA's pages on the 50th anniversary edition, the index of all 2007 SLs, the SL550, the SL55., the SL600 and SL65.